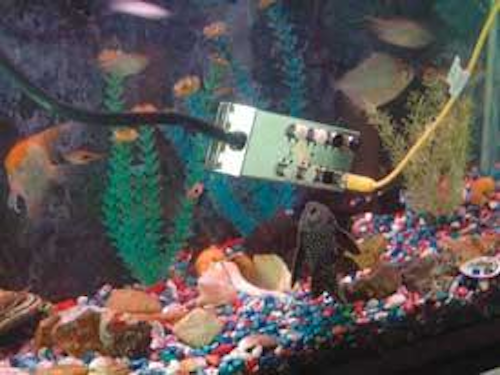 The "must-have" characteristics for interconnect devices and cabling that need to survive and thrive in wet conditions
by Raoul Benoit
You're on a fishing vacation at the coast, but since you haven't caught a minnow to show for it, you head for the local fish market. As you pull into the parking lot and open the car door, there's an unmistakable aroma of a seafood business in operation.
You step inside, the smells get stronger, and you notice people unloading crates full of fish topped off with ice. The workers are wearing white rubber boots instead of shoes. An employee is seen hosing down a long stainless steel table, lifting several cutting boards as he goes, and placing each cutting board directly in front of a large hole in the table. Underneath each hole is an oversized trash can filling up with fish innards, heads, scales…and water.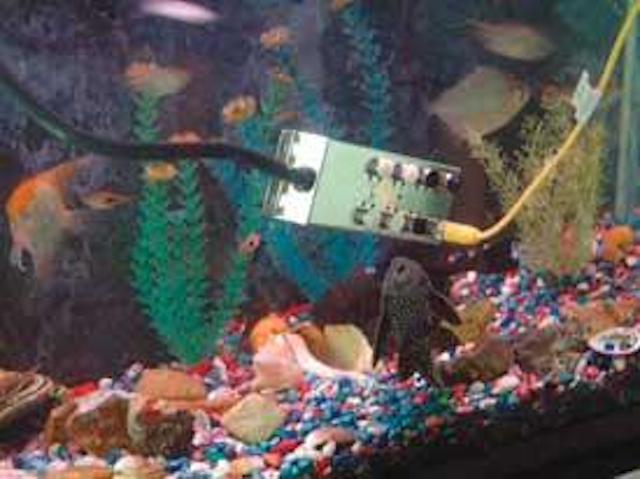 Cable assemblies used in extremely wet industrial environments should feature overmolded connectors, whose material chemically bonds to the cable's outer jacket during manufacture, providing a watertight seal.
Click here to enlarge image
Next to a commercial-grade electric fish scaler is a three-tier stainless steel sink with a hose extending to the scaling station…and water. The hose never shuts off. Another worker sprays the insides of a glass-front refrigerated display case, which is still full of fish lying on a bed of ice.
As Rod Serling might say, "You have just arrived in another dimension of time and space." You have just landed in the world of seafood processing.
Watertight connections needed
While these sights and aromas may be pleasant to a seafood lover, they are just the tip of the iceberg when it comes to choosing cabling and connectivity for one of the harshest water-processing environments imaginable.
The key word for designing in such environments is "watertight," but two other words-"ingress protection", or IP-are not far behind in importance. Ingress Protection standards are set by the International Electrotechnical Commission (IEC; www.iec.ch). Originally, Ingress Protection ratings (such as IP67) represented a level of sealing for enclosures. But manufacturers of cabling and interconnect products for harsh environments have also found the standards to be an appropriate measure of sealing to describe their products' ruggedness.
But when designing for excessively wet and harsh environments, such as seafood processing, there are other issues to consider when installing cabling and interconnect devices, including choosing:
PVC- or PUR-based cabling;
Overmolded cable assemblies;
IP-rated junction boxes;
Raw materials that will endure continual moisture exposure.
Among the myriad segments of the food and beverage industry, none is wetter than seafood processing. If the seafood is not processed on the boat, it is shipped directly to a packing house where it receives its first wash, and also gets weighed, packed, and iced-more water!-before being shipped to wholesale distributors and processors.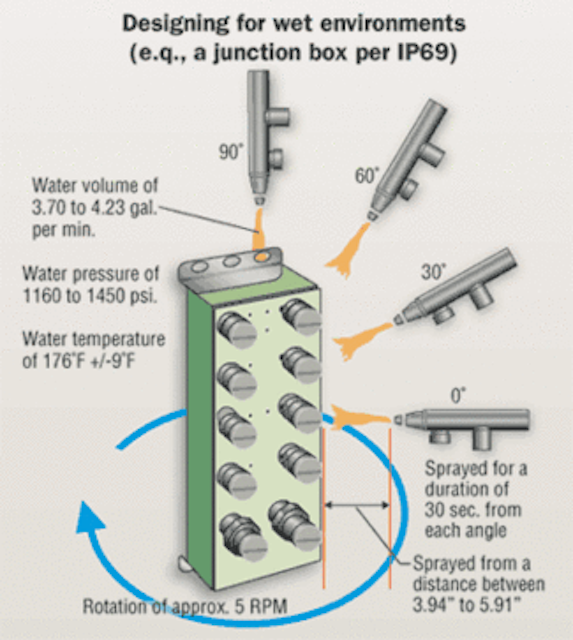 Any junction box expected to perform outside of an enclosure cabinet needs to be IP67-rated as a minimum standard (in this example, IP69-rated for water at high pressure/steam jet cleaning) if it is going to be exposed directly to water.
Click here to enlarge image
In the early stages of the product's life cycle, the seafood will go through some form of initial processing involving water; for example, shrimp being washed, shelled, de-veined, rinsed again, cooked, and then packaged for shipping, or fish being hosed down, scaled, filleted, rinsed, iced again, and then refrigerated before shipping.
The edge of self-destruction
No matter what the processing, water is going to be involved, and that creates challenges for manufacturers as well as management responsible for the equipment.
"Anytime you mix cleaning and sanitation efforts with electrical and electronic equipment, there is a certain amount of risk involved," says Everett Pitts of B&B Seafood in Richmond, VA. "Our practice is to clean to a level that exceeds standard compliance of regulations. But anytime you use strong cleaning agents and water, the potential is there to cause your own equipment's failure."
Pitts continues, "We try to be as careful as we can to minimize exposure of electronic components directly to the water, but sometimes it happens. Equipment failure in the seafood business just goes with the territory, but hopefully, downtime is minimized."
In seafood processing, what is known as hose-down is not just a daily or hourly occurrence-it goes on continually. A large portion of the industry still is not automated (although that is changing), so much processing currently requires handling of the product-and typically, in the same area where machinery is operating.
It starts with the cable
Continual hose-down in these areas creates obvious problems for both the processing equipment and its cabling and interconnects. Not surprisingly, the way to avoid downtime and equipment and connection failure caused by constant water exposure is through careful planning concerning the selection of the right processing equipment. Chief among these "must include" characteristics is the type of cabling jacket.
Experience and time-honored testing have proven that PVC cable is more resistant to water and harsh cleaning chemicals than PUR cable. Not only will the PVC cable last longer under the duress of the wet, harsh conditions, but the up-front costs are lower when compared to PUR cable.
As for cable assemblies used in wet industrial applications, it is best to choose overmolded connectors, whose material chemically bonds to the cable's outer jacket (thus, overmolding) during manufacture, providing a watertight seal. Overmolding also offers the benefit of strain relief to the connector, assuring power and signal transmission integrity no matter how wet it gets.
When choosing I/O boxes, the IP rating is one of the most crucial factors to consider. Any junction box expected to perform outside of an enclosure or cabinet and exposed directly to a hose-down needs to be IP67-rated at minimum. Inside the junction box housing, epoxy should be used to completely encapsulate the PCB or connector to seal out water.
In addition to protecting electronic circuitry, the epoxy helps protect components from temperature extremes, shock, and vibration. Even small components, such as receptacles, can benefit from epoxy being applied inside the outer shell or housing.
The automation factor
As seafood facilities and other water-intense industries become more automated, the urgency to reduce downtime due to equipment failure will become even greater.
Specifying the right equipment and IP-rated components will become more crucial as companies strive to fine-tune their operations to remain competitive, maintain quality control, and grow sales.
Raoul Benoit is marketing communications director for Lumberg, Inc., Midlothian, VA. He can be reached at: rbenoit@lumbergusa.com