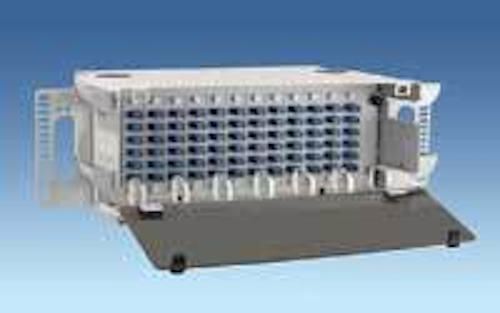 Front-access fiber distribtuio
AFL Telecommunications' newly designed fiber distribution hub (FDH) features a dual-door access-one door opens from the front, the other from the side-allowing for full access from the front to all key fiber terminations, routing, and components.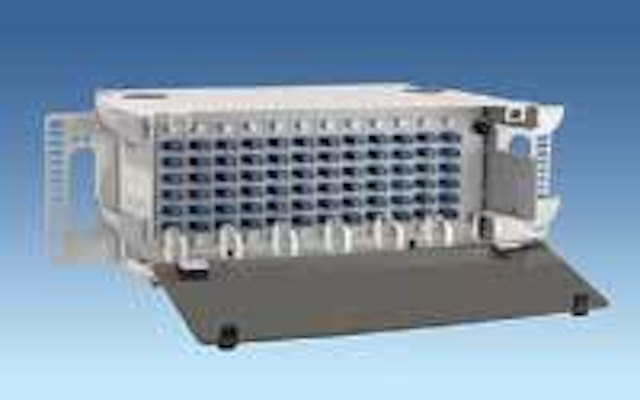 Click here to enlarge image
"With traditional cabinet designs, technicians must reach inside the cabinet to work, but [our] new design enables them to work from the front of the cabinet-a convex design versus the more traditional concave design," explains Tony Nieves, OSP product manager.
As a full modular platform, optical splitter modules can be added at a later date, as can distribution fields as they are needed. In addition, the door seal design provides added protection in harsh environments. This FDH is available in 288- and 432-fiber count models, both configurable in either pole or pad mounting.
AFL TELECOMMUNICATIONS
www.afltele.com
Customizable audio/video enclosures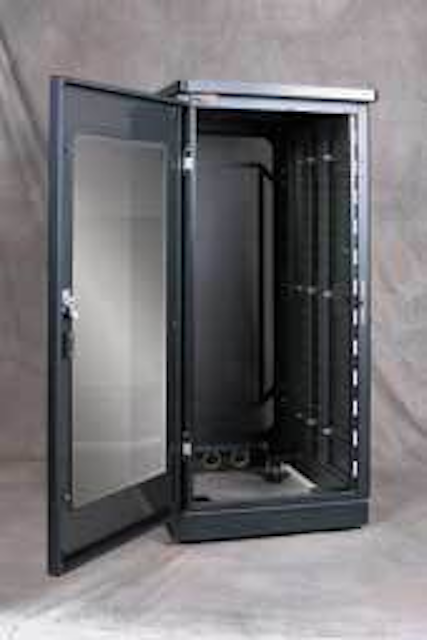 Click here to enlarge image
The Presentation Rack (pictured) is designed for audio/video applications in classrooms, conference rooms, and board rooms. This compact customizable enclosure features front- and rear-door access, vertical lacing bars for efficient cable management, 24.75-inch rail-to-rail depth of shelf space for rack components, perforated front/rear panels, Plexiglas front door, a laminated solid graphite top featuring a 22.5-inch writing surface with cable port, numbered rack rails, and multiple cable access holes. Power, lighting, and cooling accessories can be installed to customer specification.
In addition, the company's modular E-Rack lets users configure their system. It features removable, quick-release side panels and cable chase panels for simplified cable management. The straight cable runs in the E-Rack's open frame design can eliminate kinks, bends, and protrusions. Multiple lacing points located every six inches help to support heavy bundles. Customizable options include heavy-duty shelving, filler panels, and temperature control.
APWMAYVILLE/STANTRON
www.stantronracks.com
High-density fiber enclosure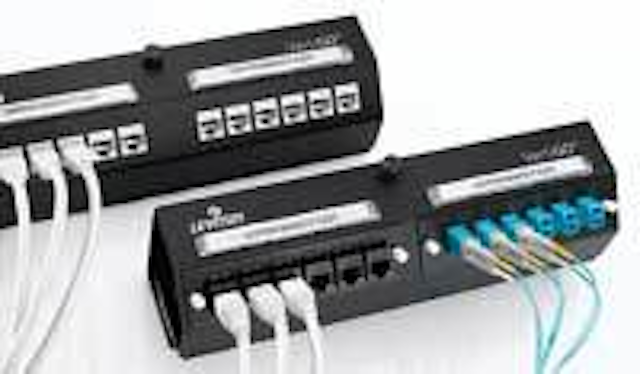 Click here to enlarge image
This rack-mount fiber enclosure has been developed specifically to support Cisco's MDS 9513 matrix switch used in large data center and storage area network installations. Fiber Connect, a Leviton company, has designed a proprietary blade configuration that allows for a like-for-like connection into the switch. The high-density enclosure will support up to 288 fiber channels in 8U of rack space, and can be supplied in direct connect or MTP configurations.
FIBER CONNECT/LEVITON
www.leviton.com
Thermal-ready network solution
Engineered to combat thermal challenges associated with network switches with side-to-side airflow, the N-Series TeraFrame network cabinet features proprietary Passive Cooling Solutions to manage high-density switches while maximizing data center energy efficiency.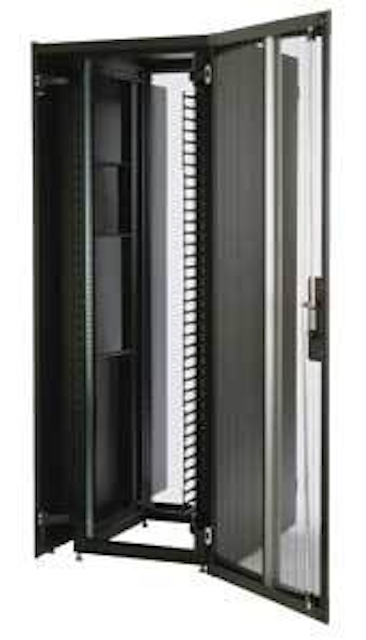 Click here to enlarge image
Network switches with side-to-side airflow located in a hot aisle/cold aisle layout run the risk of re-consuming hot exhaust air, which can result in equipment failures. When equipped with the company's Network Switch Exhaust Duct, the N-Series TeraFrame removes hot air by isolating and re-directing it out the back of the enclosure and into the hot aisle, essentially converting side-to-side airflow into a front-to-rear airflow patterns. One Network Switch Exhaust Duct can support exhaust from up to three network switches.
The enclosure is designed to accept cables through openings located on the top and bottom, while T-shaped cable guides and cable management spools align with each rack-mount unit (RMU), precisely dividing and organizing cables as they enter and exit the rack-mount space. The N-Series TeraFrame can manage 48 Category 6A cables per RMU. Standoff Brackets support offset doors and side panels, creating added space between the cabinet frame, side panels, and doors. Removable doors and panels provide full access to equipment and cabling.
CHATSWORTH PRODUCTS
www.chatsworth.com
Data center server enclosures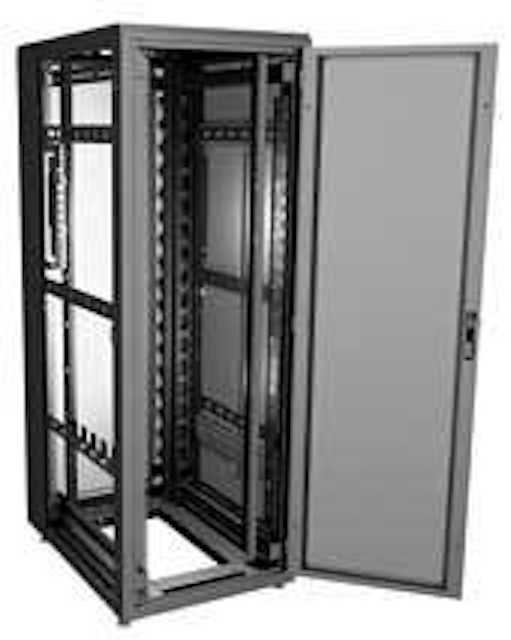 Click here to enlarge image
The redesigned ES series server cabinet features increased rear vertical capacity and bottom cable access. Optional features include: a top cable trough that allows top cable access to the left and right of the cabinet; horizontal cable management parts that permit front-to-rear cable management for 30-inch wide enclosures; a vertical lacing bar kit designed to allow pass-through for top-to-bottom cabling; and a horizontal lacing bar for front-to-back cable management via cable ties or cinch straps.
To meet data center heat issues, the ES series features new contour mesh doors designed for efficient airflow throughout the cabinet, while fans can be mounted to the door to eliminate hot spots and aid in horizontal ventilation. For power, up to four PDUs can be mounted vertically, and top cable access allows for power cabling from both sides while rear troughs support up to two PDUs.
GREAT LAKES CASE & CABINET
www.werackyourworld.com
A variety of weatherproof protection
Four weatherproof enclosures are designed for everything from remote WLAN equipment to indoor/outdoor installations. The NB141207 is a NEMA 4X/ IP65-rated 14 x 12 x 7-inch housing constructed from UV-stabilized molded fiberglass reinforced polyester, and features a raised lid with a stainless steel continuous hinge and quick-release latches. This enclosure is especially suited for custom applications requiring special modifications.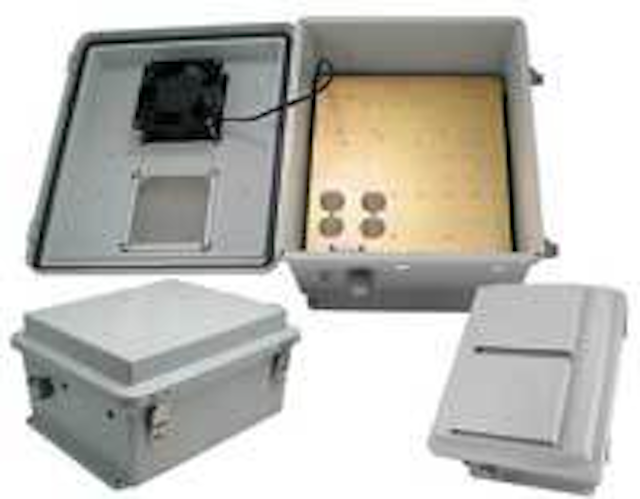 Click here to enlarge image
The NB141207-1HF is a 14 x 12 x 7-inch enclosure for extreme temperature environments, and features an aluminum mounting plate with four 110-volt AC outlets, and a thermostat controlled heater and fooling fan. The 200-watt heating system turns on when the internal temperature drops to 40° F and turns off at 60° F.
For Power over Ethernet installations, the NB141207-400 features a PoE interface to split the data and power carried by a Category 5 cable to the internal equipment. The interface includes lightning protection and support for normal and reverse polarity PoE equipment.
HYPERLINK TECHNOLOGIES/L-COM
www.hyperlinktech.com
Adaptive enclosures for IT environments
The 3G series of adaptive enclosures for data centers feature a beveled front door with 77% open venting patterns for optimal heat dissipation, a deeper vertical cable trough built for high-density cable requirements and simplified access, and vertical power panels for tool-less mounting of power strips.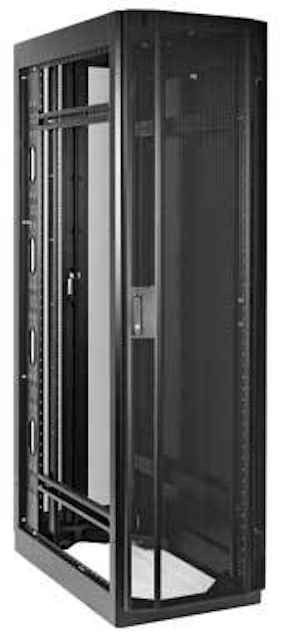 Click here to enlarge image
The frame's certified static load rating is 3,200 pounds, with a dynamic load rating of 2,100 pounds. Other features include: ample egress in the top panel and along top sides of the frame for enclosed cable runs, and square-hole universal mounting channels with rack-unit numbering for simplified location identification.
Available sizes include 42U, 44U, and 47U panel heights, 24- and 29-inch frame widths, and 39-, 42- and 45-inch frame depths. Custom solutions are available upon request.
IMS ENGINEERED PRODUCTS
www.imsep.com
Seismic-resistant cabinet
The Seismic Shelter cabinet is designed to protect vital equipment during extreme seismic activity, having been extensively tested and certified to exceed Network Equipment Building Systems (NEBS), Bellcore, and the Uniform Building Code (UBC) Seismic Zone 4.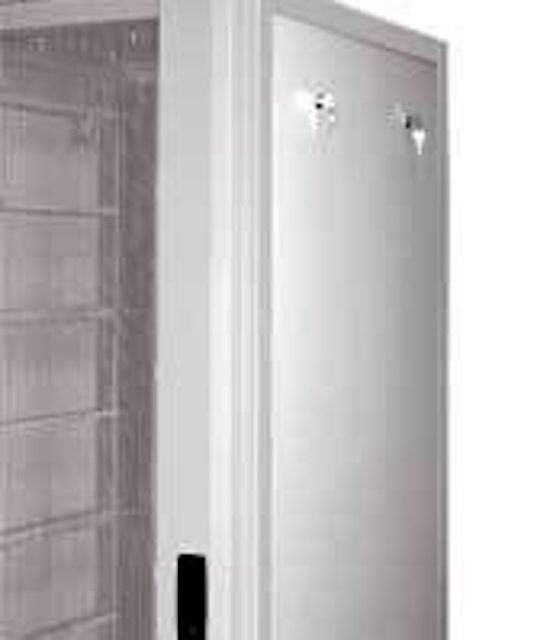 Click here to enlarge image
The enclosure's fully welded tubular steel construction is built to support static loads up to 3,500 pounds. It includes two sets of 19-inch EIA 10/32 tapped or M6 cage-nut mounting rails with Grade 8 hardware. Mounting rails are fully adjustable, and multiple sets can be used for a variety of equipment depths.
Seismic Shelter is available in multiple sizes and can be customized for specific applications.
DAMAC PRODUCTS
www.damac.com
Wall-, rack-mount solutions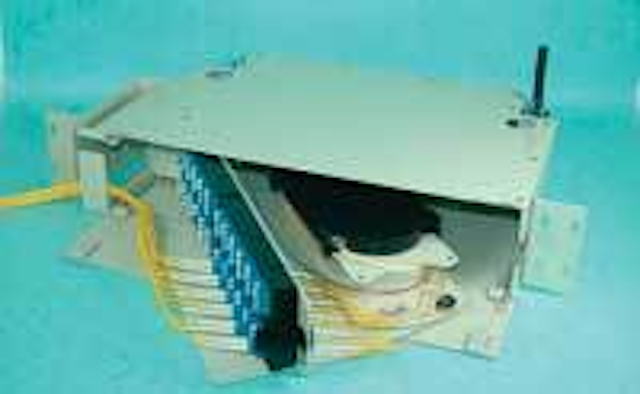 Click here to enlarge image
Pacific Interconnections' wall-mount enclosure features double-door access, keyway entry, and splicing and termination in one box for up to 48 ports.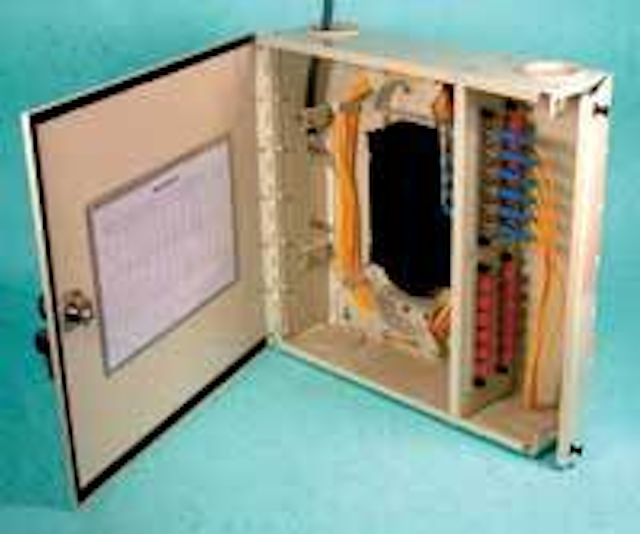 Click here to enlarge image
A 19-inch rack-mount high-density enclosure for up to 96 fiber ports also combines splicing and termination in one unit, and features a removable 180° hinged swing-down front door with latch locks. Also included is a 90° hinged swing-out patch panel and splice tray drawer. A variety of front panels are designed for numerous connector types.
PACIFIC INTERCONNECTIONS, LLC
www.pacificinterco.com
Simplified server racking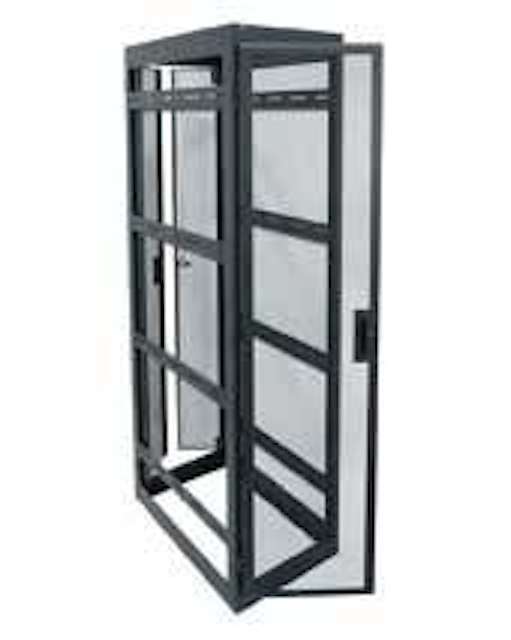 Click here to enlarge image
WMRK series configured server enclosures feature simplified cable, thermal and power management when mounting servers or other data-specific components. Perforated front and split rear doors with a Decora temperature monitoring module are designed to facilitate passive thermal management, while cable management is aided by electrical knockouts on rear plates, removable split bottom rear panel, integral gland grommeted cable pass-thrus, and a 42-space vertical lacing strip. A 20-amp, 20-outlet power strip or 20-amp, 10-outlet strip are designed to ensure adequate power outlets are available throughout the enclosure.
MIDDLE ATLANTIC PRODUCTS
www.middleatlantic.com
48-user wall-mount cabinet
The wall-mount Mighty Mo Telecom Enclosure supports up to 48 users and provides capacity for active and passive equipment. Features include a brush cable exit that prevents dirt and debris from entering the enclosure, swing-out access for convenient re-termination and patching, cable management, and compliance with UL 1863 and EIA-310 standards.

Click here to enlarge image
Backbone cabling can pass through the telecommunications room directly to the Telecom Enclosure, significantly reducing the size and number of telecommunications rooms needed for each floor. Extending the backbone closer to the workstation enables higher performance to support the increase in bandwidth-intensive applications. The enclosure is also available with an optional cooling fan and air filter to protect active equipment.
ORTRONICS/LEGRAND
www.ortronics.com
Heat, cable management meet aesthetics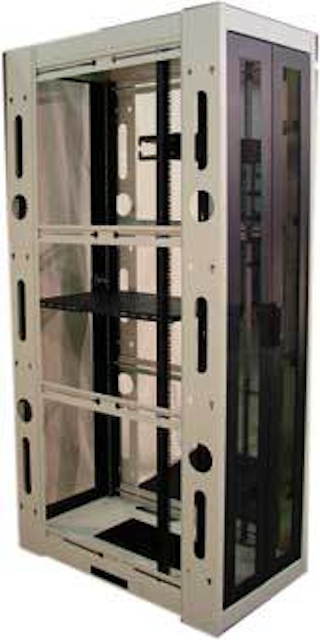 Click here to enlarge image
Aesthetically designed Cablemax enclosures are built to help solve problems associated with increased heat generation and cable management. Features include use of 63 of 80% mesh openings in front and rear doors as well as a removable top panel; abundant cable pass-thru holes in the frame for cross-cabling between cabinets; split doors that can save aisle space; and a split rail system with a variety of depths.
Cablemax enclosures are available in 73.5- and 77-inch panel heights, and 36- and 42-inch depths.
PREMIER METAL PRODUCTS
www.premiermetal.com
Enclosure with shock-pallet shipping

Click here to enlarge image
The 25U and 42U SmartRack Premium enclosures now feature "shock-pallet" packaging, shipped on a special pallet that features additional reinforcement and shock-absorbing material. Each shock-pallet accepts up to 1,050 pounds of additional equipment and provides a protective cushion designed to safeguard the enclosure and its components during re-shipping.
"Users have the flexibility to fully configure rack enclosures in a centralized location and safely re-ship them to remote sites," explains Craig Watkins, SmartRack product manager.
Each enclosure and heavy- duty shock pallet also includes a set of heavy-duty ramps for rolling the enclosure on and off the pallet during configuration.
TRIPP LITE
www.tripplite.com
26-inch wide cabling enclosures
The Barracuda 26-inch cabling enclosure is designed to handle networking switches and other equipment requiring large cable bundles. It comes in 19- or 23-inch EIA configurations, or a combination of both within the same enclosure.
The tool-less modular cable management quarter-turn ring system accommodates copper and fiber cabling. It can be used with vertical and horizontal bars or other mounting angles compatible with removable rings. According to the company, this feature provides for nearly unlimited options when addressing cabling distribution throughout the enclosure.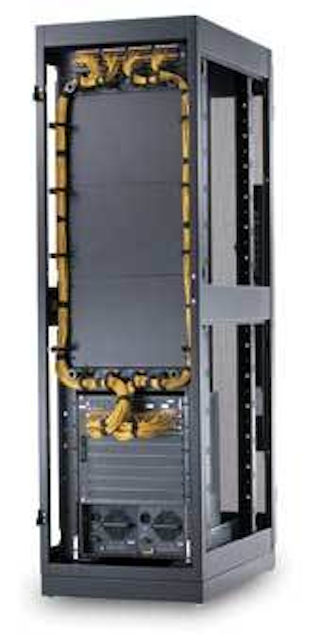 Click here to enlarge image
The Barracuda is equipped with half-height, split mounting angles, which accommodates varying depth equipment within the same rack. It will also gang up to 22-, 24-, or additional 26-inch wide Barracuda enclosures to maximize the space-to-equipment ratio, allowing for incorporation of a wide range of electronic equipment based on existing as well as future requirements.
Additional features address anchoring, grounding, isolation, power, overhead ladder interface, and structural bases. Systems arrive configured and ready for installation.
ELECTRORACK ENCLOSURE PRODUCTS
www.electrorack.com