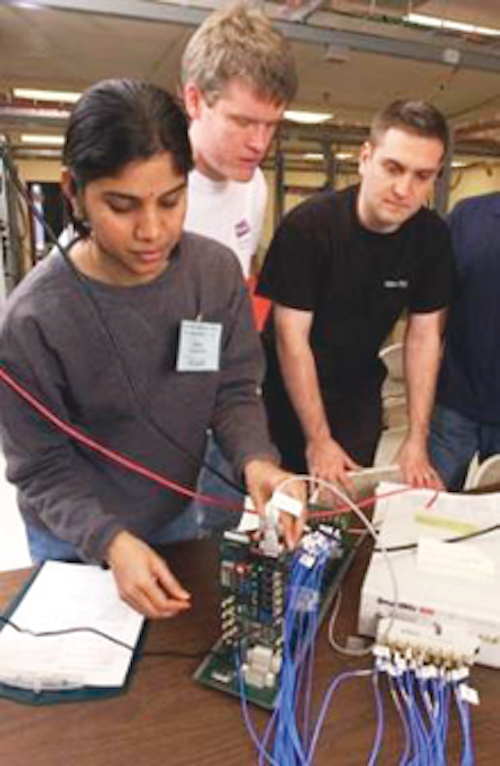 Nearly 40 10-Gigabit Ethernet companies converged on the University of New Hampshire's InterOperability Laboratory (UNH-IOL; www.iol.unh.edu) earlier this fall to build what is thought to be the largest multi-vendor unified data and storage fabric ever deployed.
The week-long test event, dubbed the "10 Gigabit Ethernet Technology Summit," sought to verify standards conformance and interoperability between 10-Gbit Ethernet switches, cables, 10GBase-T data ports, and iSCSI storage drives- the primary components of a unified fabric using Ethernet for data and storage in high-end networks.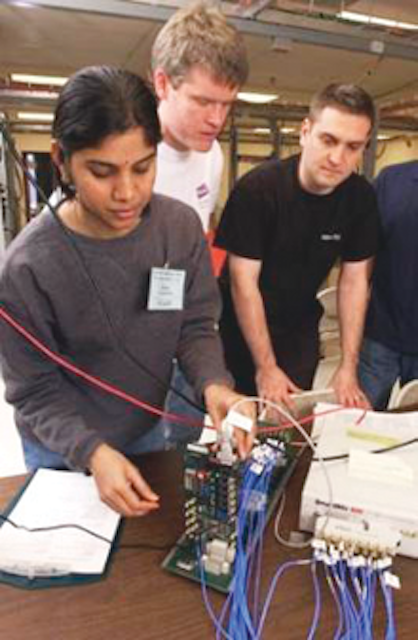 The University of New Hampshire InterOperability Lab recently pooled equipment and infrastructure from five different internal test groups to test the market readiness of 10-Gigabit Ethernet technology.
Click here to enlarge image
The 32,000-square-foot UNH-IOL, considered a premier third-party proving grounds for developing technologies, pooled equipment and infrastructure from five different internal test groups to accommodate the technology's range. The lab combined test equipment, products, and engineering knowledge from its 10-Gigabit, Gigabit, Fast Ethernet, Bridge Functions, iWARP and iSCSI groups.
"We succeeded in creating a neutral environment for proving out the readiness of 10-Gbit Ethernet technology for deployment in high-end networks and data centers," says Bob Noseworthy, technical director for UNH-IOL. "We saw companies from multiple areas of the [10-Gbit Ethernet] community stepping up in the spirit of cooperation to show support for interoperability and to advance the cause of the industry."
Noseworthy adds, "The consensus in the room was that, technically, 10-Gig is ready for deployment in the data center today."
Addressing the standard's most stringent requirements, 10GBase-T devices were shown to interoperate between four connectors at 100-meter lengths. The lab says the 10-Gbit fabric successfully incorporated iSCSI targets and initiators running open source and commonly used commercial software, and also successfully passed emulated IP voice and video data between servers and switches.
Testing performed on the unified 10-Gbit Ethernet fabric included:
Storage and advanced protocol interoperability;
Bridging interoperability and re-convergence;
Layer 2 switch testing and multi-vendor interoperability;
10-Gbit Ethernet link testing across worst-case and non-worst-case channels;
Application traffic and network monitoring.