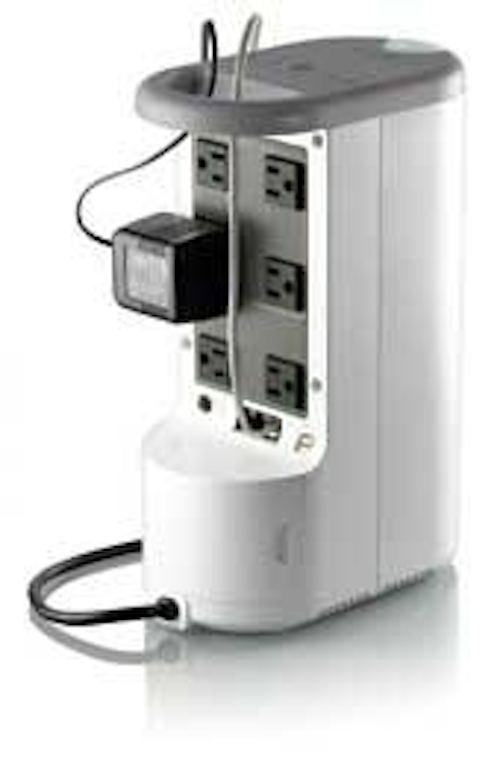 Backup protects data, equipment, and personnel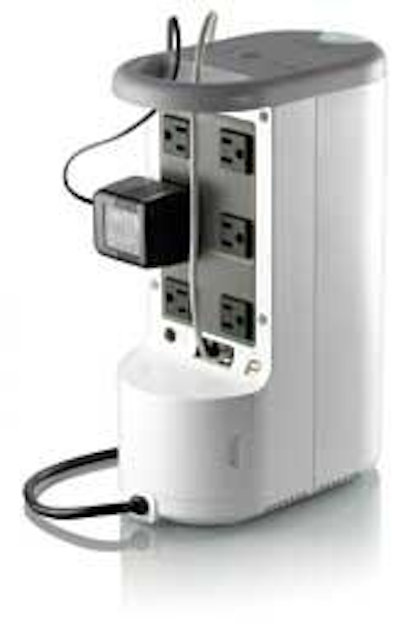 Click here to enlarge image
This battery backup with flashlight helps protect your equipment and data while safeguarding personal security. The detachable flashlight turns on immediately when the power goes off, and the battery backup keeps connected equipment on, providing time to shut down and prevent data loss or hardware damage. Features include:
Cable-management loop that helps organize cables;
Rechargeable, removable LED flashlight;
550 VA battery-load capacity for approximately 20 minutes of backup time;
Four battery-backup outlets plus surge protection, and two surge-protected outlets;
1-in, 2-out RJ-11 telephone/fax surge protection;
Fast data-transfer speed via USB connectivity;
Power Management Software for automatic shutdowns, alerts, messaging, and diagnostic support;
$50,000 connected equipment warranty.
BELKIN INTERNATIONAL
www.belkin.com
Coax-based protection for wireless applications
Click here to enlarge image
The CN-LAMBDA/4-5.9-BB is the latest addition to the company's COAXTRAB CN series. This surge protection device provides safeguards against discharge surge currents up to 60 kA. The adapter can either be connected in the antenna line or installed at the terminal device. It offers an input attenuation and VSWR of 1.15dB. The CN-LAMBDA can be used with 802.11 and Bluetooth radios.
PHOENIX CONTACT
www.phoenixcon.com
DIN rail-mount device targets lightning-induced transients
Click here to enlarge image
The DLP-25 series is designed to protect critical control circuits from lightning-induced transients. The DLP-25 uses a compact aluminum DIN rail-mount enclosure (a DIN rail bracket is provided for mounting to any flat surface). Light Duty protectors are geared towards applications with high nominal voltage currents, so no series resistance is specified. Standard Duty protects equipment with a system current no greater than 350 mA and bandwidth of no more than 100 Mbits/sec. Heavy Duty protects the most critical systems and is designed specifically for use in high exposure applications. The DLP-25 protects equipment with a system current of no more than 350 mA, except for high-speed data systems. The hybrid protector features 20 kA (8 x 20 microsecond waveform) per wire capacity, voltage of 6 to 180 volts, and dimensions of 2.95 x 2.83 x 1.86 inches. All units are UL 497B-listed and carry a 20-year warranty.
MCG SURGE PROTECTION
www.mcgsurge.com
Category 5, Power over Ethernet lightning protection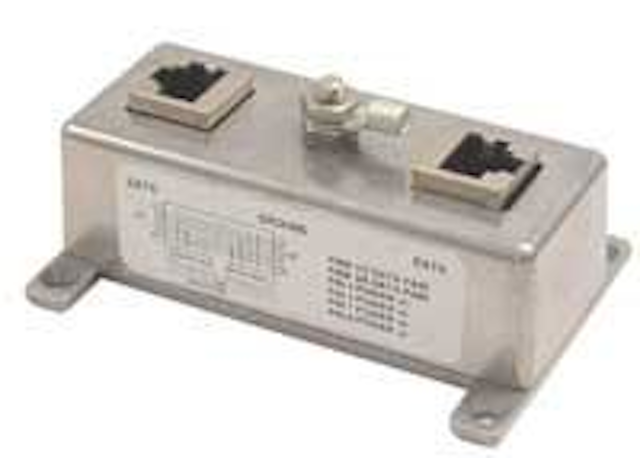 Click here to enlarge image
The company's Shielded CAT5 Lightning Protector is built to provide lightning and surge protection for Category 5 data applications. Compatible with 10/100Base-T devices with Power-over-Ethernet (PoE) capability, this device is designed to protect Ethernet data pairs as well as the PoE DC power feed. Shielded RJ-45 jacks and cast aluminum housing help reduce the effects of EMI interference. These data line protectors can help protect such electronic equipment as wireless access points, access servers and outdoor routers that support PoE.
HYPERLINK TECHNOLOGIES
www.HyperLinkTech.com
Double conversion, three-phase UPS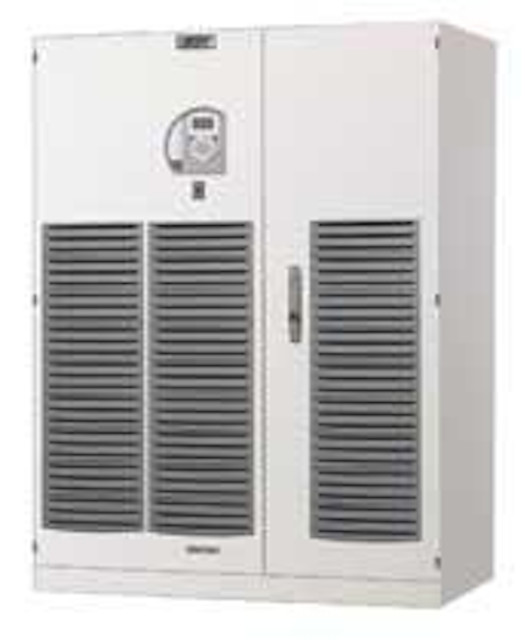 Click here to enlarge image
Up to eight TreStar P online, double-conversion, three-phase UPSes for critical loads can be installed in parallel for redundancy or additional capacity. These models are designed to protect sensitive loads, such as data centers, computer systems, telecommunications systems, and assembly lines, and feature a digital control system to eliminate all overloads, frequency variations, transients, flicker and blackouts in real time. Digital control processes signal 10x faster than previous analog methods. Models are available from 125 kVA to 225 kVA, and include cabinets with seismic mounting features. They are available for applications with input voltage of 208 or 480 V AC, and a range of +15 /- 20%. Input frequency is 60Hz. Output is regulated to +/-1% for balanced loads and +/-3% for unbalanced loads. Output voltage is regulated to ≤ 3% for linear loads.
STACO ENERGY PRODUCTS
www.stacoenergy.com
Small footprint UPS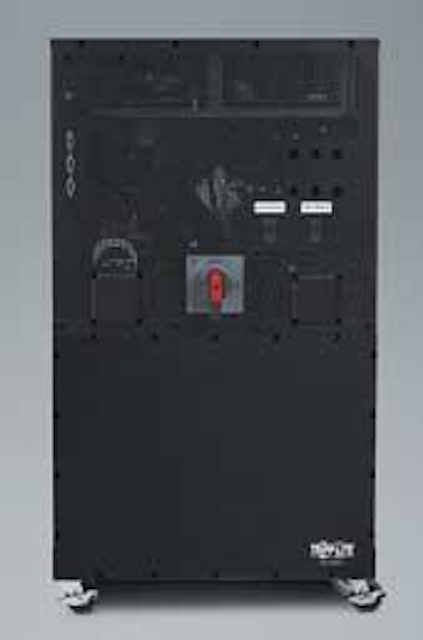 Click here to enlarge image
SmartOnline 3-phase UPS systems feature what the company claims is the smallest footprint in its class. Power and battery components are combined into a compact module designed to save floor space. The UPS features on-line, double-conversion operation, IGBT technology that provides <3% total harmonic distortion, and 3-phase 120/208-volt hardwire input/output. A static bypass and manual maintenance bypass are designed to ensure continuous availability by safely passing through AC power if the UPS requires maintenance. Battery runtime is scalable from 5 to 31 minutes at full load with the 20-kVA model. Systems are available in 20- and 30-kVA as well as two extended runtime models.
TRIPP LITE
www.tripplite.com
Protection for 66-style connecting blocks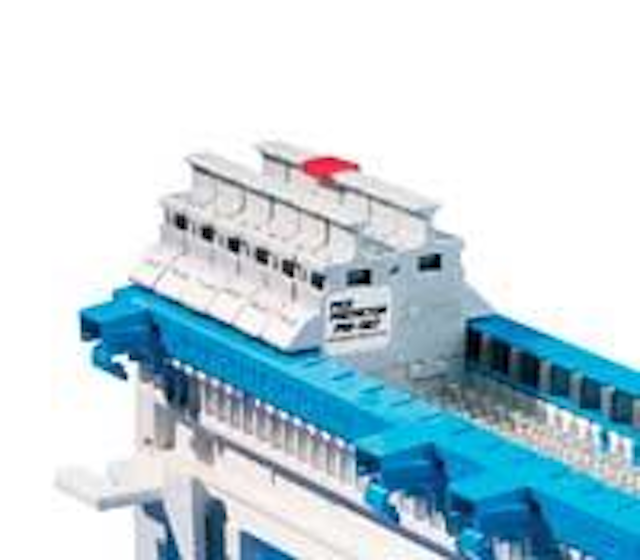 Click here to enlarge image
The Pico protector module provides overvoltage and "sneak current" protections on 66-style blocks when used as a secondary protection system. Featuring high-speed, solid-state technology for voltage protection, and fuses for current protection, Pico has a response time of 1 picosecond-up to 1,000 times faster than comparable protectors. The device includes a molded handle for simplified installation and removal, and a low-profile design that plugs directly onto 66-block clips over existing cable. The system consists of a protector module and ground kit (ground kits consist of snap-on ground plate or bus bar and jumpers designed to safely divert surge energy to ground).
SIEMON
www.siemon.com