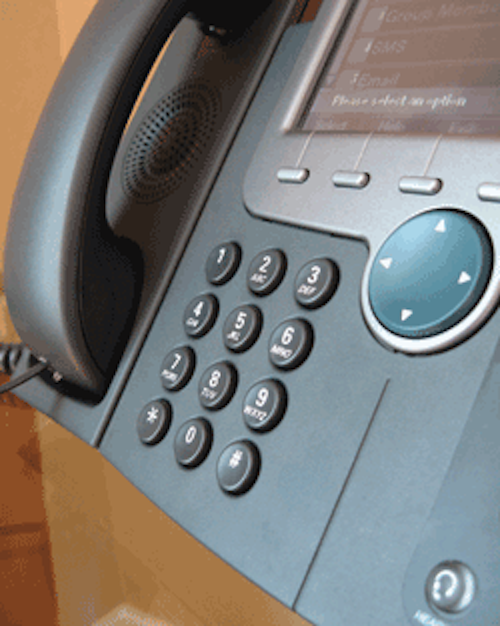 by Patrick McLaughlin
Some embrace the application's capabilities while others see it more like an oncoming train.
By nearly every account, the acceptance of Voice over Internet Protocol (VoIP) is expanding rapidly, particularly among residential consumers and commercial enterprises. A recent report from market researcher In-Stat (www.instat.com) stated that currently one in five United States businesses use VoIP, and that user base will grow to two-thirds of U.S. businesses by 2011.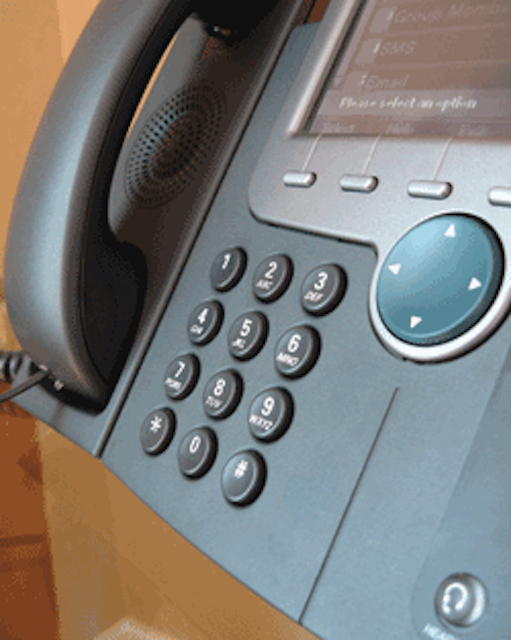 For some users, Voice over Internet Protocol phones like this one are very much the same as time-division-multiplex phones, because they deliver dial tone, plain and simple. For other users, VoIP's capabilities yield significant productivity and/or competitive advantages.
Click here to enlarge image
"VoIP is particularly attractive to businesses with dispersed workforces, where long-distance savings can be easily achieved," says David Lemelin, In-Stat analyst.
In a separate report, In-Stat says VoIP has proven to be the key market enabler for cable-telephony services and subscriber growth. "Generally less expensive to provision than more traditional circuit-switched telephony, the increasing availability of VoIP services in North America was directly responsible for an almost two-fold increase in the number of North American subscribers in 2006," the company says.
Mike Paxton, also an In-Stat analyst, states, "In a growing number of markets around the world, cable TV operators consider telephony service to be an integral part of their telecommunications service bundle. This has led to increasing service availability in North America, Europe, and in a few countries in Asia."
The researcher says that, worldwide, cable telephony subscribers passed 22 million last year, up from 15.8 million in 2005. In some countries, the number of VoIP-enabled telephony subscribers has already exceeded the number of circuit-switched cable telephony subscribers-including the U.S., where the 6.6 million VoIP subscribers dwarf the 2.8 million circuit-switched subscribers.
Practice what we preach
On the business enterprise side, at least one company in the cabling industry can provide a 360-degree perspective on the deployment and use of VoIP. CXTec (www.cxtec.com) provides VoIP products and services, as well as other networking equipment and services, for its customers. And recently, the company became a user of VoIP technology as well.
"We had used a traditional Nortel PBX," explains Peter Belyea, vice president of CXTec's data center and cabling division, who also commented that the PBX's useable life was just about up. "That represented a significant investment," he stated, so the company looked at its own circumstances.
"A driver for VoIP was that our workforce is becoming more geographically diverse," Belyea explains. The company has offices in Syracuse and Buffalo, as well as numerous other satellite and branch offices. "Our talent can be anywhere, and our business is phone-oriented. A TDM [time-division-multiplex] solution was not going to get us where we need to be."
The VoIP system CXTec chose included video tools, which Belyea remarks, "meets the needs of our organization going forth." The video aspect in particular, he points out, allowed the forming of a significant cultural bond among remote users and those working in the company's main offices. Perhaps most importantly, the VoIP system enabled increased productivity. The portability of VoIP access is another significant contributing factor to this productivity. For example, an individual's phone number can follow that person just about anywhere.
Maintaining a balance
Belyea commented about his and other organizations when he states, "VoIP is a balancing act of capital investment and productivity gains. You must know how robust the infrastructure is that you're building upon. Do you have the ability to support 10/100 [Ethernet] with the potential for Quality of Service and Power over Ethernet? If you have the cabling to support that, you have what you need for VoIP." In CXTec's case, the company did not need to invest in the physical layer to support the VoIP application.
While plenty of residential and enterprise consumers are embracing VoIP, many with commercial interests are not altogether cutting their ties to TDM telephony. In-Stat's study on the rate at which U.S. businesses are adopting VoIP also provides insight into this trend. The company states, "VoIP is currently used by 20% of U.S. businesses, but 44% of these businesses' voice lines remain TDM."
"VoIP is not typically embraced as the sole source of voice communications for the vast majority of businesses that have adopted VoIP to date," says In-Stat's Lemelin. In fact, In-Stat entitled its study, issued in April, "Business VoIP: Multiple Flavors Drive Growth."
Getting an education
When we look outside the commercial-enterprise environment, some of VoIP's productivity gains do not provide quite the substantial case for upgrade that they do within the commercial arena. For example, the Association of College and University Telecommunications Administrators (ACUTA; www.acuta.org) recently released findings of a survey among its membership, which represents approximately 770 higher-education institutions.
The survey was conducted among more than one-third of the ACUTA membership and, according to the organization, contained both good and bad news for proponents of VoIP on campuses. "More than 90% of higher-education communications technologies professionals say vendors of VoIP equipment are over-hyping the technology," the group says.
Additionally, approximately 80% of survey respondents do not believe the benefits of VoIP are compelling, nor do they believe it makes sense to spend money to replace equipment that is currently working well. A similar majority are concerned about security, fearing that an IP-PBX could be hacked or become a target of a distributed denial-of-service attack.
Yet the same study shows that 60% realize they need to embrace VoIP as their traditional equipment comes to the end of its useful life. Why? Because for many of them, their PBX vendors either are phasing out or already have phased out TDM systems, essentially forcing the customer base to adopt VoIP.
Carmine Piscopo, RCDD, president of ACUTA and telecommunications manager at Providence (RI) College (www.providence.edu), is about to embark on a VoIP trial run on his own campus. The preparation for even this trial deployment has gone far beyond ensuring adequate cabling performance. The Providence College campus, which includes approximately 45 buildings, has approximately 85 telecommunications rooms. And Piscopo sees VoIP as a potential driver of change in many of those rooms.
"We're going to have to establish an emergency power grid and get all telecom rooms on that grid," before widescale VoIP rollout, he states. "And we have to look at the HVAC [heating, ventilation, and air-conditioning] requirements in every telecom room. VoIP generates heat, and we're going to need additional ventilation," in the telecom rooms that house those switches, he said.
A suspected source of at least some of that heat is the Power over Ethernet (PoE) equipment that provides direct-current power to VoIP phones. PoE originally was developed specifically for VoIP equipment, and today also is used for other IP-enabled devices, including wireless access points and surveillance cameras.
Recently, analyst firm Information Resources (www.informationres.com) conducted a survey of IT users and found that 58% are at least considering PoE equipment for VoIP phones. The same percentage is considering PoE for wireless access points, and 27% are considering the technology to power their IP-based security cameras. So if, as many suspect, PoE is a source of heat, those who use it to supply power for VoIP, wireless, or any other application will have to take that into consideration.
Challenges and rewards
Additionally, those VoIP switches can protrude as much as two feet from the back of a 19-inch rack, in some cases not providing three feet of clearance between the equipment and the telecom-room wall. As Piscopo points out, BICSI (www.bicsi.org) design recommendations call for three feet of clearance. "We can't add space onto the 80 or 85 telecom rooms we have on campus," he notes. "We're a pretty simple brick-and-mortar campus on city streets; it's hard to grow physically."
Another potentially complicating factor concerns a college's or university's organizational chart. On some campuses, those responsible for voice communications report up through the facilities department, while those responsible for data communications report up through the IT department. Because VoIP sends voice signals over the data infrastructure, it forces a coming together, welcome or unwelcome, of those two cultures.
Piscopo also states that his personal experience with departments and administrators at Providence College reflects those found in ACUTA's survey-namely, that staunch advocates of VoIP are few and far between. "We don't have the specific killer applications," that make VoIP so popular other places, he explains. "So, what will I be giving students, faculty, and administrators? Dial tone. What do I give them now? Dial tone."
In that sense, Piscopo says, telecommunications administrators like him have become victims of their own success. The TDM voice system in place is so reliable, users will be at least hesitant about, and perhaps resistant to, change. In the executive summary of its survey report, ACUTA stated, "Senior campus administrators are seen as the strongest advocates of VoIP implementation on campus. Neither students nor faculty are acknowledged as VoIP advocates."
Piscopo's experience also mirrors that of the survey participants in that Providence College's initial VoIP trial will take place in the building in which he works. ACUTA says, "VoIP has been tried most frequently in the offices of IT employees, in pilot projects, and on remote campus sites."
Piscopo acknowledges that his experiences do not reflect those of every college and university: "In my case, where the campus is confined to one location, there are questions about its benefits. But for other, multi-site campuses, where data spans those multiple sites, it makes sense."
CXTec's Belyea can relate to that premise, and recalls a conversation he had with an administrator of a very large university: "We discussed the university's core infrastructure and why they are making the decisions they're making. It turned out their decisions were being driven by admissions as much as technology." In other words, having VoIP was a competitive advantage for this university in attracting the students it most desired, given the campus's physical layout.
"It enables many to, by and large, eliminate wide-area connectivity by linking far-flung sites," Belyea says. So, regardless of the type of organization, if the words "far flung" accurately describe your facilities, you could be in the market for VoIP.
Also, from Piscopo's perspective, VoIP is one of several IP-based technologies that inevitably are in his future. ACUTA's survey respondents indicated the most beneficial applications that could evolve from IP communications deployment are unified messaging and emergency notification. Piscopo, who is responsible for all low-voltage wiring on campus, says his individual observations echo the sentiments expressed in the survey responses. "Our surveillance system and even some fire-alarm systems are my responsibility," he said. Currently, those surveillance systems are analog but before long will transition to IP. "Five years ago, we had approximately 10 surveillance cameras on campus. Today, we have between 50 and 60, and we will ramp up from that number." He fully anticipates that network of cameras to be connected via IP technology.
"Currently, the most VoIP deployment is taking place in the corporate space, followed by higher education," says Belyea, "The corporate environments tend to recognize productivity advantages, while many in higher education adopt for competitive reasons. If you're making an investment in it, you should get a return on that investment."
And despite the apparent lack of a "killer app" on many college and university campuses, ACUTA members know that, for the most part, they are facing a VoIP future. Some may be going kicking and screaming, but others are looking forward to its benefits. Three-fourths of those surveyed said they are more optimistic today than they were three years ago about the prospects for VoIP.
PATRICK McLAUGHLIN is chief editor of Cabling Installation & Maintenance.