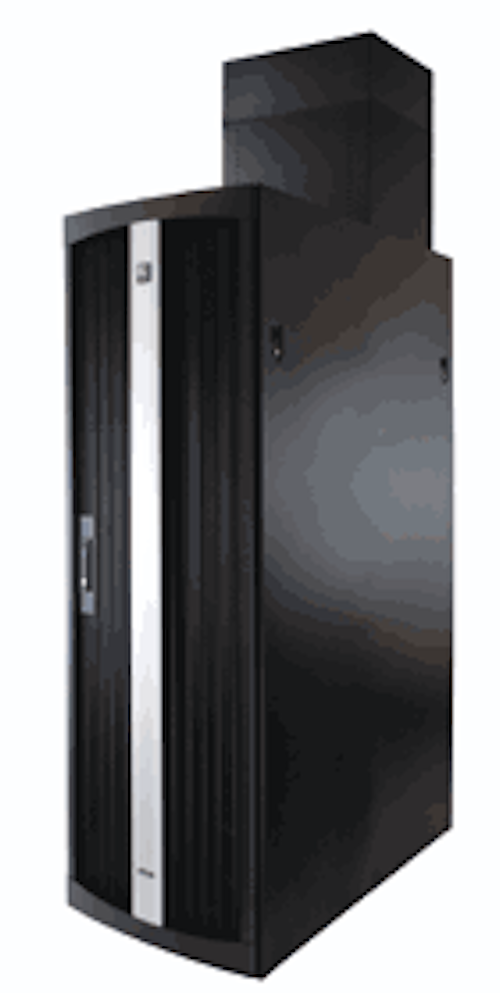 In a partnership the companies say is designed for providing more cost-effective spaces for high-density deployments, such as data centers, Chatsworth Products' (www.chatsworth.com) Tera-Frame cabinet system and Vertical Exhaust Duct System is now incorporated into ANSYS Inc.'s (www.ansys.com) CoolSim 2.2 interactive computa-tional fluid dynamics (CFD) software solution.
Chatsworth Products' TeraFrame cabinet system and Vertical Exhaust Duct System are now incorporated into CoolSim 2.2 computational fluid dynamics software, which pinpoints hot spots and airflow recirculation issues within the data center.
Click here to enlarge image
The TeraFrame system has been designed to solve thermal issues in the data center and offers patent-pending thermal control with zero points of failure, while the Vertical Exhaust Duct System lets you move hot exhaust air from the rear of the cabinet to a drop-ceiling plenum or high point in the room.
CoolSim 2.2 software is designed to produce accurate simulations of airflow and temperature distribution throughout a data center by letting you include variables specific to your particular installation and equipment configuration.
The software pinpoints such problems as hot spots and airflow re-circulation so that appropriate changes can be made to minimize downtime, extend the life of the equipment, and save on energy costs.
"The management of hot and cold streams is the key factor in obtaining effective and desired cooling performance in the data center," says Dr. Kishor Khankari, CoolSim project manager.
"The Vertical Exhaust Duct System technology is one of such measures to keep the hot and cold streams separated in the data center spaces," Dr. Khankari adds.
Ian Seaton, technology marketing manager for Chatsworth Products, says that until the integration of CoolSim 2.2, companies who were interested in getting verification of the Chatsworth's high-density passive cooling solutions had to arrange visits at current customer sites. With CoolSim 2.2, the dimensions and specifications required to configure a solution using TeraFrame cabinets accommodating the Vertical Exhaust Duct System have been programmed in, offering data center designers a pre-configured cabinet (via drop-down menu) that achieves a high-density cooling solution without having to manually enter dimensions and specs.
"Now," says Seaton, "those members of the IT community who have already come to rely on the power and accuracy of the CoolSim CFD tool can create much higher density models and demonstrate practical cooling scenarios to their managers or customers."