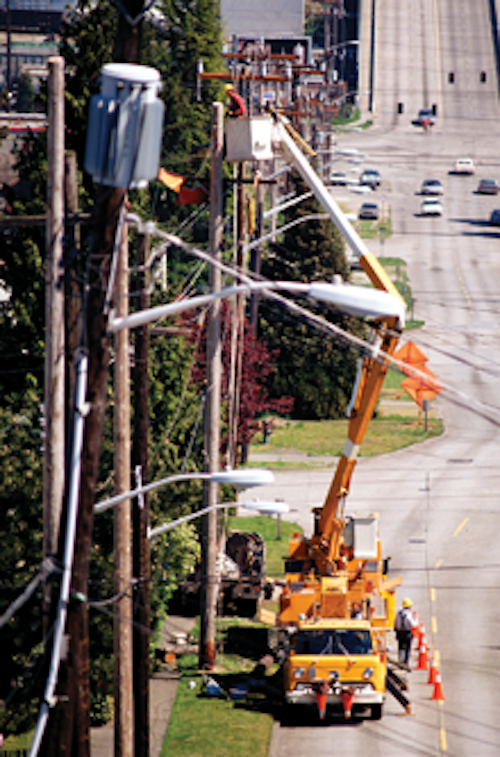 by Betsy Ziobron
The shift from copper to fiber in the outside plant has given rise to new technologies and installation methods, and a rewrite of BICSI's OSP manual.
Compared to other information systems, outside plant (OSP) practices have not changed dramatically over the past decade. The biggest change is what's being placed into OSP pathways.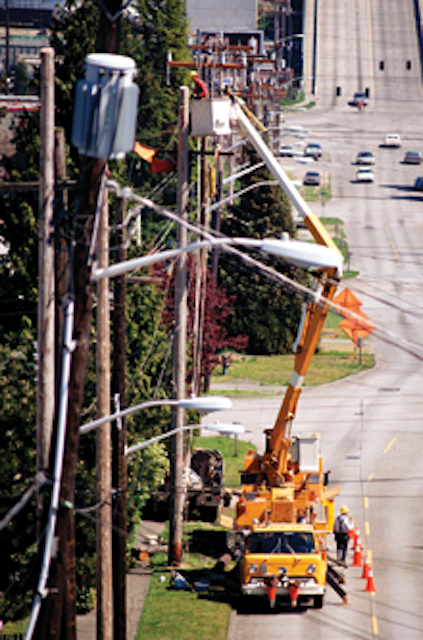 The shift from copper to fiber in the outside plant has given rise to new technologies and installation methods, and a rewrite of BICSI's OSP manual.
Click here to enlarge image
The demand for higher bandwidth and digital applications requires more fiber-optic cables in the outside plant than ever before, and the proliferation of FTTx applications can be seen all around-in the traditional carrier as well as customer-owned campus environments.
Change of scenery
"Gone are the days of placing 4,200-pair copper cables in conduits," says John Adams, RCDD/OSP Specialist, owner of Adams Telecomm in Valrico, FL, and BICSI's Technical Information and Methods (TI&M) Committee OSPDRM subject matter expert team leader (SMETL). "Fiber's ability to move so much more information from point to point in such a small-diameter cable is what's driving the direction that most OSP designers are going in today."
The shift from heavy copper cables that are nearly four inches in diameter to lightweight fiber at just 0.74 inch has stimulated recent changes in OSP infrastructure. At the same time, the growing demand for fiber to the premise (FTTP) is calling for faster and cheaper installation, which has given rise to changes in installation methods and new technologies that recently warranted a rewrite of BICSI's Customer-owned Outside Plant Manual (now Outside Plant Design Reference Manual).
A significant change in OSP infrastructure afforded by the shift to fiber is the use of aerial network construction. Many installers are now seeing the benefits of the once-disfavored method of stringing fiber on poles, using the electric utilities' rights of way.
In fact, fiber's insignificant weight, and its ability to eliminate lightning and voltage concerns, have many utilities embracing the installation of telecommunications networks along the nation's more than 200,000 miles of pole systems.
Things are looking up
OSP aerial construction costs less than underground applications, which can encompass all sorts of environmental surprises, right-of-way issues, cleanup efforts, and potential damage from future construction and rodents. Aerial fiber is also easy to inspect, and the ease of placing fiber on existing poles means networks can be up and running faster.
It's not just telecommunications providers and local exchange carriers that are piggybacking on electrical utilities' poles. In the summer of 2006, when the town of Tolland, CT needed to connect its new high school back to the old school down the street, American Networks International (www.americannetworks.com) installed 6,000 feet of singlemode fiber, of which 4,000 feet was aerial fiber using local telephone poles.
"Instead of leasing T-1 circuits, we're seeing many customers connect separate facilities by acquiring easements to run their own fiber across towns on existing poles," says Jack Pragosa, executive vice president of operations for American Networks International.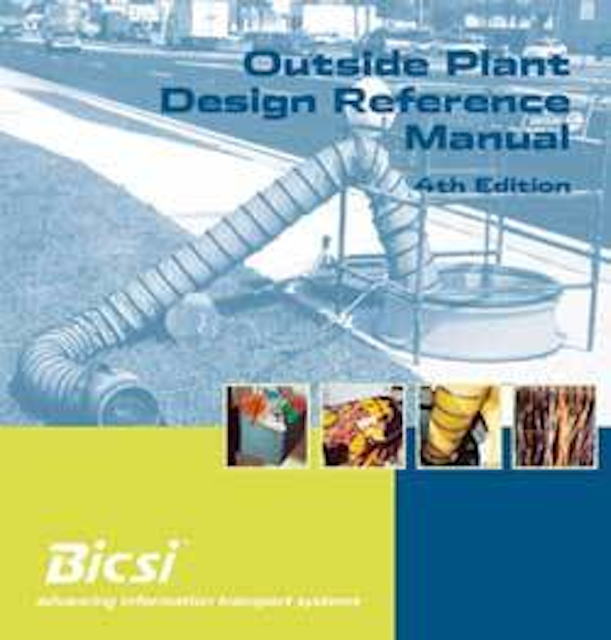 BISCI's reference manual for the design of outside-plant systems addresses many recent changes in OSP design, and no longer includes the term "customer-owned" in its title.
Click here to enlarge image
"Nine times out of ten," Pragosa adds, "the fiber is being run up in air on poles and then transitioning to underground at the new construction site for aesthetic reasons. Installing fiber underground across town can mean having to locate existing manholes and pipe systems, hiring police, and blocking off streets. When you're on the side of the road stringing fiber on poles, it's much less disruptive."
While using existing poles has become more common, when it comes to installing new poles for aerial installation, the poles themselves are also changing. "In recent years, the use of wooden telephone poles has been replaced by concrete, steel, or fiberglass," says Adams. "Steel and concrete poles require far less concern for providing strain relief in the form of down guys and anchors. Add to that the need to prevent decay and deterioration of wooden poles, and the choice seems even more obvious."
Valmont-Newmark (www.valmont.com), provider of steel and concrete poles, says that steel and concrete poles offer consistent uniformity without the twists, knots, splits, or bows seen with wood. Steel poles also weigh 50 to 70% less than wood while also offering better structural reliability (they don't rot, and tend to bend rather than break). Another reason for moving to steel or concrete poles has much to do with environmental issues, such as deforestation and the toxic materials currently used to prevent wood poles from rotting.
Underground rewards
While fiber's weight and size has gotten many OSP networks out of the ground, underground conduit is still considered the best pathway system in terms of aesthetics and capacity. In areas of ice and high winds, they also offer better protection than aerial systems. These underground systems are also being affected by the shift from copper to fiber.
"Conduit systems are being downsized from 16-way systems using 16 individual pipes to a more normal 6-way system," says Adams. "The smaller diameter of fiber has also increased the use of pathway-maximizing products, like fabric mesh innerduct."
Fabric innerduct, such as MaxCell (www.maxcellinnerduct.com), is a flexible fabric conduit that allows for placing nine fiber-optic cables in one four-inch conduit. The engineered fabric has a low coefficient of friction that enables more cables to be installed without adversely affecting pulling tensions.
"Using past practices, nine fiber-optic cables would have required as many as three pipes," says Adams.
What's going on down there?
While conduit systems are still considered the best method for OSP applications, Adams points out that they must still be carefully planned out for both current and future needs. "If underground systems are not controlled, they can quickly turn into the worst systems due to improper placement and inability to maximize pipe usage."
Pragosa from American Networks International agrees: "You need to make sure that you have dedicated pipes for fiber because you don't want anyone else going into your pathway and potentially damaging what you've already installed. It's also important to make sure that conduit systems are sealed properly and installed below the frost line so that they are less likely to become invaded by rodents and water."
With more fiber-to-the-building carrying the outside-plant cabling marketplace, it's not just the pathways that have changed. The growing demand for fiber is also calling for faster and cheaper installation, which has led to technologies that facilitate installation while also creating labor issues in some regions.
To install cables under roads and driveways, horizontal directional drilling (HDD) is the latest method that offers a faster and more reliable alternative to open trench and previous auger-boring methods. The technique used during the HDD process is similar to that of oil well drilling, which requires drilling fluid to reduce friction and stabilize the hole. "Auger boring was a practice that relied heavily on experience and prayer, while HDD is a much more controlled method that obtains very precise results," says Adams.
While the major advantages of HDD are speed, reliability, and minimal environmental disruption, the process has its critics as well. "Some say that HDD creates voids under paved surfaces that can result in cracking and excess settling," says Adams. "Others believe that because the drilling solution contains substances that are not native to the digging site, it can have an adverse affect on insects and the environment."
New powder techniques
Another technology speeding up the installation of OSP is indoor/outdoor cables that use a dry water-absorbent powder instead of gel for waterproofing. The use of some indoor/outdoor cables eliminates the need to transition to plenum-rated fiber at the minimum point of entry.
"With indoor/outdoor cable, we can go directly from the telephone pole, into the ground, into the building, and all the way to the core closet without the time-consuming task of transitioning to plenum right inside the building," says Pragosa.
It's typical for electricians to install conduit well before it's time to install any network fiber or copper. In some areas, the actual installation of OSP fiber is being completed by unskilled labor to further reduce costs.
"In our area, we're seeing a lot of migrant, non-skilled laborers doing the rough-in of the cable, and then one skilled worker coming in to do the fiber terminations," says Leonard Rickman, principal of Florida-based Alpha Business Communications (www.alphabusiness.com). "This is especially true in areas where the telcos are bringing fiber to the premises. I don't believe this is good for the telecommunications industry; it affects quality and takes a lot of the OSP work away from the smaller telecom contractors."
Pragosa adds, "When unskilled workers install OSP cable, they don't always follow tensile-pulling and bend-radius rules. Even if qualified people are conducting splicing and terminating, poor installation of the cable can ultimately affect loss and transmission quality." Pragosa notes, however, that he doesn't see a lot of unskilled labor pulling OSP cable in the Northeast.
Rewritten for all
In February, BICSI reinvented the Customer-owned Outside Plant Manual with the publication of its fourth edition. Now referred to as the Outside Plant Design Reference Manual (OSPDRM), the new manual covers many recent changes in OSP applications, including aerial systems, reduced conduit size, fabric innerduct, and HDD technology.
One key aspect of the new manual is its ability to address global practices instead of relying exclusively on U.S. standards.
"Once we addressed applications and technologies, we needed to address internationalizing the manual and making it more useful for other countries," says Adams. "At first, this seemed like an impossible task but turned out to not be difficult at all."
He adds that BICSI chose to use the term "BICSI best practices" when suggesting design methods to readers. "For example, trench depth in the U.S. cannot exceed five feet without taking precautionary measures to ensure safety, while other countries require safety measures for trenches over four feet, or less," explains Adams. "So, we chose to say 'It's a BICSI best practice to take precautionary measures when dealing with trenches over five feet.' It doesn't please everyone, but it's a beginning to the process of internationalizing our reference manuals."
Some things never change
Since updating of practices among traditional telcos has declined, BICSI also hopes that its new manual can help to fill that void. This is partly what prompted BICSI to remove the "Customer-owned" term from the manual's name.
Adams concludes, "Everything changes, and change is good. OSP, which has remained somewhat constant, is no exception. We changed the manual so that everyone can have an understanding of what was, what is, and what remains to be seen in OSP; however, the designer is ultimately the one responsible for long-term customer satisfaction."
BETSY ZIOBRON is a freelance writer and regular contributor to Cabling Installation & Maintenance. She can be reached at: bziobron@comcast.net