Modular patch panels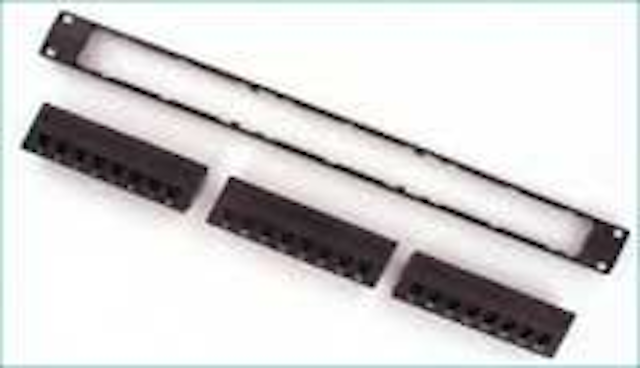 Click here to enlarge image
VERSA series patch panels feature detachable modules that allow for front access to cable in areas with limited rear access. Combined with Press-fit technology, which requires no solder or lead on the printed circuit board, VERSA meets RoHS compliance, and its modular design allows individual module access/configuration without affecting other circuits. Cable termination can be achieved by mounting the panel on the rack and then terminating the wires on the IDC connectors, or by removing the modules before terminating and then loading the terminated modules onto the panel. A high-density 24-port, 1U configured with three 8-port modules, and a 48-port, 2U with six 8-port modules are available for both Category 5e and 6 applications. For a custom installation, individual cable manager and blank 8-port modules are available to accommodate audio, video, fiber and other multimedia cables and inserts.
ACTON SYSTEMS
www.actonusa.com
Modular fiber panel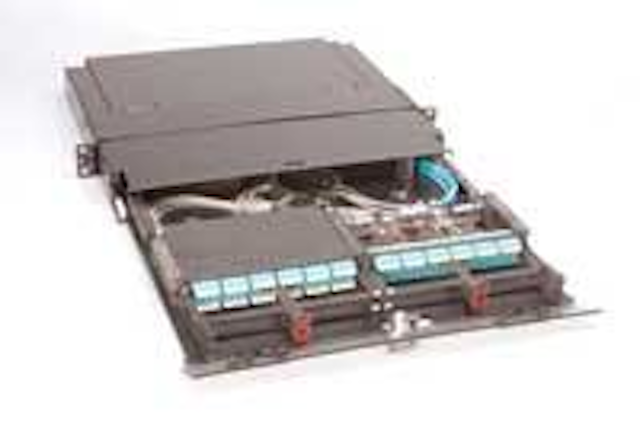 Click here to enlarge image
The TrueNet modular switch panel, a high-density fiber management solution, consumes half the space of the company's traditional TFP solution but with twice the density. This new solution is most suitable for storage area networks or with switch and fiber racks of active gear. The panel is designed to address many common data center concerns, including limited space and accessibility of fiber. It offers simplified finger access to individual fibers, requires no tools, and possesses 96 terminations per RU. This panel is available for LC configurations only and is offered in both a field termination and plug-and-play design.
ADC
www.adc.com
V-groove splice, ADSS fiber cable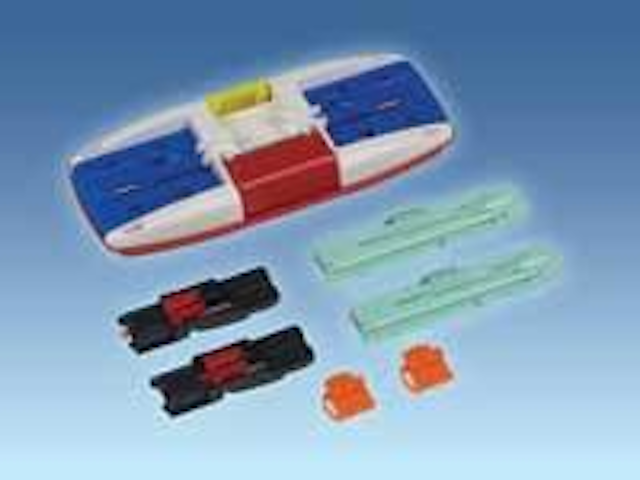 Click here to enlarge image
SpliceConnect is a mechanical splice that provides an alternative to mating fibers. Using V-groove technology, this splice maintains physical contact between the fibers. An assembly tool is used to ensure the fibers are mated correctly, resulting in <0.1 dB insertion loss (typical, singlemode). SpliceConnect secures both fiber and its coating independently with the U-shaped sleeve, enhancing the strength of the splice and minimizing the impact against fiber twist. With 250-µm and 900-µm fiber capabilities, SpliceConnect is suited for restoration projects, premise environments, and fiber-to-the-subscriber (FTTx) applications.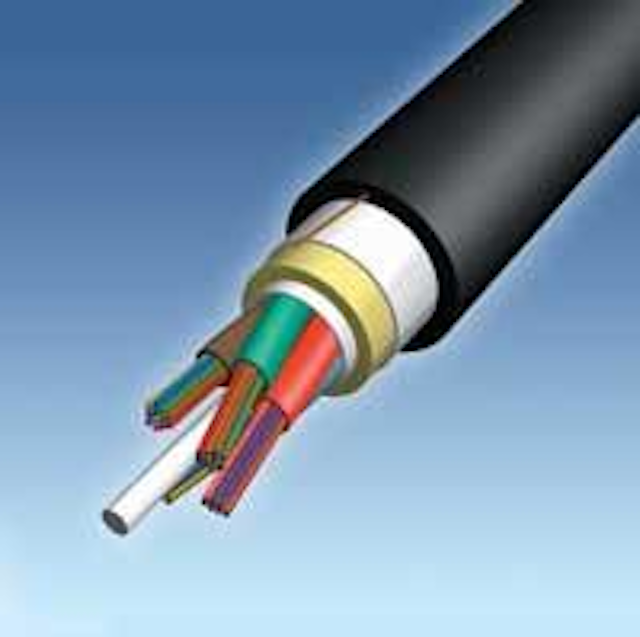 Click here to enlarge image
MINI-Span 323 and 383 All-Dielectric Self-Supporting (ADSS) fiber-optic cables ("0.323" and "0.383" refer to the outside diameter of the cables) are designed for short to medium span installations, particularly in distribution environments where pole space is often crowded. Self-supporting without the need for messenger cables and lashing equipment, the ADSS cables are comprised of fiber-bearing buffer tubes stranded around a central member, along with applied strength elements, water-blocking components, and an outer polyethylene jacket. The company provides a complete network solution by providing accompanying pole attachment hardware. Together, according to the company, this cable and hardware solution can provide a total system savings of up to 15% when compared with other ADSS designs having the same fiber count but larger diameters and bulkier hardware.
AFL TELECOMMUNICATIONS
www.AFLtele.com.
900-µm fiber cables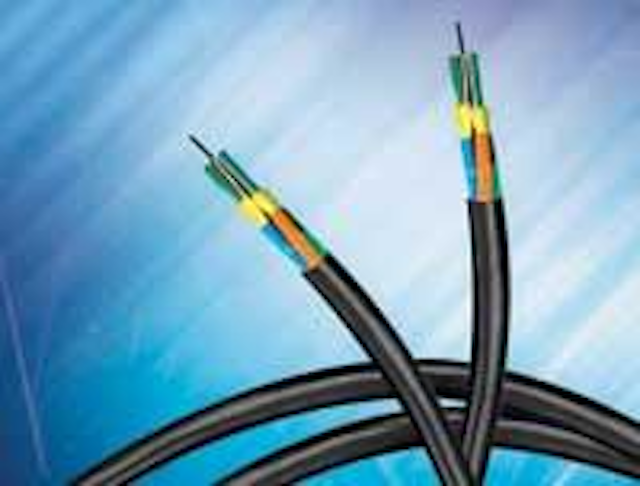 Click here to enlarge image
A new series of indoor/outdoor tight buffer distribution cables has been added to the company's IBDN FiberExpress line of fiber-optic cabling solutions. These 900-µm, tight-buffered cables comply with the ICEA S-104696 industry standard specification (standard for indoor/outdoor optical fiber cable). The cables are designed to be easier to install and faster to terminate than loose tube cables. UL riser- and plenum-rated OFNR/OFNP, these cables are suited for duct and aerial installations, with no need for transition points at the building entrance. Construction consists of 900-µm color-coded buffered fibers surrounded by water-swellable aramid strength members, with a ripcord under an overall UV-resistant, flame-retardant black jacket. For cables with fiber counts over 24, bundles of 6 or 12 fibers are utilized. An overall water-swellable tape barrier provides additional water blocking to protect the interstices from axial moisture migration. With fiber counts from 6 to 48, the tight buffer cables are available in 62.5/125-µm and 50/125-µm multimode as well as singlemode enhanced. Breakout construction is also available. Several options are also available for special order, including aluminum or steel interlock armor, LSZH riser-rated construction, and a selection of UV-resistant colored jackets.
BELDEN
www.belden.com
New Cat 6A, fiber cables
Click here to enlarge image
This new LANmark-10G2 Category 6A UTP cable features what the company says is the world's smallest round outside diameter (.300" nominal). Engineered using a patent-pending design that incorporates four twisted pairs cabled with three monofilament elements to ensure a completely round cross-section, this cable is designed and guaranteed to meet the electrical component requirements of the proposed TIA-568-B.2-10 standard for Category 6A supporting IEEE 10GBase-T out to 100 meters. The geometry and pair configuration is designed to create a significantly reduced cable diameter, while preserving the alien crosstalk performance of the original LANmark-10G. The new 10G2 cable is also designed to provide space savings in horizontal and vertical pathways, and to simplify installation when compared to other 10G solutions.

Click here to enlarge image
Micro Data Center Plenum (MDP), a new fiber-optic cable design, specifically targets the data center/storage area network (DC/SAN) market. The MDP cable design incorporates the company's patented dry loose-tube technology in a smaller outside diameter, and is adapted specifically for the indoor-only DC/SAN and building backbone environment. Patent-pending construction is designed to provide a 50% smaller cross-sectional area than equivalent fiber count indoor cables. The new line of MDP cables is available with plenum ratings up to 72 fibers, and is built for significant cost reduction over traditional indoor cable design options. In DC/SAN applications, the new MDP cables can help prevent cabinet and pathway congestion, enhancing airflow, and facilitating more efficient cooling. When compared to traditional ribbon interconnect, premises distribution, and indoor/outdoor loose tube cables, this new breed of cables is designed to offer improved density, ease of installation, termination, and sub-unit handling.
BERK-TEK
www.nexans.com
Passive cooling cabinet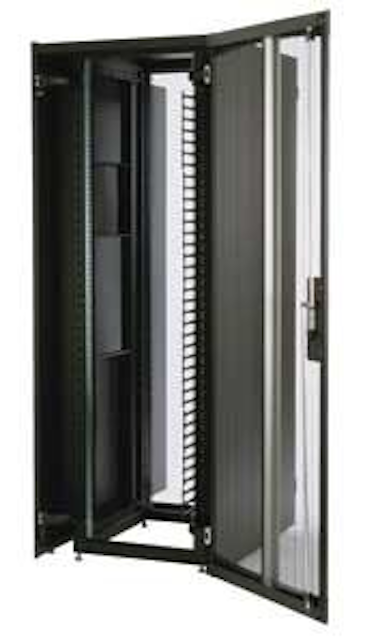 Click here to enlarge image
When employing side-to-side airflow, network switches located in a hot aisle/cold aisle layout run the risk of re-consuming hot exhaust air, causing elevated equipment intake temperatures, which ultimately results in equipment failure. The N-Series Tera Frame network cabinet is engineered to defeat these thermal challenges by using the company's Passive Cooling Solutions to manage high-density switches, while also presenting advanced cabling solutions designed to simplify installation and maintenance and provide maximum cable capacity for data centers. TeraFrame is equipped with a proprietary Network Switch Exhaust Duct that isolates and re-directs hot exhaust air out the back of the cabinet and into the hot aisle, minimizing hot air re-circulation and essentially converting side-to-side airflow into a front-to-rear airflow pattern. According to the company, the solution maximizes energy efficiency by including no active components to increase maintenance costs or compromise redundancy, while decreasing total cost of ownership. The N-Series is designed to accept cables through openings located on the top and bottom of the cabinet, while T-shaped cable guides and spools align with each rack unit. Offset doors and side panels are designed for simple removal and provide full access to equipment and cabling.
CHATSWORTH PRODUCTS
www.chatsworth.com
'Smart' conduit boxes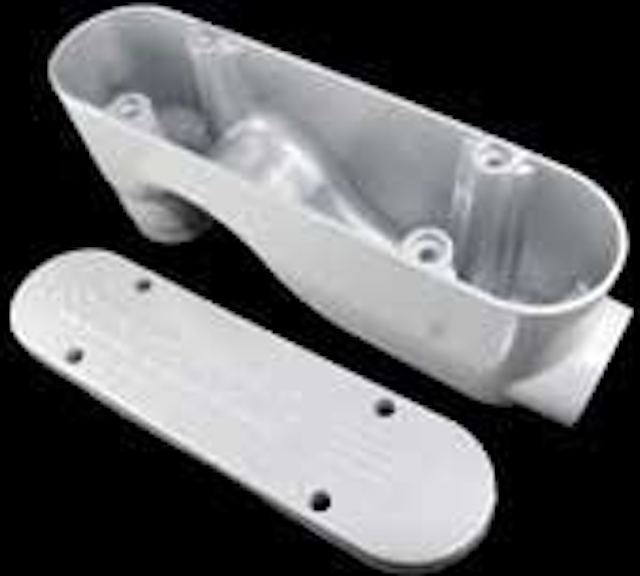 Click here to enlarge image
A new line of the company's Smart conduit bodies-the Smart LB-is designed to eliminate time-consuming installation of pull boxes and long radius sweeps when installing voice and data cabling. Smart LBs are UL/CSA-listed for electrical and datacom installations, and are included in the 11th edition of the BICSI TDMM. Smart LBs install like a traditional electrical LB while also providing a built-in curvature designed to maintain bend radius requirements for copper and fiber cabling. Sizes range from 1 to 4 inches, and units are available in PVC and die-cast aluminum models.
CONDUIT SPECIALTIES
Booth #1904
Protective fiber coating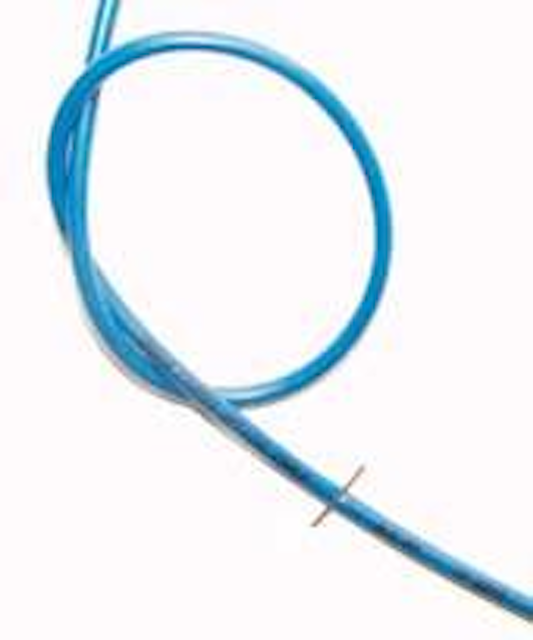 Click here to enlarge image
BendBright, billed as the first true bend-insensitive fiber, now features ColorLock, a proprietary vibrant coating designed to further protect the fiber. Proven in severe tests, according to the company, BendBright expands micro-bending resistance, offers lifetime resistance to aggressive cable concepts at low temperature, and enhances strip-ability. It is backward compatible and meets all singlemode standards. The company's simplex and duplex interconnect cables are now available with BendBright fiber, making them suitable for dense fiber networks, patch cords and indoor connectivity applications. Available cable diameters range from 1.6 to 3.0 mm. Riser- (OFNR) and plenum- (OFNP) rated cables are available in all sizes.
DRAKA COMTEQ
www.drakacomteq.com
Signal reference grid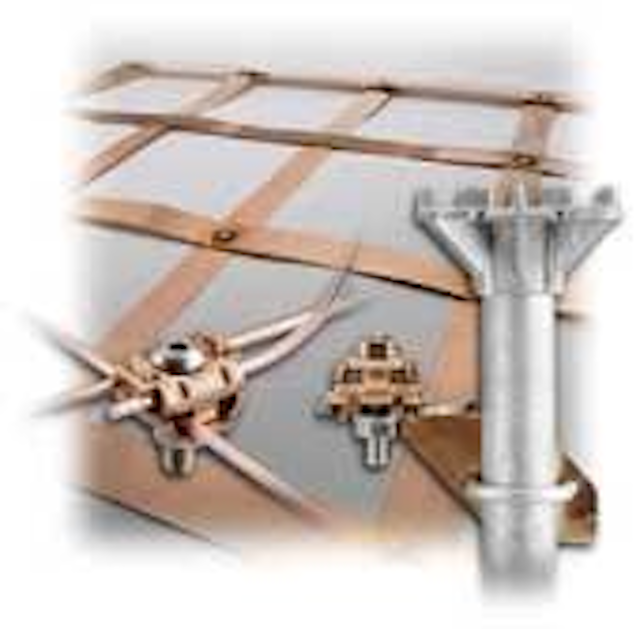 Click here to enlarge image
Customized, pre-fabricated ERITECH Signal Reference Grids (SRGs) are designed to provide a low-impedance network of conductors to create an equipotential plane for sensitive electronic and raised floor environments recommended in IEEE 1100. SRGs are manufactured from 2-inch wide, 26-gauge copper strips on 2-foot centers, and are furnished in 4- to 16-foot wide sections. All equipment is bonded to the SRG using low-impedance risers. Every sixth raised-floor pedestal in each direction is connected to the SRG using AWG 6 concentric copper conductor. Columns, conduits, water pipes, and ducts entering the room are also bonded to the SRG. SRGC46 and 46BR connector and bracket are designed for simplified field installation. Each conductor accommodates cross-wire connections, and an additional pigtail can be used to connect the grid to pedestals, building steel, and equipment. This UL-listed system is also direct-bury rated, making it suitable for below-grade equipotential mat and mesh construction.
ERICO
www.erico.com
Tight space enclosure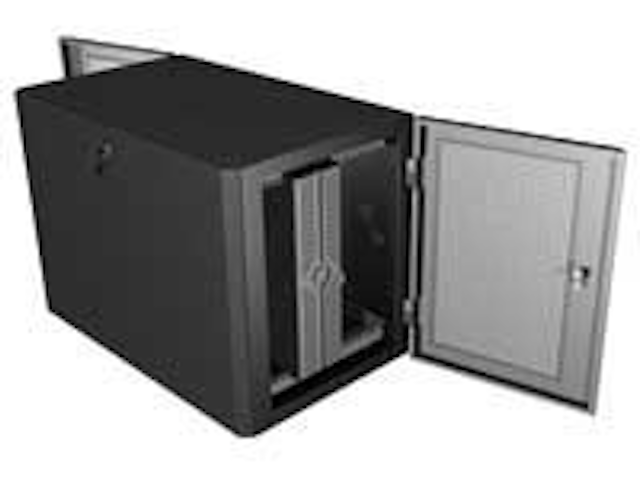 Click here to enlarge image
The server side "WE" wall-mount cabinet is designed for server mounting when space is at a premium, and was built in response to customer requests for a wall mount that would allow for side-mounting a server. The UL-listed cabinet has mesh front and rear doors, and allows 29-inch rail placement. Other features include removable front panel, and cable access at top and bottom.
GREAT LAKES CASE & CABINET
www.greatcabinets.com
Ground pedestal clamps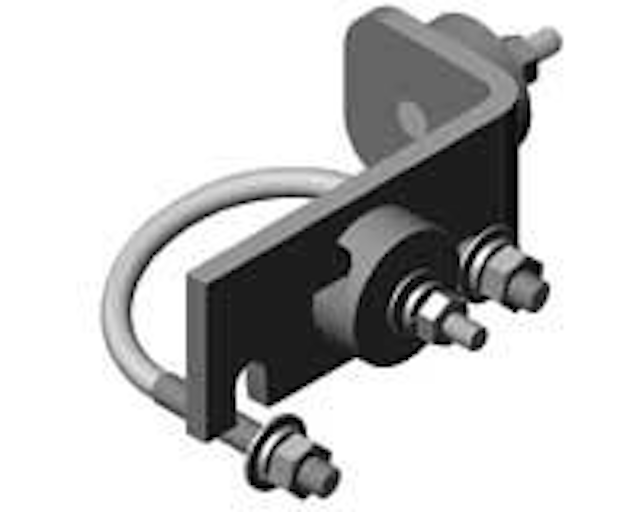 Click here to enlarge image
Today's data centers require an increasing amount of air flow under the raised floor, thus requiring longer pedestal lengths. At the same time, more and heavier equipment is being installed on these floors, which has led to a longer raised floor pedestal with a corresponding increase in pedestal diameter. To accommodate these requirements, this new line of pedestal grounding clamps can handle pedestal diameters from 1 1/8 to 1 ¾-inch diameter, and conductor sizes from 6 AWG to 2/0. A swing free u-bolt design speeds installation, while the dual conductor cap allows for a larger size cross-run conductor and a bonding size conductor to be simultaneously placed in the clamp. Electro-tin-plated copper components and stainless steel hardware are designed to ensure material compatibility, free from corrosion.
HARGER LIGHTNING & GROUNDING
www.harger.com
Cable management via arrowhead design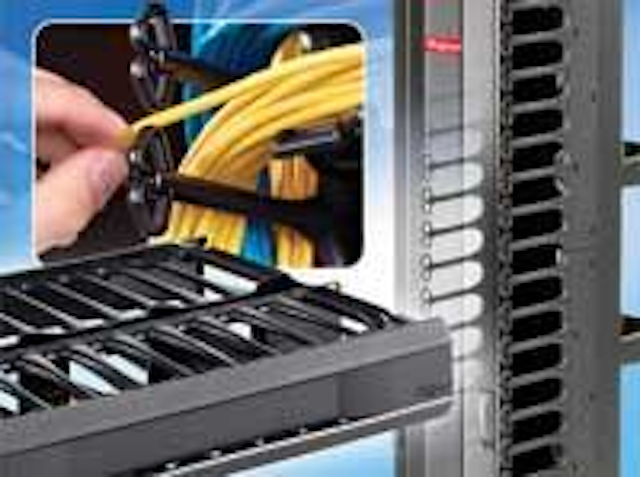 Click here to enlarge image
The CableTek management system is designed to provide support for cable bundles and individual cables in standard 19-inch data racks, and to simplify moves, adds and changes (MACs). Its arrowhead finger design allows for simplified insertion and removal of cables. The system offers horizontal and vertical cable managers in a variety of sizes, and allows transitions from horizontal to vertical systems, optimizing storage capacity, reducing cable expenses and increasing time efficiency. CableTek is EIA-compliant, accommodate Category 5e, 6 and 6A cables, maintains the proper cable bend radius, and offers tool-less snap-in mounting. It is available in single-sided or double-sided horizontal as well as vertical options. In addition, pass-thru holes are provided for extra wiring flexibility, while an optional cable tie-down bar provides rear-bundle support.
HOFFMAN
www.hoffmanonline.com
Pre-terminated MPO module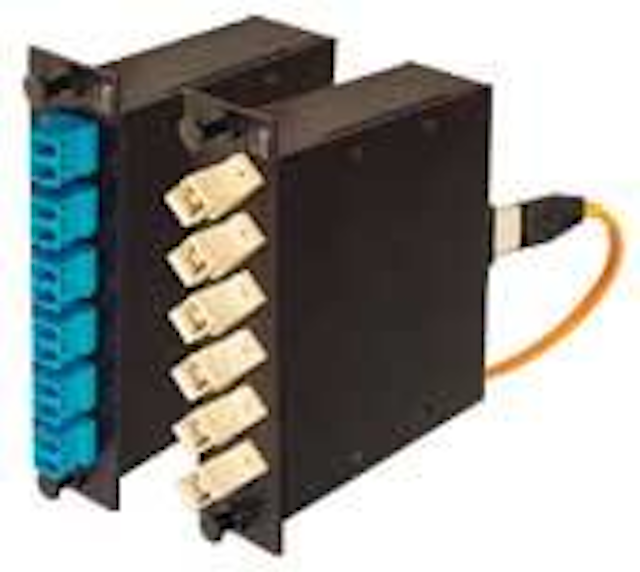 Click here to enlarge image
These pre-terminated fiber-optic MPO cassette modules are designed as a plug-and-play system that requires no field termination or splicing. They are available in LC and SC configurations, and support options for 10-Gig, 50/125-µm, and 62.5/125-µm. Features include simplified access on both ends (front and back) for patching, and factory-terminated and tested components that eliminate the need for further on-field testing.
ICC
www.icc.com
One-cycle ratchet tool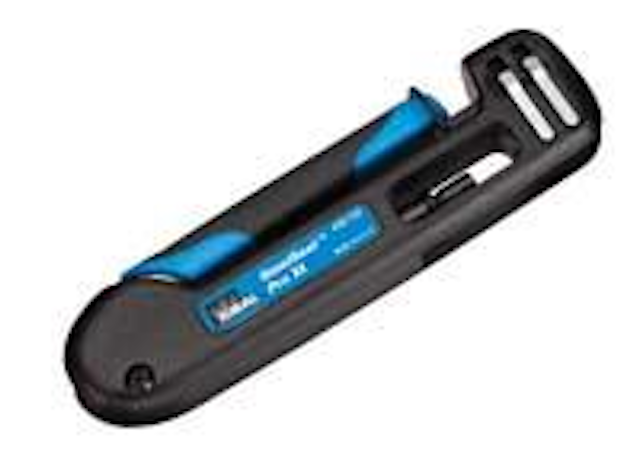 Click here to enlarge image
In a smooth, one-cycle full ratchet motion, OmniSeal Pro XL tools compress F-type, RCA, RG-11, BNC and mini connectors onto coaxial cable for a permanent connection. Because of its universal design, the OmniSeal Pro XL eliminates the need to carry multiple crimp or compression tools. It is factory-preset and calibrated to terminate all company-branded compression connectors. In addition, it can terminate other manufacturers' connectors simply by adjusting the tool's plunger depth (no adapters required). A 7/16-inch hex socket is built in to install CATV connectors. OmniSeal Pro XL combines a high-strength aluminum body with a spring-loaded handle featuring a textured Santoprene slip-resistant grip, along with a handle lock. In addition, the new OmniSeal Pro version offers identical features but without BNC connector compatibility.
IDEAL INDUSTRIES
www.idealindustries.com
3x media converters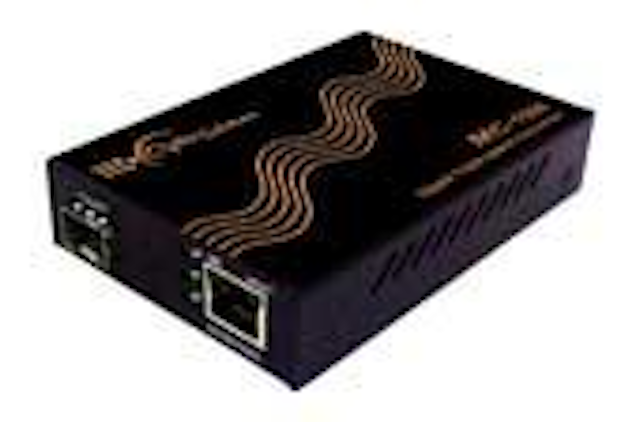 Click here to enlarge image
The MC-1500LC-MM/-SM Gigabit triple-speed media converters (10/100/1000TX; 1000Base-SX/LX-SFP) are designed to offer fiber advantages for mission-critical networks. The converters can reduce network downtime and increase quality of service levels, and are completely transparent when installed-the network performs as usual, except that it can incorporate both copper and fiber. This flexibility lets you put fiber cables anywhere within a network without changing the arrangement of the copper-based Gigabit segment. Wall-mountable, the MC-1500 series supports auto-negotiation, ensuring plug-and-play operability. A limited lifetime performance warranty is included.
LYNN ELECTRONICS/TEC OPTIX
www.lynnelec.com
All-in-one fiber termination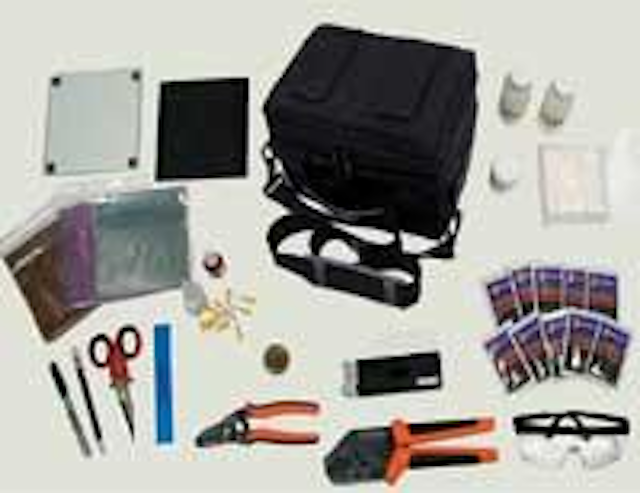 Click here to enlarge image
The GoKIT Economy is an all-inclusive field installation kit designed for maximum fiber termination capability at a low cost. The kit terminates up to one-hundred 2.5-mm SC, ST, F or LC multimode connectors while providing a portable work surface. The GoKIT contains a complete anaerobic adhesive system and requires no ovens or special tools. The kit also includes a jacket/buffer stripper, universal crimp tool, 2.5-mm and 1.25-mm polishing pucks, polishing plate, pad and paper, 100x inspection scope, scissors, scribe, protective glasses, and alcohol and lint-free wipes. The RoHS-compliant kit does not contain hazardous material.
KITCO FIBER OPTICS
www.kitcofo.com Booth #1608
Cat 6A, tight-buffered Cables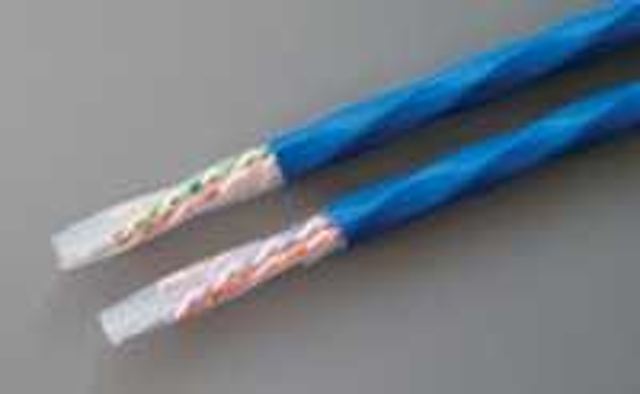 Click here to enlarge image
The redesigned GigaLAN 10 Category 6A cable features a reduced outside diameter of 0.295 inches, which offers enhanced flexibility and installation ease into conduit, allowing increased conduit and tray capacity. The reduced outside diameter also improves bend radius, creating easier installation solutions for closets and workstation outlets. The newly designed FlexWeb, combined with a patented fluted jacket construction, isolates cable pairs and promises outstanding pair-to-pair balance. Designed for 10GBase-T applications, this cable is also backward-compatible with 100Base-T and 1000Base-T applications.

Click here to enlarge image
VeraLite TBF is a tight-buffer cable with a totally dry, water-blocked design. It features UV-resistant black jackets for superior protection against sunlight, and water-swellable strength members and barrier tapes for moisture protection. This cable was designed to eliminate flooding gels typically used in outside plant designs, and decreases installation time by eliminating the need for breakout kits. VersaLite TBF complies with ICEA S-104-696 "Standard for Indoor-Outdoor Optical Fiber Cable," and is available in plenum and non-plenum.
MOHAWK
www.mohawk-cable.com
Pre-terminated cabling system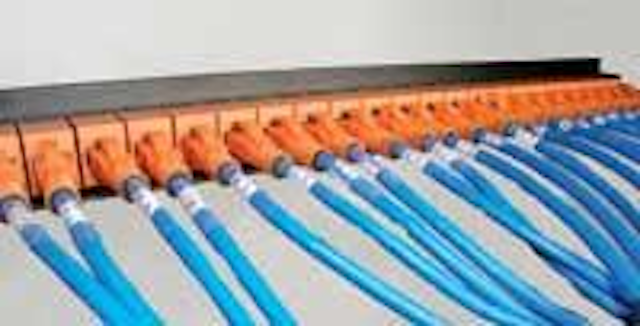 Click here to enlarge image
Clarity SNAP pre-terminated copper cabling system, according to the company, combines Clarity connectivity with a modular design that increases the ease and flexibility of installation and maintenance while reducing installation times. Clarity SNAP is suited for high-density applications, such as data centers, and includes traditional 6-port module patch panels, individual jack panels, terminated cable assemblies, and workstation jacks. Supporting the standard performance of Clarity 5E, Clarity 6 and Clarity 10G, SNAP is built to provide excellent channel performance, support simplified installation, and reduce or eliminate the need to conduct field testing on the final installed system. The company's pre-terminated cable assemblies feature a connector on each end of the assembly and that is reduced in size for simplified pulling or laying of cable. RJ-45 connections are precision tuned, with Clarity patch cords using proprietary center-tuned technology for what the company claims is significantly improved crosstalk and return loss performance that is field measurable in the channel.
ORTRONICS/LEGRAND
www.ortronics.com
Raised floor cable routing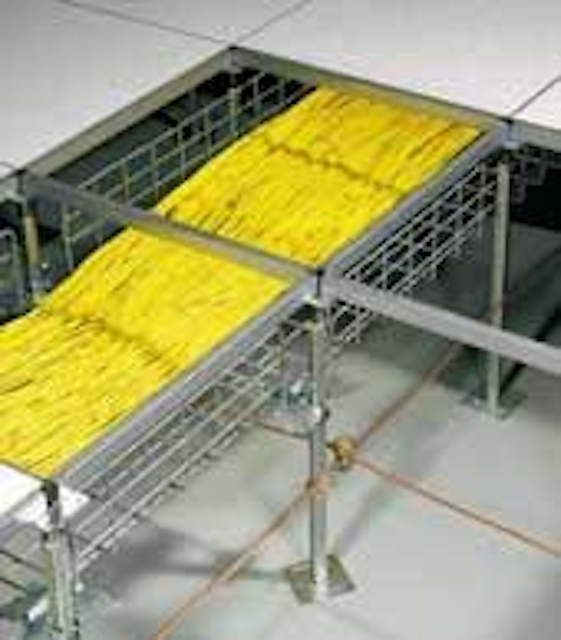 Click here to enlarge image
The Underfloor Cable Routing System is a modular wire basket pathway designed to route and manage data and power cabling beneath raised floors. Pre-assembled mounting brackets and drop-in wire basket sections are designed to eliminate the need for cutting, and assemble quickly for simplified deployment and reduced installation cost. All-rounded edges and bend radius control corners prevent damage to cables, while integral bonding ensures that all system components are electrically bonded to each other during installation to provide full continuity for improved electrical protection. In addition, the wire basket design limits airflow obstructions that can affect data center cooling.
PANDUIT
www.panduit.com
Desktop label maker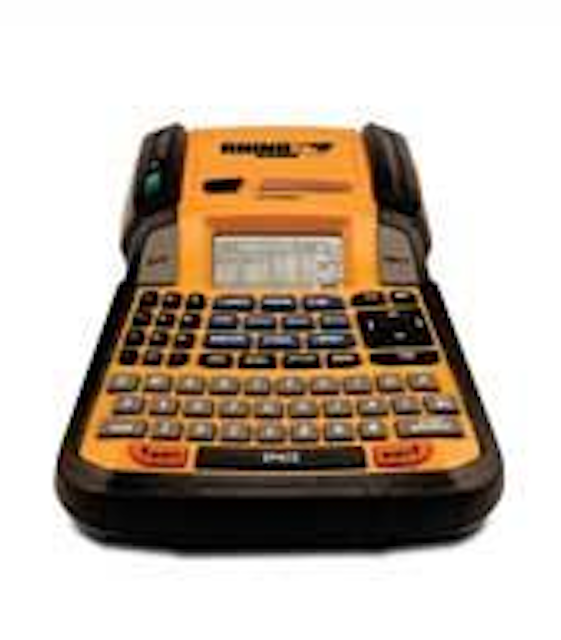 Click here to enlarge image
The RHINO 6500 desktop label printer features PC connectivity with the ability to download labels with graphics and logos. The Auto-cutter allows for batch printing of labels without user intervention. Hot Keys instantly format wire wraps, flags, vertical, fixed-length, patch panel, reverse patch panel, distribution modules and advanced serialized labels. More than 250 pre-programmed industry terms and symbols are available, as well as memory to store more than 1,000 custom labels, including terms, graphics, logos and symbols.
RHINO/DYMO
www.dymo.com
Pre-terminated copper trunking assemblies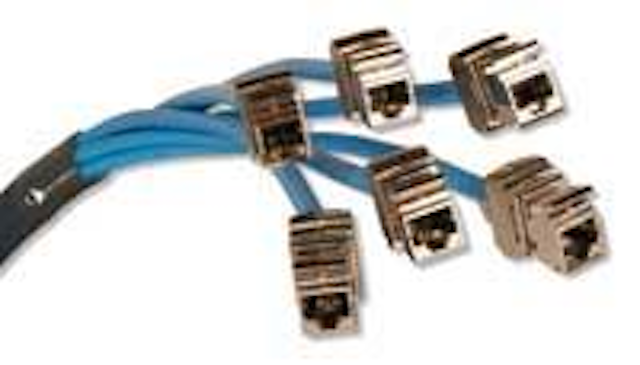 Click here to enlarge image
These pre-terminated copper trunking assemblies are available in all three of the company's 10GBase-T solutions, including 10G 6A F/UTP, 10G 6A UTP and Category 7 TERA, as well as System 6 UTP for support of gigabit applications. Configurable to specific application requirements, the trunking cable assemblies are available in custom lengths up to 120 feet (36 m) and offer the flexibility of multiple connector options, cable ratings and channels per assembly. Each assembly is factory terminated and tested. Designed to simplify installation of permanent links in high-density environments, such as data centers, the copper trunking cable assemblies can be pre-ordered in the required length and configuration, and deployed with minimal disruption or downtime. By consolidating multiple cable runs, they are designed to improve cable management and pathway space utilization in raised floor and overhead cable tray, as well as facilitating efficient moves, adds, and changes. Terminated with the company's MAX or TERA outlets, the copper trunk cables offer simplified, snap-in installation into a variety of patch panels and work area outlets. Industrial-grade mesh sheathing protects cable bundles during installation and features a proprietary "breakout" design that routes and securely positions individual cables into optimum position for installation. All varieties are available in plenum, riser and LS0H ratings.
SIEMON
www.siemon.com
Speedy overhead tray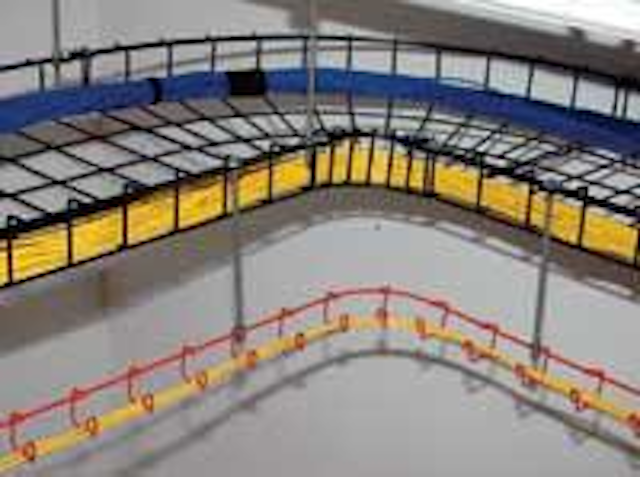 Click here to enlarge image
Mega Snake, according to company claims, is the world's fastest to install overhead high-capacity cable tray. Its integrated accessory/mounting rail is designed to simplify installations and reduce project labor costs compared to typical wire basket cable tray. Pre-manufactured turns and crossing grids are designed to eliminate the need for onsite fabrication. Mega Snake's stackable design, says the company, allows for cost-effective shipping and simplified onsite material handling.
SNAKE TRAY
www.snaketray.com
Remote site, secure power managers

Click here to enlarge image
The RSM-8R4 Remote Site Manager lets you securely access remote servers, routers, firewalls, DSLAMs, telco craft ports and other network equipment to change configuration parameters, connect users to restricted ports, collect buffered data, and perform remote power reboot on/off control. The unit provides secure in-band and out-of-band access to eight RS-232 console and maintenance ports, along with the control of four power outlets. An onboard temperature sensor allows for alarm notification and power shutdown/load shedding of controlled outlets if user-defined temperature thresholds are breached. The RSM-8R4 is accessible via TCP/IP, using SSHv2 or Telnet, or out-of-band via internal modem or local terminal. Suited for remote locations where rack space is limited, this 1U device has a built-in SSL web browser, address-specific IP security masks, SSHv2 encryption, three levels of user control, and is supported by any MIB based SNMP enterprise management software.

Click here to enlarge image
The MPC-Series Managed Power Controllers allow secure power management of rack-mount equipment via IP, external modem or local terminal. They are designed to reduce costs and downtime, manage and monitor power and temperature at the equipment rack level, receive event notification of specified conditions, and securely reboot power on critical network elements. The MPC-Series comes in horizontal 1U, 2U, and vertical ZeroU form factors with 120V/240V operation.
WESTERN TELEMATIC INC.
www.wti.com
Fire-resistant panels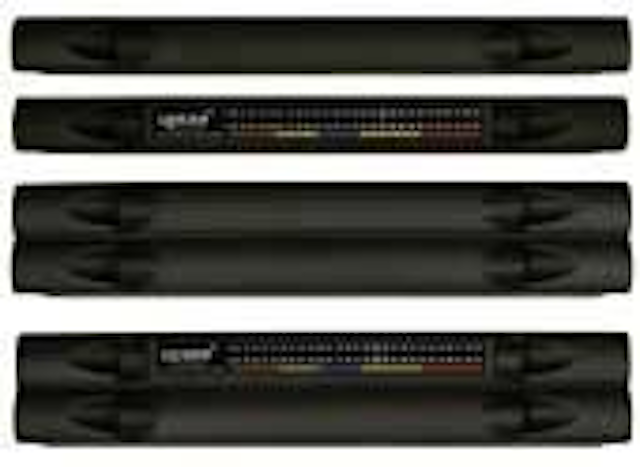 Click here to enlarge image
A "green" solution for energy consumption savings and reducing the carbon footprint of data centers, HotLok Blanking Panels are lightweight, fire-resistant plastic units for 1U and 2U openings. Available with an optional Upsite temperature strip, the design prevents exhaust air or hot aisle air from migrating to the air intake stream at the front of the cabinet, and sealing vanes assure there is no air gap between adjoining blanking panels or with installed equipment. All HotLok blanking panels and packaging are recyclable and RoHS-compliant. An ergonomic design features tool-free installation/removal from new or existing 19-inch standard cabinet racks.
UPSITE TECHNOLOGIES
upsitetechnologies.com
Angled-jack faceplate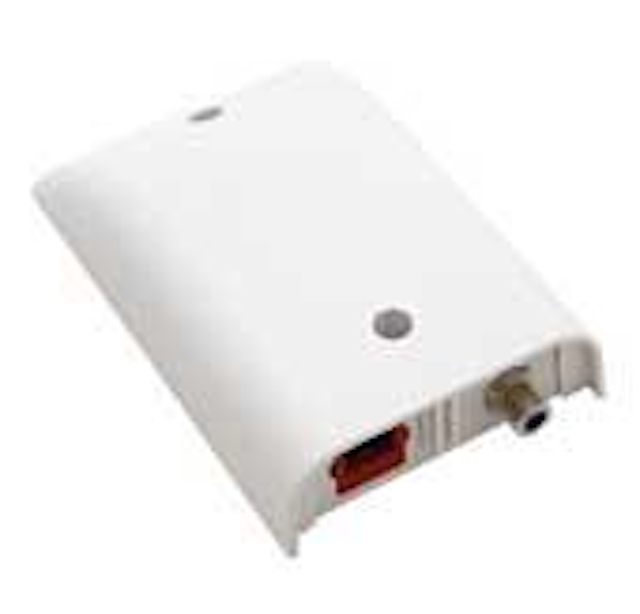 Click here to enlarge image
To combat common pitfalls of standard faceplates, the Integrity II faceplate employs jacks mounted at a 90° downward angle. This feature allows cables to be run down instead of out, at a much lower risk to damage caused by snags or crushing. A smooth, shatter-resistant faceplate protects the installation from collateral damage. Available in four configurations, the Integrity II faceplate fits a variety of applications and can accommodate a wide array of connectors.
SUTTLE
www.suttle.com
Shielded jack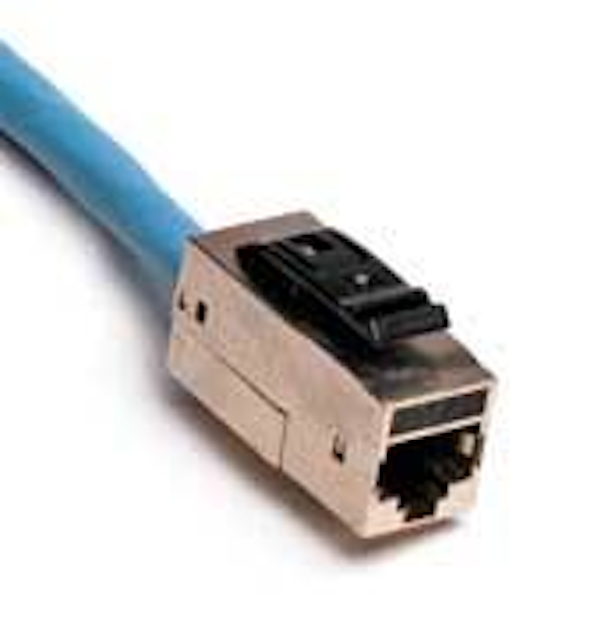 Click here to enlarge image
This Category 6A shielded jack features patented contact set technology to achieve 6A performance. Die cast shielding is designed to provide durability. Integral strain and pair relief for the cable cores help ensure secure terminations. No punch-down tool required. Twenty-four jacks fit in a 1U panel.
HELLERMANNTYTON
www.hellermann.tyton.com