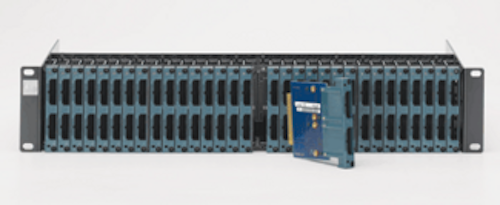 GbE patch panel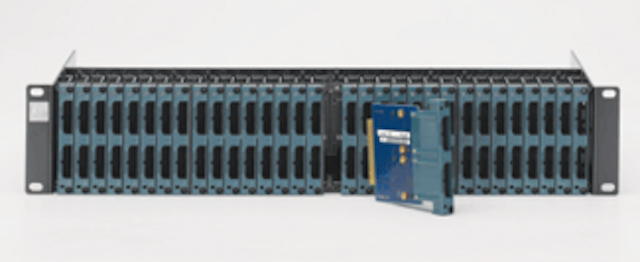 Click here to enlarge image
The UniPatch GigE patch panel is designed for demanding copper cabling environments where frequent patching and higher density are required. This Gigabit Ethernet unit features a high-density card frame system based on the patented KRONE Direct-Edge LSA-PLUS termination system. Other features include: Category 5e channel compliance; Category 6-compliant patch, keyed to ensure proper patching; 32 circuits per panel, rated for 30,000 insertions/withdrawals; removable wire management bar option; normal-through or straight-through availability; test access, patch, cross-connect, and monitor functions in 100Ω-balanced transmission systems having a common signal format, bit rate, and operation up to 1,000 Mbits/sec.
ADC
www.adc.com
Fiber LAN tester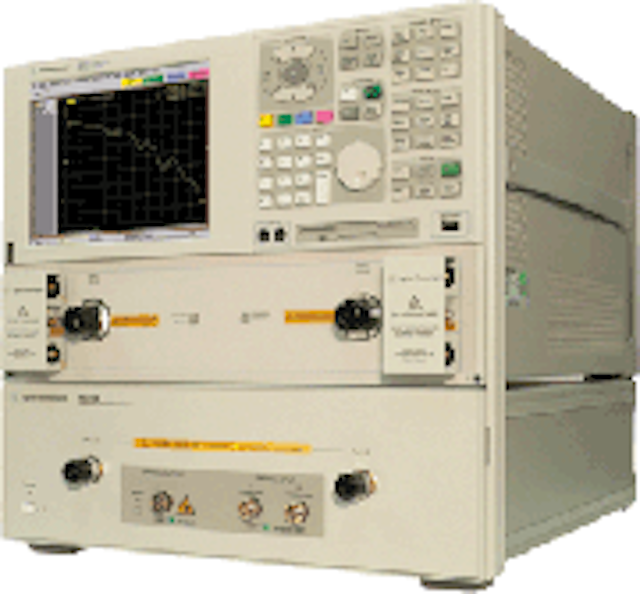 Click here to enlarge image
The N4376B lightwave component analyzer (LCA) tests 10-Gbit Ethernet and Fibre Channel LAN components at an 850-nm target wavelength. According to the company, testing multimode components at this wavelength with multimode conditions allows for optimized design of short-reach components, since there is no uncertainty from extrapolating measurement results at other wavelengths. Offering multimode launch conditions and modulation rates up to 20 GHz, this solution provides analysis for all fiber network component categories, including laser drivers, amplifiers, lasers, transmitters, optical modulators, photodiodes, and passive optical components. Linear transmission and reflection characteristic measurements are based on the company's network analyzer technology, providing full S-parameter analysis with calibration down to the probing pins.
AGILENT TECHNOLOGIES
www.agilent.com
DIN cable assemblies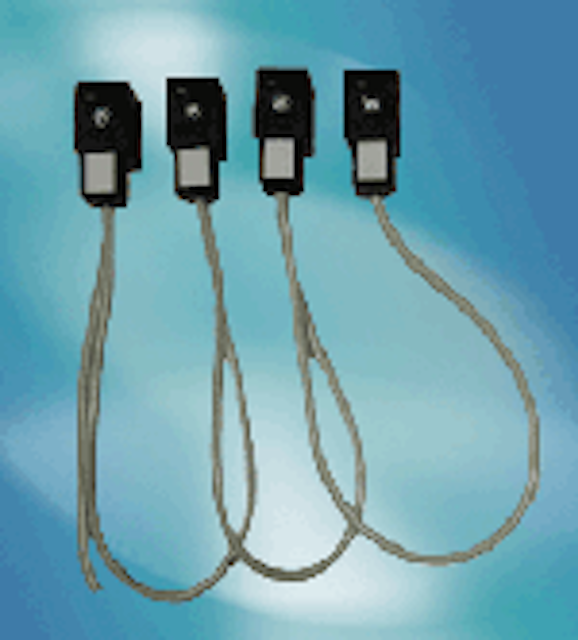 Click here to enlarge image
Multiple connector cable assemblies are available in arrangements of two, three, or four DIN 43650-A or B and C solenoid connectors. Standard cable length is one meter, with 200 mm between connectors (custom lengths available). Each connector comes with a screw to lock to the device, and a gasket to ensure IP67 rating. The connectors are also available on a cordset equipped with an M8 or M12 connector on one end of a 1-meter molded cable, and a DIN connector on the other end.
AUTOMATION SYSTEMS INTERCONNECT
www.asi-ez.com
Tight-buffered cable

Click here to enlarge image
A new construction of the company's Adventum fiber-optic drop cable is designed for security and FTTx installation. Adventum ATR (riser-rated) and ATP (plenum-rated) cables are available in one or two tight-buffered fibers in a loose-tube cable design, and incorporate DryGel all-dry, water-blocking technology. The patent-pending design, says the company, gives installers a tight-buffer cable with the benefits of a loose-tube cable. Developed for CCTV installations, the Adventum cable is also suitable for Multiple Dwelling Units (MDUs) where long runs in non-dedicated pathways are common and require cable to be robust enough to be pulled with up to 300 pounds alongside coax, UTP, POTS, and power cables. Available in multimode and singlemode construction, the Adventum cables allow for direct termination with field-installable connectors, and require no buffer tube fan-out kits.
BERK-TEK
www.berktek.com
Low-loss connectors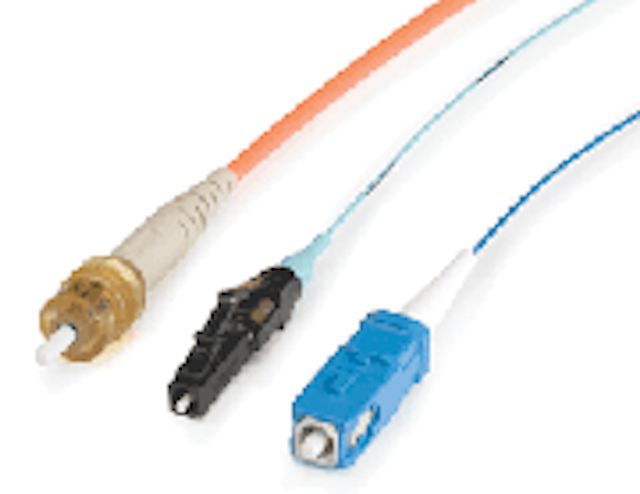 Click here to enlarge image
UniCam Pretium Performance fiber-optic connectors, says the manufacturer, are guaranteed to achieve a typical insertion loss as low as 0.1 dB. These no-epoxy/no-polish connectors are designed for quick field installation. Multimode connectors feature a 0.1 dB typical and 0.5 dB maximum insertion loss, meet TIA/EIA-568-B.3 specifications for insertion and return loss at temperatures ranging from -40º to 75º C, and are suitable for outdoor use when enclosed in environmentally protected hardware. Singlemode connectors offer a 0.2 dB typical and 0.5 dB maximum insertion loss, the same temperature range as the multimode version, and available with a ceramic ferrule in LC, SC, and ST-compatible connector styles.
CORNING CABLE SYSTEMS
www.corningcablesystems.com
Cable organizer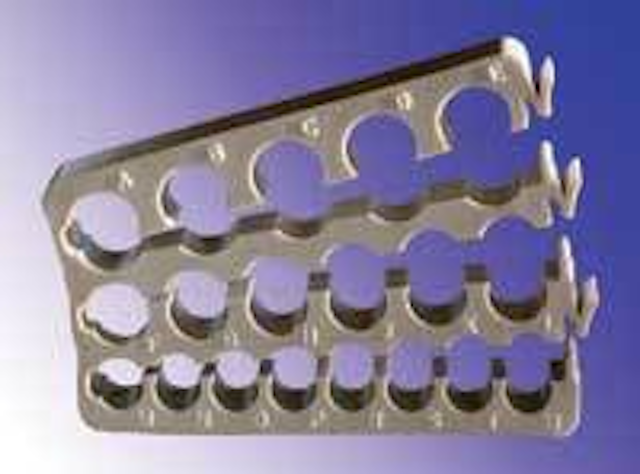 Click here to enlarge image
The Ultimate Cord Organizer Clip helps you organize and track cables, cords, or wires between devices. Each slot in the clip has a letter assigned to it and retains the designated cables when open. You can sort by size and type, as well as channel, isolate, and track cables. This organizer is available in four colors, and sold in quantities of 10, 20, and 60.
DELTA 9 PRODUCTS
www.deltanine.com
Front panel frames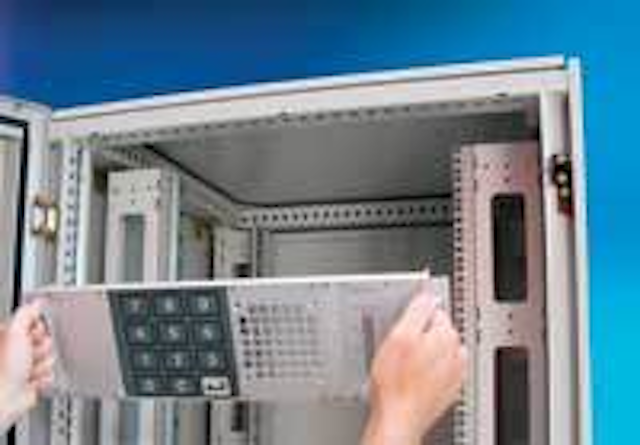 Click here to enlarge image
These 19-inch front panel frames are built for structural assembly parts and applications that do not specify the inclusion of complete card frames. Patch fields, displays, interfaces, and other front panel designs can be built up in combination with this solution. Applications include automation, security systems, telecommunications, and control cabinets for machine tools. The panelsare available separately or in conjunction with the company's 19-inch rack-mount enclosures, front panels, or cabinets.
ELMA ELECTRONICS
www.elma.com
Multi-faceted multimeter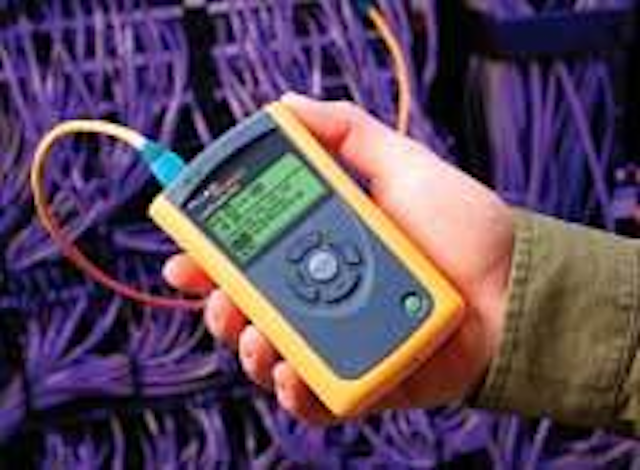 Click here to enlarge image
LinkRunner Pro Network Multimeter is designed to troubleshoot Gigabit Ethernet links, help resolve 802.1X security conflicts, and provide comprehensive link status reports. The multimeter also performs Power over Ethernet verification to IEEE specifications, and identifies the nearest switch with Cisco, Extreme, and Link Layer Discover Protocols. The test tool comes with LinkRunner Connect software, which lets you record all test results and upload to a computer for routing with trouble tickets. LinkRunner Pro also serves as a digital toning device, with signals detected by the company's IntelliTone probe. Since digital toning is immune to electrical interference and is safe on active networks, this feature helps simplify identification of specific cables in the LAN.
FLUKE NETWORKS
www.flukenetworks.com
Tight-buffered armored cable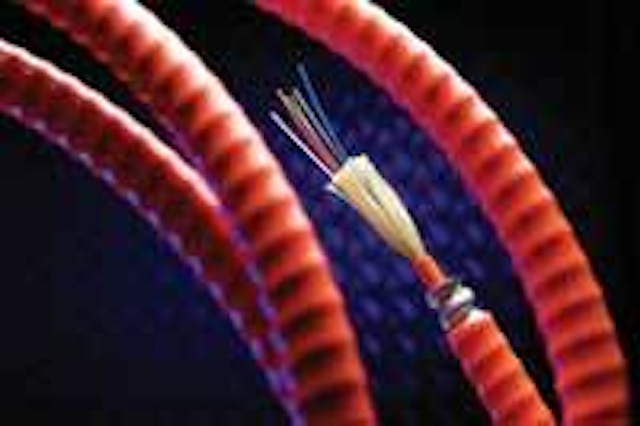 Click here to enlarge image
Tight Buffer Distribution Interlock Armored Cable can be used in open-tray applications, and is designed to provide protection in harsh industrial environments and intrabuilding voice/data backbones. This Type OFCR/OFCP fiber premise cable features interlock armor that doubles crush resistance when compared with standard cable in a plastic innerduct. Available in 62.5-µm and laser-optimized 50-µm singlemode and multimode versions, the cable can be ordered as either indoor- or outdoor- rated, and includes an outer flame-retardant jacket available with low-smoke/zero-halogen (LSZH) protection.
GENERAL CABLE
www.generalcable.com
Splicing enclosures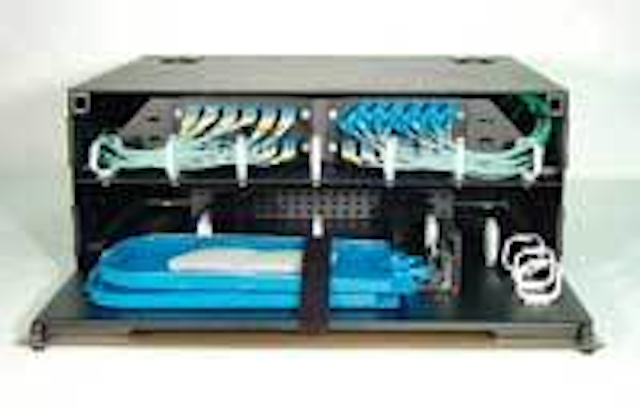 Click here to enlarge image
A family of rack-mount splicing enclosures includes a combo unit capable of patching and splicing within the same units. The double-decker combo is designed for complete front access, with a four-adapter panel capability on top and up to 96 splices on the bottom. Two additional splice enclosures are available for direct splicing of up to 192 fibers, with necessary tools included. These enclosures are made of 16-gauge cold-rolled steel (CRS) with an ultra-fine, powder-coated finish.
ICC
www.icc.com
Stereo audio balun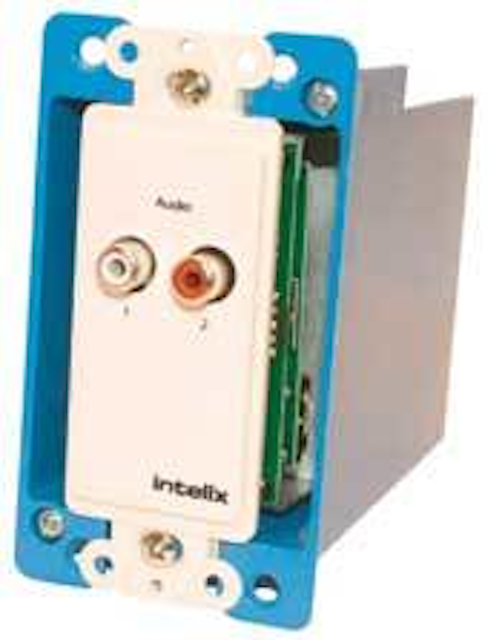 Click here to enlarge image
The AVO-A2-WP-F wall plate balun is designed to distribute stereo audio signal up to 2,500 feet over Category 5 or 6 cable. The front panel features two gold-plated female RCA connectors on a white face plate, while the rear panel features an RJ-45 connector and optional grounding screw. Used in pairs or with a rack-mountable AVO-A2 modular balun, the unit can transmit 20 Hz to 20 kHz analog audio in either direction, up to 2,500 feet.
INTELIX LLC
www.intelix.com
PoE security system
Click here to enlarge image
PowerNet IP Reader-Controllers connect directly to an IP network to eliminate the need for traditional security control panels and wiring/cabling. By utilizing Power over Ethernet technology, the Reader-Controllers can reduce security installation costs by 30% when compared to traditional panel-based access control systems that required standard electrical power. The reader incorporates such customer-suggested features as: RJ-45 plug with network activity lights replacing the typical pigtail; power reset button; power selector; and output power for the electronic lock. It comes bundled with Crystal Matrix Software, which lets network administrators monitor and control an unlimited number of door readers across an enterprise, as well as monitor time, attendance, and emergency response.
ISONAS SECURITY SYSTEMS
www.isonas.com
High-density enclosure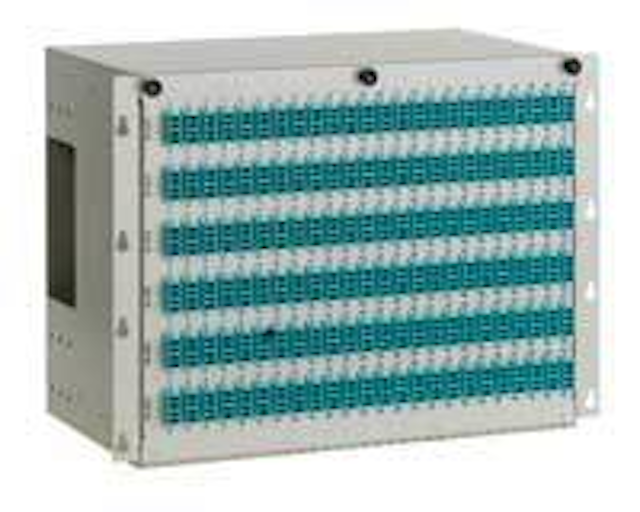 Click here to enlarge image
This high-density fiber enclosure is designed to support Cisco's MDS 9513 matrix switch used for large data center and storage area networks. A blade configuration within the enclosure lets users quickly make a like-for-like connection into the switch . The rack-mount, customizable enclosure will support up to 288 fiber channels in 8U of rack space, and can be supplied in direct-connect or MTP configurations.
LEVITON/FIBER CONNECT
www.leviton.com
Industrial Ethernet cable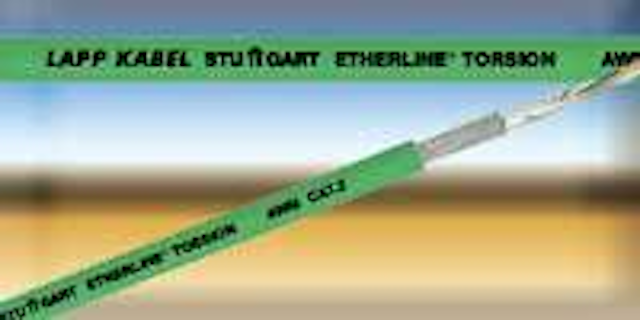 Click here to enlarge image
Etherline Torsion CAT.5 is a halogen-free, industrial-grade Ethernet cable. It is suited for applications in industrial machines and equipment where torsional stress may occur. The cable, available in a two-pair configuration, has been tested with one million bending cycles at a torsional load of 180° per meter length, and meets IEC 6033 standard compliance.
LAPP USA
www.lappusa.com
Fiber connector training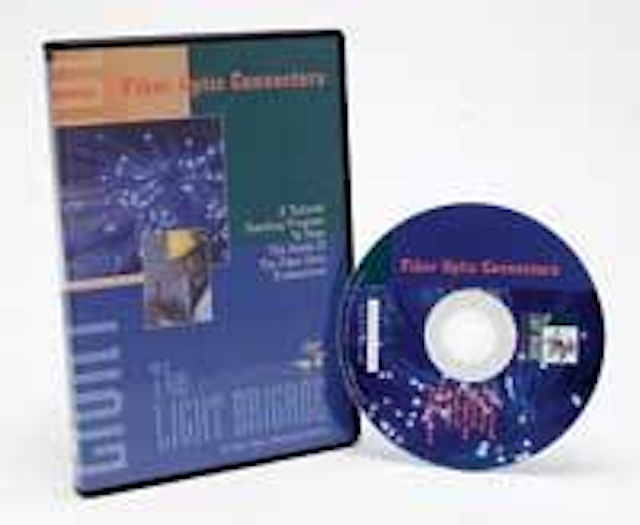 Click here to enlarge image
A menu-based training DVD, Fiber Optic Connectors, focuses on termination, testing, inspection, and cleaning. Also included are chapters on: discrete parts of connectors; optical and mechanical tolerances and their impact on performance; bonding, scribing, polishing, cleaning and visual inspections; specialty connectors, such as multi-fiber and mil-aero; the cost of a termination, including the cost of components, consumables, and labor. Material is divided into menu-selectable chapters, and quizzes are included for content review or testing.
THE LIGHT BRIGADE
www.lightbrigade.com
'Smart' security camera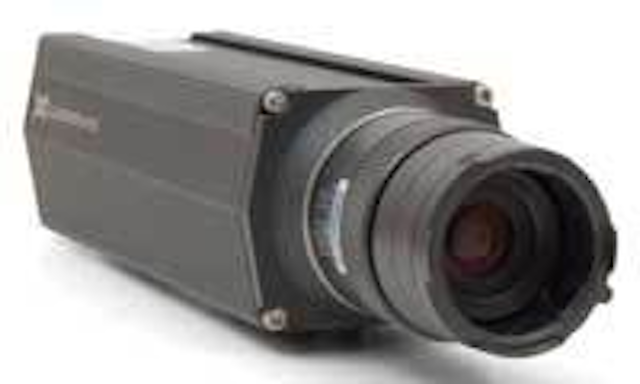 Click here to enlarge image
The Li045 camera for security installations features onboard video analytics designed to provide automated, real-time detection, tracking, and analysis of objects of interests, as well as identification of threats. The camera features an ultra-wide dynamic range (120+ dB) sensor, which overcomes washed out images that can occur in challenging lighting environments, and has selectable MJPEG and H.264 compression to address the need for higher quality images or lower bandwidth to stream video. Streaming 720 x 480 resolution at up to 30 frames per second, the Li045 is designed to provide outstanding picture quality and performance across a standard 10/100Base-T network interface.
LUMENERA
www.lumenera.com
Loaded IDF rack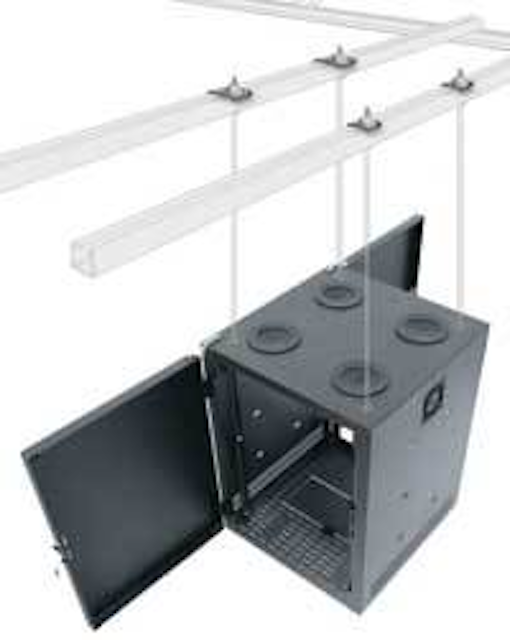 Click here to enlarge image
Designed for mounting to building truss and uni-strut, the IDF (intermediate distribution) Series racks are suitable for housing critical components in warehouses, retail outlets, or any open facility where cable run distances can become problematic. With a weight capacity of 150 pounds and featuring 21 inches of useable depth, these racks can contain hubs, routers, video recorders, or other components that are essential to a fully integrated audio/visual and security system. Included are two factory-installed 4.5-inch exhaust fans for active thermal management, air intakes at the bottom to allow cooler air to enter, knockouts for conduit pass-throughs, gland grommets designed to minimize dust around cable entry locations, and a power strip.
MIDDLE ATLANTIC PRODUCTS
www.middleatlantic.com
Fiber-optic patch cords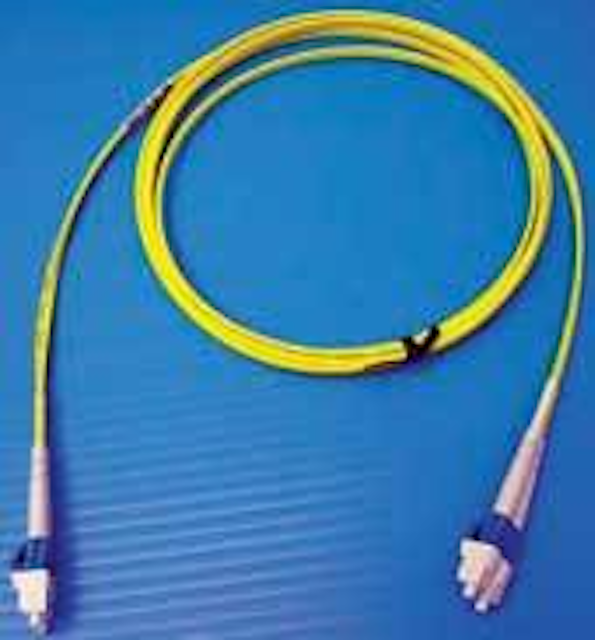 Click here to enlarge image
Integrating proprietary HLC connector technology and bend-insensitive glass, these HLC fiber-optic patch cords are built to address intermittent network failures and feature a dust- and scratch-resistant design for extended life in Incumbent Local Exchange Carrier (ILEC) environments.
MEGLADON MANUFACTURING
wwwmegladonmfg.com
USB KVM extender

Click here to enlarge image
The ST-C5USBV-300 extends a USB keyboard/mouse and VGA display up to 300 feet via Category 5, 5e, or 6 cable. Each extender consists of a local unit that connects to a computer and provides keyboard, monitor, and mouse connections, and a remote unit that connects to a keyboard/monitor/mouse. The extender is designed to transmit 1280 x 1024 video resolution at 300 feet, and higher resolutions (up to 1920 x 1440) are supported at shorter distances.
NETWORK TECHNOLOGIES INC.
www.networktechinc.com
Telecom enclosure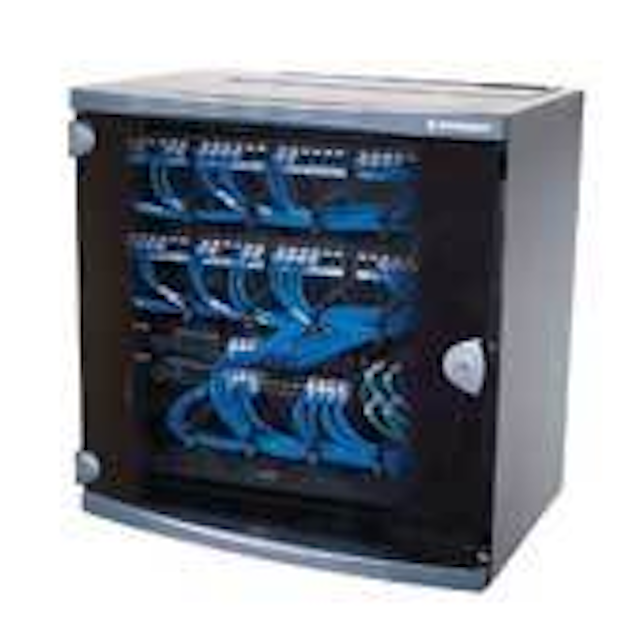 Click here to enlarge image
The wall-mount Mighty Mo Telecom Enclosure supports up to 48 users and provides capacity for active and passive >equipment. Features include a brush cable exit that prevents dirt and debris from entering the enclosure, swing-out access for re-termination and patching, cable management, and compliance with UL 1863 and EIA-310 standards. The enclosure is also available with an optional cooling fan and air filter to protect active equipment.
ORTRONICS/LEGRAND
www.ortronics.com
Surface-mount boxes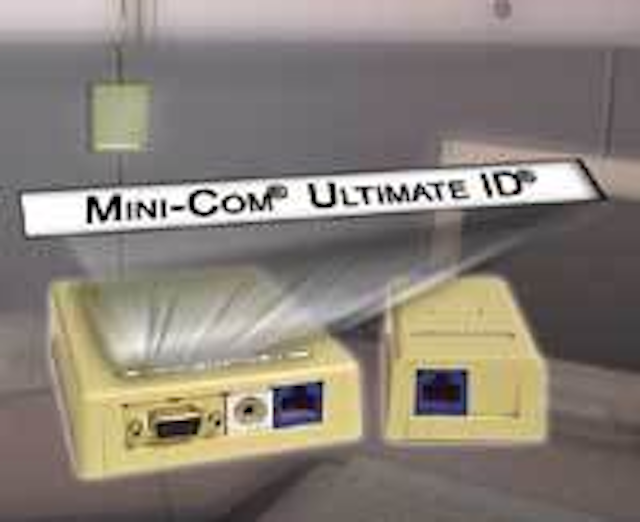 Click here to enlarge image
Two-port and four-port Mini-Com Ultimate ID surface-mount boxes are built to accept universal-sized print labels and flush covers. They can be mounted on the wall or with the company's Pan-Way surface raceway. The four-port box includes adjustable furniture-mounting tabs for attaching to modular furniture partitions. According to the company, the Mini-Com boxes are part of a complete identification system designed to clearly label per the TIA/EIA-606-A administration standard.
PANDUIT
www.panduit.com
FTTx distributor
Coyote Dome Closure is designed for a variety of fiber-optic distribution network requirements, allowing for simplified access to each cable entry separately to eliminate the possibility of disturbing other existing cables or fibers. Available in 6.5 x 22-inch and 6.5 x 17-inch versions, the Dome Closure features an end plate design for simplified mid-sheath applications, while end plate grommets help accommodate a number of smaller branch or drop cables. The closure meets Bellcore GR-771-Core aerial, direct-buried, and underground installation requirements.
PREFORMED LINE PRODUCTS
www.preformed.com
Power monitoring unit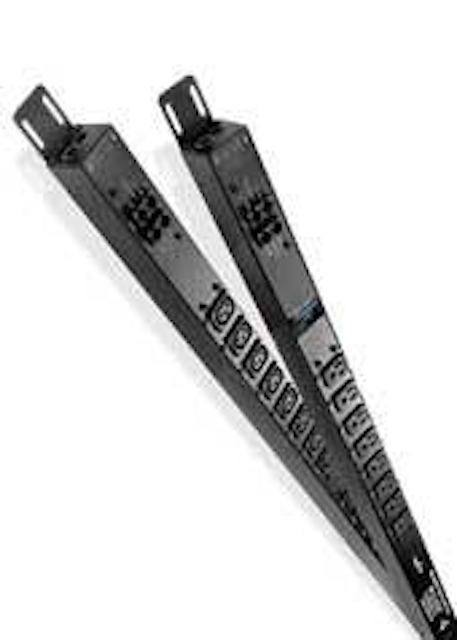 Click here to enlarge image
IPV42/70 Series of intelligent power controllers for data centers or remote site management is available in 42- and 70-inch vertical strips. This power distribution series is designed to provide individual on/off/reboot control of up to 24 AC power receptacles, and allows remote power monitoring of both voltage and current. An optional environmental sensor kit lets the device read temperature and humidity, while additional inputs let switches sense door closures and airflow. Control and monitoring is via TCP/IP or RS-232 connections. The network interface can be accessed via Web browser, telnet, or with SNMP management software.
PULIZZI ENGINEERING
www.pulizzi.com
Angled faceplate adapter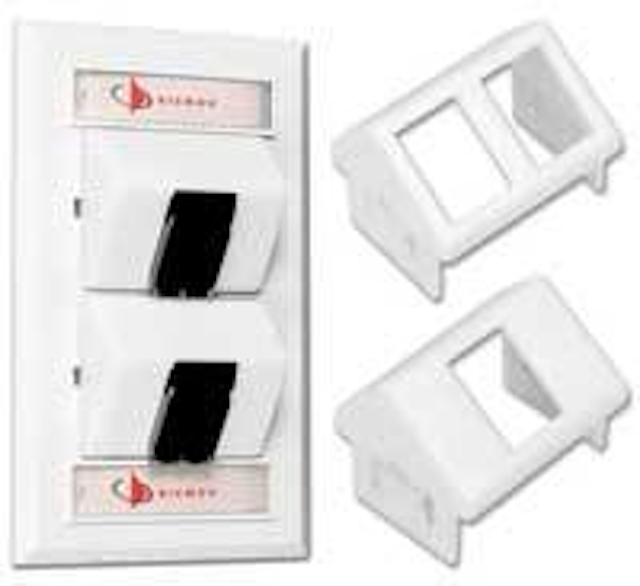 Click here to enlarge image
TERA-MAX angled faceplate adapters provide an angled work area mounting solution for the company's TERA and flat UTP MAX outlets within the company's CT faceplates. These adapters can reduce mounting depth requirements for work area outlets by as much as 50%, which helps overcome installation challenges when mounting Category 7A TERA outlets into shallow back boxes, and reduces the cable bend radius requirements for larger diameter, higher-performing Category 7A shielded cables. Faceplates are available in a variety of standard international configurations, including single- and double-gang options.
SIEMON
www.siemon
Fiber distribution hub
The OmniReach indoor fiber distribution hub (FDH) 3000i is designed to organize and administer fiber-optic cables and passive optical splitters for such applications as multiple-dwelling units (MDUs). Providing a cross-connect and interconnect interface for signals at the MDU, the 3000i hardware and components support FTTx installations. The front-face configuration is designed for flexibility, accommodating a range of fiber counts, and supporting factory installation of pigtails, fanouts and splitters. These hubs can be wall-, rack- or floor-mounted.
ADC
www.adc.com
Access point enclosure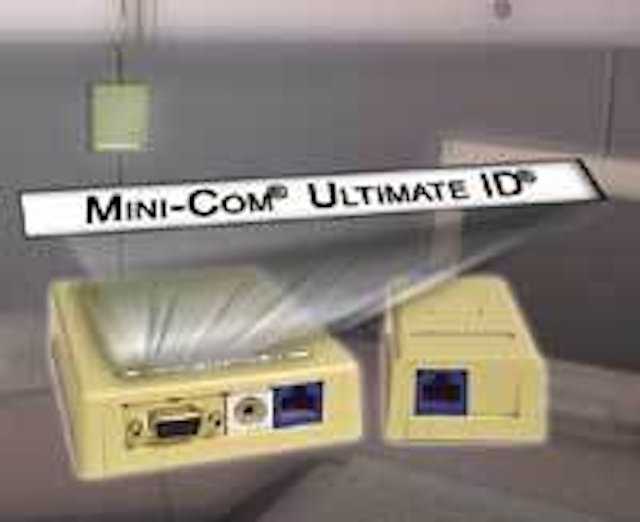 Click here to enlarge image
PanZone wireless access point (WAP) enclosures are now designed for use with Cisco Aironet 1130 and 1220 Series WAPs and optional radio modules that support IEEE 802.11a,b, and g standards. Designed with keyed lock to provide protection against tampering and theft, the enclosures include a connectivity accessory kit (which provides a two-position outlet box), Category 5e patch cord, and grounding cable. Enclosures can be wall- or ceiling-mounted.
PANDUIT
www.panduit.com
Laser-based cable pulling
Equipped with a laser sighting device, LaserLine is designed to accurately install a cable pull line up to 120 feet in seconds, through most web trusses, over suspended ceiling systems and hard-to-move objects, under sub-flooring, or in limited access areas. LaserLine is built to help you span a much greater distance than with traditional make-shift cable pull methods, and can also help reduce the risk of ladder-related accidents.
WEST INDUSTRIES
www.thelaserline.com
Stainless steel faceplate
The company's TracJack faceplates are now offered in stainless steel for installations where extra durability is required. The 403STJ series is available in one-, two-, three-, four-, six-, eight-, and 12-port sizes, and can be flush-mounted. A plastic frame behind the metal faceplate provides improved latching of TracJack modules as they are inserted. Also included are front label fields with snap-in covers and concealed mounting screws.
ORTRONICS/LEGRAND
www.ortronics.com
Plug-and-play mesh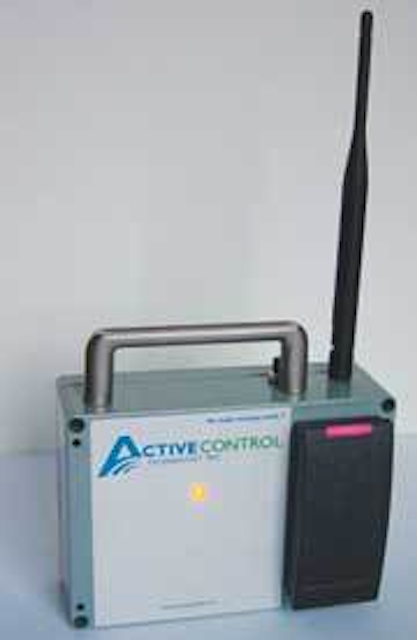 Click here to enlarge image
QuikMesh, a plug-and-play wireless mesh system for security installations, wirelessly links security peripheral devices, such as card readers, biometric readers, and parking gates with central computer panels that manage security systems. The system is especially suited for office buildings, warehouses, and exterior high-security complexes. Using mesh network technology with multiple wireless node modules, QuikMesh remains operational even if line-of-sight communication links are blocked or disrupted. The system features self-healing, secure encryption, and compatibility with most OEM access control panels.
ACTIVE CONTROL TECHNOLOGY
www.activecontrol.com
Connector test kit
Click here to enlarge image
Providing tools needed for testing and turning up hardened connector architectures, the OmniReach hardened connector test kit includes test cables, adapters, a cleaning kit, cleaning and turn-up documentation, product reference sheet, and water-resistant carrying case. Test cables and adapters have been tested to provide the highest repeatable measurements for all testing scenarios in a hardened connector-designed network.
ADC
www.adc.com
Hand-held FTTx tester
The OFI-FTTx optical fiber identifier is designed to identify the presence or absence of an active optical network terminal (ONT) on FTTx F2 fibers at the fiber distribution hub (FDH). The unit can verify whether a splitter pigtail at the FDH is connected to an active circuit before it is disconnected for fault location or reuse, and help verify FTTx network recorders and recover splitter pigtails and F2 fibers that are connected to the FDH. When applied to a splitter pigtail at the FDH, the device will report either that the ONT is active or not detected. The OFI-FTTx is compatible with 2- or 3-mm jumper cable, which can contain either standard singlemode or bend-insensitive fiber.
AFL TELECOMMUNICATIONS
www.afltele.com
Splineless Cat 6 for 5e apps
A redesign of the LANmark-6 Category 6 UTP cable eliminates the spline, making it lighter, smaller and, according to the company, easier to install. The cable's reduced diameter of 0.195 inches brings it close to that of a Category 5e cable (typically, 0.180 inches). Developed for installations that specify Category 5e, LANmark-6 Cat 5e-like diameter and construction makes for simpler installation than comparable Category 6 cables, and provides more headroom and an increased bandwidth from 100 to 250 MHz. According to the company, LANmark-6 does not replace LANmark-1000 or LANmark-2000 Category 6 cables, which are designed to provide capabilities that exceed industry-standard minimum electrical requirements.
BERK-TEK
www.berktek.com
Motion control cable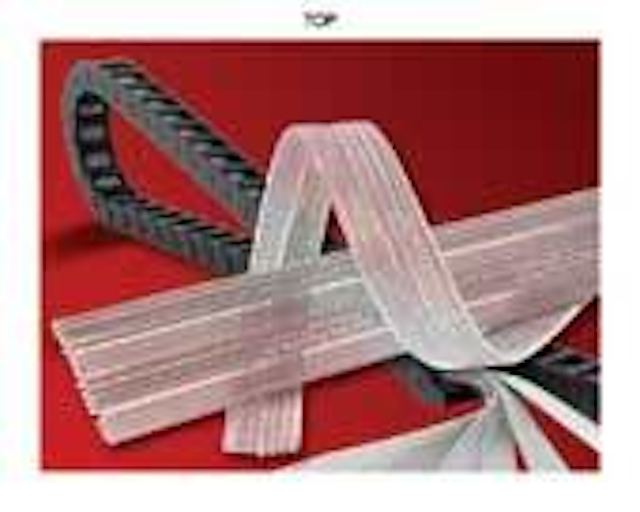 Click here to enlarge image
Motion Series cables for motion applications are flat and encapsulated in "glass-clear" silicone for greater flexibility. With a bend radius of as little as 1.5-inch, these cables are especially suited for linear motion and tight-space applications. The cable is available in designs for 1, 2, or 3 axes of servo motion. Each of these configurations is available for 1-, 2-, and 3-kW servomotors. Incorporating four shielded power cables and eight signal cables for each axis of motion, the motion cable's silicone process also provides reliable performance in temperature ranges from -65º C to 260º C.
CICOIL
www.cicoil.com
Wireless Ethernet jack
Karo Technology's WEJ-11g Wireless Ethernet Jack features an 802.11b/g wireless access point with wireless client isolation designed for greater security in public networks. Receiving power and data from a standard Power over Ethernet injector, the jack supports a single SSID (service set identifier), features an RJ-45 jack for direct wireless access, is configurable as a standard access point and/or client, and offers wireless distribution system (WDS).
ECHOTECH WIRELESS
www.echotechwireless.com
Integrated cooling rack
The Liebert XDK, a Knurr rack enclosure with integrated cooling capabilities, is designed to protect up to 17 kW of high-density equipment in the data center. This closed architecture solution uses water to transport heat out of the enclosure, and internal air circulation that is completely sealed from room air and environmental conditions. Server heat load is absorbed by the rack's integrated cold-water system through an air-to-water exchanger in the bottom of the rack. The company says its rack solution allows for deployment of blade servers and other high-density heat load equipment without creating hot spots in the data center, and can improve cooling system efficiency by up to 30% compared to traditional room cooling systems.
EMERSON NETWORK POWER/LIEBERT
www.liebert.com
Large data center rack
Built for enterprises with medium to large data centers, the HP 10000 G2 Series of racks range from 22U to 47U and 600- to 800-mm widths. The rack features a patented 7 x 2 steel roll frame folded seven times rather than being cut thicker, enabling the rack to hold a net weight of one ton of static and dynamic loading. A multi-angle door design and perforated front and rear doors provide convection cooling and improved ventilation.
HEWLETT PACKARD
www.hp.com/go/infrastructure
Vertical patching rack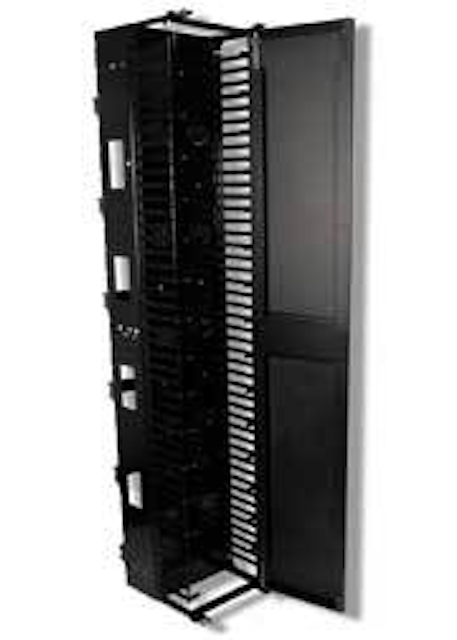 Click here to enlarge image
The VPC-12 is a 12-inch-wide, expanded capacity version of its Vertical Patching Channel (VPC) rack-mounted cable management system. Designed for being rack-mounted or side-stacked between adjacent racks, the VPC-12 has a capacity of approximately 1,400 Category 5e or Category 6 UTP cables in the front-access channel, and a additional 1,800 in the rear-access channel. The rack features a full-length, removable, hinged door to conceal patch cord routing. An open rear manager and channel retainers simplify routing of large horizontal/backbone cabling bundles. The rear channel retainers can be hinged in either direction, and can be relocated to any position along the rear vertical channel.
SIEMON
www.siemon.com
RGB insert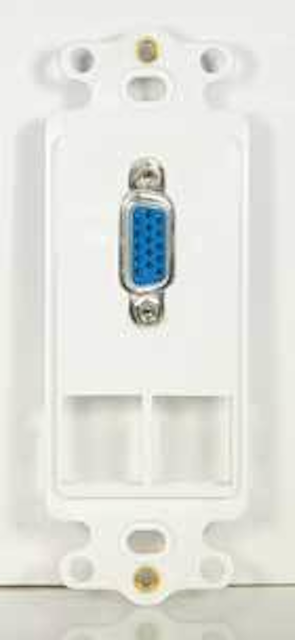 Click here to enlarge image
The Decorex RGB-VGA insert will fit all of the company's Decorex faceplates, including single, dual, triple and quad-gang. The insert supports 15-pin RGB plus horizontal and vertical synchronization signals that pass through unprocessed to ensure little or not signal loss when connecting from a computer or other video component.
ICC
www.icc.com
Cable management catalog
Volume 5 of the the DataCom Catalog features a wide selection of open frame racks, cable management systems, wall-mount cabinets and racks, free-standing cabinets, thermal management solutions, and modular enclosure systems. A new chapter is dedicated to outside plant enclosures.
HOFFMAN
www.hoffman.com
Hybrid Powerline adapter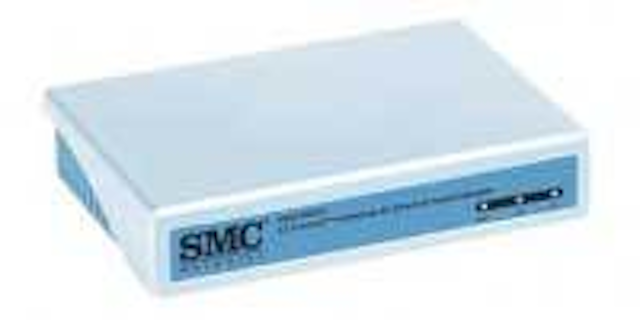 Click here to enlarge image
The EZ Connect 200Mbps Powerline AV Hybrid Ethernet Adapter can transmit video, VoIP, and broadband access-sharing signals over ordinary AC electrical or coaxial cabling in the home. Compatible with HomePlug AV/1.0 and 1.1 devices, the adapter is designed to support as many as 16 Powerline devices on a single network, provides 200 Mbits/sec data rates at the physical layer, and an average throughput of 70 to 100 Mbits/sec over Powerline (and even higher over coaxial). Auto-sensing and rate-adaptive technologies help ensure that connections maintain the highest possible performance.
SMC NETWORKS
www.smc.com
More 'smart' UPS systems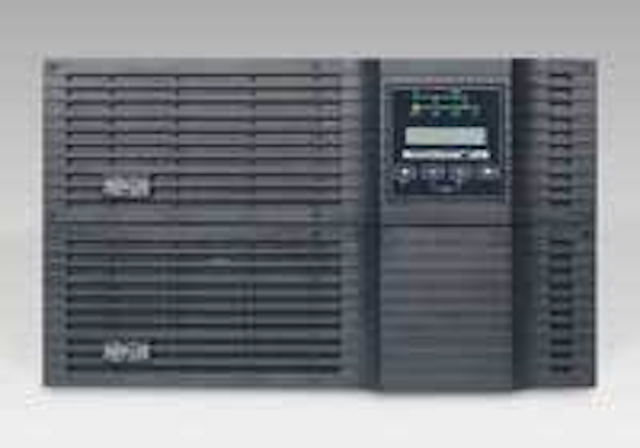 Click here to enlarge image
Three new models have been added to the company's line of 8-kVA SmartOnline Hot-Swappable Modular UPS Systems. Model SU8000RT3U features 200 to 240 volts input and output, while Model SU8000RT3U1TF includes a transformer module for additional 120-volt output. Model SU80000RT3UHW (pictured) features 200 to 240-volt hardwired input and output. The hot-swappable design eliminates power-related downtime and ensures maximum uptime for connected equipment, meaning that all potential UPS maintenance (including complete power module exchange) can be performed without interrupting the flow of power or having to hire service specialists.
TRIPP LITE
www.tripplite.com
Fiber tool smorgasbord
A variety of new fiber-optic tools are designed to assist in a variety of installation requirements: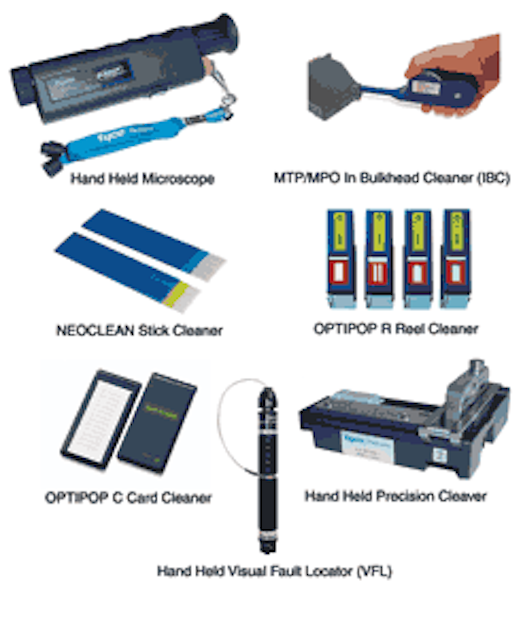 Click here to enlarge image
hand-held microscope incorporates high-quality glass optics and dual illumination lighting for 200

x

magnification. With a 500-µm field of view, and both coaxial and oblique illuminations, this microscope meets the proposed TIA/IEC specifications for a polish-quality and general conditions scope.
Several

fiber-optic cleaners

feature a densely woven micro-fiber cloth designed for effective cleaning and reduced static charge. Included are an MTP/MPO In Bulkhead Cleaner, Neoclean Stick Cleaner, Optipop R Reel Cleaner, and Optipop C Card Cleaner.
hand-held precision fiber cleaver offers a 10,000-cleave blade life.
A

hand-held visual fault locator

(VFL) identifies breaks and bending in optical fibers and cabling. Its red laser provides the ability to locate damaged, broken, or tightly bent fibers that can cause system attenuation.
TYCO ELECTRONICS
www.tycoelectronics.com/fiberoptics
IP security camera
The I-ONYX series of IP security cameras, powered by ViconNet software, is designed to deliver up to 30 fps of 864 x 586 PAL video across the network, and can be powered by Power over Ethernet or 24 volts AC. Initial models are: the VN-855, a super-high-resolution camera; the VN-855DN, a daylight version; and the VN-855, a wide-dynamic-range model. All cameras feature the company's ViconNet MPEG-4 compression that optimizes file size and maximizes picture quality, enabling simultaneous transmission of multiple channel video across the LAN or WAN to connected recorders and workstations. The cameras also support museum search, motion detection, alarm reporting, macros, and alarm configurations.
VICON INDUSTRIES
www.vicon-cctv.com
Raceway as you like it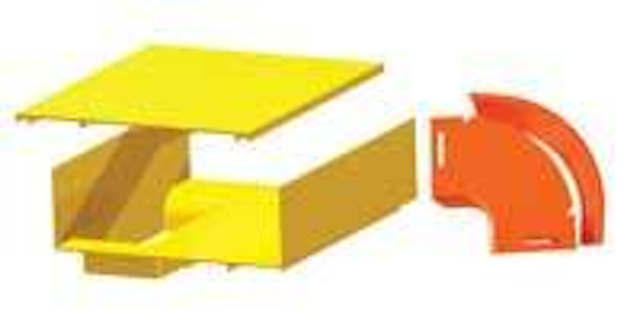 Click here to enlarge image
The company's Fiber Raceway System is now available in black and orange (in addition to yellow and gray), and in the following sizes: 2 x 2, 2 x 4, 4 x 4, 4 x 8, and 4 x 12 inches. An Outlet Trumpet Fitting for the 4 x 12 system lets fiber cable exit easily from the end of the raceway and down to a cabinet or rack. An In-line Vertical Drop Fitting (also for the 4 x 12 system), lets the fiber drop directly below the raceway while allowing free flow for ongoing fibers. An End Support Fitting provides a way to permanently attach the 4 x 4 raceway transitioning from the overhead mounting system down to the top of a cabinet. Mounting hardware now includes a Ladder Rack Mount Kit designed for the 4-, 8-, and 12-inch-wide systems to attach onto 1.5 or 2-inch ladder racks.
LEVITON VOICE & DATA
www.levitonvoicedata.com
Fiber tool kit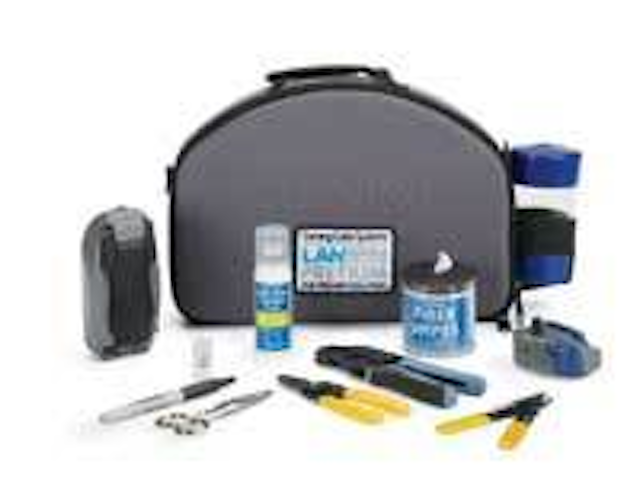 Click here to enlarge image
Featuring lightweight, hand-held tools for field connectorization of the company's Pretium fiber-optic connectors, the UniCam Pretium Tool Kit contains an installation tool and double-blade cleaver that the manufacturer claims can eliminate human variability from installation to installation. The kit helps you install the Pretium connectors in about 45 seconds.
CORNING CABLE SYSTEMS
www.corningcablesystems.com
Fiber inspection tool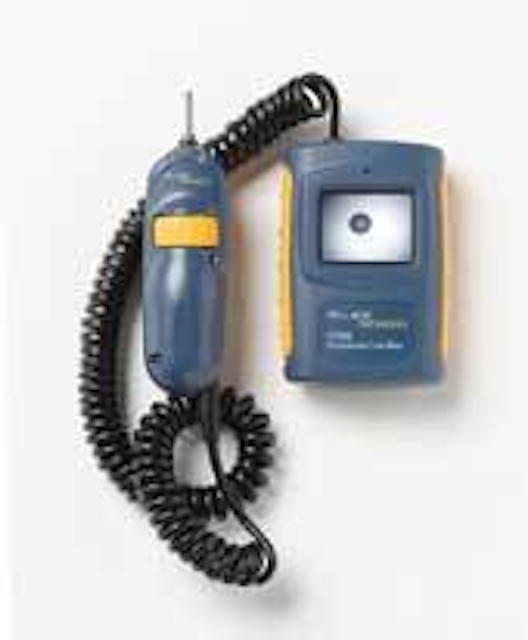 Click here to enlarge image
The FiberInspector Mini is a miniature portable video microscope that lets you view both multimode and singlemode end-faces in fine detail. This tool is designed to help you get the best performance from fiber links by quickly identifying end-face contamination, which can increase attenuation, reflectance, and cause damage to the network. The FiberInspector Mini, according to the company, also protects users from exposure to harmful laser light.
FLUKE NETWORKS
www.flukenetworks.com
Physical layer software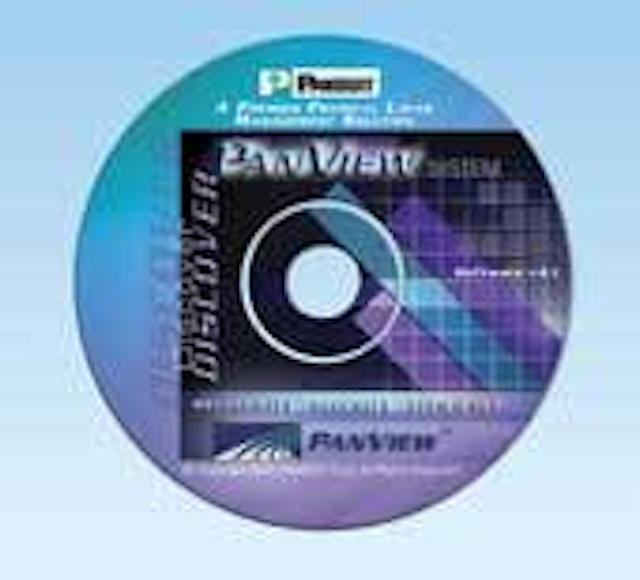 Click here to enlarge image
PanView 4.1 physical layer management software now supports: real-time monitoring and alerts of end-to-end connectivity; a Service Provisioning tool that automates and streamlines work order development and processing; and a Common Switch Driver that provides automatic detection of key information about newly installed network switches, identifies move/add/change addresses of connected switch ports, and loads all information into the PanView system.
PANDUIT
www.panduit.com
FTTP splitter cabinet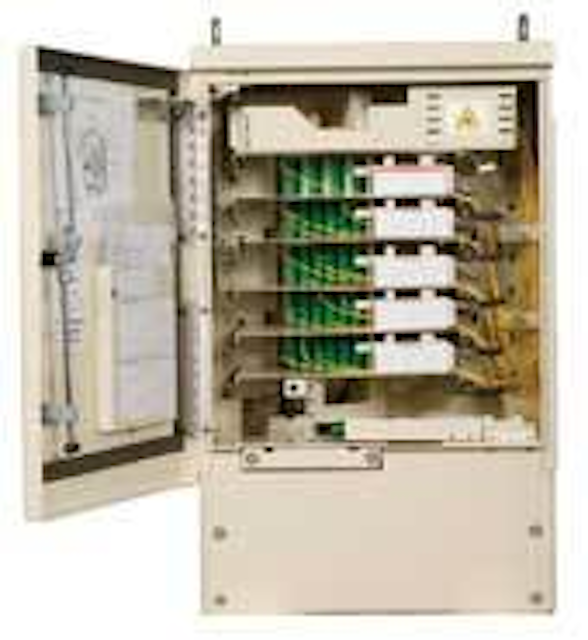 Click here to enlarge image
The CSX-2 144 outdoor centralized splitter cabinet, evironmentally sealed for splitting and redistributing optical power from feed fiber to distribution fibers, is suitable for pole-mounting or pad placement. The cabinet can accommodate two 72-fiber distribution shelf assembles, each comprised of two 36-fiber FTTP subscriber shelves. Pivoting modular shelves are designed for quick access to connectors and controlled pigtail handling. Additional features include a one-piece cabinet shell built for improved, four-sided access to interior components, and fiber radius and slack management controls designed to provide a simplified fiber management system. Shelves are pre-connectorized at the factory with a 72-fiber cable stub. The CSX-2 144 can be ordered fully loaded for 144 subscribers or partially loaded for 72 subscribers.
TYCO ELECTRONICS
www.tycoelectronics.com