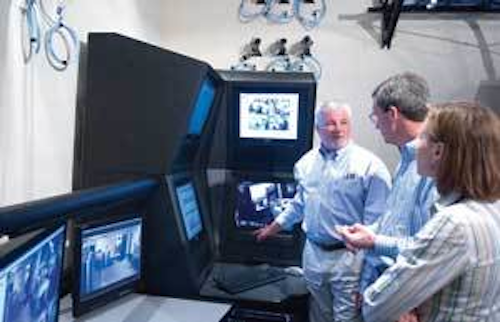 A 4,000-square-foot lab designed to educate, demonstrate, and evaluate networking and security infrastructure products has been unveiled at telecom distributor Anixter's (www.anixter.com) corporate headquarters in Glenview, IL.
The UL-certified Infrastructure Solutions Lab (ISL) replaces separate networking and security labs with an integrated facility designed to reflect actual use of the latest technologies being used in the field. Anixter says the lab employs current security and networking "best practices," and highlights standards and technologies being deployed in actual networking and security installations. The facility also features enterprise cabling and security solutions available from the company's key manufacturer partners.
"The fact that we present solutions in a vendor-neutral environment means that customers can make critical business decisions based on real-world testing and unbiased analysis," says Steve Leatherwood, senior vice president of marketing for Anixter Enterprise Cabling and Security Solutions.
The ISL will be staffed by professionals who are experienced in a variety of technologies. Customers can evaluate a variety of networking and security infrastructure solutions in a "real world" environment so that they can select the systems that will best suit their needs.
Specifically, Anixter says, the lab will demonstrate networking and security products running over a single IP network, the amount of bandwidth an IP camera or other device will take up on a particular network, and the impact that environmental effects will have on overall cabling performance.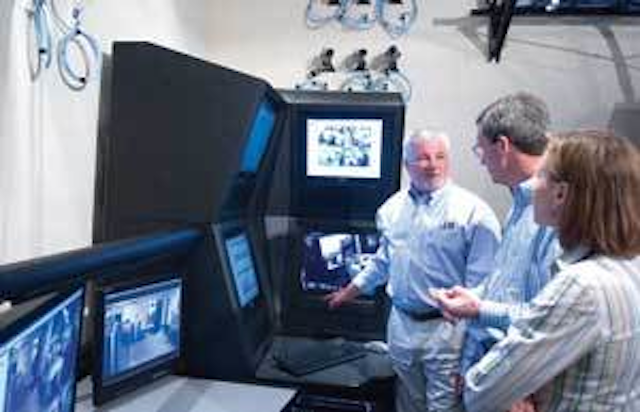 Anixter's Infrastructure Solutions Lab lets users evaluate numerous networking and security infrastructure solutions in a "real world" demonstration/evaluation environment before choosing a system for their specific needs.
Click here to enlarge image
With separate demonstration, education and evaluation areas, the lab will build on "industry firsts" uncovered by previous Anixter labs, including defining performance levels for UTP cabling, developing non-destructive patch cord testing, and simulating actual network applications over copper and fiber cabling.