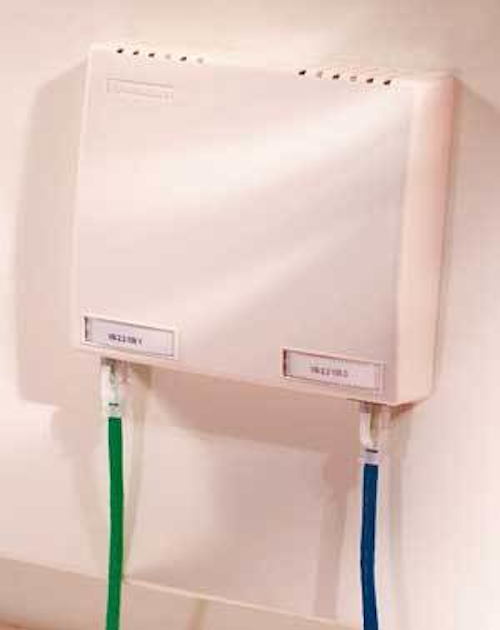 When the industry moved to centralized wireless solutions with switch-based controllers, many thought the war between "fat" and "thin" was over. But now it appears the battle is still on.
As the wireless LAN (WLAN) industry looks ahead to the high speeds promised by the IEEE 802.11n protocol and the growing expectation for more critical applications to successfully run over wireless, the architectures are evolving.
Legacy Wi-Fi networks aimed at the enterprise marketplace included autonomous "fat" wireless access points (WAPs) that didn't offer adequate management, security, and roaming capabilities. Later, centralized systems used "thin" WAPs and moved the intelligence and security policies to a main switch-based controller to get around the challenges experienced with legacy systems.
But the war between "fat" and "thin" may not be over. Some in the industry are discovering that the centralized controller approach may not be the best architecture to handle the ever-increasing number of Wi-Fi users, demand for faster wireless speeds, and emerging Wi-Fi applications.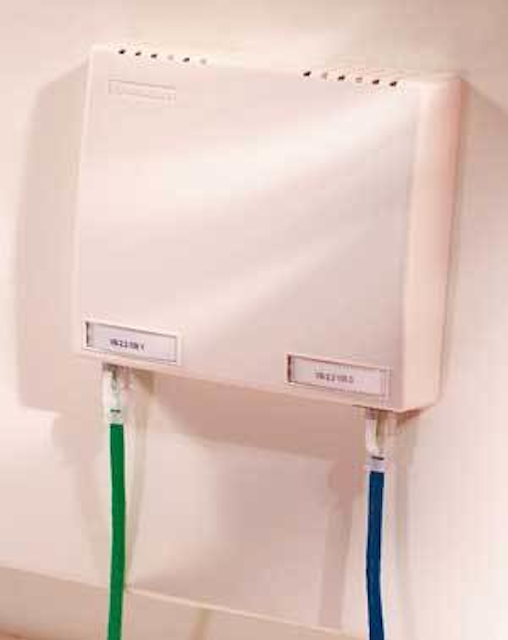 Ortronics' centralized wireless system features the very small Wi-Jack WAP that works in conjunction with an Aruba Networks' controller.
Click here to enlarge image
Is it possible that wireless LAN technology is coming full circle with intelligence being put back into the WAP?
Losing the fat
The first autonomous WAPs were stand-alone devices with routing capabilities able to handle everything from network processing and radio-frequency (RF) communication to authentication and encryption. Many of these traditional WAPs were first used for critical vertical applications, such as inventory management, and were a huge benefit to several types of businesses.
As the number of WAPs increased, however, they became increasingly difficult and time-consuming to manage. Manual configuration of each WAP was often required to set power level, channel, and security policies. In addition, many encountered security breaches due to first-generation security standards that proved to be easily broken.
"The security issue with traditional fat WAPs wasn't so much based on the architecture and the fact that the intelligence resided in the WAP, but more because the security standards were not robust at that time," says Frans Versluis, senior manager of wireless marketing for ADC (www.adc.com). In addition to security and management issues, the process of having to re-authenticate with each WAP when roaming provided limited mobility.
To solve the management, security, and mobility issues, a centralized management approach was needed to perform signal and channel adjustments and set security and roaming policies from one central location. Functionality and intelligence was moved from the WAP to a centralized WLAN controller, which is essentially a switch responsible for WAP configuration and administering security policies while also routing data packets from and to the WAPs.
"In the past, the mentality in the enterprise was that wireless would be used for isolated locations, with a few WAPs to cover open areas and conference rooms," says Bob Elliot, product development manager at Panduit (www.panduit.com). "Distributed systems with intelligent WAPs worked well for that. When customers began looking for ways to use wireless technology throughout the entire enterprise, the model changed to having several tens or even hundreds of WAPs. That's when customers realized that programming WAPs from one centralized controller made more sense."
Getting into thin
Vendors such as Cisco (www.cisco.com) and Aruba Networks (www.arubanetworks.com) led the way with centralized controller-based systems, and many cabling and connectivity vendors either jumped on board with their own offerings or teamed up with Cisco and Aruba. Ortronics/Legrand (www.ortronics.com), for example, was the first structured cabling company to market a centralized wireless system (in late 2004) when they teamed up with Aruba Networks (see photo, page 40). The Ortronics solution includes their own Power over Ethernet (PoE) injectors and dual-band/dual-radio Wi-Jack WAPs that work in conjunction with Aruba Networks' controllers.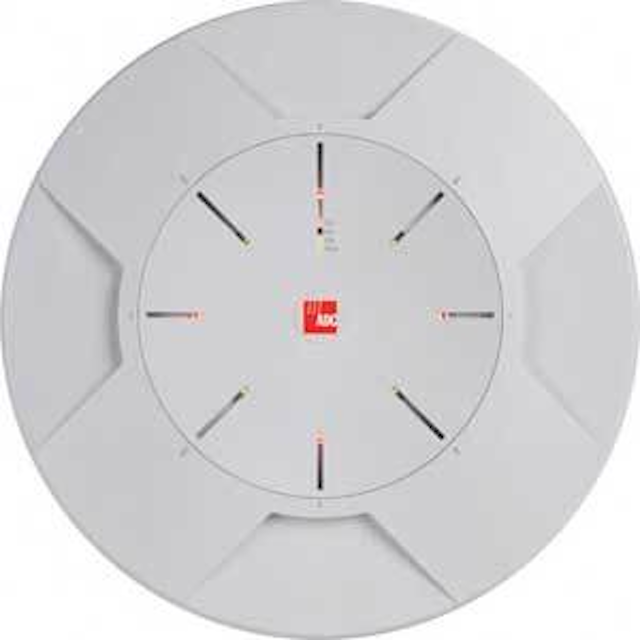 ADC's WFX Wi-Fi Array features an embedded controller with integrated 802.11b/g and 802.11a WAPs in one device.
Click here to enlarge image
"The Aruba controller manages each Wi-Jack by downloading the configuration to the WAP," explains Tony Walker, wireless marketing manager for Ortronics/ Legrand. "Users can automatically manage the number of users, power levels, and the coverage area based on defined thresholds. If a WAP goes out of service, the controller recognizes that, because every 30 nanoseconds, it's communicating with the WAP-and if it doesn't get a response, it automatically powers up the surrounding WAPs to cover the area."
According to Walker, the Wi-Jack WAPs are connected through the structured cabling system so that the data stream is transmitted wirelessly from the client to the WAP and then over the structured cabling system to the controller.
Panduit teamed up with Cisco Systems in late 2005 to deliver the Panduit Wireless Connection Solution, a combination of Cisco's WAPs, controllers, and antennas, and Panduit's WAP enclosures, PoE patch panels, and connectivity. The system is available with either distributed (fat) or centralized (thin) WAPs to suit various types of deployment.
"Customers are now talking wired and wireless in the same sentence," says Panduit's Elliot. "You can't separate the two, which is why Panduit now offers both wireless and wired solutions."
This year, Belden (www.belden.com) entered the wireless networking arena with even "thinner" WAPs. The Belden Wireless Solution features what is known as channel blanket technology, which is deployed using edge switch architecture (see figure, "Four-radio WAP topology, page 44). This setup prevents having to send packets back along the structured cabling to a centralized controller, which ironically is considered one of the key benefits of moving back to fat WAPs (see figure, "Connecting WAPs without centralized controller", page 44).
In this scenario, the WAPs are so simple that they do not even require a MAC or IP address, and they are directly connected to the edge switch that makes all packet routing and security decisions while delivering PoE to the WAPs. The Belden technology allows each WAP to operate on the same channel to create channel blankets with no co-channel interference or latency, as opposed to the more common method of individual Wi-Fi cells. The company says this scenario allows for easily increasing the density of WAPs to provide more capacity.

ADC's WFX-3900 Array is an intelligent "fat" WAP that features an embedded controller with four 802.11b/g and twelve 802.11a integrated WAPs to provide a maximum of 864 Mbits/sec of throughput for a larger area.
Click here to enlarge image
"In our wireless solution, the WAPs basically become just antennas, similar to a distributed antenna system," explains Brad Meeks, director of wireless marketing for Belden. "Association between the client and the network never occurs at the WAP, but at the edge switch."
Meeks adds, "Depending on the density, a client may be communicating with two or three WAPs at any given time. When the client sends data, it is the edge switch that decides in real time on a packet-by-packet basis which WAP the packet is received from. The switch bases that decision on several parameters, including interference, number of users, and capacity."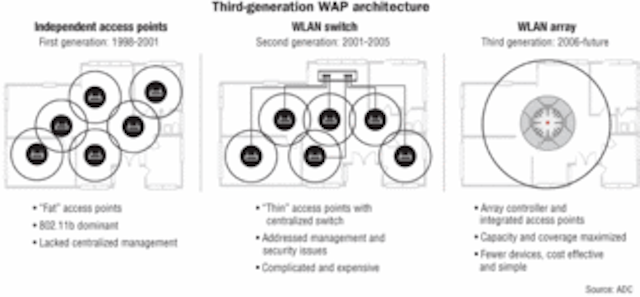 ADC's WLAN Array is a third generation device that puts the intelligence back into the WAP yet integrates several sectorized antennas to increase signal range and capacity.
Click here to enlarge image
Belden's solution includes two-radio WAPs to provide two separate channel blankets that can be set up as two separate networks-ideal for specifying one channel for voice and another for data. Later this year, the company will introduce a four-radio WAP, PoE extender, and management console software for monitoring and configuring each edge switch.
Recent industry buzz has focused on moving intelligence back into the WAP to either eliminate or reduce the use of a switch-based controller. While still a proponent of centralized systems for their features and capacity through dense deployment, Ortronics' Walker is noticing the same trend: "If you have a controller managing 48 WAPs, that's a lot of congestion on the network. And if I'm transferring a file to a person using the same WAP on the same network, it makes sense for the data stream to bypass the structured cabling and controller by going to the WAP and then directly to the other person. This is why some vendors are moving some processing intelligence back out to the WAP."
Coming around again
Trapeze Networks (www.trapezenetworks.com) is one company contributing to this trend. Their Smart Mobile WLAN architecture features WAPs that can perform encryption, enforce policy, and forward data, depending on application needs. According to the company, this offloads some of the controller's responsibility, leaving it free to enforce more stringent policies and enable fast, seamless identity-based roaming.
ADC's WFX Enterprise Wi-Fi Solution is an example of a cabling and connectivity vendor supporting the idea of intelligence in the WAP (see figure, "An intelligent 'fat' array," above). ADC's WFX Wi-Fi Array combines an embedded controller and up to 16 WAPs in a single device to provide higher capacity over a larger coverage area-up to 864 Mbits/sec according to the company (see photo page 42, and figure "Third-generation WAP architecture," left).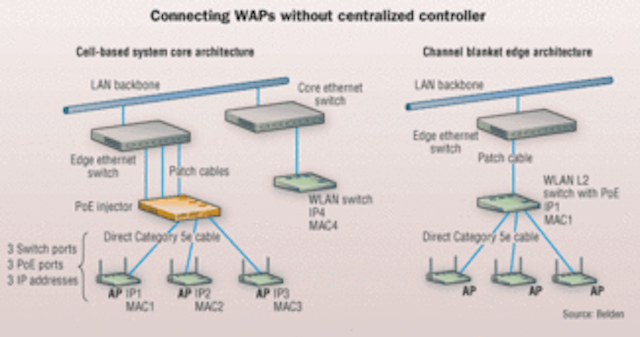 The Belden Wireless Solution connects very simple WAPs directly to an edge switch to eliminate the use of a centralized controller residing in the core network.
Click here to enlarge image
"The controller resides within the array, has one MAC address, and acts as a switch with up to 2-Gbit switching capability," explains ADC's Versluis. "We still take advantage of centralized capabilities by providing an out-of-band management platform that allows users to push out profiles, radio settings, and security information to each array."
By having WAPs all on the same channel, Belden's 4-radio WAPs create four separate channel blankets that can act as individual networks with no co-channel interference or roaming latency.
Click here to enlarge image
Comparable to the difference between a light bulb and a flashlight, instead of using omni-directional antennas that distribute signal equally in all directions, ADC's WFX arrays feature sectorized antennas that focus signal in one direction over a longer distance.
"A person sitting at 2 o'clock from the array would connect through one of the array's radios while someone at 6 o'clock would connect to another," explains Versluis. "Anyone that stays within that 125,000-square-foot space never hits the wired network or has to worry about roaming because the embedded controller manages all the radios in the array." According to Versluis, eliminating the controller an packing more radios into one device reduces costs and simplifies deployment because there are significantly fewer devices required.
A new company, Aerohive Networks (www.aerohive.com), recently put even more intelligence back into the WAP with the introduction of the "cooperative control" HiveAPs that act as switches and share information with each other over both wired and wireless media, completely eliminating the use of a switch-based controller (see photo, and figure, HiveAP cooperative control," page 46). In this solution, the company says, each individual HiveAP features cooperative control software that provides enterprise-class roaming, RF management, mesh networking, best-path forwarding, security, and quality of service at the networks' edge.
"Routers have information about the best route they can take for transmitting data; we do that with our WAPs," explains Stephen Philip, senior director of marketing for Aerohive Networks. "We can connect as many HiveAPs to the wired network as we like, and these WAPs also mesh together to communicate wirelessly as well. This allows cooperative RF control and automatic channel selection between WAPs in the same hive, as well as the ability to intelligently pass user credentials from one WAP to neighboring WAPs for seamless roaming."
The company also offers a HiveManager appliance to provide a single management interface for configuration, updates, and device monitoring.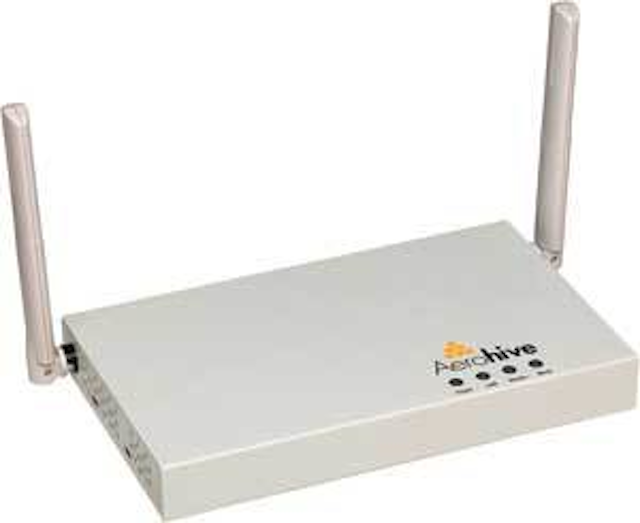 Aerohive's HiveAPs act as switches and share information with one another over both wired and wireless media.
Click here to enlarge image
"The key difference between our system and a centralized controller-based system is that our HiveManager is not a switch; it is only used to configure the wireless network," says Philip. "You can then turn it off, and the wireless network still functions because the WAPs move the packets and make the decisions on who is allowed where. In contrast, if you turn off a switch-based controller, the wireless LAN is down."
Battle still on
In the the war between "fat" and "thin," many solutions seem to lie somewhere between like Belden's solution that features thin WAPs, yet eliminates the use of a centralized controller by connecting WAPs directly to an edge switch. Cost, of course, continues to be a key issue in this battle, and the idea that thin WAPs with switch-based controllers are cheaper may be a misconception.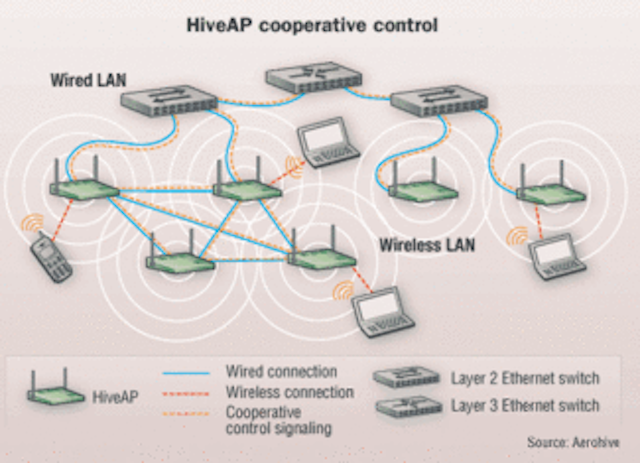 Aerohive's WLAN system is based on what the company calls cooperative-control technology, which the company says provides enterprise-class roaming, RF management, mesh networking, best-path forwarding, security, and quality of service.
Click here to enlarge image
"Thin WAPs have always been thought to be cheaper, but today's equivalent autonomous and thin WAPs are essentially the same price, and the controller is still very expensive," says Aerohive's Philip. "The idea that we would have a major cost reduction at the WAP by moving the intelligence to a centralized switch didn't really eventuate."
Proponents of centralized systems see the recent trends but are optimistic that the wireless LAN industry will not move back to fat WAPs. "It's more difficult to do a dense deployment with fat WAPs, and the centralized model offers the capacity and ease of management that customers are looking for," says Ortronics/Legrand's Walker. "However, a year ago, the discussion was over and everybody was on board with centralized solutions. Now, some people are questioning if they really need all they're buying with a centralized solution, or if maybe there's something in between."
Back to being fat?
Walker adds, "While I foresee some segmentation in the market where fat WAPs may be ideal for customers that care more about coverage and less about capacity, I don't foresee the industry moving back to fat WAPs."
But ADC's Versluis disagrees: "Others are now doing what we've been advocating for a long time. We don't believe in sending every packet back along the wired network when people are communicating wirelessly, which is why we're not a proponent of putting the switch anywhere but at the edge."
Versluis continues, "Most people are underwhelmed with the performance of Wi-Fi networks and would rather connect to the wired network. Users are wanting to do more than just e-mail and browsing over the wireless LAN, and putting more intelligence at the edge actually improves speed."
Aerohives' Philip concludes, "There are many disadvantages to a controller-based approach. First of all, the controller is a single point of failure for the wireless LAN, and it's an extremely expensive device. Adding extra controllers for redundancy, and having one controller for each branch office that only requires a few WAPs is extremely cost-prohibitive. And as we move to the higher speeds offered by 802.11n and running more mission critical applications over Wi-Fi, do we really want to be backhauling all that traffic over the LAN to a centralized controller?"
---
BETSY ZIOBRON is a freelance writer and regular contributor to Cabling Installation & Maintenance. She can be reached at: bziobron@comcast.net