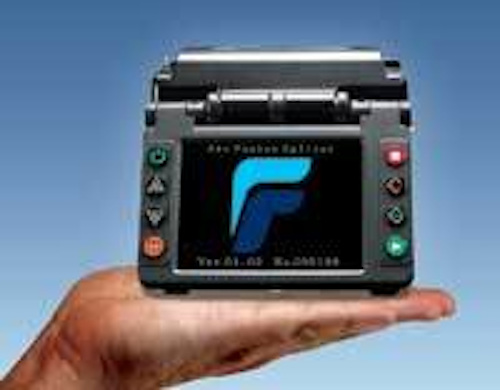 While primarily for use in the outside plant, the technology is also seeing deployment in premises applications.
by Betsy Ziobron
The process of fusion splicing has been around for several decades, and in outside plant (OSP) applications, it remains the most common and trusted method for permanently fusing together the ends of two optical fibers to realize a specific length or to repair a broken fiber link.
But while fusion splicing is primarily used on singlemode fiber in long-haul OSP applications, it also occurs in premises LAN applications for both singlemode and multimode fiber types. And in data centers, the emphasis on density and performance combined with the need to ensure a return on investment has some installers opting to fusion splice rather than perform field terminations.
New prices and trends
Fusion splicing involves the use of localized heat to melt together or fuse the ends of two optical fibers. The preparation process involves removing the protective coating from each fiber, precise cleaving, and inspection of the fiber endfaces. (Inspection is critical since splice loss is directly related to the angle and quality of the endface.) Once the fibers are properly prepared, they are placed into the fusion splicer, aligned, and fused together.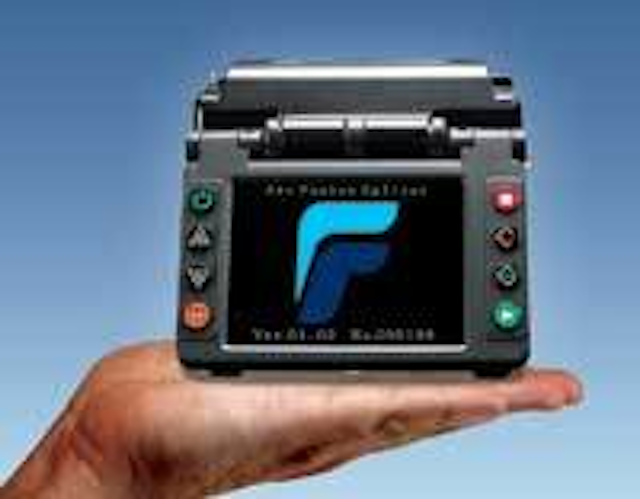 Fusion splicers are small and portable enough for the data center and central office. The Fujikura SpliceMate (FSM-11) is one of the world's smallest and most portable fusion splicers.
Click here to enlarge image
Fusion splicing yields a very low loss of typically less than 0.02 dB and, therefore, has little impact on overall link performance.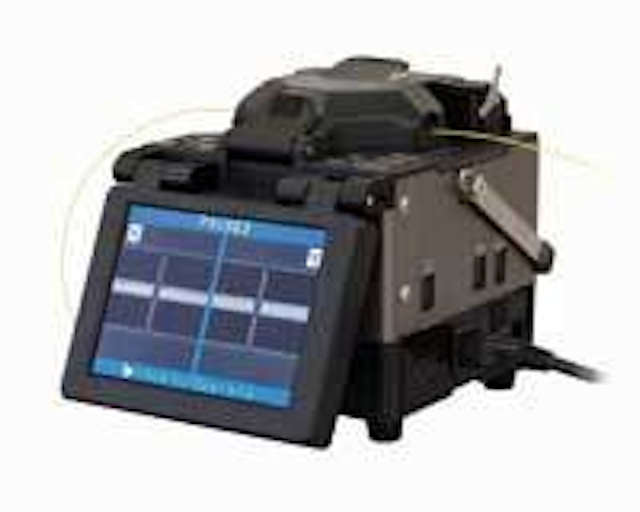 Core alignment splicers, such as this Fujikura FSM-50s from AFL, are popular for their accuracy and performance.
Click here to enlarge image
The two basic types of fusion splicing technology in use today are core and V-groove alignment systems, with the core type aligning a single fiber and offering better accuracy and lower loss.
"The core alignment splicer is the primary choice of any contractor doing fusion splicing, because you never know what type of specifications and loss budgets you're going to be required to meet," says Greg Pickeral, product manager of fusion splicing for AFL Telecommunications, a subsidiary of Fujikura Ltd. of Japan (www.afltele.com). "When you're dealing with many fibers, a multi-fiber V-groove splicer is a more efficient method, but the design engineer must understand the tradeoff in accuracy and loss estimation, and properly design around it."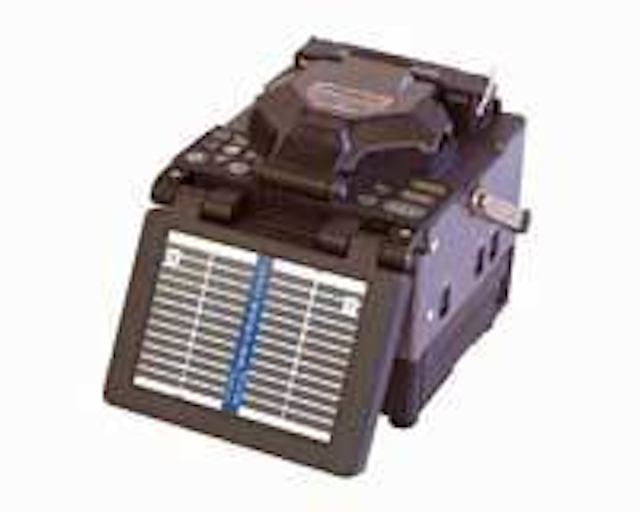 Mass fusion splicers, such as the Fujikura FSM-50R12, are based on V-groove technology and can splice 12 fibers at a time.
Click here to enlarge image
Today's fusion splicers range in cost from $7,000 to $40,000. The highest-priced units are designed for specialty optical fibers, such as polarization-maintaining fibers used in the production of high-end non-electrical sensors. The lower-end fusion splicers, in the $7,000 to $10,000 range, are primarily single-fiber fixed V-groove type devices. The popular core alignment splicers range between $17,000 and $19,000, well below the $30,000 price of 20 years ago.
"The prices have dropped dramatically due to more efficient manufacturing, and volume is up because fiber is no longer a voodoo science and more people are working in that arena," says Pickeral. "Recently, we've seen more fiber being deployed closer to the customer premise with higher splice-loss budgets, which results in a greater participation of Verizon and AT&T installers who are purchasing lower-end splicers to accomplish their jobs."
According to Pickeral, in fiber-to-the-premises (FTTP) applications, fusion splicing is now being used to install connectors for customer drop cables using new splice-on connector technology and lower-end V-groove splicers.
"Historically, the choices were to either fusion splice on a pigtail or install connectors in the traditional hand-polishing method where consistency, insertion loss, and other performance measurements are determined by the installer's ability," says Pickeral. "The newest fusion-installable connectors use fusion splicing to connect the ferrule to the fiber, and then the connector is assembled around the splice."
Pickeral says the new splice-on connectors let service providers build customer drop cables to length so they don't have to deal with slack storage at the curb or customer location.
Behind closed doors
The first and primary use of splicing in the telecommunications industry is to link fibers together in underground or aerial outside-plant fiber installations. Over the past 15 years, several innovations have drastically reduced the amount of fusion splicing taking place in the premises environment, including advancements in field installable no-epoxy/no-polish connectors and indoor/outdoor cables.
According to Warren Hicks, manager of marketing strategy and development for private networks at Corning Cable Systems (www.corningcablesystems.com), "It used to be very common to do fusion splicing at the building entrance to transition from outdoor-rated to indoor-rated cable, because the NEC specifies that outdoor-rated cable can only come 50 feet into a building due to its flame rating." He adds, "The advent of plenum-rated indoor/outdoor cable has driven that transition splicing to a minimum. But that's not to say that fusion splicing in the premise isn't going on."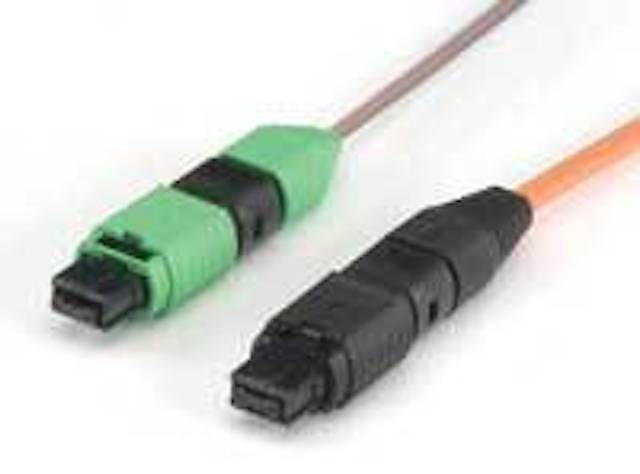 Corning Cable Systems' UniCam MTP connectors offer a no-epoxy/no-polish field-installable MTP/MPO style that provide an alternative to fusion splicing or preterminated trunk cables in the data center.
Click here to enlarge image
Hicks believes that longer distances in the outside plant could mean that sticking with standard outdoor-rated cable and fusion splicing at the building entrance could be the more economical choice.
"It's important to do the math," he says. "If it's a short run between building A and B, it makes sense to use newer indoor/outdoor cable and come right into the crossconnect; however, because indoor/outdoor cables are generally more expensive, if it's a longer run with lower fiber counts between buildings, it could ultimately be cheaper to buy outdoor-rated cable and fusion splice to transition to indoor-rated cable, even with the additional cost of splice materials and housing."
Hicks continues, "It often comes down to who's driving the boat. If it's the contractor, and he has access to a fusion splicer, he may take the time to do the calculation and determine which option is less expensive, because that can mean a higher margin for him. If the end user is driving it, they may decide they don't want the loss associated with the transition splice and choose the indoor/outdoor cable."
While fiber-to-the-desk applications remain rare, it is another situation that may call for fusion splicing in the premises environment.
"If you want to go the full 300 meters in a fiber-to-the-desk application, you have to either fusion splice or do an interconnect; however, an interconnect can introduce 0.75dB of loss while the fusion splice is typically less than 0.02dB," Hicks explains. "Therefore, the easiest way to minimize the amount of loss on a fiber-to-the-desk circuit is to bring the individual fibers from each workstation back to the closet and then splice to a higher-fiber-count cable." This approach also enables centralizing electronics for more efficient port utilization.
Fusion splicing in the premises is more common with singlemode fiber applications because many customers are still uncomfortable with field-installing singlemode connectors.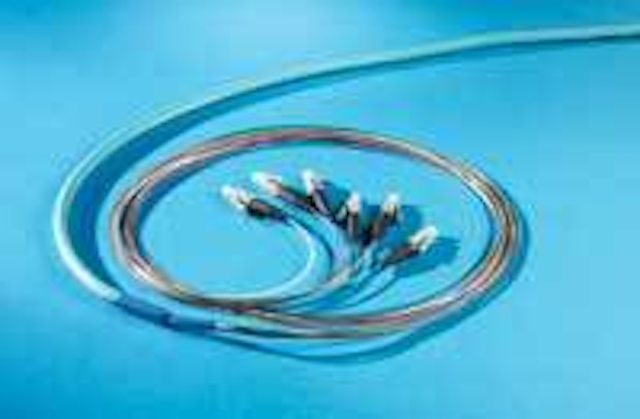 Some installers choose fusion-splice fiber pigtails, like these factory-terminated LC fiber pigtails from Ortronics.
Click here to enlarge image
"We have some customers futureproofing with singlemode fiber, and instead of the more difficult task of field-polishing singlemode connectors, they have chosen to fusion-splice preterminated pigtails," says Rudy Montgelas, senior product manger of fiber optics for Ortronics/Legrand (www. ortronics.com). "There's more variation and higher loss when field terminating fiber connectors, while the factory-terminated connectors on a pigtail ensure a premium polish and better performance. Because fusion splicing can provide very low loss, fusion splicing to factory-terminated pigtails can result in better performance."
An option for data centers
A significant increase in the number of applications supported by data centers has resulted in more cables and connections than ever, making available space a chief concern. As a result, many data center managers are turning to higher-density solutions like MTP/MPO (mechanical transfer pull-off/multi-fiber push-on) connectors and multi-fiber cables that take up less pathway space than running individual duplex cables. Since few manufacturers offer field-installable MTP/MPO connectors, many managers are selecting either multifiber trunk cables with MTP/MPOs factory-terminated on each end, or fusion splicing to preterminated MTP/MPO or multifiber LC pigtails.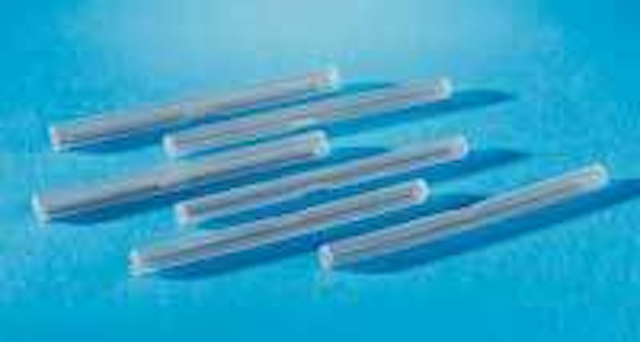 Each fusion splice is protected with a splice sleeve.
Click here to enlarge image
"We are seeing higher usage of handheld V-groove-based fusion splicers for termination applications in the premise and data center environment," says Josh Seawell, product manager for fusion splicers with Sumitomo Electric Lightwave (www.sumitomoelectric.com). "Fusion splicing provides permanent low-loss connections that are performed quickly and easily, which are definite advantages over competing technologies. In addition, current handheld fusion splicers are designed to provide enhanced features and high-quality performance, and be very affordable at the same time."
According to Ortronics' Montgelas, splicing in the data center involves the use of a splice tray for storing and organizing the splices. "Splice trays can be located in the back of a patch cabinet, or for very high-density splicing, the splice trays could be located in a separate splicing cabinet," says Montgelas. "The tradeoff between the labor, equipment, and materials involved in fusion splicing versus the cost of the factory-terminated trunk cable needs to be considered on a case-by-case basis."
Montgelas adds: "When you select trunk cables with connectors on each end, data center managers often specify lengths a little bit longer because they can't always predict exact distances between equipment and they don't want to be short; however, they then have to deal with excess slack. When there are thousands of connections, that slack can create a lot of congestion and limit proper air flow and cooling. One alternative is to purchase a multi-fiber pigtail and then splice to a multi-fiber cable, which some installers are choosing to do."
Fusion splices are stored in a splice tray, like Ortronics' 12-inch fusion splicing tray mounted either behind the patch panel or in a separate splicing rack or cabinet.
Click here to enlarge image
Sumitomo's Seawell notes, "Projects utilizing MTP/MPO-style connectors coupled with the use of ribbon fiber or the ability to ribbonize single fibers allow users to experience significant time savings by fusion splicing multiple fibers at once. Imagine splicing four, eight, or 12 fibers in the same time frame as splicing only one fiber. This is possible using mass- or ribbon-fusion splicers. Mass-fusion-splicer technology has been around for decades and now is available in handheld models, such as Sumitomo's Type-25eM TomCat 4-ct ribbon splicer." Seawell adds that another of his company's products, the Type-66 TuffCat 12-ct ribbon splicer, can accommodate larger fiber counts.
Corning Cable Systems is one of the few manufacturers offering a field-installable MTP connector, which is another option for those data center customers that don't want to purchase pre-terminated trunk cables and deal with slack. "MTP/MPO connectors are difficult to terminate using the epoxy-polish method; however, we offer a no-epoxy, no-polish MTP/MPO connector that is built around our Unicam technology," says Hicks. "The UniCam MTP can be terminated in the field in about four minutes."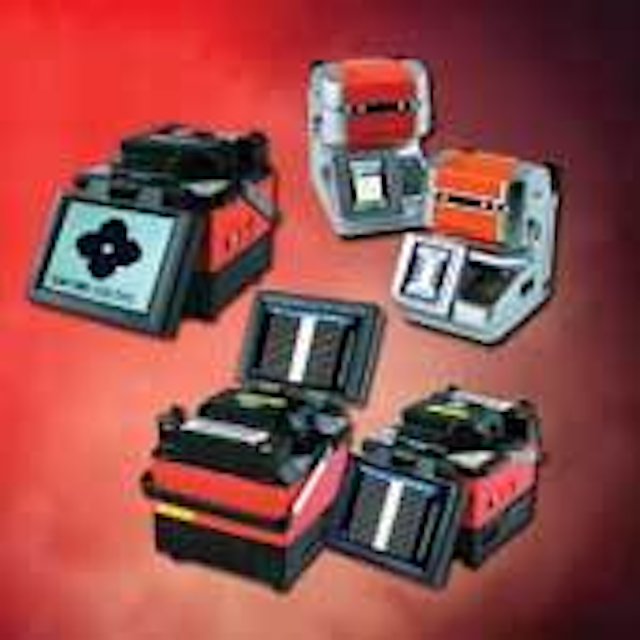 Sumitomo Electric Lightwave offers single- and mass-fusion splicers, including the Type-25eM TomCat 4-ct and the Type-66 TuffCat 12-ct ribbon splicers.
Click here to enlarge image
While the UniCam MTP connectors pass all industry standards and tests for optical performance, each one involves a mechanical splice, which contributes slightly higher loss than a fusion splice.
"If I already own a fusion splicer and space isn't an issue, I may choose to fusion-splice factory-terminated pigtails to achieve lower loss," says Hicks. "But our stance is that the field-installable connectors are the most economical method because you're eliminating the capital expense of a fusion splicer, eliminating the expense of additional splicing materials and consumables, and maximizing density in the rack by eliminating the need to accommodate splice trays."
Making the choice
Today's fusion splicers "offer many advantages in the premises environment, from being lightweight and compact to operating on a battery," says Sumitomo's Seawell. "These new units minimize setup time and are ideal for use in locations where space is tight. In addition, the total splice and heater cycle time is less than one minute, thereby enabling technicians to move through many termination locations quickly."
Adds Hicks: "We foresee fusion splicing decreasing, because ultimately, customers that can't deal with slack are going to demand field-installable connectors. Many more will rely on the preterminated trunk cables and sacrifice the inconvenience of dealing with slack, because it offers faster deployment."
Montgelas says that preterminated solutions offer the most benefits: "It's easy to install preterminated cables, and because they're available in custom lengths, it's easy to get the exact lengths required to limit the excess slack."
When deciding between fusion splicing and field-installable connectors, Montgelas says there are other factors to consider: "Fusion splicing is taking on more of an interest in the data center for singlemode applications, but compared to how much it will take off versus field-installable connectors remains to be seen."
He concludes, "As you get into significantly higher fiber counts, fusion splicing could save time over installing connectors; however, contractors and installers that don't have a fusion splicer or splicing experience may want to consider whether to invest in a fusion splicer and the cost and time required to train their staff."
BETSY ZIOBRON is a freelance writer and regular contributor to Cabling Installation & Maintenance. She can be reached at: bziobron@comcast.net