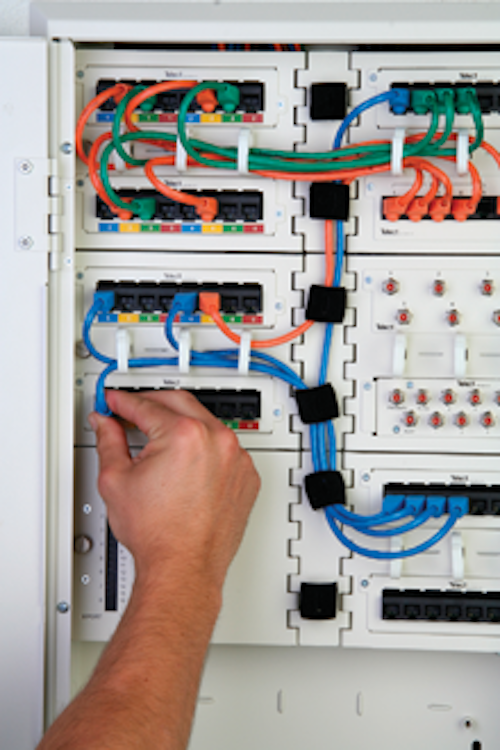 Designed for managing high-bandwidth content within a small office or home network, Telect's (www.telect.com) Media Gateway system addresses the need to distribute, manage, and deliver ever-increasing data rates throughout a small network.
Featuring a flexible design and a color-coding system to simplify connectivity, Media Gateway includes central distribution panels, wall outlets, cabling, and accessories to enable triple-play (voice, video, data) distribution throughout an office or home. The color-coded connectivity system helps users match numerical and color-corresponding wall outlets with ports in the panel, while clearly labeled connectivity modules, splitters, and other devices in the panel are designed for simplified structured cabling management.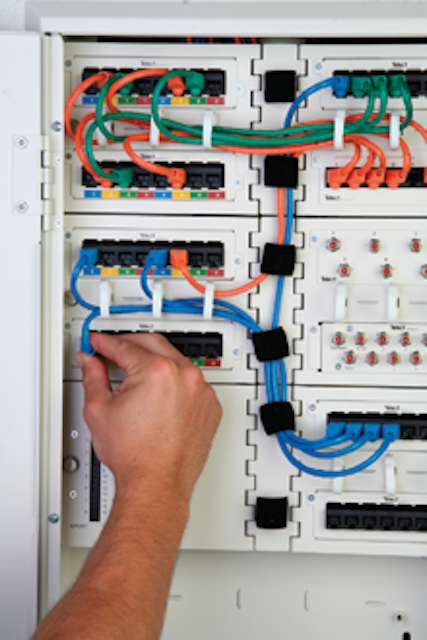 Color-coded connectivity within Telect's Media Gateway lets small office and home network users match numerical and color-corresponding wall outlets with ports in the panel for quick connection or simplified reconfiguration for future service changes.
Click here to enlarge image
"A well-designed network is absolutely crucial for successfully delivering high-bandwidth content," says Mark Hawley, Telect's broadband solutions program manager. "The Media Gateway will appeal to everyone, from service providers to developers, home builders, installers, and end users."
The patent-pending system features Category 5e and RF video connectivity and distribution components, along with wall outlets for each office or home location. It supports distribution of video-on-demand, high-speed data, IP video, and VoIP applications. Enhanced cable management in the panel includes cable tie-downs to keep installations clean, and space for jumpers and other cabling.
Media Gateway systems support applications ranging from new housing/greenfield developments to retrofits in existing homes and office spaces.
---

Short runs…
RICHARDSON, TX-Network infrastructure developer CommScope (www.commscope.com) has formed an alliance with network video solutions provider Axis (www.axis.com) to deliver intelligent building solutions to its customers. "To be more diligent and efficient with security programs, many companies are merging physical security departments with IT departments," says Mark Peterson, senior vice president, global marketing/enterprise at CommScope. "In addition, many organizations are planning to add more intelligence to buildings, where data, building automation and safety and surveillance systems all converge on a single infrastructure platform. With this alliance, CommScope and Axis help bring the intelligent building to their customers."
NEW LONDON, CT-Following tests conducted at the Nexans Data Communications Competence Center, Ortronics/Legrand (www.ortronics.com) and Berk-Tek (www.berktek.com) say their warranted NetClear GTX 10G UTP cabling system can be installed alongside existing NetClear structured cabling systems within the same pathway without performance degradation of either system. The tests placed Berk-Tek's (a Nexans company) LANmark-10G Augmented Category 6 in the same raceway as LANmark-1000 and LANmark-2000 Category 6 cables. Both were unaffected, with the LANmark-10G cable continuing to meet all requirements of the draft TIA 568-B.2-10 Augmented Category 6 specifications. "The performance of the LANmark-10G cable combined with the co-engineered Clarity 10G termination products from Ortronics allows the NetClear GTX channels to be intermixed with channels of lower category performance, without interference," says Jim Frey, Berk-Tek copper products manager.
DUBLIN, IRELAND-A newly released study from Research and Markets, "2007 Global FTTH-Fibre Networks Becoming a Reality" (www.researchandmarkets.com/reports/544344), finds that fiber-to-the-home deployment worldwide "will be much faster in areas where there are clear business models for it," and that "education is just one of the important social aspects of fibering up countries-interactive video is going to add that special element to education, which will make fibre-optic networks even more important for community social structures." The report provides insight and analysis into the trends and developments taking place in the FTTH sector, taking a global overview, as well as providing information targeting North America, Latin America, Europe, the Middle East, and Asia Pacific markets.