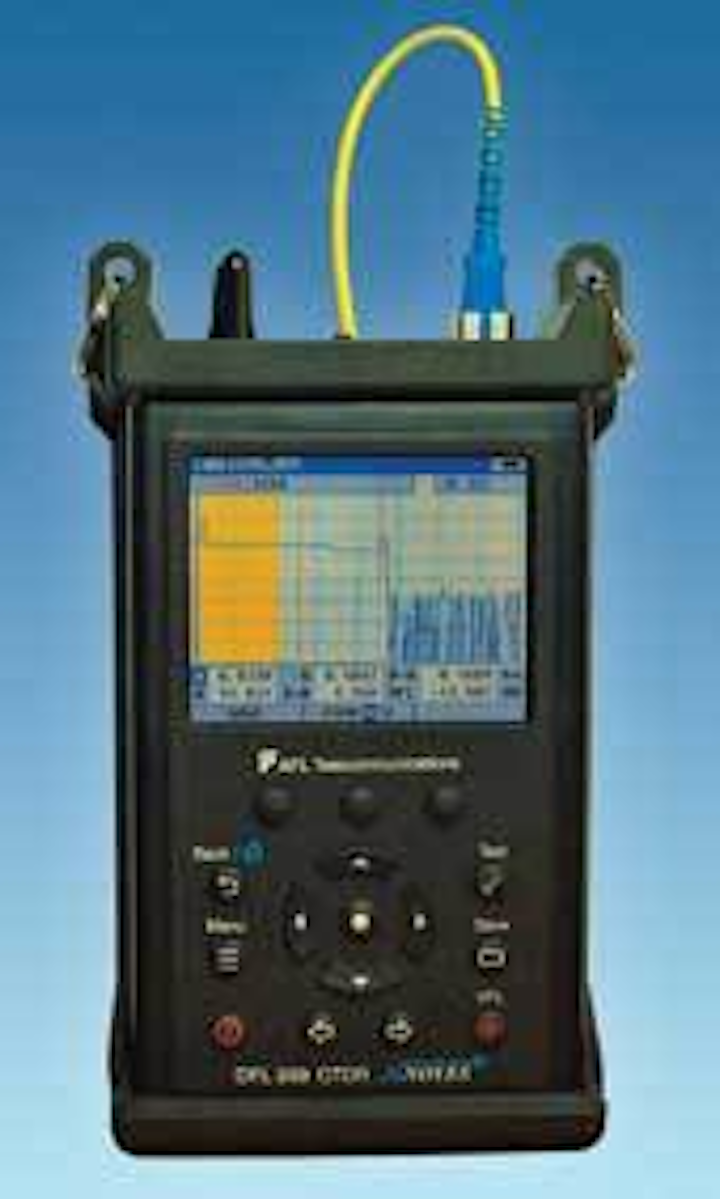 Handheld OTDR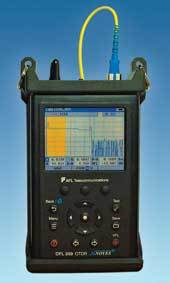 Click here to enlarge image
Weighing in at 1.7 pounds, the Noyes OFL 250 is a singlemode handheld OTDR with integrated optical power meter (OPM), laser source (OLS), and visual fault locator (VFL). Featuring short dead zone and mid-range dynamic range performance, the OFL 250 is suited for testing optical fibers in FTTx networks. It supports automatic and manual set-up, precision event analysis, and multiple wavelength testing. Other features include 12-hour battery life, internal data storage, and USB connectivity. All models come with a carry case, SC and FC adapters for the OTDR/OLS port, 2.5-mm universal adapters for the OPM and VFL ports, USB cable, AC power adapter with country-specific power cord, and a user guide.
AFL TELECOMMUNICATIONS
www.afltele.com
Deep enclosure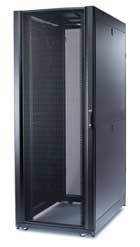 Click here to enlarge image
The NetShelter SX 1200-mm deep enclosures, built for deeper servers and larger volumes of cable in data centers, is five inches deeper than a standard 1070-mm enclosure. It includes an additional pair of cable channels in the back that enable organization of more power and data cables, and additional room to mount up to four vertical rack power distribution units on the side of the enclosure. This enclosure also features larger cable openings along the sides of the roof to enhance cable access, while an enlarged center rear opening is designed for better routing and management of large cable bundles. Available sizes are: 42U/600-mm, 48U/600-mm, and 42U/750-mm.
APC
www.apc.com
Interlocking armored cable
Click here to enlarge image
This 12-strand, 62.5-µm multimode optical-fiber cable needs no pre-installed innerduct, providing a single-pull solution that can reduce labor and cost. The cable's aluminum interlocking armor is designed to provide maximum protection in remote or harsh environments. Especially suited for Gigabit Ethernet backbones where ruggedness and rodent resistance are required, the lightweight, flexible cable is UL-listed and plenum-rated, and is available in customer-specified lengths.
BLACK BOX
www.blackbox.com
Scope with probe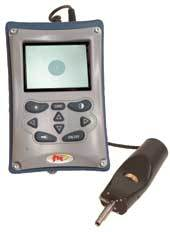 Click here to enlarge image
This compact, handheld video fiber-optic microscope includes a 200× probe that's designed for inspecting adapter panels. The microscope features a bright 3.5-inch display, variable coaxial illumination, and contrast and brightness control. Li-Ion batteries and AC charger are included. SC, FC, ST, and universal 2.5-mm adapter tips are available.
FIBER INSTRUMENT SALES
www.fiberinstrumentsales.com
Universal splicer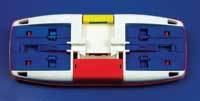 Click here to enlarge image
The Universal Mechanical Splice (UMS) system can splice fiber from 250 to 900-µm with a single-hand action. The lightweight, handheld wedge tool device, measuring 142 × 57 × 22-mm, offers a cost-effective alternative to pre-connectorized cables for FTTx installations. The UMS has been tested in accordance with Telcordia GR-765-CORE generic requirements for singlemode optical splices and splicing systems, demonstrating maximum insertion loss of 0.5 dB and an average return loss of 40 dB.
FUJIKURA EUROPE
www.fujikura.co.uk
Digital balun for A/V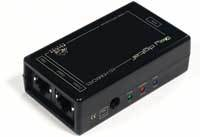 Click here to enlarge image
The digital FatCAT series of precision baluns is designed for distributing HDMI video and audio signals over Category 5 or 6 cable. Incorporating a proprietary HDMI Path technology that prevents EDID miscommunication and results in a clean HDMI signal transfer from source to display, the FatCAT series supports video resolutions up to 1080 p and meets the HDMI 1.3 standards for fully high-definition performance capability. Both the transmitting and receiving units are available in either free-standing or wall-plate versions. (The wall-plate version includes an additional coaxial digital audio signal port.)
KEY DIGITAL
www.keydigital.com
Pre-polished LCs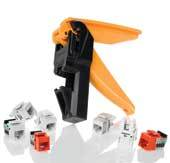 Click here to enlarge image
FastCAM LC fiber-optic pre-polished connectors are designed to provide precision mechanical termination of singlemode and multimode fiber. No proprietary tools, epoxy, or hand-polishing are required, resulting in quick field termination. FastCAM is available in LC, SC, or ST singlemode or multimode (50/ 125-µm, 62.5/125-µm, and Laser Optimized 50/125-µm) configurations terminated on 250 or 900-µm buffered fiber.
LEVITON VOICE & DATA DIVISION
www.levitonvoicedata.com
Hard coating 62.5-µm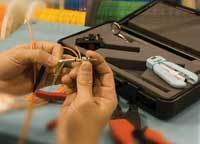 Click here to enlarge image
This 62.5-µm optical-fiber cable with hard clad silica (HCS) fiber coating is designed for high bandwidth communication in industrial environments, and especially suited for environments with high pull forces. The fiber is available cabled and preterminated from the factory or can be field-terminated with ST and SMA connectors using the company's simplified "crimp and cleave" process. It features a 125° C temperature rating, high proof test level, and maximum resistance to moisture in such applications as utility control rooms, factory automation, indoor and outdoor industrial manufacturing, and infrastructure industries. Bandwidth is greater than 200 MHz-km at 850 nm.
OFS/SPECIALTY PHOTONICS DIVISION
www.ofsoptics.com
Rear-loading panels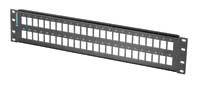 Click here to enlarge image
Available in flat and angled versions, Clarity individual jack panels use reduced-size Clarity 6 and 5E panel jacks that can be terminated and snapped in place from the back of the patch panel. The recessed design provides a low-mounted profile and directs patch cords to vertical management in limited rack space. These panels feature universal TIA-568A/B wiring and support 110 termination practices.
ORTRONICS/LEGRAND
www.ortronics.com
Data center cabinet
Click here to enlarge image
The NET-ACCESS server cabinet system is designed to manage, protect, and showcase cabling and equipment by providing open-rack accessibility with the aesthetics and security of a cabinet. The cable management design organizes power and data cables through vertically-mounted patch panels and power outlet units, reducing patch cord slack, improving airflow, and enhancing network reliability. A scalable thermal management design provides a migration path from initial power and thermal requirements to future higher heat densities. For added thermal management, a rear cooling door option leverages IBM cooling technology to eliminate hot spots and enable increased server density.
PANDUIT
www.panduit.com
Fiber fault-finder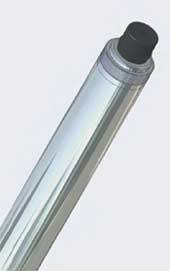 Click here to enlarge image
The battery-powered FFD100 fiber fault detector quickly locates breaks, bends, and other discontinuities that can affect performance and result in signal loss. It also aids end-to-end fiber identification within a fiber bundle, or when looking for cracked fiber in splice cases. It pinpoints problem areas on an optical fiber by generating a bright red glow at the fault site. The pen-size FFD100 uses a 635-nm red laser diode with CW operation to locate faults in up to 5 km of fiber. It accepts all standard 2.5-mm optical connector types for singlemode and multimode operation.
PHOTONIC PRODUCTS LTD.
www.photonic-products.com
Surface-mount seal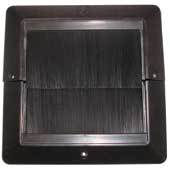 Click here to enlarge image
A surface-mount version of the Air Guard Cable Seal is designed to reduce cool-air loss in data centers. Although packaged with mounting hardware, an adhesive strip covered by a foal seal provides an installation alternative. A 10 × 10-inch Air Guard covers irregular, existing cutouts and protects cable arrangements in up to a 6 × 7-inch area. Overlapping brushes seal cable openings to help prevent under-floor contamination and overheating of critical equipment by improving static pressure to cool data center equipment. Air Guard's flame-retardant ABS polycarbonate finish, solid construction, and textured surface complement all floor coverings.
PDU CABLES
www.pducables.com
Hybrid RJ-45 patch cord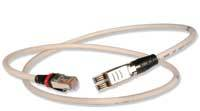 Click here to enlarge image
These 10-Gbits/sec-capable patch cords feature a standards-recognized TERA (Category 7) interface on one end and a redesigned version of the company's RJ-45-style MC plug on the other. The cord supports current network equipment, and future application speeds of 10-Gbits/sec and beyond. Featuring a Category 7 stranded cable, the hybrid patch cords meet or exceed all 10GBase-T standard requirements, and are compatible with standards-based RJ-45 outlets, ensuring long-term resistance to humidity-based corrosion, extreme temperature, and airborne contaminants. The cords use include a color-coded clip feature, allowing simplified patch field identification and management. The MC plugs offer an ultra-slim boot for tight side-stackability in high-density patching environments, and its cantilevered latch protection limits snagging while allowing the latch to be operated from further back on the plug.
SIEMON
www.siemon.com
Cat 6A, 7 termination block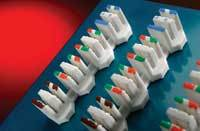 Click here to enlarge image
The SS-51 Series of punchdown blocks is engineered to allow field termination of insulated 22 to 26 AWG solid copper wire in Category 6A and 7 applications in which wires are individually shielded. Employing insulation displacement contact (IDC) technology, the RoHS- compliant devices are designed for rapid mass termination of multiple wires for telecom and datacom systems. The blocks feature a notched-head design to secure the wires in the plastic housing before termination, ensuring a mechanically stable connection between the conductor and the terminating contact. This allows for staggered pair-to-pair arrangements in multi-port designs to reduce alien crosstalk in Category 6A applications. The SS-51 Series is most commonly employed in network wall sockets, patch panels and distribution frames, and can also be used in conjunction with the company's SS-60300 Series of Category 6A jacks in patch panels and wall outlets.
STEWART CONNECTOR/BEL FUSE
www.belfuse.com/stewartconnector
Ethernet, WAP device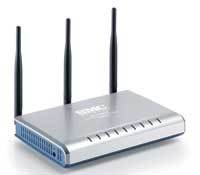 Click here to enlarge image
SMCWEB-N EZ Connect can operate in either wireless access point (WAP) mode to add high-speed wireless connectivity to the network, or in Ethernet client mode to connect multiple Ethernet-enabled devices simultaneously via an integrated 4-port 10/100 switch. Featuring advanced performance and security features, this device is especially suited for multimedia and security installations. Configuration is via an installation wizard, web-based management interface, and slide switch for selecting operating mode.
SMC NETWORKS
www.smc.com
Ethernet fiber multiplexer

Click here to enlarge image
The TC8518 Ethernet and T-1/E-1 fiber multiplexer multiplexes 8/16/20/24 T-1 channels of 8/16/20 E-1 channels, and three 10/100 Ethernet switch ports over multimode or singlemode fiber- optic cable. (The three Ethernet ports support non-blocking 100 Mbits/sec bandwidth.) The 1U high unit supports distances to more than 100 km and offers standard redundant power and optics, including automatic switchover. Designed as a point-to- point solution for combining multiple T-1/E-1 lines and Ethernet over a single fiber, the multiplexer can extend signals from cell towers to central offices, and add Ethernet service to existing T-1/E-1 fiber-optic links. Setup, diagnostics and control is accessed by a Web interface, serial console, telnet, or SNMP management. Diagnostics include LED indicators, dry contact alarms, and local and remote loopback. Fiber optic connectors are SC, and standard power supplies are redundant and hot-swappable 110/230 volts AC.
TC COMMUNICATIONS
www.tccommunications.com
3-phase UPS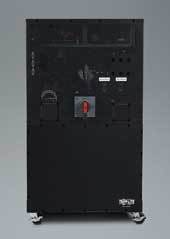 Click here to enlarge image
SmartOnline 3-phase UPS systems feature what the company claims is the smallest footprint in their class. Power and battery components have been combined into a single, compact module designed to save floor space. The UPS features on-line, double-conversion operation, IGBT technology that provides <3% total harmonic distortion, and 3-phase 120/208-volt hardwire input/output. A static bypass and manual maintenance bypass are designed to ensure continuous availability by safely passing through AC power if the UPS requires maintenance. Battery runtime is scalable from 5 to 31 minutes at full load with the 20-kVA model. The systems are available in 20- and 30-kVA base models, and two extended runtime models.
TRIPP LITE
www.tripplite.com
Insulated wrap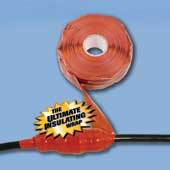 Click here to enlarge image
An alternative to shrinkable tubing, X-Treme Tape is a self-fusing wrap designed to insulate connections regardless of size or design, eliminating the need for heat guns or torches. While shrink tubing must be slipped onto the wire prior to connection, X-Treme Tape provides immediate insulation with a permanent air and water seal, no connector damage, and allowing for quick access to repair or change a connection. No-melt capacity is 260° C, with flexibility ranges to -50° C.
VYPAR PRODUCTS
www.vyparproducts.com
Security DVR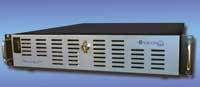 Click here to enlarge image
For video surveillance installations, the Kollector Lite XG network DVR is designed for the company's ViconNet digital and IP-based video management software. Available in 60- and 120-fps model, and with up to 1 TB of local storage, the DVR's flexible frame rate adjusts across the number of camera inputs, letting system designers accommodate required maximum viewing and recording rates by adjusting inputs-per-unit.
VICON INDUSTRIES
www.vicon-cctv.com
Network simulator
This 250-kilometer network simulation module is designed as a platform for improved testing and measurement of fiber networks, test equipment, and optical subsystems requiring extended channel lengths. It requires less rack space than comparable simulators and eliminates daisy-chaining of multiple modules to achieve longer length simulation channels. Modules can be built to emulate virtually any network or scenario, with such options as specific events at defined locations, multiple connection types, and multiple channels with varied lengths.
TIMBERCON
www.timbercon.com