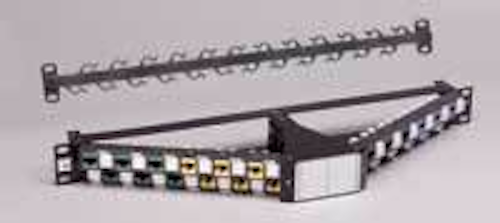 Category 6A angled connectivity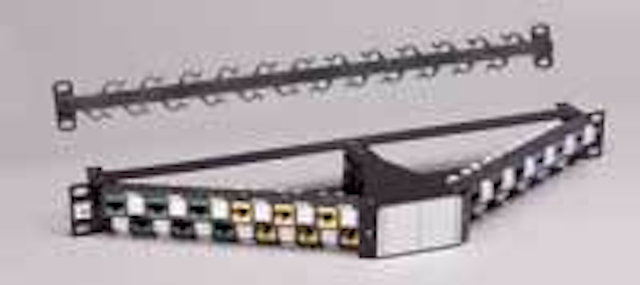 Click here to enlarge image
CopperTen Augmented Category 6 (6A) angled patch panels optimize 10-Gbits/sec transmission performance with offset jack positioning to counter the negative effects of alien crosstalk. The angled port design is built to improve all aspects of managing horizontal cable and patch cables while improving density when used with the company's Glide Cable Management. This patch panel is designed to prevent unintended disconnects and cable damage, and protects bend radius to avoid violations that can result in signal degradation. The system's patent-pending design also minimizes alien crosstalk and insertion loss, and meets the performance requirements of IEEE 802.3an and TIA 568-B.2-10 draft standards.
ADC
www.adc.com
Test-built Category 5e and 6 panels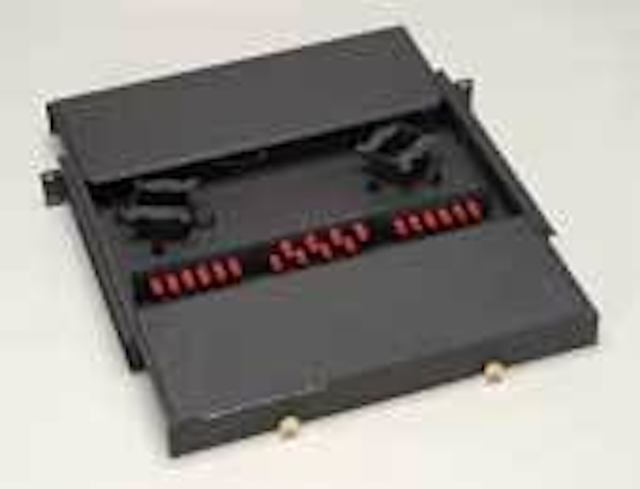 Click here to enlarge image
Allen Tel patch panels undergo thorough in-house and nationally recognized tests for channel compliance exceeding TIA/EIA Category standards. A full array of Category 5e and 6 patch panels are available, with Category 6A panels pending. In addition, rack- and wall-mount fiber-optic cabinets-the equivalent of copper patch panels-provide the same reliability and flexibility. All copper and fiber patch panels are available exclusively through Graybar (www.graybar.com).
ALLEN TEL
www.allentel.com
1U, 48-port system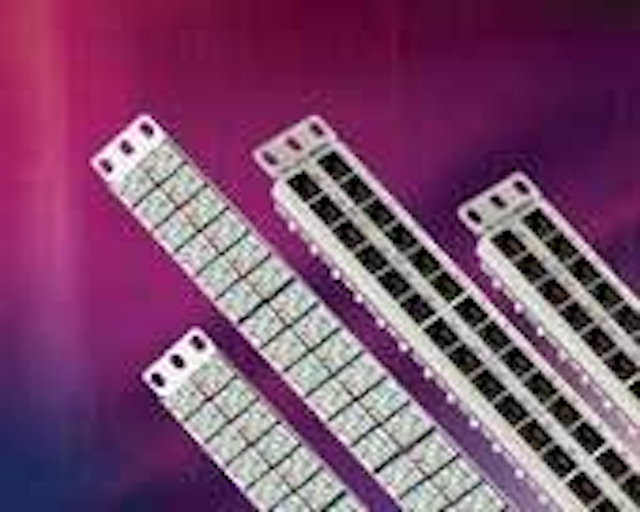 Click here to enlarge image
10GX 48-port ultra-high-density patch panels fit into a 1U space, compared to similar systems requiring 2U. When used with the company's high-density modular racking system, the 10GX patch panels deliver four times the density of standard panels. Units are available for Category 5e, Category 6, and Category 6A, and are suited for data centers, equipment distribution areas, and other high-throughput environments. The heart of the 10GX is modules that incorporate three patent-pending technologies: MatriX IDC locates each IDC connector at a right angle to its neighbor, effectively canceling out alien near-end crosstalk; FleXPoint PCB is a flexible printed circuit board configuration designed to provide excellent crosstalk performance up to 625 MHz; X-Bar is a termination technology that enables precise, accurate positioning of each UTP pair for termination on the module's IDC pins under typical field conditions.
BELDEN
www.belden.com
Rack-mountable fiber termination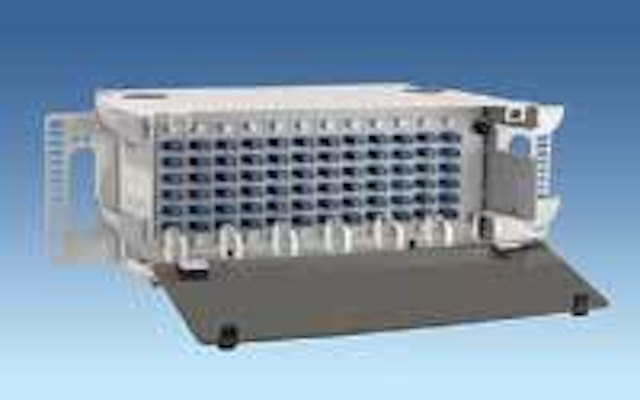 Click here to enlarge image
Light-Link LanSystem series of rack-mountable fiber termination patch panels are available empty for complete field configuration, with adapters ready to accommodate field-installable connectors or factory preterminated cables, and preterminated with cable stubs or pigtails. An aluminum construction is designed to save weight and ease installation. Smaller 1U and 2U panels can support patch, patch and splice, or splice-only, while the 3U and larger panels feature a removable master plate and cable guide trays to simplify field provisioning and provide unobstructed access to internal components. Patch and splice panels feature a telescopic 48-position splice tray that provides full access to all splices without having to search through or unstack traditional splice trays. The LanSystem is available with densities ranging from 6 to 288 fibers, and rack sizes up to 9U.
AFL TELECOMMUNICATIONS
www.afltele.com
Housings for various connector panels, modules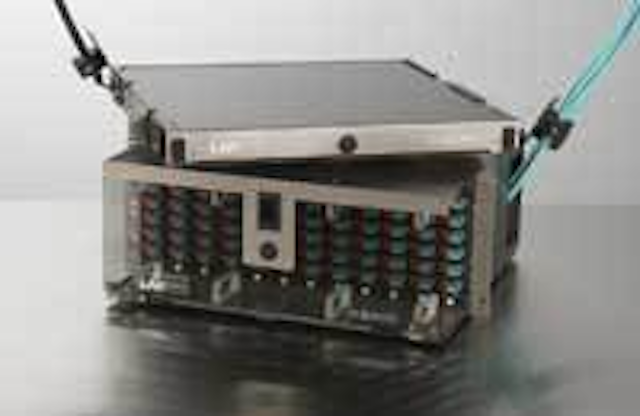 Click here to enlarge image
Pretium Connector Housings, designed for the LAN and data center environment, accept numerous connector panels and modules. Available in a wide variety of port counts and connector styles, these housings are four inches deeper than standard connector housings, and are shipped with everything needed for immediate deployment. The Pretium 4U housing accepts 12 of the company's CCH connector panels or connector modules, and contains an integral hinged jumper manager on the front. The 1U and 2U housings accept two and four CCH connector panels or modules, respectively. All housings feature a removable top that slides forward, providing unencumbered access to interior components. A rack-mountable Pretium 1U Housing, with the capacity to hold 96 fibers, fits into a 19-inch utility rack, while the Pretium 3-Module is a 1U housing that holds three reduced-depth Plug & Play System modules. When using LC duplex or MT-RJ adapters, 24 fibers per module are available, providing a total modular 1U density of 72 fibers.
CORNING CABLE SYSTEMS
www.corningcablesystems.com
Preterminated and ready to go
Click here to enlarge image
The RapidNet modular patch panel is a preterminated plug-and-play system requiring no on-site termination or certification testing. Simplified installation is via RapidNet cassettes that snap into the panel. The 1U modular panel accepts four cassettes, while the 2U panel accepts eight cassettes. These panels, which fit on standard 19-inch racks, allow both copper and fiber RapidNet ports to fit into the same footprint, allowing for more network flexibility. According to the company, proven installation time reductions of 85% or more have been achieved. The company terminates and tests each link, and provides testing results with each order.
HELLERMANNTYTON
www.hellermann.tyton.com
Rack-mount Category 5e, Category 6 panels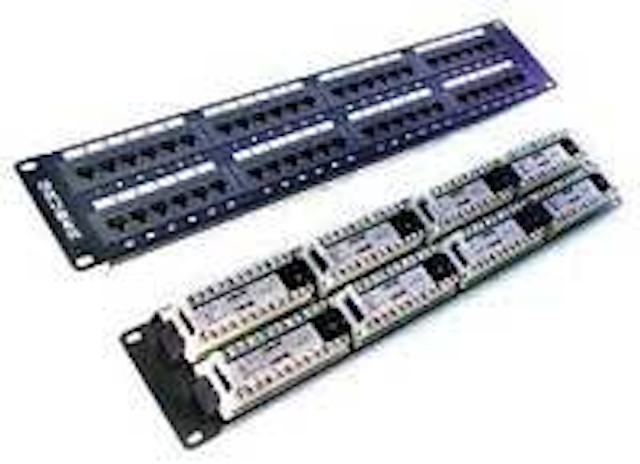 Click here to enlarge image
The Unity series of Category 5e and 6 patch panels is designed to exceed all standards performance requirements, and built for maximum performance headroom plus optimum quality and reliability. All panels are 19-inch rack-mountable, support TIA/EIA 568-A and 568-B installation requirements, and are compatible with 110 and Krone punchdown tools. Patch panels are available in sizes ranging from mini-12 ports to 96 ports. Custom patch panels are also available to meet proprietary needs.
GRUBER INDUSTRIES
www.gruber.com
Cable management trays included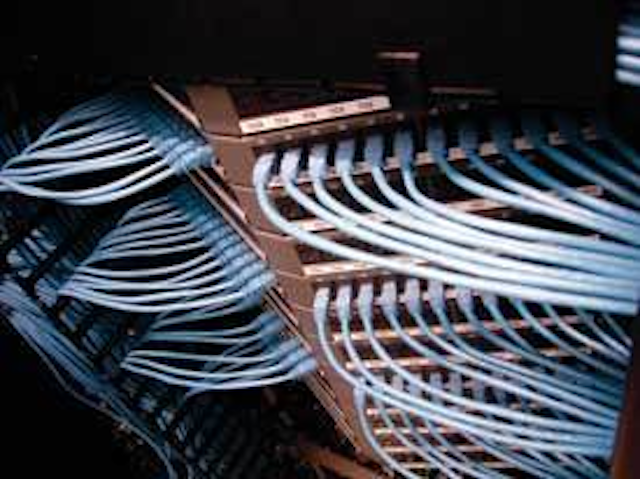 Click here to enlarge image
The company's copper and fiber patch panels comes with integral cable management trays for cable strain relief and cable dressing. Ports can be labeled or color-coded using an icon for site-specific administration. PowerCat 6 patch panels feature DataGate Plus, a spring-loaded RJ-45 connector with proprietary shutter designed to protect the connector from dust and contaminants, and to eject improperly seated patch cords. PowerCat 6 angled panels are built for high-density termination in open bay rack installations where extensive side and end-of-rack cable management is needed. The angled design eases port access and minimizes patch cord bend radius. Other solutions include the C5e UTP high-density panel, 10G FTP and C5e FTP panels, multimedia units, and C6 and C5e intelligent infrastructure management panels.
MOLEX PREMISE NETWORKS
www.molexpn.com
Maximum density in 1U

Click here to enlarge image
Clarity maximum density patch panels offer 48 ports of Category 6 or 5e performance in 1U, suitable for data center and other high-density installations. These patch panels are ETL-tested and verified to TIA Category 6 and 5e component specifications. They are precision-tuned with Clarity patch cords, using the company's center-tuned technology for improved crosstalk and return loss performance measurable in the link or channel. Icon-compatible for simplified port identification, the RoHS-compliant patch panels feature universal T568A/B wiring, and support standard 110 termination practices. They come supplied with 24 rear-loading dual port termination modules to service 48 ports. Individual dual port jacks in a range of colors, plus unloaded panels, are also available to support field-configured installations.
ORTRONICS/LEGRAND
www.ortronics.com
Zero-U patch panel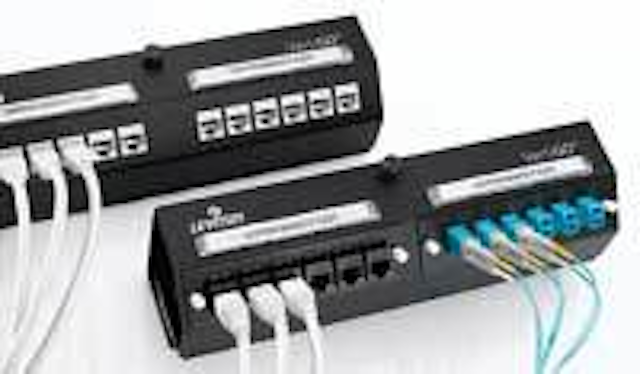 Click here to enlarge image
The patent-pending VertiGO Zero-U patch panel consumes no rack space, eliminating interference with cooling racks or other panels. VertiGO can be installed in server cabinets, free-standing racks, on a ladder tray, or in raised floor installations. A hinged opening makes this patch panel more adaptable to moves, adds, and changes, and protects terminations when the door is closed. A magnified label holder improves visibility inside dark or far-away spaces. VertiGO panels are available in the company's QuickPort and Opt-X styles, and compatible with copper and fiber connectors to maximize versatility in a variety of media applications. The panels can also share mounting hardware with existing servers.
LEVITON VOICE & DATA DIVISION
www.levitonvoicedata.com
Rack-mount RJ-45 alternative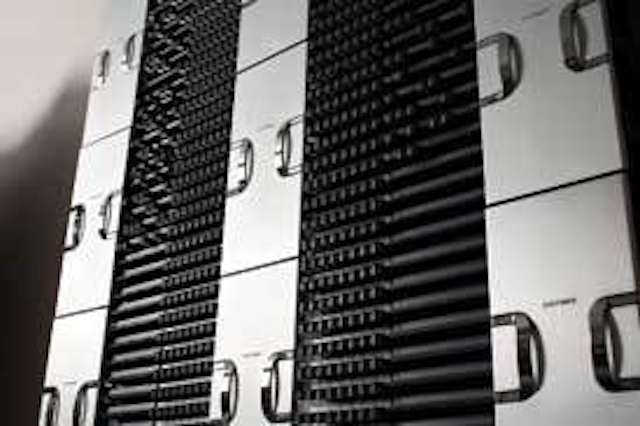 Click here to enlarge image
The VisiPatch 360 system is both an RJ-45 alternative rack-mount patching solution and an optimized wall-mount system designed to make cable management easier. By protecting cords away from the user and into the patching field, VisiPatch 360 makes the patch cord plug-end more accessible, and simplifies reading of labeling information for faster moves, adds, and changes. Built to reduce cord clutter and patch cord and cable congestion, the VisiPatch 360 system supports 10-Gbits/sec and 1-Gbit/sec applications. Snap-together components enable simplified installation, while a modular design provides versatility for both small and large installations.
SYSTIMAX SOLUTIONS
www.systimax.com
Power over Ethernet panel
Click here to enlarge image
The DPoE 1Gig 24-port power patch panel extends the capabilities of a network's infrastructure by supporting Power over Ethernet (PoE) devices, such as IP telephones, wireless access points, and IP network cameras. The systems offer scalability by enabling network managers to buy only the ports and power they need, when they need it. Two power buss inputs provide power redundancy, load balancing, and zero transfer time in the event of a power disruption. Built-in network manageability lowers operational costs by providing remote accessibility, usage and status information, and management of multiple sites with a single graphical user interface.
PANDUIT
www.panduit.com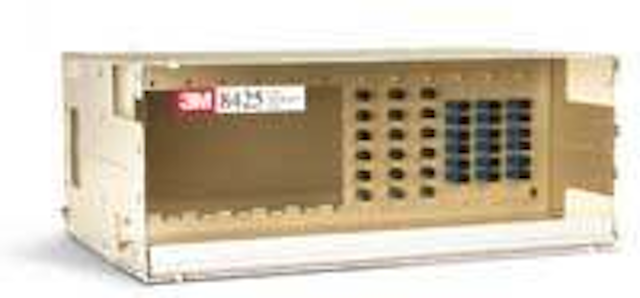 Click here to enlarge image
Designed to meet cable management needs of larger fiber-optic networks in data centers, telecom closets, and central offices, the 8400 Series fiber distribution system is a compact solution with options for customization and growth. The 8400 consists of individual fiber distribution units (FDUs) plus a broad range of coupling plates and fiber cable management components. The FDUs are designed to provide crossconnect and interconnect between fiber distribution cables and fiber-optic equipment. Available for rack-or wall-mount applications, the system uses a common set of coupling adapter plates available in common connector styles, singlemode and multimode, and simplex and duplex. Rack-mounted vertical jumper organizers with top and bottom troughs allow for simplified storage and access to jumpers and patch cords within or between racks. Rack-mounted FDUs are modular and accommodate from 24 to 144 connector ports. Three sizes of wall-mounted FDUs have lockable doors and accommodate from 12 to 48 fiber connector ports. All components are galvanized steel with baked powder-coated epoxy paint for long life.
3M COMMUNICATION MARKETS DIVISION
www.3M.com/telecom
Speedy copper, fiber solutions

Click here to enlarge image
The company's line of patch panels provides fast network transmission speeds (up to 10 Gbit) and supports a wide variety of applications with the functionality and compatibility found on name-brand panels. Category 5e and 6 panels come in 12, 24, or 48 ports, with 1U feed-through or wall-mount designs. The company's 16-port fiber-optic panels are available in LC/LC, MTRJ/MTRJ, SC/SC, ST/SC, and ST/ST. Heavy-duty, 14-gauge steel wall-mounted brackets are an alternative to a full-size rack, while laser-cut metal construction keeps all edges smooth, reducing the possibility of injury or wear on cable jackets.
TRIPP LITE
www.tripplite.com
MTP-style 1U panel

Click here to enlarge image
At 1U high, these MTP-style fiber-optic patch panels feature 16 MPT couplers, and are especially suited for data centers or where management of MTP ribbon fibers is required. In addition, the company also manufactures MTP panel-mount couplers, as well as MTP connector and coupler dust covers.
L-COM CONNECTIVITY PRODUCTS
www.l-com.com
Custom passive patch panels

Click here to enlarge image
White Sands Engineering builds custom passive patch panels to customer specifications, with ports for all types of connectors, including coax, telco, and fiber. Panel features include 1U to 4U (or larger) height, standard or high-density port spacing, and custom screening or labeling. Blank panels, right-angle brackets, and lashing bars are also available. As a provider of cabling products for CMTS (cable modem termination system) applications, the company specializes in panels designed to simplify head-end wiring.
WHITE SANDS ENGINEERING
www.whitesandsengineering.com