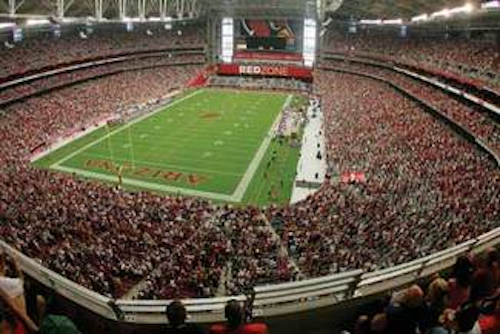 by Meghan Fuller
Fiber technology is a key enabler of the flexibility required to support conferences, exhibitions, concerts, and sporting events in the same facility.
The six-level, 1.7 million square-foot University of Phoenix Stadium, home of the NFL's Arizona Cardinals, played host to the Fiesta Bowl and the first ever BCS Championship Game in January. And while the national audience no doubt was busy watching football, the stadium itself deserves notice. BusinessWeek recently ranked it among the 10 most impressive sports structures in the world, the only building in the U.S. to earn that distinction. And the Discovery Channel featured the stadium in an hour-long episode of its series, Extreme Engineering.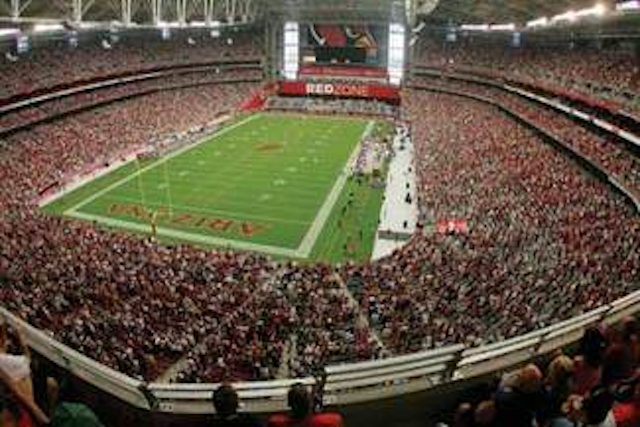 Twenty-five percent of the stadium's fiber and cables are hidden in floor boxes beneath the removable field; when the stadium is being used as a convention center, patrons have direct floor access to communications facilities.
Click here to enlarge image
But Cardinals IT director Mark Feller and his team are equally proud of the stadium's fiber-based communications infrastructure.
What sets the University of Phoenix Stadium apart from the average sports facility is its multi-purpose functionality. The Cardinals are only scheduled to play 10 home games per year-and that includes the pre-season. When presented with the stadium's $455-million price tag, the Cardinals knew they needed to expand their addressable market for a faster return on investment (ROI). For this reason, they built a stadium with North America's only removable field. When the field is not in use, the stadium features 160,000 feet of contiguous exhibit space and 20,000 square feet of meeting room space, making it an ideal location to host major conventions and trade shows.
So, how do you cable a structure that could be used for, say, a boating exposition during the week, a Rolling Stones concert on Friday night, and a Cardinals football game on Sunday?
Breathing room
The simplest answer, says Feller, is fiber. And more specifically, air-blown fiber, which affords far greater flexibility than conventional fiber, he says. With conventional fiber, you either have to guess correctly the amount of fiber you will need or install additional dark fiber you may never require. Feller says air-blown fiber enables him to install enough capacity for today's needs with the flexibility to install additional fiber in the future-without tying up investment.
Electrical and communications contractor Kearney Electric (www.KearneyAZ.com) spent roughly a year deploying the fiber backbone and running copper connections from the communications closets to workstations throughout the stadium. Project manager John Morris reports that his group installed a whopping 71,000 feet of multimode fiber, from 6 to 18 strands, and roughly 30,000 feet of singlemode fiber. "We put more cable in there than anywhere else I've worked," he recalls.
Kearney Electric installed Sumitomo Electric Lightwave's (www.sumitomoelectric.com) FutureFLEX Air-Blown Fiber, which can be installed and removed "almost on the fly," says Kurt Templeman, project manager of Sumitomo's Enterprise Networks Division. After installing a highway of tube cables throughout the facility, "fiber can be blown in very, very quickly, allowing [enterprises] to change fiber count and type as needed," he explains.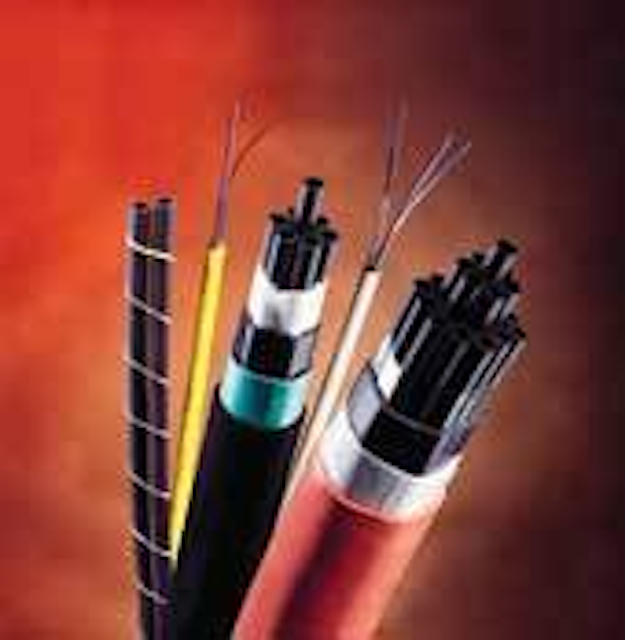 Sumitomo Electric Lightwave's FutureFLEX Air-Blown Fiber comprises a highway of hollow tube cables into which fiber is blown using air or nitrogen gas. The fiber has an aerodynamically designed jacket that enables it to catch the air and travel through the cable at 150 feet per minute.
Click here to enlarge image
Morris reports that his crew installed 38,000 feet of tube cable throughout University of Phoenix Stadium and blew in both multimode and singlemode fiber at speeds up to 150 feet per minute. While Sumitomo calls its FutureFLEX product Air-Blown Fiber, Morris says the process is actually more like floating fiber. Unlike traditional fibers that are protected by a tough outer coating, Air-Blown Fiber features an aerodynamically designed jacket made of a special material that gives the fiber an uneven surface, much like the dimples on a golf ball. This uneven surface allows the fiber to catch the air or nitrogen gas that is pumped into the tube cable, and the fiber floats on the current through the tube cable to its destination.
It's what's underneath that counts
When asked how the stadium installation project differed from other projects he's worked on, Morris reports that a full 25% of all the fiber and copper connections are located in floor boxes beneath the field. Utility boxes are spaced throughout the stadium floor to provide direct access for patrons using the facility when it is in convention center mode. "You could put a switch down there and feed whatever needs you had and be connected to the network," he says of the concrete floor. "They really put a lot of IT connections into the stadium, so they are prepared for anything."
Well, almost anything, says Feller. "I can't guarantee that we can handle every event that would ever come into the [stadium], but some of the shows that we thought might come through here are technology expos," he says. "A Cisco Networkers' Conference, for example, would bring in a lot of people with high-technology requirements. So, we thought, 'Okay, would we be able to handle something like that? Would we be able to handle the Super Bowl and the broadcasting requirements that type of game would entail?," he muses. "We really tried to make sure that we put as much flexibility into our network as we could think of, knowing what events we had coming."
According to Feller, the Cardinals already have reaped the benefits of the air-blown fiber system, even though team employees have been in the stadium less than a year. Last summer, the IT department decided to install a distributed antenna system that would allow the stadium to host a multitude of frequencies. But as technicians began to install the antenna system, they realized additional singlemode fiber strands would be needed to connect the main telephone room to each of the 25 data closets where wireless equipment would be installed.
"We connected all of the closets for this particular application in a matter of a couple of days," says Feller. "We did not have to install ahead of time and pay for that additional fiber, even though it turns out we would have used it. We knew we had the flexibility to come in later and connect different areas of the stadium with fiber-optic cable using the air-blown system."
As Feller himself admits, "Technology just for technology's sake does not necessarily get a good return on investment." But he and the rest of the Cardinals' IT staff say the air-blown fiber system they have installed is being put to good use.
First and foremost, the fiber backbone supports the communications needs of the stadium's employees, including voice, data, and basic LAN usage. On game days alone, there are over 3,000 employees on site, including event, team, catering and concessions, security, and housekeeping operations.
Moreover, the optical network also hosts the team's digital video system, used by coaches and players to analyze game and practice tape. And it supports the stadium's live TV broadcasts; the Cardinals inked a deal with Cox Business Services to provide fiber-optic circuits out of the stadium for the delivery of content over Cox's nationwide network.
While the movement of the 16-million pound retractable natural-grass playing field is controlled by other means, the field features a sophisticated irrigation system, which is tied to the fiber-optic backbone. The system monitors and controls the watering of the field. (The Cardinals say it is more economical to roll the field in and out of the stadium than it is to retract the entire bi-parting roof to allow the necessary sunshine to reach the grass.)
And let's not forget the fans, who enjoy wireless and WiFi access from all 63,000 seats. WiFi access enables them to use laptops and PDAs to surf the Internet for a player's latest statistics, for example, or even check in on their fantasy football team while the real game is underway. The wireless traffic is backhauled on the stadium's singlemode fiber, which also supports e911 services.
For fans that purchase seats in the stadium's 88 luxury suites, the communications experience is even richer. Each suite is equipped with a full-color Cisco IP phone that has a touch-screen menu, allowing fans to place an order with the concessionaire, purchase merchandise from the team shop, and read the latest sports news via the Internet.
Future flexibility
Looking ahead, Feller says he and his department currently are testing video conferencing applications and would like to expand the stadium's video capabilities in general. "If Bill Gates wanted to kick off his next version of the Microsoft Windows package, for example, if he wanted to make the presentation from our stadium, we could use the stadium, the video conferencing capabilities, and the fiber-optic network that we have to broadcast it all over the world," he says. "It's not an easy task, but when you talk about where could we go or how could we do it, I think we have the capability for those types of things."
For his part, Sumitomo's Templeman admits that the Air-Blown Fiber is "probably the least glamorous" of all the technology on display in the stadium but, he says, it's a key enabler of the flexibility required to support conferences, exhibitions, concerts, and sporting events in the same facility. "For entities that can't predict where the future is going to take them and what they are going to need, this product really answers those questions for them."
MEGHAN FULLER is senior editor for Lightwave, which along with Cabling Installation & Maintenance is published at PennWell ATD, Nashua, NH. This article is reprinted from the January 2007 issue.