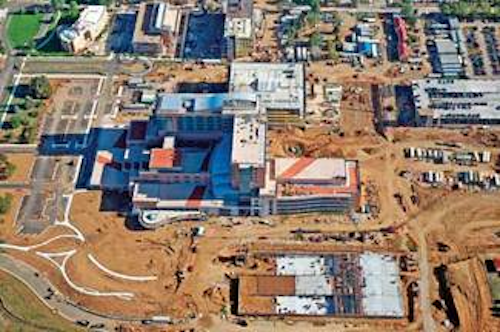 by David Yanish
Prestigious Colorado children's hospital strives to deliver sophisticated technology and converge all low-voltage systems on one cabling infrastructure.
Perched at one mile above sea level, The Children's Hospital in Denver, CO has been faced with the need to grow beyond what its current location can accommodate. The result is a state-of-the-art facility due to open in October that features a bright, warm atmosphere among more than six million feet of network cabling, 100% wireless capability, an integrated paging system, and sophisticated technology deliverable at the bedside.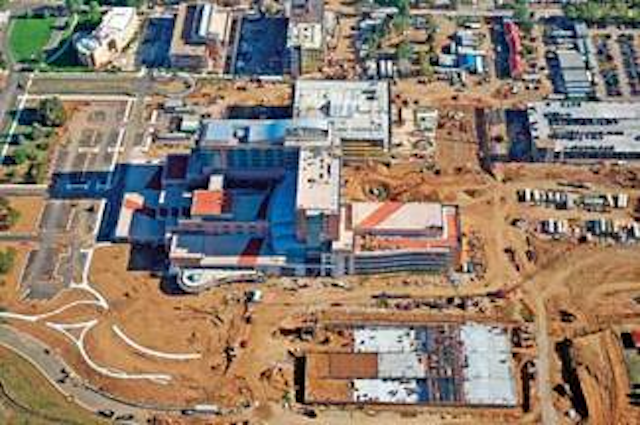 Due to open in October, Denver's new Children's Hospital is currently in the top 10 of the nation's largest construction sites, which has presented many cabling challenges.
Click here to enlarge image
And it all started with a strategy and thought process that focused on convergence and delivering the best technology possible.
A blank slate
Founded in 1908, The Children's Hospital (www.thechildrenshospital.org) in downtown Denver is a private, not-for-profit pediatric healthcare network with more than 1,000 pediatric specialists and many nationally and internationally recognized medical programs. Children's has always strived to provide the best healthcare for children and be a place that parents can trust. That aspiration ranks the hospital as one of the top ten best children's hospitals by U.S. News & World Report and Child magazine.
Over the years, Children's has expanded in its current location through remodeling and several additions. When faced with the need to grow even more, the hospital thought long and hard about one thing: "What's best for kids?" The answer to that question was to build a brand new facility from the ground up in Aurora, located nine miles east of the current site.
Building a new hospital provides one location for care, research, and education. It also provides a once-in-a-lifetime opportunity to start with a blank slate and carefully consider the design of every space to deliver the most effective health care to patients and families.
A significant part of building a better hospital is building a better network cabling infrastructure to support the latest technology. "Because the existing hospital had been added on to so many times, we had a mishmash of Category 3, Category 4, Category 5, and Category 5e cabling spread throughout the facility," explains Ryan Frymire, director of communication systems integration for the hospital.
"While the current network is reliable, it's not ideal," Frymire adds. "Some of the older areas are not capable of delivering transmission speeds of more than 10 Mbits/sec at half-duplex, and many of the equipment rooms lack space or are not located to enhance the cabling plant." The existing hospital also included disparate private branch exchange (PBX) voice systems, providing a different look and feel at every location, and different voice mail systems.
The strategy for the new Children's Hospital was to have a single cabling infrastructure for all low-voltage systems, including security, data, voice, nurse-call, wireless, and monitoring systems. "While it's easy to say that we want every vendor's system to use a certain type of cable, from a management perspective, we also wanted a single vendor to install all the cabling, make sure cable trays were properly loaded, and ensure that the entire cabling plant was neatly organized," explains Frymire. "We brought in Johnson Controls (www.jci.com) as the technology integrator to see to it that the cabling installation was also a consolidated effort."
Choosing the right components
Planning for the new Children's Hospital began in 2002, and the call for bids went out on August 31, 2005, specifying four specific vendors' Category 5e cabling with Category 6 as an alternative.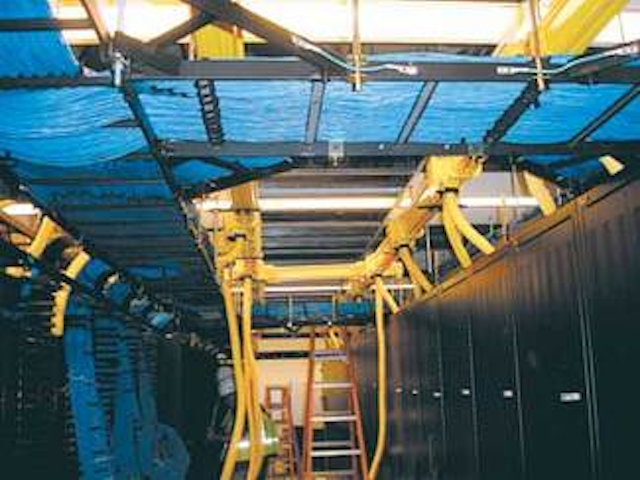 In the data center, fiber is supported overhead in ADC's FiberGuide Management System (in yellow) that physically separates, protects, and routes fiber while ensuring a two-inch minimum bend radius is maintained throughout.
Click here to enlarge image
"When we looked at the budgets from each bidder, almost universally, Category 6 still came in under budget," says Stan Byers, RCDD, and project manager for Johnson Controls. "From an application perspective, there wasn't anything that required Category 6 or that wouldn't operate effectively on Category 5e. It just didn't seem that there was any compelling argument to go with Category 6."
Following evaluation of who would provide the best installation for the infrastructure, Children's and Johnson Controls unanimously chose Denver-based LINX (www.teamlinx.com), a provider of design, installation, and support services for structured cabling networks. To evaluate which vendors' product to implement, the team compared published test results and looked at the features and benefits of each component.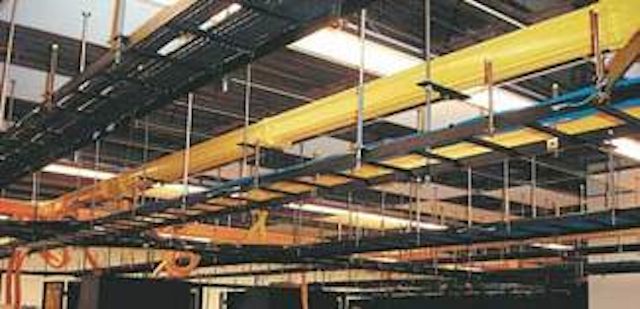 The new Children's Hospital boasts a 5,000-square-foot main data center and a 10-Gigabit Ethernet collapsed fiber backbone consisting of 2,056 strands of singlemode and 934 strands of multimode fiber.
Click here to enlarge image
"We looked at everything from the cable and the bulkheads on the fiber shelves to the patch panels and connectors," says Byers. "The differences were especially evident in the UTP components."
ADC (www.adc.com) fiber and copper connectivity was ultimately chosen, including the TrueNet Category 5e 4-pair cabling with patented AirES (Air Enhanced System) technology. AirES uses air as part of the conductor insulation to enhance signal speed and strength while minimizing crosstalk and cable size, resulting in a cable that is up to 28% smaller than other brands. The TrueNet system also includes connectivity with patented LSA-Plus technology where silver-plated contact tags at 45-degree angles make a solid, gas-tight connection.
"When we looked at the TrueNet solution, the AirES Category 5e cabling was very high-performing," says Byers. "The other significant features that stood out were the smaller diameter of the cable and the better-built jacks with a much stronger, secure termination. At the start of the project, I contemplated what effect the smaller-diameter cable would have on the installation. But even I didn't realize how large of an impact that would turn out to be."
Implementing a better network
The new 270-bed Children's Hospital is being built on 48 acres and occupies approximately 1.44 million square feet, which is 73% larger than the existing downtown Denver facility. A tiered structure, the 12-story hospital features nine floors of occupied space spread between two towers topped with a helipad and mechanical space. Fronted by a 6.6-acre park, the facility design takes every space into consideration, looking at how natural light, sound, nature, and technology affect the experiences of patients, families, and staff.
The cabling infrastructure features three entrance rooms, a 2,500-square-foot main cross-connect (MC), and a 5,000-square-foot main data center, all located on the lower level. Throughout the facility, 47 intermediate cross-connects (ICs) are home-run to the data center with a redundant link to the MC via a 10-Gigabit Ethernet collapsed fiber backbone to handle simultaneous traffic at full speed.
Each IC is connected with 48 strands of ADC's singlemode fiber for new equipment, and 12 strands of 50-µm multimode fiber to support legacy equipment, totaling nearly 3,000 strands of fiber. In the MC and data center, the fiber is supported overhead in ADC's FiberGuide Management System that physically separates, protects, and routes fiber while ensuring that a two-inch minimum bend radius is maintained throughout.
"The ratio of singlemode to multimode fiber is about 4 to 1," explains Frymire. "While we will initially use only 10% of the fiber, the decision to implement primarily singlemode was based on past growth and the fact that we know we'll need more bandwidth every five years."
In addition, Frymire says, "We're implementing a distributed antenna system and long-distance runs to the University of Colorado and Health Sciences Center, which both required singlemode fiber." The distributed antenna system will radiate cell-phone signals throughout the facility and include public-safety frequencies to enable emergency personnel to communicate effectively without losing signal.
More than six million feet of TrueNet Category 5e provide in excess of 20,000 connections to support all the low-voltage systems throughout the facility, including network and Internet access, Voice over Internet Protocol (VoIP) telephones, access control, video surveillance, monitoring systems, wireless network access, and wireless voice. Wireless access in all common areas and patient rooms is provided throughout the entire new hospital via 1,000 wireless access points. The wireless system also supports Voice over Wi-Fi, using approximately 1,500 Cisco 7921 Series unified wireless IP phones.
"The Voice over Wi-Fi will be used for nurse-call systems to improve communication among care staff and their patients and to connect with everybody from therapists and pharmacists to transportation personnel-essentially, anybody that can help streamline a patient's service delivery," notes Frymire. "We have what we call 'silent' hospital strategies with no overhead paging. Studies have shown that a quieter environment helps patients heal faster. Instead of hearing constant paging overhead, we will use the wireless and desktop IP phones to send announcements and text messages."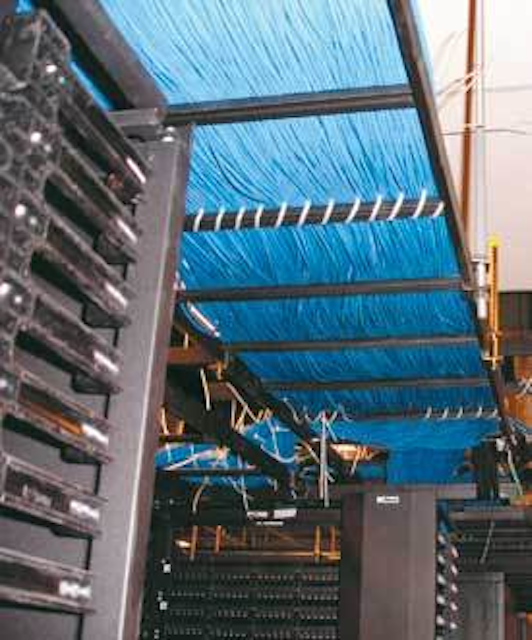 With more than six million feet of Category 5e cabling supporting all low-voltage systems throughout the hospital, the smaller diameter of ADC's TrueNet cabling helped save considerable pathway space.
Click here to enlarge image
In addition to wireless access, each patient room will feature wired network and VoIP phone connections. Entertainment portals in each room use both coaxial and the Category 5e cable to provide cable TV, video on demand, and Internet access via 32-inch liquid crystal displays (LCDs).
Confronting a host of challenges
Currently in the top 10 of the nation's largest construction sites, the size of the new Children's Hospital cabling infrastructure project presents many logistical challenges. "The amount of Category 5e cabling combined with cabling for fire-alarm and building-automation systems turned out to be a much bigger consideration than originally predicted," says Byers. "We ended up having to add horizontal pathway space, firestopping pathways, and overhead racks. That's where the smaller diameter of ADC's TrueNet cable really came into play."
Byers continues, "The number of firestopping paths installed by the electrical contractor was insufficient to accommodate the amount of low-voltage cabling or anticipated growth. The smaller diameter of the cable allowed us to run 96 cables through the firestopping pathway, as opposed to 67 with the competitor's cable. We ended up having to add a considerable amount of pathways, but without the AirES technology, we would have had to add a lot more."
Another key challenge was the strategy of having one structured cabling infrastructure for all low-voltage systems throughout the hospital. "It's one thing to decide that you want to use one infrastructure, but you still have to get each vendor to buy into that," says Frymire. "We wanted a common network switch, and in some cases, we couldn't pull it off."
Due to regulations and policy, some medical device vendors were not willing to let the hospital's IT staff be responsible for their data. So, they required their own switches.
"When we looked at the layout of each IC, we implemented a very robust switch that we knew could handle every subsystem," says Frymire. "When some vendors required a different switch, we ended up having to use more rack space and different-length patch cords to accommodate them."
Concludes Frymire, "At the end of the day, it is a great cabling design. But making that design a reality is a significant challenge."
DAVID YANISH is Enterprise Program Manager for ADC (www.adc.com), responsible for marketing and ADC's partner programs. He holds several telecommunications patents, has authored numerous articles, and has worked in the industry for more than 15 years.