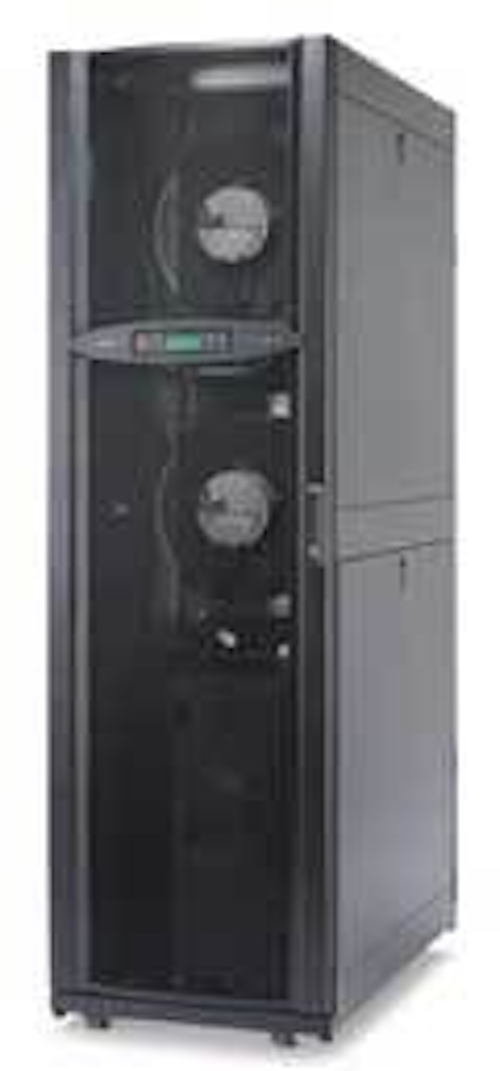 Data center cooling system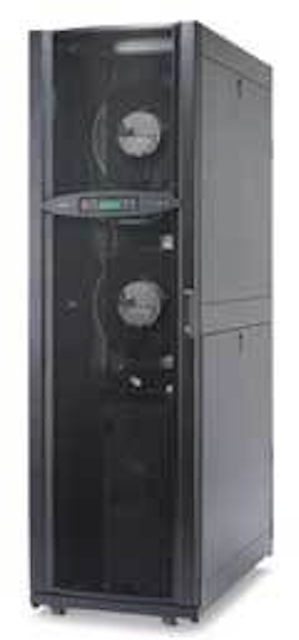 Click here to enlarge image
The InfraStruXure InRow RP cooling unit for data centers and small computer rooms places cooling next to the heat source, and can support power densities of up to 70 kW per rack when used with hot-air containment systems. Designed to meet increased power densities from blade server deployment and recurring IT refreshes, the InRow RP is available in both chilled water and refrigerant-based designs. According to the company, the architecture saves energy and available power by eliminating the need for constant-speed fans. An integrated humidifier provides room-level moisture control, preventing damage to electronic equipment via static electricity. Additional moisture control is provided through a dedicated dehumidification cycle and a standard reheat coil.
AMERICAN POWER CONVERSION
www.apc.com
Composite camera cable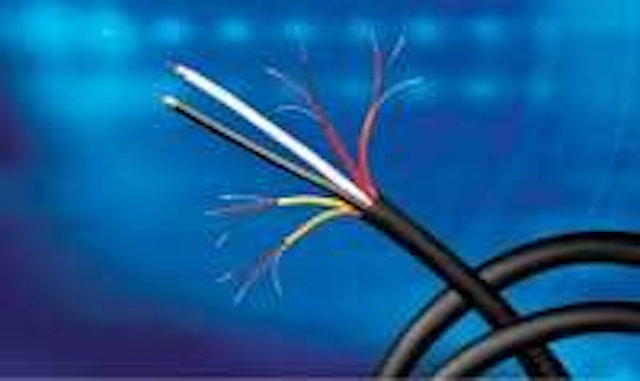 Click here to enlarge image
Brilliance composite camera cables are designed for the interconnection of digital remote field cameras in SDI/HDTV applications. This round, smooth cable combines two of the company's RG-59 Type SDI coax with four single-pair cables for mic and IFB applications. The coax features 20 AWG solid .032-inch bare copper conductors, gas-injected foam polyethylene insulation, Duofoil-plus tinned copper braid shields for 95% shield coverage, and black and white PVC jackets. Coaxes are sweep-tested from 5 to 1600 Hz and 1600 to 4500 MHz, achieving minimum return loss values of 23 and 21 dB respectively. Construction of the four audio pairs includes two 22 AWG stranded tinned copper conductors, crush-resistant polypropylene insulation, overall Beldfoil shields for 100% coverage, 22 AWG stranded drain wire, and PVC jackets.
BELDEN
www.belden.com
Compact WLAN module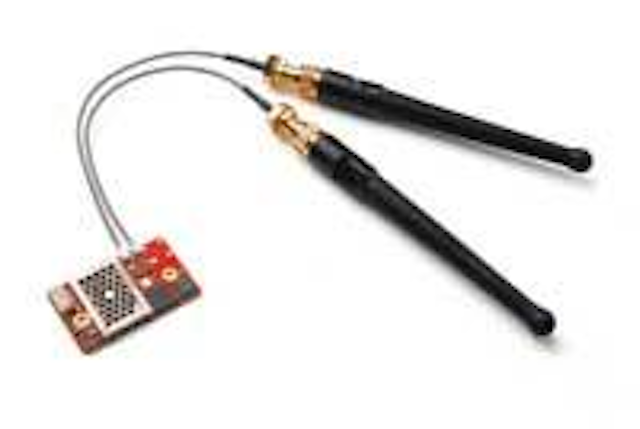 Click here to enlarge image
The OWSPA311gi/x WLAN serial port adapter is a compact module for portable industrial devices and is designed for a straightforward wireless upgrade. This module features IEEE 802.11b/g WLAN and a high-performance TCP/IP stack, and is designed to enable the host to stream data over TCP or UDP without the need for an external driver or a TCP/IP stack. The module is also available with either internal or external antenna connectors. According to the company, this module is suitable for a variety of professional devices in demanding environments, ranging from medical and diagnostic equipment to automation devices and point-of-sale terminals.
CONNECTBLUE
www.connectblue.com
Secure data cable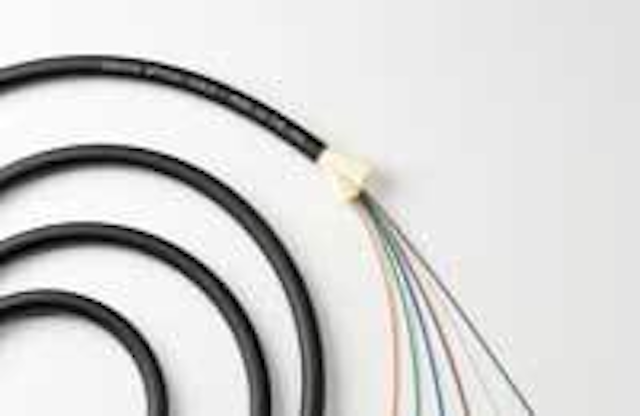 Click here to enlarge image
LANscape Solutions Tactical Cable is designed for routing between buildings and modular telecommunications gear where data and video security are essential. The Tactical media uses 900-µm buffered fiber surrounded by dielectric strength members, and protected by a polyurethane outer jacket. The cable's small diameter and bend radius are designed for easier installation in space-constrained areas. Applications include tactical deployments for temporary or permanent communications systems, military mobile telecommunications systems, and harsh and industrial environments.
CORNING CABLE SYSTEMS
www.corningcablesystems.com
FTTx splice-on device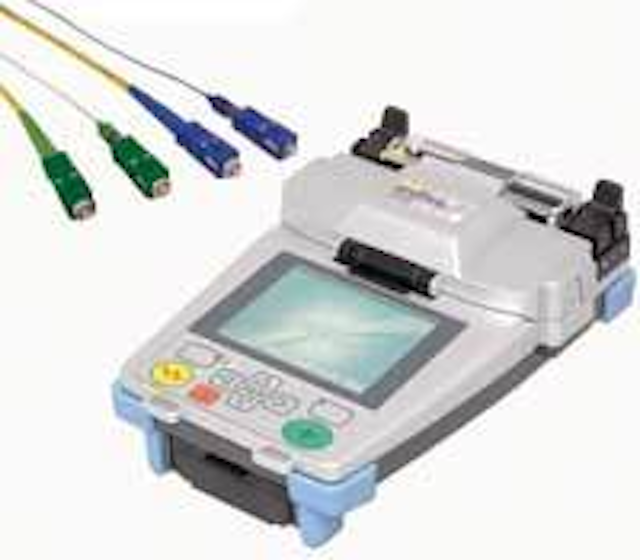 Click here to enlarge image
The FITEL splice-on connector system, designed for increasing speed and limiting insertion loss during field fiber repair and customized FTTx installation, consists of factory-polished ferrules with pre-cleaved fiber stubs, plus high-strength snap-on connector assemblies. According to the company, total insertion loss using this fusion splice termination method measures .30 dB or less for singlemode fiber. The system features GR-326-tested Seikoh Giken connectors.
FURUKAWA AMERICA
www.furukawaamerica.com
Mini HDTV cable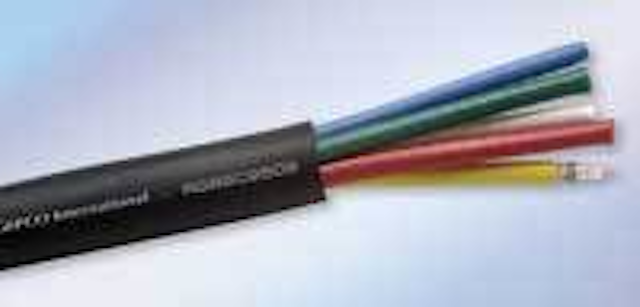 Click here to enlarge image
The RGB250S series of miniature HDTV component video cables feature subminiature 25-gauge solid coaxial elements, 3-GHz bandwidth, a low-loss, gas-injected dielectric, and solid copper conductors. UL riser-rated Type CMR, these cables also feature a flexible and low-friction outer jacket.
GEPCO INTERNATIONAL
www.gepco.com
Fire protection products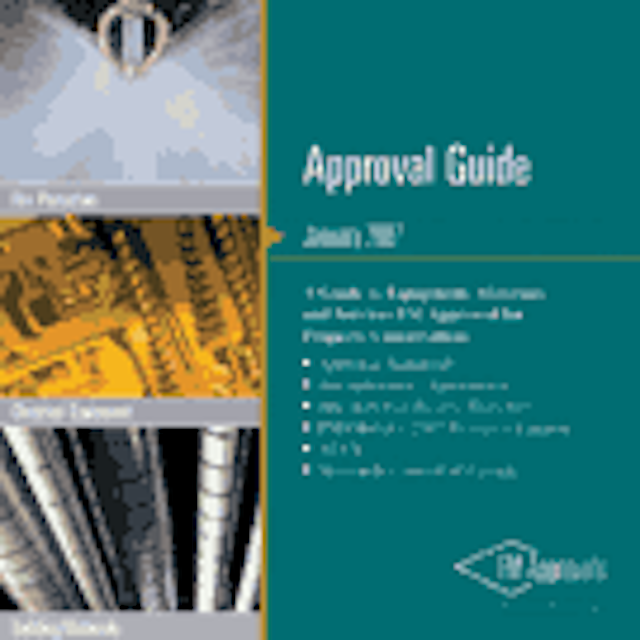 Click here to enlarge image
More than 45,000 lab-tested fire protection products, building materials, and equipment and services can be found in the 2007 Approval Guide on CD-ROM. Produced by product testing and certification organization FM Approvals, this guide provides detailed engineering data and technical information on the use of fire-protection products and materials. The disc also contains more than 140 Approval standards documents.
FM APPROVALS
www.fmapprovals.com
Connector cleaning kit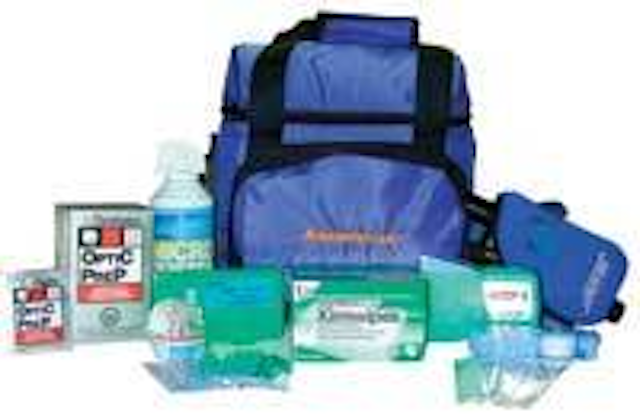 Click here to enlarge image
Five new fiber-optic cleaning kits for a variety of installation needs feature alcohol cleaning wipes, adapter swabs, and reel cleaners. Also available are 200x and 400x microscopes. Kits are packed in one of two available carrying cases.
FIBERDYNE LABS INC.
www.fiberdyne.com
AC-based wiremap test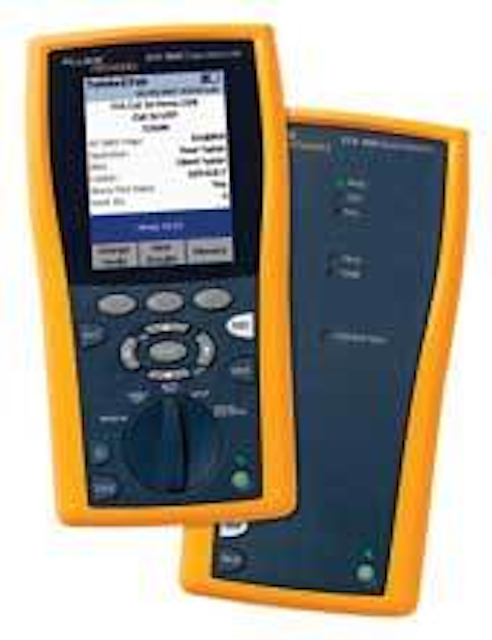 Click here to enlarge image
The DTX CableAnalyzer can validate twisted-pair cabling links that use midspan Power over Ethernet (PoE) controllers. AC Wiremap tests the wiring in each link to assure that VoIP phones, wireless access points, security cameras, and other PoE devices will work with midspan power supplies before deployment, and identifies failures that may appear after deployment. According to the company, while typical wiremap tests fail when working with midspan supplies because the power supplies block the test signals from flowing to the Ethernet switch or hub, the AC Wiremap test uses alternating current coupled with analysis methods that are designed to be u affected by a midspan supply. The new feature also diagnoses failures by determining the distance to the point of failure, its reason, and corrective actions.
FLUKE NETWORKS
www.flukenetworks.com
Data center KVM
Click here to enlarge image
For a data center or branch offices that require local management of up to four servers, the 1 x 4 Server Console Switch is a KVM device. One console controls four additional computers and up to three additional USB 2.0 devices. USB pass-through ability improves data transfer speeds when upgrading applications or operating systems. This system is available in rack-mount or tabletop configurations.
HEWLETT PACKARD
www.hp.com/go/infrastructure
Cat 6 mobile patch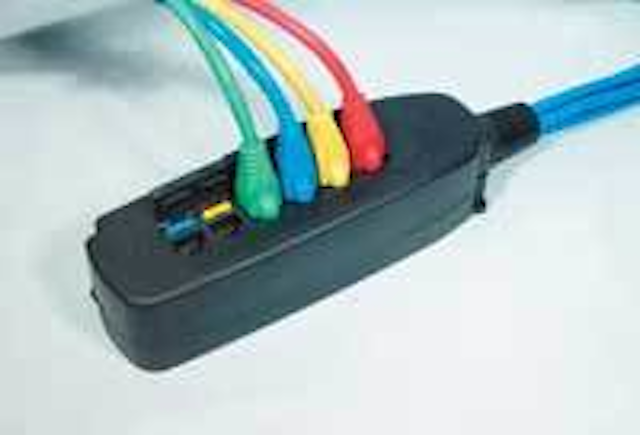 Click here to enlarge image
The company's Category 6 mobile patch box is designed for open spaces in small installations and for mobile applications. Providing up to six lines, this box is especially suited for offices, warehouses, and tradeshows where temporary or multiple data/telecom lines are required. RJ-45 port openings on the cover are protected from dust by flip-over covers.
ICC
www.icc.com
Security installation tester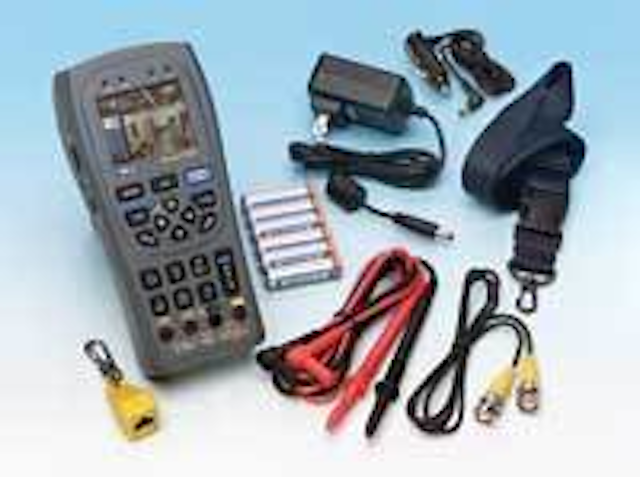 Click here to enlarge image
The SecuriTEST CCTV/security installation tester is designed for use with video monitors, DVRs, fixed and PTZ security cameras, and twisted-pair cabling. Incorporating a 2.5-inch color LCD screen, this six-in-one device is a video tester/monitor for local aiming and focusing of security cameras without requiring a second technician in the control room, a PTZ controller with support for multiple protocols that permit local testing and programming, a digital multimeter to test power supply problems, a UTP cable tester to find shorts, opens and crossed pairs, a video test pattern generator to check color bar, brightness or contrast, and a PTZ protocol analyzer that determines the protocol being used and displays the command codes for transmitted data.
IDEAL INDUSTRIES
www.idealindustries.com
Fiber-optic conversion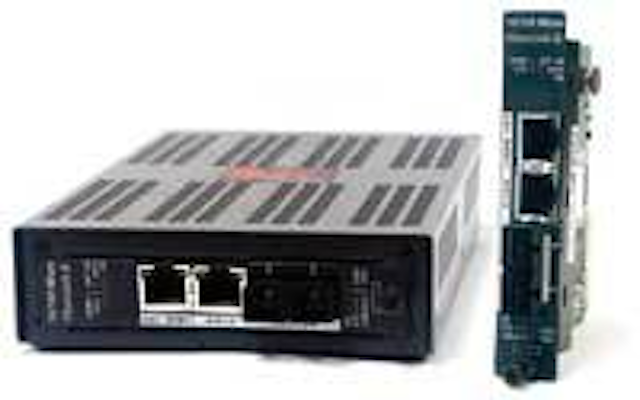 Click here to enlarge image
Combining advanced optical demarcation features with media conversion, the fiberLinX-II delivers high-speed Internet, transparent LAN, and Ethernet private line services via fiber-optics. Line cards provide an Ethernet demarcation at the customer's network edge, featuring a 100-Mbits/sec fiber port and 10/100 Ethernet port that connects to the customer LAN. The unit functions as a traditional managed media converter for FTTx installations. FiberLinX-II supports 1310-nm singlemode fiber up to 70 kilometers, 1550-nm singlemode up to 80 kilometers, and single-strand fiber models that transmit full-duplex data over one strand of fiber-extending distances up to 60 kilometers.
IMC NETWORKS
www.imcnetworks.com
Data center PDU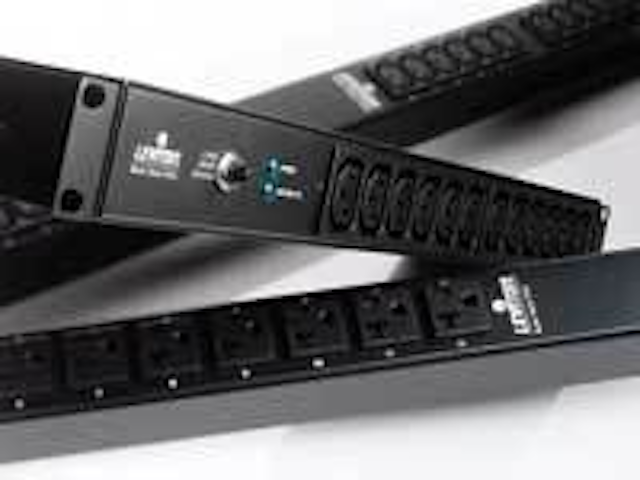 Click here to enlarge image
The P1000 Series of rack power distribution units (PDU) are suited for data centers, computer rooms, and other environments that require "always on" power. The PDUs are available for horizontal and vertical applications, and feature 18 AWG cold-rolled steel enclosures, grounding connecting points, overload protection with resettable circuit breakers, dual-pole breakers (on 208-volt models), and diagnostic LEDs.
LEVITON VOICE & DATA
www.levitonvoicedata.com
Cat 5 A/V balun

Click here to enlarge image
Designed for interconnecting audio/video (A/V) components over long distances, the Keystone-mount Category 5 A/V balun system is compatible with standard Keystone wall plates, and features a tool-less IDC connector for simplified connection of unterminated Category 5 cable. Common signal formats, such as composite video, RGB component video, line-level and digital, can be sent over Cat 5 and higher to distances up to 400 feet.
MCM ELECTRONICS
www.mcminone.com
A/V fiber-optic link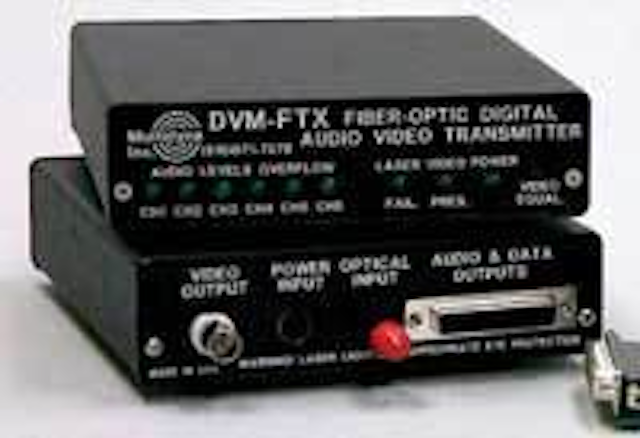 Click here to enlarge image
The DVM-100 Series of fiber-optic links for video, audio and data are designed for applications ranging from corporate audio/video installations, to digital signage, security and surveillance, and teleconferencing. The DVM-1000 9-bit video and 24-bit audio link supports one video, two audio, and three data channels, while the 1500 bi-directional link supports one video, four audio and four data channels bi-directionally over one fiber. Video signal-to-noise ratio is greater than 62 dB. The DVM-1700 video and fiber-optic link supports two video, up to four audio, and four simplex data channels, and is available with S-Video support.
MULTIDYNE
www.multidyne.com
Modular MicroTCA cabinet

Click here to enlarge image
Designed for MicroTCA applications, this modular cabinet features a stacked arrangement of open card cages, fan trays, and heat exchangers. (The MicroTCA specification, developed within the PICMG organization, creates a physically small but powerful system in 4U height and 300-mm depth.) Without top or bottom covers, the cabinet's open card cages allow air to flow through multiple stacks of MicroTCA shelves, while fan trays and heat exchangers cool the cabinet. This 19-inch cabinet is 4U high, 750-mm wide, and 300-mm deep. The unit is designed to accept 10 single-width subracks-120 full-size modules or 240 compact modules plus power modules dissipating a total of nearly 6 kilowatts in a closed-loop heat exchanger concept. According to the company, this solution allows for high-density cabinet packaging with extreme low noise, EMI containment at closed cabinet level, and maximum cable routing management.
OPTIMA EPS/ELMA
www.bustronic.com
Interlocking armored cable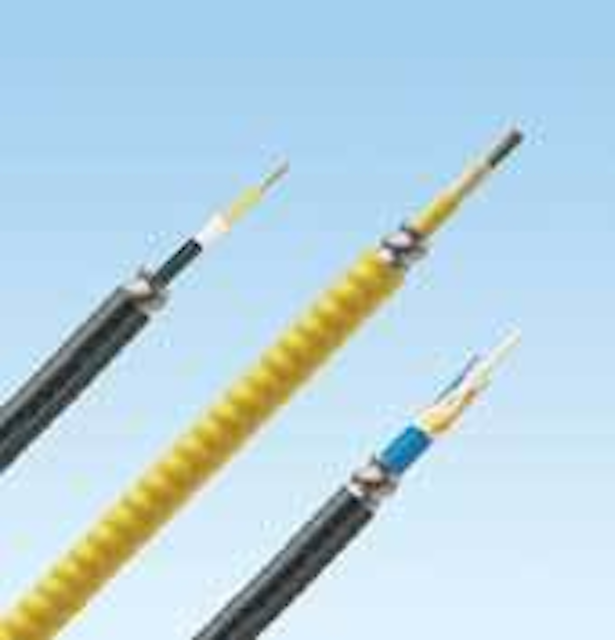 Click here to enlarge image
Opti-Core fiber-optic indoor and ­indoor/outdoor interlocking armored cable is designed to eliminate the need for innerduct or conduit, and with a smaller crush-resistant pathway. This aluminum cable is used within buildings to provide high-density connectivity, is UV-resistant, and employs dry water-blocking technology to withstand harsh outdoor conditions. It is installed with typical loose-tube cable methods and hardware, which the company says saves space and time by eliminating splices at the cable fault. The RoHS-compliant cable is offered in riser and plenum-rated versions, in both singlemode and multimode, and in fiber counts of up to 144 fibers.
PANDUIT
www.panduit.com
Mini-telecom room
PanZone wall-mount cabinets can be used as mini-telecommunications rooms to mount active equipment and to provide secure and accessible network connections. With a verified working load rating of 250 pounds, the cabinet is built to swing open freely even under maximum load. Optional horizontal slack managers let you standardize on patch cord lengths, and ease moves, adds, and changes while keeping patch cords from blocking vertical pathways. Computational Fluid Dynamics and computer modeling software help optimize airflow through the cabinet to improve thermal management.
PANDUIT
www.panduit.com
T-1, E-1 extender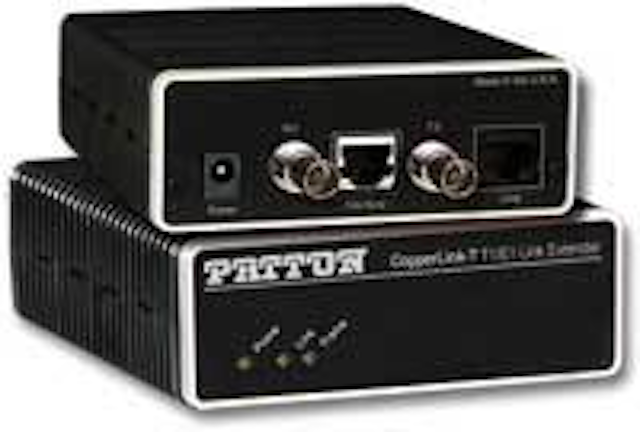 Click here to enlarge image
CopperLink-T T-1/E-1 extenders (Models 2113 and 2115) are designed to triple the normal reach of T-1 and E-1 circuits while cutting the required number of copper pairs in half. These plug-and-play devices can be used to connect remote PBXs over existing dry copper, and support T-1/E-1 extension between building or across campus. The Model 2115 T-1 comes with an RJ-48C connector, while the Model 2113 E-1 includes dual-BNC and RJ-48C connectors.
PATTON ELECTRONICS
www.patton.com
Underfloor monitor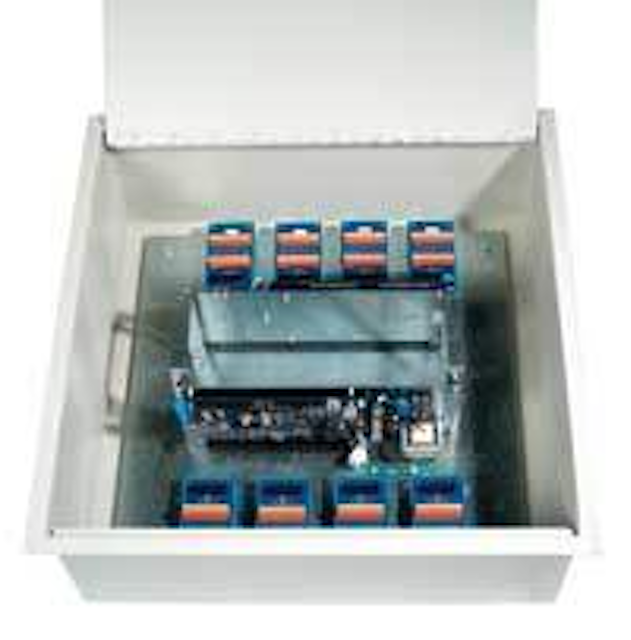 Click here to enlarge image
The J Comm branch circuit monitoring system (BCMS) fits under a raised floor to monitor current, voltage, and other power-related measures in the data centers. The patented BCMS technology monitors each circuit branch breaker and is designed to prevent circuit overloading. J Comm has two BCMS communication boards and interface modules for either split- or solid-core current transformers. Data center managers will also have either a Modbus or SNMP connection to the building management system.
POWER DISTRIBUTION INC.
www.pdicorp.com
Aerial FTTx closure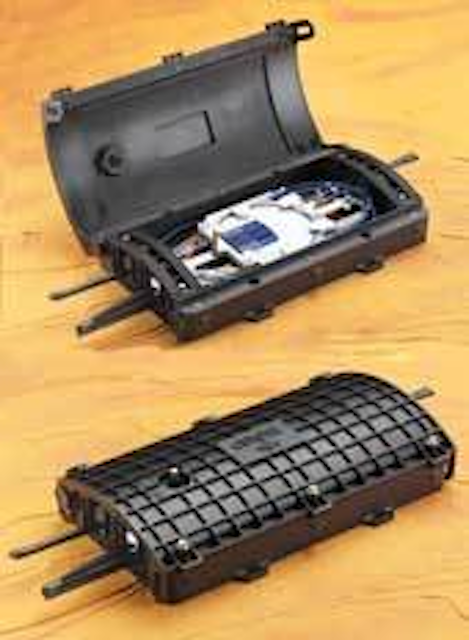 Click here to enlarge image
Designed for aerial, pedestal, and hand-hole applications, the Coyote In-Line Runt Closure for FTTx installations can be configured using a selection of splice trays to accommodate various splicing methods and maximum capacities up to 144 splices. A fiber management system in the closure base provides separate areas for routing and protecting tubes and bare fibers. Made of thermoplastic resin, the Coyote features an end-plate installation method in which a technician snaps out the required end plate knockouts and seals the cables with either the company's Gel Sealant System or standard grommets. The reversible, hinged cover accommodates various mounting arrangements.
PREFORMED LINE PRODUCTS
www.preformed.com
Bend-insensitive fiber
Click here to enlarge image
For last-mile infrastructures and FTTx installations, CasaLight is a bend-insensitive optical fiber designed to withstand the frequent handling and sometimes extreme degree of bending involved in these installations. According to the company, CasaLight meets the recently issued ITU-T Recommendation G.657, which defines new performance requirements for extreme bend installations. The cable is designed to maintain its performance at bend radius as low as 10-mm, and is compatible with standard equipment, connectors and fiber.
PRYSMIAN CABLES & SYSTEMS
www.prysmian.com
HDMI fiber-optic extender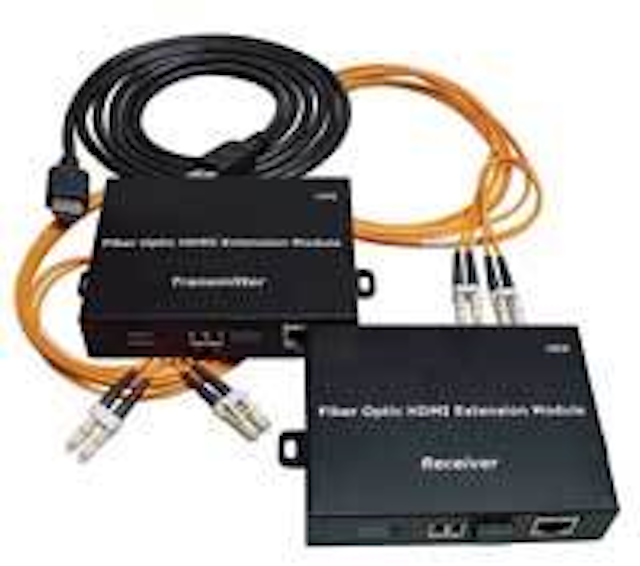 Click here to enlarge image
HDMI-X fiber-optic extender is designed for high definition multimedia in video wall systems, medical imaging equipment, and home theater. It includes a HDMI transmitter and receiver, plus an external 12-volt power supply adapter. Cables include four-strand 50/125-µm fiber, Category 5e copper, and HDMI-all of which can be terminated at a specific length required for a given installation.
RAPCOHORIZON CO.
www.rapcohorizon.com
Ungrounded FTP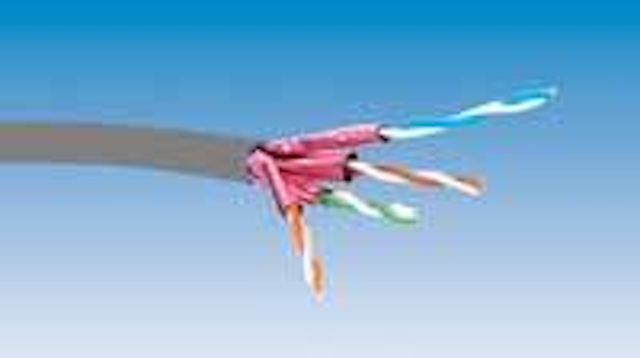 Click here to enlarge image
Part of the company's 10-Gigabit SMARTen product family, these U/FTP (ungrounded foiled twisted pair) cables have been designed to eliminate alien crosstalk, and require no grounding during installation. According to the company, the U/FTP technology provides the same level of performance previously achievable only through the use of more expensive shielded twisted pair or fiber-optic cables. Compliant with the 10GBase-T standard, the cables feature a smaller outer diameter than comparable cables (~8-mm as opposed to ~12-mm), thus occupying less conduit space.
RiT TECHNOLOGIES
www.rittech.com
Power, environment monitor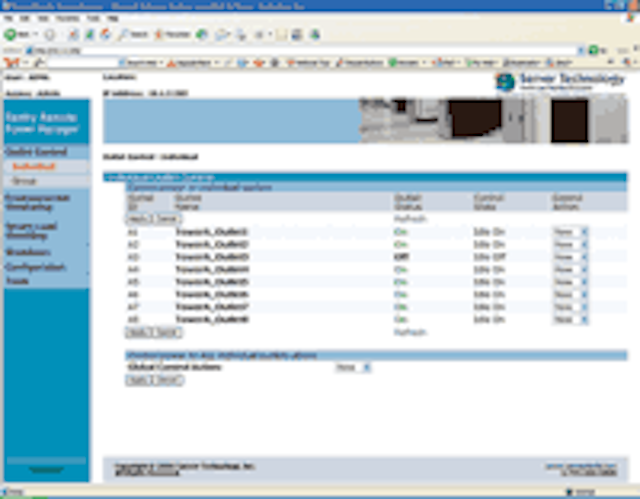 Click here to enlarge image
The company claims its Sentry Cabinet Power Distribution Unit, Version 6.0, firmware is the first to offer data center managers the ability to automatically manage individual devices based on key operating parameters, including temperature, in-feed load, and UPS power status.This web-based browser interface provides CDU users remote configuration and management capabilities with power and environmental monitoring. Features include remote shutdown agent, smart load shedding, power information, and LDAPS (LDAP over TLS/SSL).
SERVER TECHNOLOGY
www.servertech.com
Pretty poke-thru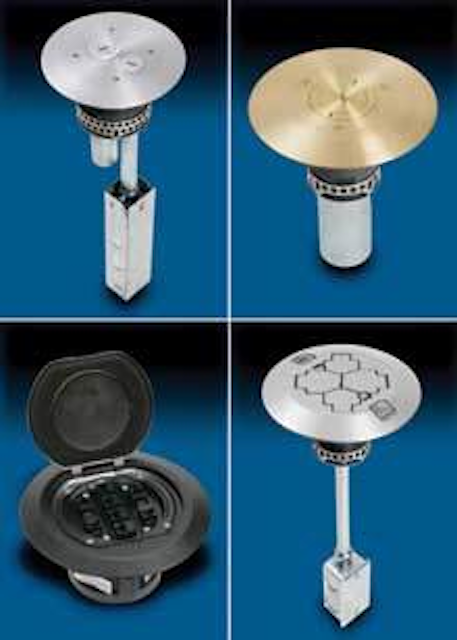 Click here to enlarge image
Steel City fire-rated poke-thru systems are now available in four- and three-inch core drill sizes to accommodate a range of wiring configurations, and have been designed for improved aesthetics to blend in with building décor. The company says its poke-thrus can provide simplified access for upgrades or modifications without exposure to power compartments, and are available in brass and aluminum as well as black, gray, beige, and brown powder-coated finishes.
THOMAS & BETTS
www.tnb.com