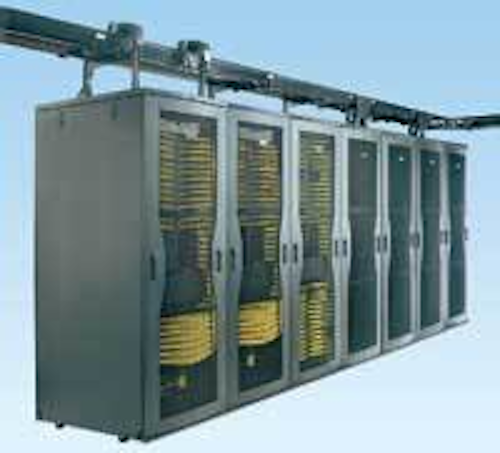 by Robert Reid and Robert Dennelly
Available in copper and fiber media, pre-terminated systems promise to save time and money.
As a designer or installer working on a new or retrofitted data center, certain critical issues can keep you up at night: "Will the system work when it goes live? Will it live up to performance claims? How will we stay on schedule and within budget?"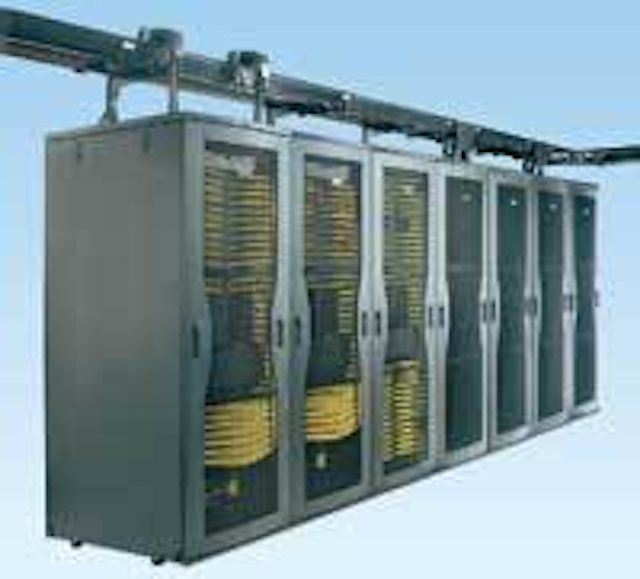 In high-density data center environments like this one, the ability to install copper or fiber systems rapidly can save both time and money.
Click here to enlarge image
Pre-terminated fiber and copper solutions are an innovative approach to structured cabling that help ease these concerns. These solutions simplify the design and installation of network services by providing high-density, end-to-end systems that deliver quick, plug-in network deployment.

Click here to enlarge image
The modularity of pre-terminated cabling solutions in the data center enables fast installation times and swift upgrades, which together reduce the total cost of network ownership. Also, the high-density design of these solutions conserves valuable data center real estate.
Pre-terminated solutions' benefits
Pre-terminated cabling solutions are ideally suited for data center deployment across main, horizontal, and zone distribution areas, as identified in TIA/EIA-942. Pre-terminated fiber-optic cable assemblies offer high-density small-form-factor cabling-up to 144 fibers per cable-and are used as backbone cabling in the main distribution area (MDA) and as Fibre Channel connections in storage environments. Copper assemblies are typically comprised of bundles of 6 or 12; they are used in the horizontal distribution area (HDA) to connect switch cabinets to server cabinets, and in the zone distribution area (ZDA) to run from the HDA to zone boxes.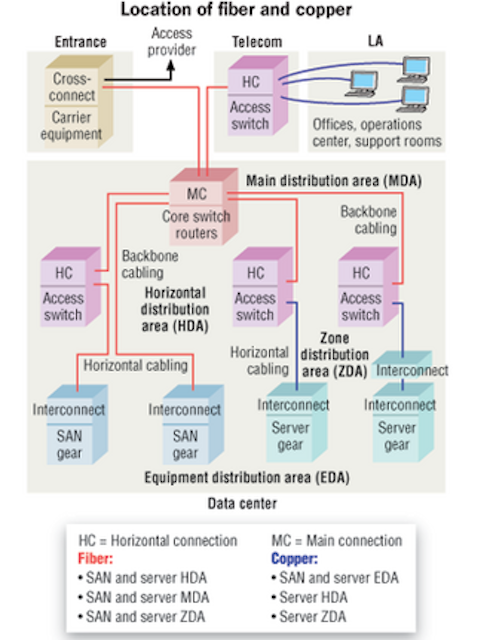 Copper and fiber cabling are found throughout the data center, as this TIA-942-based topology shows.
Click here to enlarge image
Pre-terminated solutions, including Panduit's QuickNet Copper and Fiber Optic Cabling Systems, offer consistent high levels of performance for improved network integrity. Solutions are available that exceed specifications for 10-Gbit/sec performance, providing extra headroom in the channel for data center upgrades and modifications. This level of reliability is crucial in the data center environment, where channel insertion loss budgets are very tight.
Pre-terminated components are 100% factory terminated and tested to deliver consistent, reliable performance. The quality of fiber connectors terminated in the field is particularly affected by temperature extremes and airborne particulates. Precision factory termination processes for both fiber and copper take place in a clean environment, offering advantages over the variability that can result from connector termination in uncontrolled field conditions.
The high speed of deployment offered by pre-terminated solutions is an equally important feature. The quick plug-in connections of cassette-based assemblies allow fiber and copper links to be installed in significantly less time than traditional field-terminated links, resulting in considerable installation-cost reductions. And pre-terminated fiber-optic cassettes and cable assemblies are deployable by all qualified field installers-not just fiber specialists.
Finally, pre-terminated solutions are engineered for advanced flexibility and scalability. These modular solutions use fiber cassettes and distribution-style cables as well as bundled copper assemblies to achieve high densities per unit of rack space and to promote efficient use of data center real estate. The modularity of pre-terminated solutions also allows the data center to be quickly and easily scaled up as needed, which is especially valuable in high-growth storage areas. Speed and ease of deployment translates into a similar ease to upgrade and maintain the system, since it takes little time to make necessary moves, adds, and changes.
Pre-terminated fiber channels
The data center is a fiber-rich environment due to the reach and bandwidth of fiber media, the small size of fiber cabling and connections, and the traditional use of Fibre Channel in high-density storage area networks (SANs). The central role fiber plays in the data center encourages the use of pre-terminated solutions to achieve significant reductions in the cost of time and labor.
Traditional structured cabling systems deploy distribution cables with single fiber connectors. In contrast, pre-terminated structured cabling systems are based on multi-fiber array connectors to provide modular, multi-fiber capability in a single small-form-factor connector. High-fiber-count cable assemblies terminated with these connectors serve as the core transport fabric for 10-Gbit/sec Ethernet and Fibre Channel, and are available in a wide variety of fiber configurations-up to 12 fibers per ribbon, with multiple ribbons per cable.
The modularity of multi-fiber array connectors enables quick data center growth in permanent link areas and in the SAN. Twelve fibers connect simultaneously to reduce installation time and simplify the routing of fiber elements within and between cabinets. Designers commonly specify a surplus number of multi-fiber cable assemblies to be installed in permanent-link areas so the channel count can be scaled up whenever pieces of active equipment, such as switches, RAID arrays, and tape drives, are added to the SAN.
Panduit QuickNet Pre-terminated Cassettes maximize density and scalability with up to 24 fibers per cassette and 96 fibers per rack unit. They also offer access to the entire fiber assembly, front and back, and provide management capabilities.
Click here to enlarge image
Fiber permanent links in the data center are formed by using multi-fiber assemblies to connect high-density pre-terminated fiber cassettes. A cassette is a packaged cabling assembly that transitions from the array connector to traditional single-fiber connectors to provide a convenient high-density patch field. Pre-terminated fiber cassettes can be added as needed to rapidly deploy additional permanent links, with application-specific patch cords used to finish the channel. Some cassettes are available with LC and SC connectors to allow for flexible patching to servers, switches, and storage equipment.
The value of pre-terminated fiber solutions in the data center is also apparent in the SAN switch area. SAN switches can have anywhere from 4 to 48 Fibre Channel ports per blade, with multiple blades per chassis, making this easily the highest density area in the data center.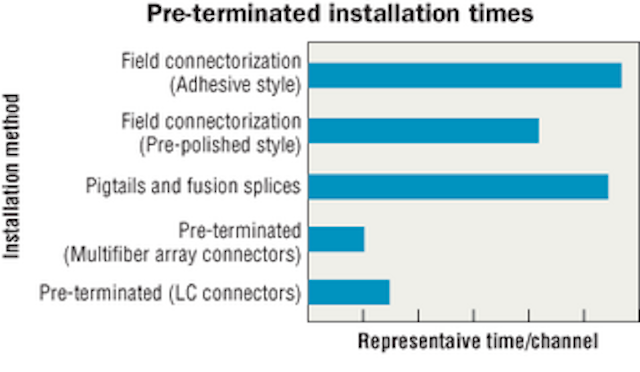 The use of pre-terminated fiber-cabling solutions can dramatically reduce installation times in the field.
Click here to enlarge image
Multi-fiber array connectivity makes it easy to cable this area. First, pre-terminated trunk cable assemblies are used to connect cabinets that have multi-fiber adapter patch fields. Then, high-density hydra cable assemblies are used to complete the channel by connecting between the multi-fiber patch fields and traditional single-fiber connectors on the active equipment.
The best route
Efficient management of pre-terminated fiber cable in the data center is enabled by the use of rack enclosures for fiber cassettes. The enclosures provide proper cable routing pathways and minimum cable bend radius control, and provide space to store fiber cable for future use and to spool patch cords. You can find rack-mount fiber cassette enclosures that feature easy access to the entire assembly, front and back. This feature makes service and inspection easier and speeds up installation and maintenance times.
When it comes to testing, pre-terminated fiber solutions offer a low level of risk, meaning you can build highly reliable permanent links that satisfy stringent link-budget specifications. Total channel insertion loss (CIL) is defined by IEEE and ANSI as <2.6 dB for 300-meter serial 850-m links. Also, TIA/EIA-942 specifically recommends a particular fiber grade-laser-optimized OM3-as the most reliable multimode fiber media solution at 10 Gbits/sec, although other fiber grades are available based on channel-length requirements.
Since pre-terminated cassettes and fiber cable assemblies are factory tested as components-not as links or channels-and although optical performance is known and reliable over each component, it is up to the designer or installer to calculate the overall CIL budget for each channel and then verify channel performance in the field.
Pre-terminated copper assemblies
In data ­centers, most structured copper cabling is deployed between the distribution switches and the equipment servers and associated patching fields. With pre-terminated copper solutions, the tasks of pulling, terminating, dressing, and testing each copper link can be accomplished in hours or days rather than weeks, contributing to lower total cost of ownership.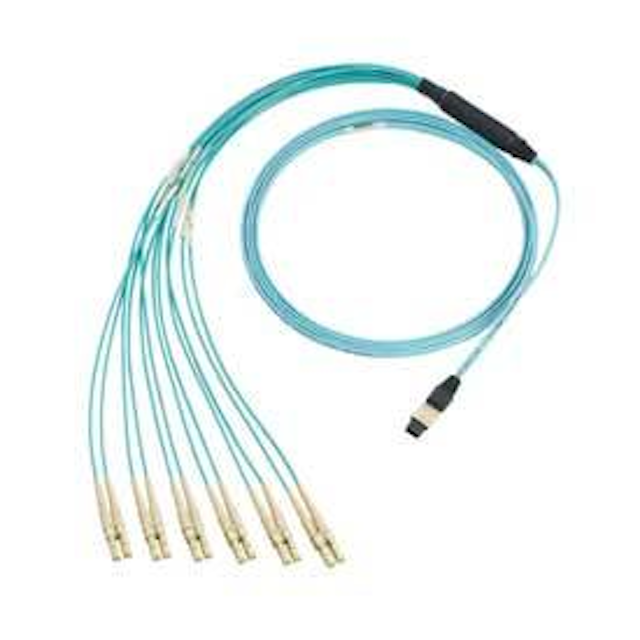 Hydra Cable Assemblies allow for rapid deployment of high-density, multi-port connectivity to optimize storage area network patch-field organization.
Click here to enlarge image
Pre-terminated copper assemblies are manufactured and shipped as complete end-to-end links and come in bundles of 6 or 12 cables. Vendors may bundle all cables together in one jacket, or loom them together with overbraid or expandable sleeving. Most vendors identify and label each cable in a bundle as well as the assembly itself, and labels often can be customized to fit your existing data center design or installation requirements.
Designers order the assemblies in custom lengths, types, and terminations to accommodate a wide range of configurations between active equipment and patch fields in the data center. Available cable types to support 10GBase-T applications in the data center include Category 6A and Category 6 (over limited distances). Termination options available include plug-and-play cassettes (six jacks per cassette), plugs, jacks, and unterminated. These options provide the same level of flexibility offered by field terminations, with added reliability, consistency in performance, and quick deployment.
Maximizing time and space
As with fiber, the modularity of pre-terminated copper assemblies reduces installation times and enhances data center scalability. Copper interconnect, cross-connect, and zone applications are deployed in bundles of 6 or 12 pre-terminated links that snap quickly into patch panels for quick and easy growth in switch and server areas. Angled 48-port, single-rack-unit patch panels are used to maximize density and conserve valuable data center space.
Panduit's QuickNet Copper Cable Assemblies can be opened in the field to repair or replace damaged jacks, thereby reducing maintenance costs and downtime. All QuickNet copper patch panels support cassette terminations, and an optional patch panel adapter can be snapped into place for individual multimedia terminations, to save panel space for future growth.
Click here to enlarge image
Each cable link of a pre-terminated copper assembly is factory tested to internal permanent link performance requirements, which eliminates the time required to test links in the field, and reduces the potential for rework to reterminate and test faulty links. Test data reports are included with each individual assembly. (Those who use Panduit's QuickNet Pre-terminated Copper Assemblies also receive each labeled with a unique quality-control number that corresponds with a test data report that can be referenced for future traceability.)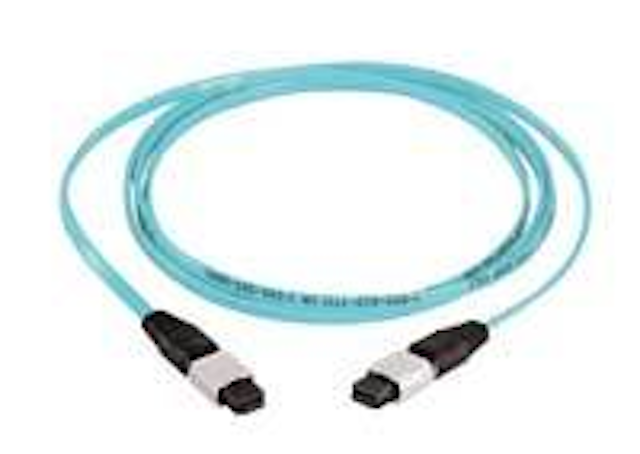 Application-specific fiber cable assemblies feature multi-fiber array small-form-factor connectors.
Click here to enlarge image
Pre-terminated solutions also enhance data center performance by reducing both the number of workers moving between sensitive equipment and the waste generated from field terminations of copper, and fiber, links. Data centers are highly sensitive areas that operate most effectively when environmental conditions are tightly controlled. For copper in particular, the use of pre-terminated assemblies can reduce cable scrap by 10%, thereby reducing cleanup times and increasing workforce productivity.
Staying on schedule and budget
The modular design of pre-terminated assemblies allows quick and scalable deployment of permanent links and SAN gear. Data center designers can take advantage of custom lengths and termination styles to specify best-fit structured cabling configurations across all data center areas. And factory termination of high-performance components offer improved network integrity to increase installer confidence and maximize labor efficiency.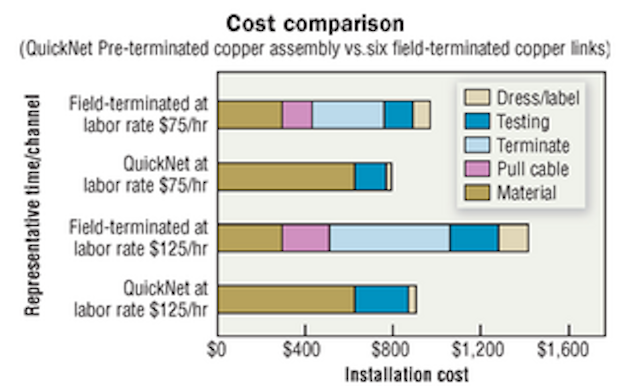 This installation-cost comparison between a six-cable QuickNet Copper Cassette Assembly and six field-terminated copper links (all links made up of 100 feet of Category 6 UTP cable) shows how pre-terminated copper solutions can help data center stakeholders maximize their installation budgets.
Click here to enlarge image
When you consider the hundreds or thousands of permanent links in today's data centers, the time and money saved using pre-terminated solutions add up quickly to help all project stakeholders stay on schedule and within budget.
ROBERT REID and ROBERT DENNELLY are product development managers with Panduit Corp. (www.panduit.com).