Plug-and-play for small spaces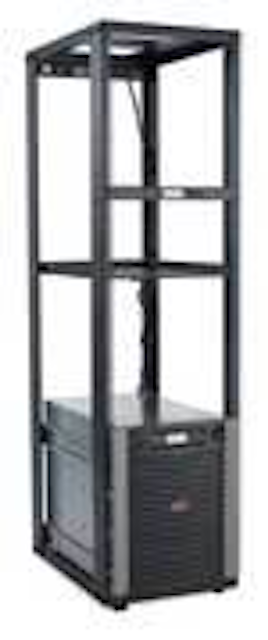 Click here to enlarge image
The company's InfraStruXure system is now available in a plug-and-play version that integrates the UPS, rack, and rack-mount power distribution in a single unit. Designed especially for wiring closets and small IT rooms, the systems are available in 2- and 4-post or full-rack enclosure options, and ship fully assembled, wired, and tested. The system also includes cable management brackets, temperature monitoring, built-in management capabilities, and optional service offerings.
AMERICAN POWER CONVERSION
www.apc.com
Large bundle roller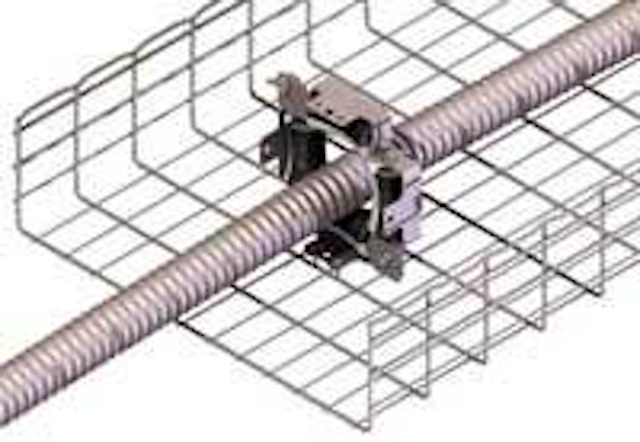 Click here to enlarge image
A heavy-duty version of the company's FAS Roller, the HD FASROLLER EZ is designed to accept larger diameter cables and cable bundles. The tray roller is constructed with a pre-galvanized metal frame and includes mounting hardware and guide. Bi-colored rollers let installers know at a glance that each pull is running smoothly. An easy-open design eases cable loading and removal. HD FASROLLER EZ is designed to attach anywhere on the manufacturer's tray system (inside or outside the tray) to eliminate cable strain.
CABLOFIL
www.cablofil.com
Print-and-seal labels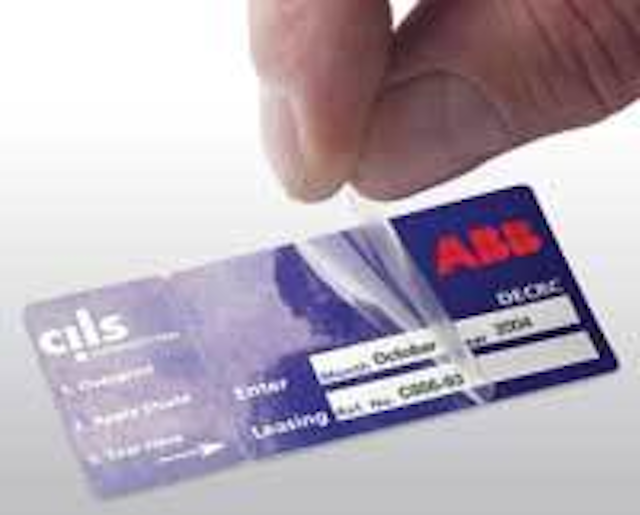 Click here to enlarge image
Designed for labeling cabling and telecom equipment used in harsh environments, Print Seal thermal transfer labels incorporate a clear protective layer, enabling in-house thermal transfer-printed data to be completely encapsulated. Labels are resistant to acetone, alcohol, gasoline, hydraulic fluids, kerosene, MEK, and other harsh substances. They are available pre-printed or blank, and feature a wide range of durable substrates and adhesive combinations.
CILS INTERNATIONAL
www.cils-international.com
Pocket fault locator

Click here to enlarge image
This pocket fault locator is designed to find excessive bends and breaks in fiber-optic cable, and is available in 1.25- and 2.5-mm models. Features include all-aluminum housing, 650-nm laser, and heavy-duty belt holster.
FIBER INSTRUMENT SALES
www.fiberinstrumentsales.com
Low bend radius fiber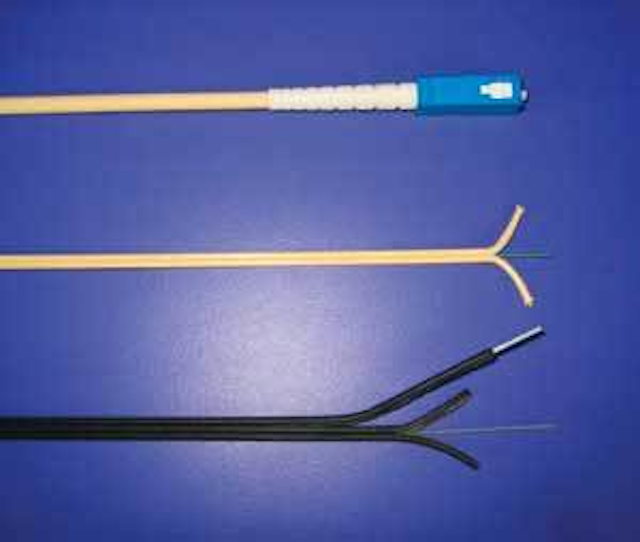 Click here to enlarge image
Designed especially for FTTH installations, FutureGuide SR15 optical fiber features a low bend radius technology. It is available as an ultra-flexible patch cord that will return to its original condition without any deformation or marking following an extreme cable bend, a 3 x 2-mm indoor cable design that allows the cable to be laid flat and sustain high compression forces, and a multi-purpose aerial drop cable that can be used both for aerial and in-house FTTH installation.
FUJIKURA EUROPE LTD.
www.fujikura.co.uk
High-flex cable assemblies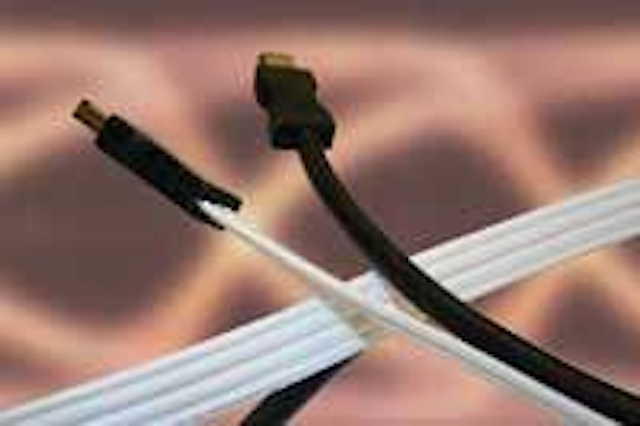 Click here to enlarge image
FireWire high-flex round and flat cable assemblies are designed to provide motion control and vision systems with reliable flex-life performance, and help to prevent lost data or data integrity issues. The assemblies are built to maintain stable attenuation, and will flex with no bit-errors or loss of data. Round assemblies have been tested to achieve 5 million cycles in rolling flex motions on a 50-mm bend radius. Flat cable assemblies have been tested to achieve 20 million cycles on a 20-mm bend radius. According to the company, both cable types experienced minimal change in insertion loss and impedance during tests. Available in-stock lengths are 2, 3, 4.5 and 7.7-mm. Customized lengths are also available.
W.L. GORE & ASSOCIATES
www.gore.com
Pre-configured cabinets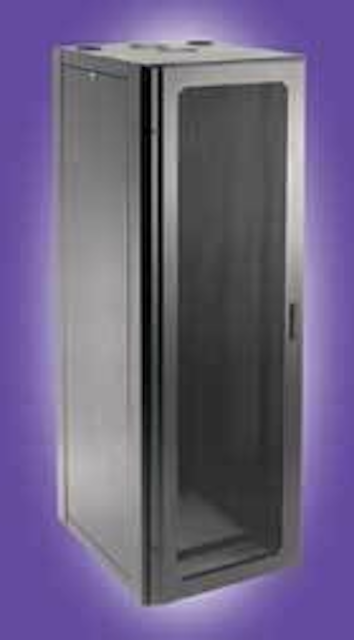 Click here to enlarge image
Net Series communication and server cabinets are designed to house 19- or 23-inch LAN, WAN, phone and voice-mail rack equipment and servers. These pre-configured cabinets are constructed of heavy gauge steel, and are equipped with a perforated front and louvered rear door (server cabinets have perforated front and split-rear door) to facilitate air movement. Other features include one-half-inch of extra cabling space on each side, flush-mounted locking handle on front and back doors, thermal design that dissipates up to 2,500 watts of network equipment heat, and 1,000-pound load rating.
HOFFMAN
www.ehoffman.com
High definition cable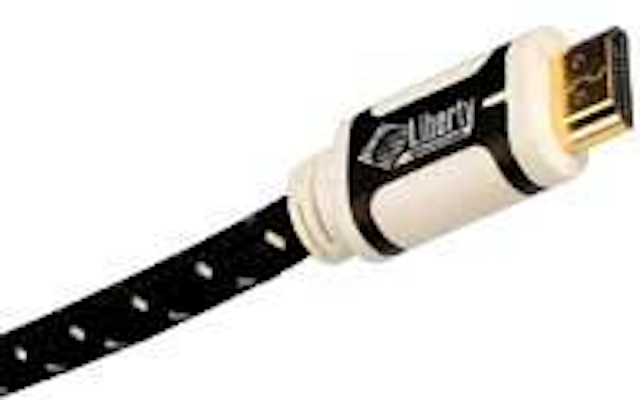 Click here to enlarge image
DigitaLinx high-definition (HDMI) cables are designed to provide transmission of HDMI 1.3 signals at resolutions up to 1080p. The cables come in 1- and 2-meter lengths, are jacketed in a black and silver sheath of braided fabric, and terminate in easy-to-grab plugs.
LIBERTY WIRE & CABLE
www.libertycable.com
Cable support system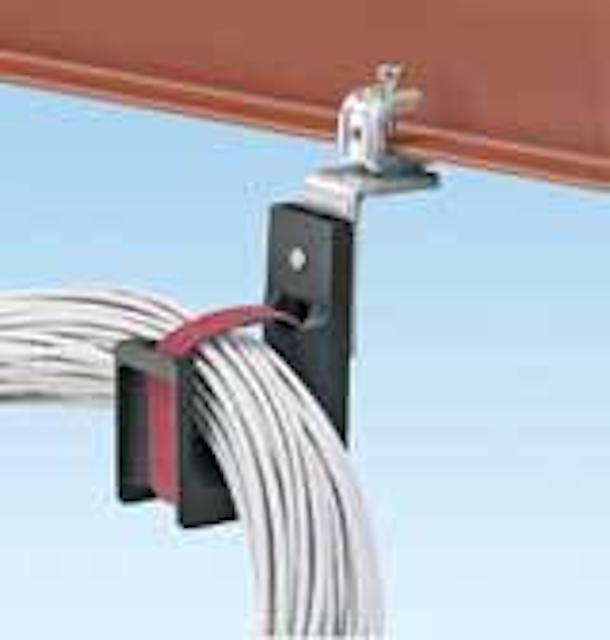 Click here to enlarge image
The full line of the J-Pro cable support system now accommodates ¾-, 1 ⁵/16-, 2-, and 4-inch bundle capacities. These non-metallic J-hooks feature horizontal and vertical 1-inch bend radius control, designed to prevent cable performance degradation. Suitable for use in air-handling spaces per UL 2043 and CAN/ULC S102.2, the pre-riveted assemblies can be attached to ceiling, beam, treaded rod, drop wire, or under-floor supports.
PANDUIT
www.panduit.com
Metered PDU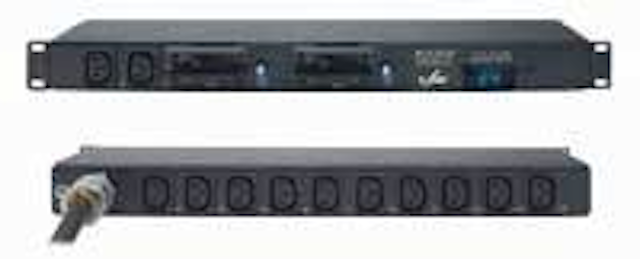 Click here to enlarge image
Configured for 208-volt, 30-amp power input, the T982F3 Series rack-mount power distribution unit (PDU) with current monitoring is designed for data center or high-density enclosure applications. According to the company, when operating equipment at 208 volts versus 120 volts, the PDU decreases current draw by up to 50%. It can power up to 12 devices, with power output delivered via industry-standard IEC 60320 Type C13 receptacles. The front panel features an ultra-bright, two-digit current meter display that can be read from up to 20 feet away. The current meter allows for greater equipment density by continuously measuring the total current draw of all connected devices, preventing system overload.
PULIZZI ENGINEERING
www.pulizzi.com
System-based catalog
This free structured cabling and network connectivity catalog arranges the company's products into their appropriate systems, designed to simplify the process of selecting an end-to-end cabling infrastructure. The new format covers key products in each of the company's high-performance systems, but has been condensed to help you more quickly identify the critical systems-based products needed.
SIEMON
www.siemon.com
Non-metallic enclosures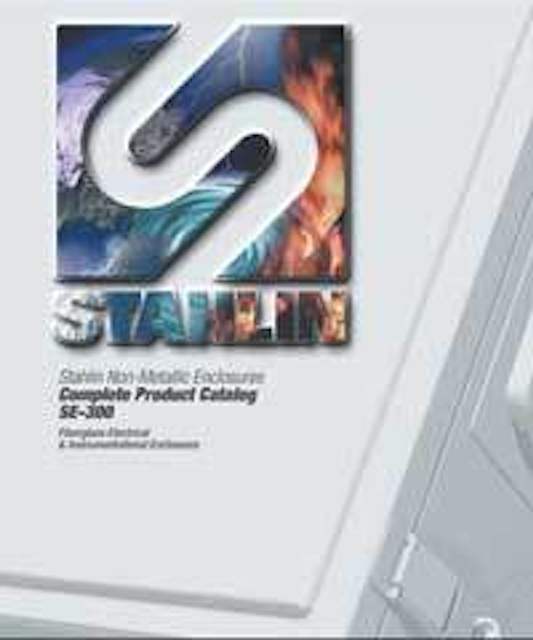 Click here to enlarge image
The company's line of fiberglass/non-metallic enclosures for telecom/electrical is featured in its latest catalog. In addition to products and specifications, the catalog includes information on choosing the right enclosure material, how to cut and drill non-metallic enclosures, and a chemical resistance table.
STAHLIN
www.stahlin.com
Detectable cable tie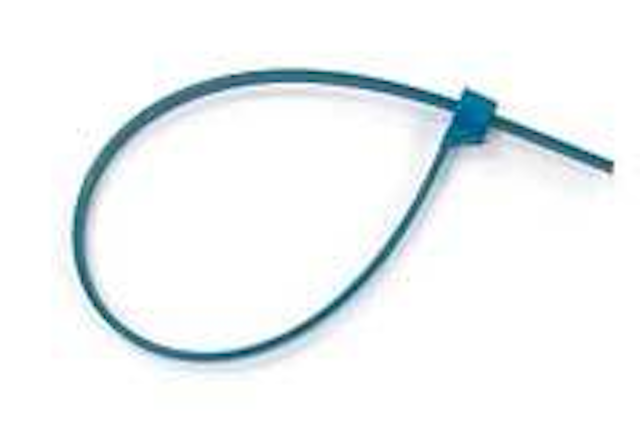 Click here to enlarge image
Bright blue Ty-Rap detectable cable ties are designed to be identified by metal detectors, X-ray equipment, and vision detection systems. The tie is made of either Nylon 6.6 (polyamide), or polypropylene-a polymer that gives the cable tie buoyancy for visual detection in liquid processing applications. Both materials contain additives that increase the tie's magnetism and density, making it discernible by metal detectors and X-ray equipment.
THOMAS & BETTS
www.tnb.com
Cable marking system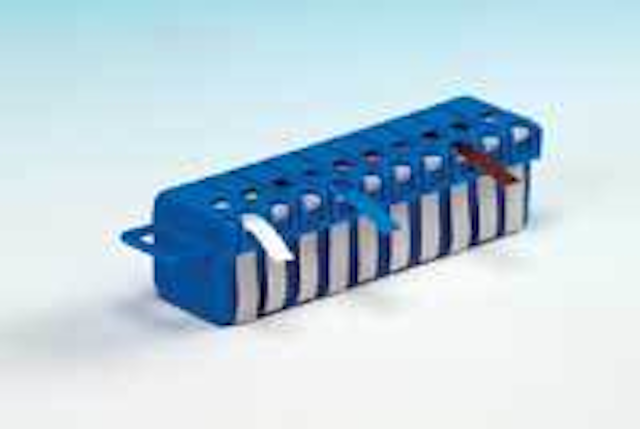 Click here to enlarge image
The portable CMD cable and wire marker dispenser is designed for industrial and commercial use, and can fit in tool boxes or tool bags. It is equipped with a loop for easy connection to lanyards, hooks, or tool belts. Markers are made from Dupont Tyvek material to provide durability and help prevent tearing. An oil-resistant acrylic adhesive lines the back of the marker. Each marker measures 32 x 6.4-mm. Rolls contain 76 individual markers. Dispensers can be ordered with numeric markers (zero through nine) or color-coded (white, yellow, green, blue, orange, red, violet, brown, black and gray).
TYCO ELECTRONICS
www.tycoelectronics.com
Cat 6 gets smart

Click here to enlarge image
A SmartWire version of General Cable's GenSpeed 6000 Category 6 cables, available in eight colors, make it a tape measure, toner, tester and label maker all in one. Features include ascending/descending sequential foot markings, system-specific print legend, application-specific print legend, and alphanumeric coding system. According to the company, the variety of colors gives installers a scheme that allows for easy identification and organization.
WINDY CITY WIRE
www.smartwire.com
Double-hinged cabinets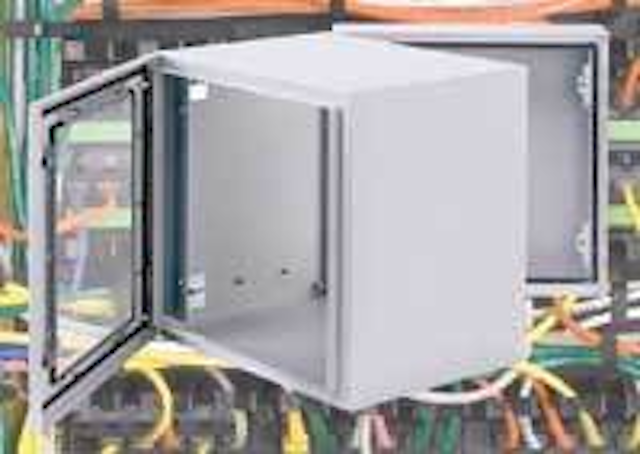 Click here to enlarge image
ProTek type 12/4 wall-mount cabinets are now available in double-hinged models, featuring a three-part design built for easier front and rear equipment access. This cabinet is especially suited for applications outside of control areas to protect network equipment from dirt, splashing water, dust, and other contaminants. The double-hinged cabinet is designed to hold multiple pieces of 19-inch network equipment, and its proprietary latching design requires no unlatching clearance so that you can mount the cabinet latch-side tightly against the wall to save space. Type 4 models come with a solid door, while Type 12 models are available with solid or window door.
HOFFMAN
www.ehoffman.com
Tray tee-kit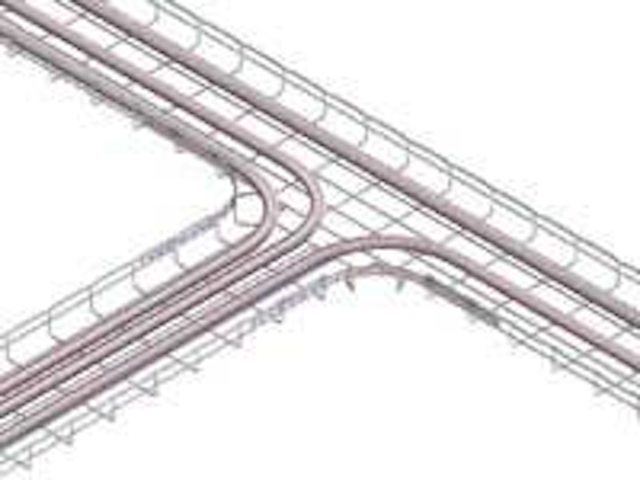 Click here to enlarge image
The RADT90 kit features parts needed for making cable tray radius tees and 90º turns. Rounded corners are designed to allow cable to be safely pulled around turns and at intersections, while additional support included in the kit is designed to strengthen the installation. Built for large cable bundles or cables with larger diameters, the RADT90 fits all of the company's CF trays (except the G) and is available in 2- and 4-inch heights.
CABLOFIL
www.cablofil.com
Mini video cables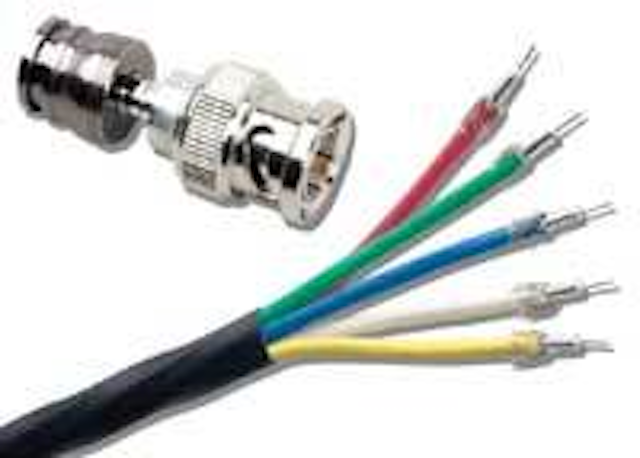 Click here to enlarge image
QuickLinx mini RGBHV cables feature solid-center conductors designed for better signal distance and frequency response for analog video installations. A 25-AWG cable is designed for longer runs, while the 23-AWG cable is swept to 3 GHz and is especially suited for short runs and high definition applications.
LIBERTY WIRE & CABLE
www.libertycable.com
PoE midspan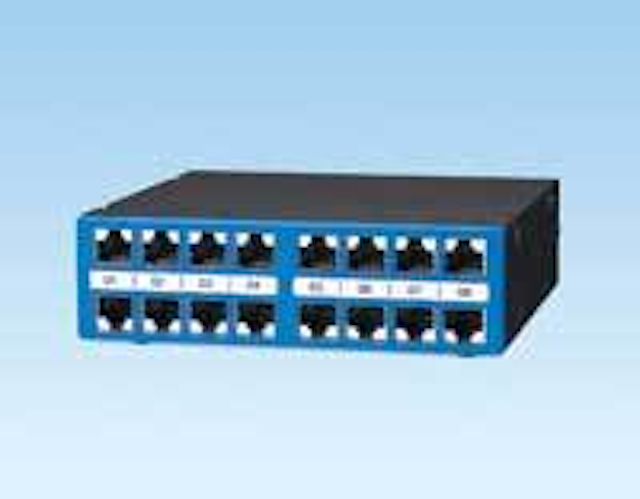 Click here to enlarge image
The DPoE Compact 8 midspan is designed to allow up to three units to fit across a single rack space in small to medium Power Over Ethernet (PoE) deployments. The midspan integrates with existing networks and offers Gigabit Ethernet performance. According to the company, enhanced power capability delivers 30 watts of power designed to support next-generation PoE devices. Engineered to operate from a DC power source, providing better efficiency and heat dissipation than AC-based solutions, the midspan system includes software that monitors and manages power consumption for each port, offering secure management via SNMP v3 and optional integrations with the HP Open View network management platform.
PANDUIT
www.panduit.com
Hand-held fusion splicers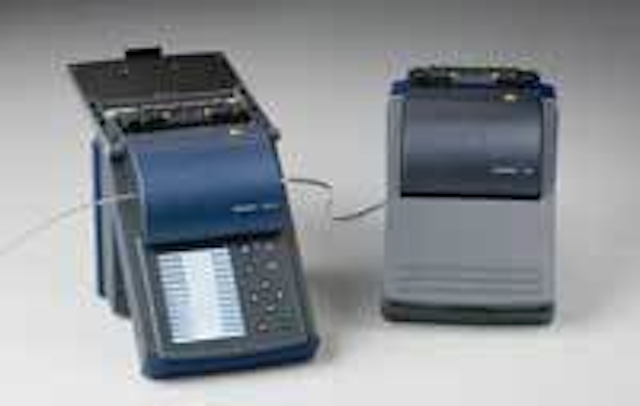 Click here to enlarge image
OptiSplice Ribbon and One hand-held fusion splicers are designed for working in tight spaces. The Ribbon is a 1 to 12-fiber splicer that is built to provide improved speed and performance over previous generation multi-fiber splicers. The One splicer for single-fiber use features dual cameras, tool-less maintenance, heat-shrink oven, and high-capacity battery. A variety of modular accessories are available for both splicers.
CORNING CABLE SYSTEMS
www.corningcablesystems.com
Low-friction lube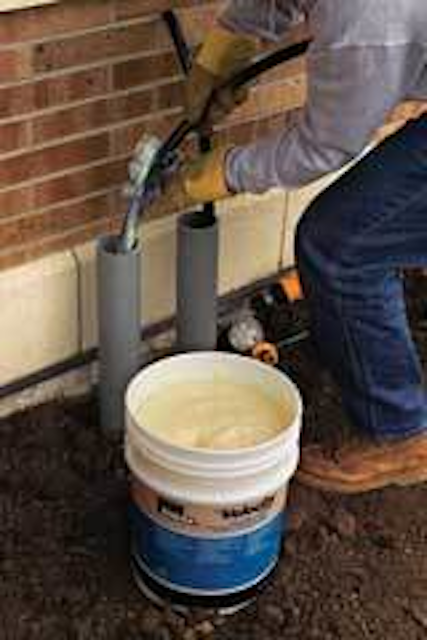 Click here to enlarge image
Velocity is an ultra-low friction cable-pulling lubricant designed to provide what the company claims is one of the industry's highest "clingability" factors for long-lasting, uniform coating on all types of cable jacket materials. In independent testing, the company says Velocity exhibited a coefficient of dynamic friction that was 25% lower than competitive lubricants, resulting in significantly increased lubricity for easier pulling with less effort. Velocity slowly dries to a slippery film designed to maintain lubricity for several months.
IDEAL INDUSTRIES
www.idealindustries.com