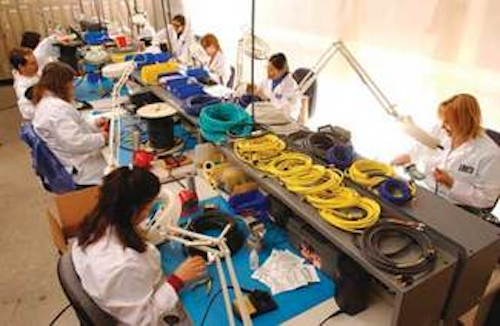 In support of what it's calling an "enterprise software strategy for efficient management of company-wide IT physical infrastructure," APC (www.apcc.com) has introduced InfraStruXure Central v4.0, a redesigned platform for the integration and deployment of intelligent enterprise management applications.
The company says InfraStruXure Central technology is designed to lower support costs and prevent downtime through rapid problem resolution of physical and environmental issues-including floor space, power, cooling, cabling, and threat protection.
The company is developing an integrated suite of applications that will let IT and data center professionals manage the entire lifecycle of their physical infrastructure. The system architecture combines the outputs from an automated data center design application with real-time monitoring and measuring applications. It also features ITIL service management applications designed to deliver previously unavailable integration and effectiveness in IT physical infrastructure management.
At an estimated resale price of less than $10,000, the base configuration of InfraStruXure Central v4.0 includes device management, alerting and reporting. The system can scale from simple wiring closet monitoring to full enterprise management of data centers and remote facilities, and supports most manufacturers' IT devices. Additional applications can provide centralized environmental monitoring, video surveillance, rack and data center access control, and ITIL-based Capacity and Change Management
According to Bill Hodges, director of data center operations at Sisters of Mercy Health System in Chesterfield, MO, "With InfraStruXure Central, we have the ability to establish aneven alerting structure that includes threshold setting, escalation intervals, and crisis event reactionary time, allowing us to proactively resolve areas of risk or address interruptions before they become service outages."
By integrating data from the company's design tools, APC says IT managers can also compare what is actually happening to what is supposed to happen. This design and operations data can then be fed to a new capacity management application, called Capacity Manager, that helps eliminate the guesswork of where to place a server with respect to power, cooling, floor and rack space, and allows for management and tracking of the workflow and movement of IT equipment. All information is then fed back to the database, creating a closed-loop system, designed to ensure an updated, accurate model.
Offered as a no-charge service to InfrStruXure Central purchasers, InfraStruXure Designer provides an "intelligent" plan for an efficient data center layout incorporating power and cooling, as well as floor and rack space. Its intelligence enables a design to incorporate redundancy, model the loads of thousands of different IT devices, as well as generate 3-D visual renderings. Advanced power capacity and computational fluid dynamic (CFD) modeling ensures the physical infrastructure design avoids over-sizing, while providing the flexibility of a scalable infrastructure to meet the current and future needs of an IT department's servers, storage and networking IT equipment.
Dr. Phil London, APC's vice president of Software and Management Solutions, notes, "With today's high density computing, everything has become extremely complex. It is now clear that the days of managing the data center by hand are over."
---

Custom cable facility speeds turnaround

A recently expanded Custom Cable Facility at Liberty Wire & Cable's (www.libertycable.com) Colorado Springs, CO headquarters will help company technicians hand-craft specialty cable assemblies for installers within a 72-hour turnaround.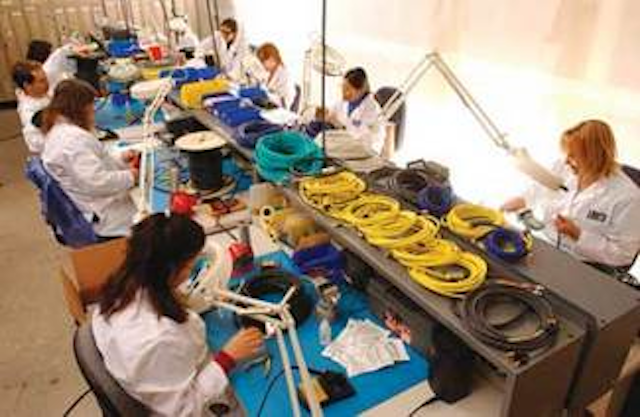 An expansion at Liberty Wire & Cable's Custom Cable Assembly facility allows technicians to speed turnaround of cabling products to installers and system integrators.
Click here to enlarge image
Liberty, with additional facilities in Charlotte, NC and Phoenix, AZ, is a worldwide supplier of cabling products for audio/video applications, custom installers, and systems integrators. The company says that whether the order is for one or 100 units, it can now provide 72-hour turnaround on products ranging from RGB/HV, HDMI, VGA and DVI to Component Video and Category 5e.
The facility produces custom cables to meet or exceed precise stranding, shielding, and performance requirements. Cables are constructed for PVC, plenum or low-smoke ratings.