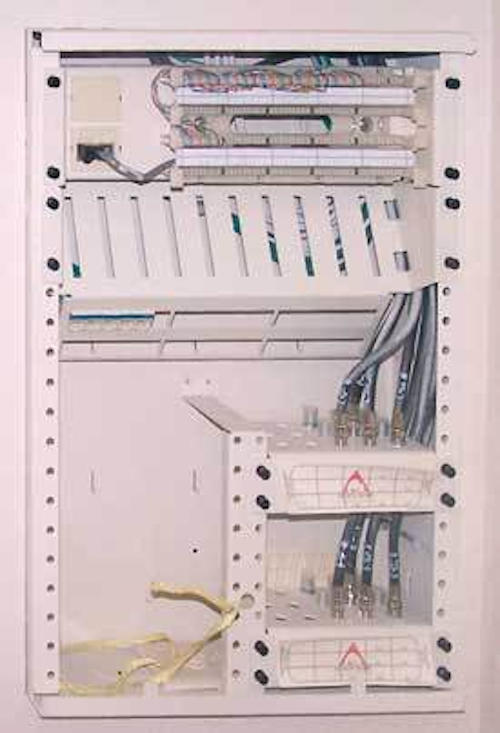 by Sharon Cardinal
The Hartford 21 building is helping to revitalize the Connecticut city, while plenum-rated cable helps pamper its residents with communications services.
The City of Hartford, CT leapt forward at the turn of the millennium with the creation of a new Civic Center, convention center, and an ambitious Connecticut River waterfront destination called Adriaen's Landing. Symbolically and economically, the availability of upscale, in-town residential space was critical to the new millennium of Hartford's prominence.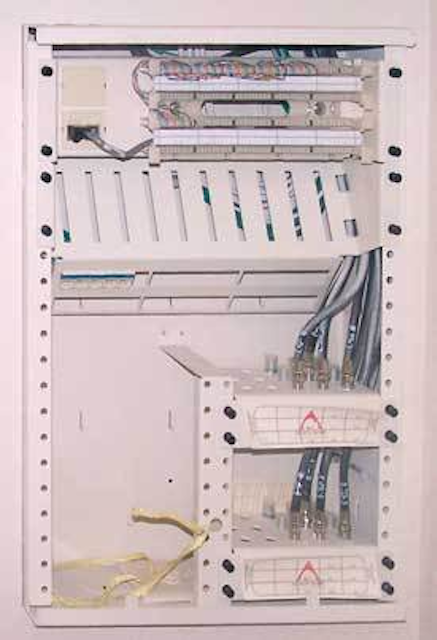 All cabling for data, voice, and video services is concentrated in a residential cabinet about the size of a medicine chest, in a closet within each apartment.
Click here to enlarge image
The Northland Company of Newton, MA (www.northland.com) already had a major presence in the city, with properties including 242 Trumbull, 90-104 Allyn Street, CityPlace II, Goodwin Square, and Metro Center. For Hartford 21, Northland shared the vision, attracting residents epitomizing Hartford's emerging success-upwardly mobile and technologically literate. To support the intended clientele, the Hartford 21 cabling infrastructure would serve 262 luxury residences, each complete with flexible access to high-speed data, cable television, satellite, and telephone facilities.
Turner Construction's office in Milford (www.turnerconstruction.com) chose McPhee Electric Inc. of Farmington (www.mcpheeusa.com) to install the security, surveillance, card access, temperature-control, building-automation, fire-alarm, data-communications, and telecommunications infrastructure. To enhance the building's competitive technological advantage, McPhee's open architecture system would set Moore's Law in action to run its natural price/performance advancements over time. With the infrastructure available for multiple technologies within the building, vendors would be free to compete for subscribers while tenants enjoyed access to ever-improving choices of vendors and technologies.
McPhee project manager Brian Parent undertook the two-year-long project with full support of Local 35 inside wiremen and technicians, who are certified to install Siemon (www.siemon.com) and Mohawk (www.mohawk-cable.com) systems. Parent was tasked with anticipating the frequent breakthroughs in high-speed multimedia, and to accommodate them cost-effectively at Hartford 21. McPhee's certification for Siemon's 20-year warranty was a critical consideration for Northland, which would manage the network upon occupancy.
The $160 million, 35-story tower includes panoramic northwestern views of the city and the Metacomet ridges of Avon Mountain as well as the distant Berkshires. Located at Asylum and Trumbull streets, adjacent to the Hartford Civic Center, Hartford 21 was in the very core of the city's downtown business district.
Residential cable cabinets
McPhee's modular architecture concentrates all cabling for data, voice, and video for each apartment in a residential cable cabinet-the size of a small, recessed medicine chest-located in the residence's coat closet near the front door. This location centralizes connectivity within the apartment, allowing voice, Digital Subscriber Line, or satellite video service personnel to install, activate, and troubleshoot services conveniently within the apartment.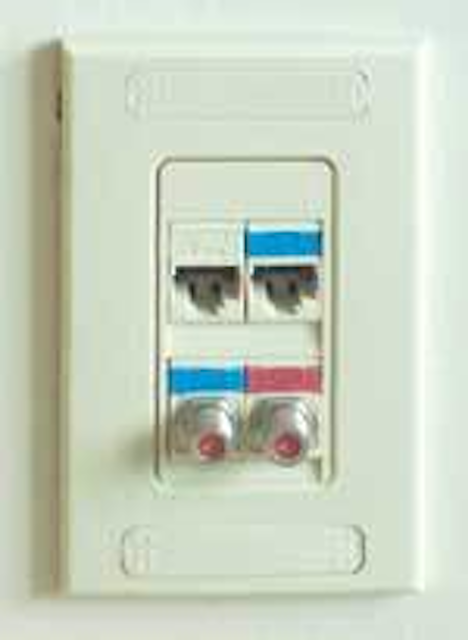 The wallplates are color-coded; the blue RJ-45 port is for data, while the blue coaxial port supports cable TV and the red coaxial port supports satellite TV.
Click here to enlarge image
Terminated in each of the 262 residential boxes are two RG-6 broadband coaxial cables, as well as two 4-pair, color-coded, unshielded Category 5e cables-blue for data and white for voice. In total, more than 400,000 feet of Mohawk MegaLAN Plenum Category 5e cable is installed, with 150,000 feet of RG-6 and 70,000 feet of RG-11.
Inside are cross-connects for four to six voice, video, data, and satellite outlets in the apartment. Additional port capacity is provided within the enclosure for future expansion, while electrical outlets and a wide space remain to accommodate a cable or DSL modem, or other device (complete with tie wraps to hold it in place). Cable identification labels are attached to panel surfaces.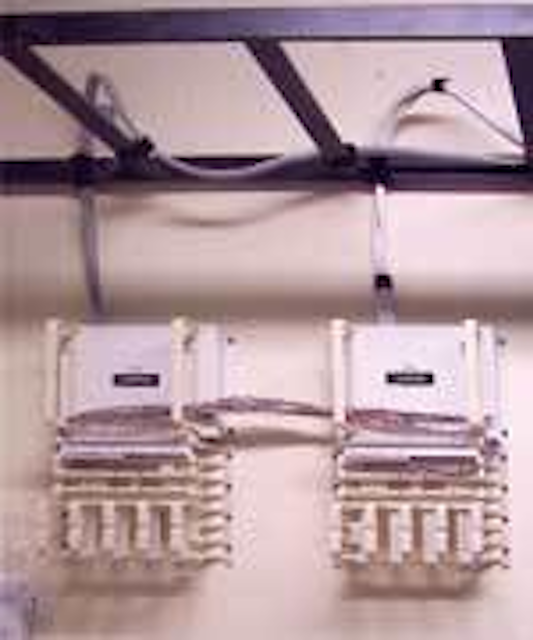 In one of the 30 intermediate crossconnects at Hartford 21, a Siemon 110-style block terminates a 50-pair copper backbone cable.
Click here to enlarge image
Each bedroom supports one workstation, while living-room jacks are conveniently placed on opposite walls to accommodate two possible workstation locations. Each of the 60 one-bedroom units has four data/voice/CATV/satellite wallplates and one wall phone jack.
Two-bedroom units (there are 198 in all) have six wallplates and one wall phone, while penthouse units have additional plates to support libraries and additional bedrooms. This allows users both flexibility and the peace of mind that comes with the hardwired network security.
Wallplates carry two 8-pin modular RJ-45 jacks, one for voice and one for data, within twin coaxial connectors below-blue tagged for cable and red tagged for satellite television. At the time of this writing, the satellite vendor(s) for the complex had not been determined.
Intermediate cross-connects
Access by telecommunications carriers is easy in Hartford 21's 30 intermediate cross-connect (IC) spaces. On each floor, a compact Siemon 110 termination block terminates a 50-pair copper backbone. Chatsworth ladder trays support runs to cable cabinets in individual apartments. Each floor's IC breaks out its own 50-pair home runs and RG-11 coaxial cable from the main cross-connect, passing the rest through for breakout in respective floors above.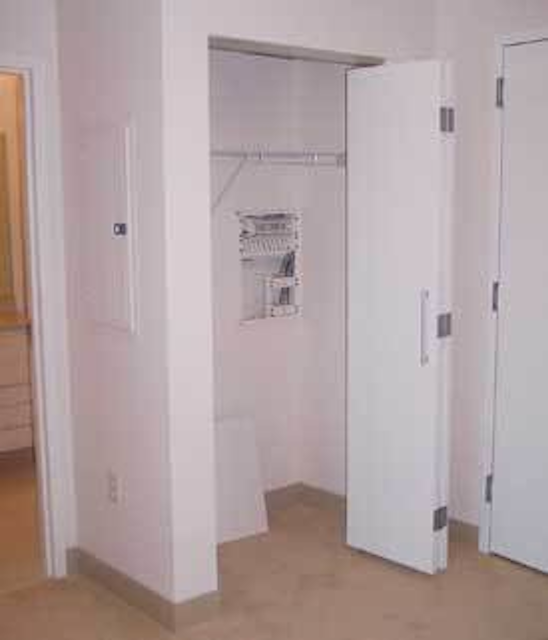 While the term "telecommunications closet" has fallen out of use in favor of the more politically correct "telecommunications room," at Hartford 21, the voice, data, and video cabling systems do indeed converge inside a closet, as shown here.
Click here to enlarge image
Each apartment is supported by redundant RG-6 coaxial cables, and up to four 4-pair Category 5e MegaLAN cables, patched through to specific jacks.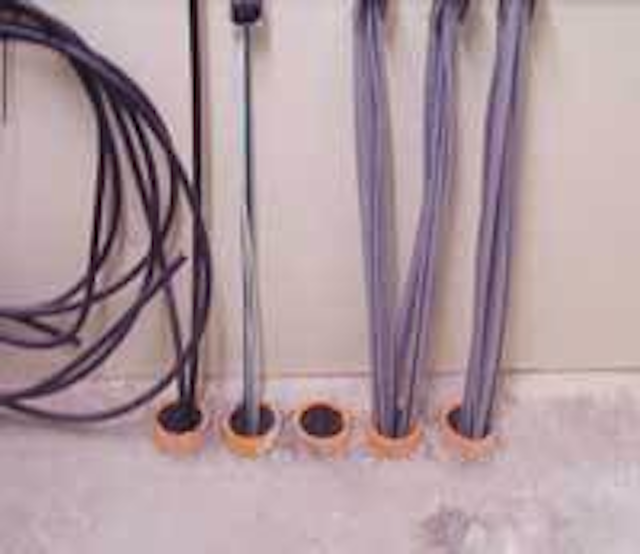 These conduits are partially empty of ascending cables, having discharged most of their runs on lower floors. The remaining runs pass upward to and through intermediate cross-connects on floors above.
Click here to enlarge image
ICs are preinstalled with a vacant innerduct for the future addition of fiber through this otherwise inaccessible space, or, as described by McPhee's project manager Parent, "an unimpeded raceway right back to the core."
Main cross-connect
Securely located below ground level among the dense concrete floors of Hartford 21's four-floor parking garage, the main cross-connect (MC) supports 30 ICs' data, CATV, satellite, and telephone wiring. Vacant fiber conduit from all 30 ICs enter from above, with vacant conduit exiting the building from future fiber applications.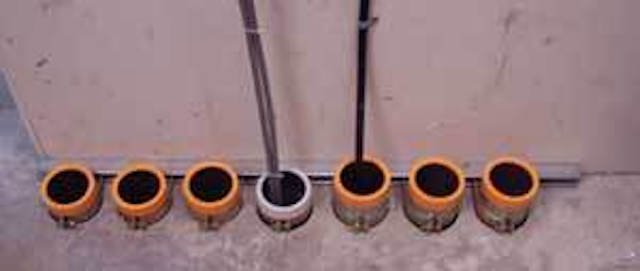 Empty 4-inch conduits are ready to feed south-facing retail space along Asylum Street as well as the adjacent Civic Center and shops facing Trumbull Street.
Click here to enlarge image
Mounted on one wall, a set of punchdown blocks supports the YMCA's offices and facilities, which are on the first two floors. Mounted on the same wall, the enclosed SBC/AT&T installation brings 1,000 wire pairs from the street.
With the building occupied, property owner Northland manages the MC, which is under the 20-year Siemon/Mohawk warranty. Communications utilities, such as Cox and AT&T, will perform cross-connects for their own customers within the building.
Even after construction, the MC space has plenty of expansion capacity, with space for future applications. Empty 4-inch conduits with orange bushings are ready to feed south-facing retail space along Asylum Street as well as the adjacent interior Civic Center and shops facing Trumbull Street. Ladder racks line the walls, ready to support cabling from future racks and electronics supporting retail business, restaurants, offices, and nearby public gathering spots.
SHARON CARDINAL is copper product specialist with Mohawk (www.mohawk-cable.com).