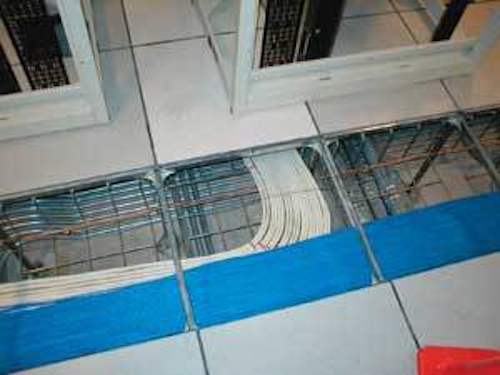 by Patrick McLaughlin
Whether cables run overhead, underfloor, or both, planners must pay attention to what else is running through a data center's spaces.
In this, the third installation of a year-long series of articles covering technical and business issues associated with structured cabling systems in data centers, we examine the considerations that go into the decision to run cables overhead or under a raised floor.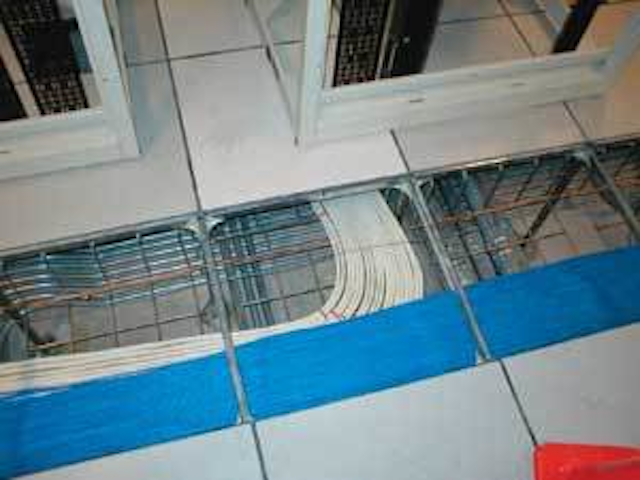 This image of cables running through the Snake Canyon shows the other systems around which communications cables must be conveyed, even when run under a raised floor.
Click here to enlarge image
While some of those considerations reflect trends that mark the current state of data center management, for many, the primary consideration is already shaping up as a trend in this series-thermal management. This month's article on overhead/underfloor cable conveyance will focus, to some extent, on thermal management. Last month's article ("Performance, workmanship play key roles in data centers," February 2007, p. 31) discussed the idea of proper cable management ensuring that cables do not inhibit airflow, which is critical to thermal management. And the article that kicked off the year-long series ("Cabling in the data center: Just a piece of the puzzle," January 2007, p. 37) on data centers included the following quote from Corning Cable Systems' (www.corningcablesystems.com) Alan Ugolini: "If you stacked up the issues that are important in a data center, cooling would be on top."
This month, the discussion begins with Roger Jette, president of Cable Management Solutions (www.snaketray.com), describing current trends affecting users' choices to convey cable above racks and cabinets or under a raised floor in data centers. "One of the driving factors has little to do with cable, but rather with thermal management," he begins. "Some data center managers want to keep the space underneath the floor reserved for massive amounts of air to help cool the data center. They run the cable overhead so nothing but air can run under the floor."
Adds Alan Green, partner with technology consulting firm Grid Associates (www.gridassociates.net), "That is especially true of bigger data centers, many of which run cable overhead because they don't want anything in the floors but air." The extent to which those floors are raised in large-scale data centers can be eye-opening as well, he says. "Three- to four-foot floor height is preferable," in extremely high-dense data centers, Green notes, adding that, typically, the only thing running underneath that highly raised floor is air.
"The upper echelon of data centers may use 3- or 3-½-foot raised floors," says Andy Chaloupka, business development manager with Panduit (www.panduit.com). "And they prefer to put no cable down there. One of their primary concerns is they don't want to put anything in the way of airflow."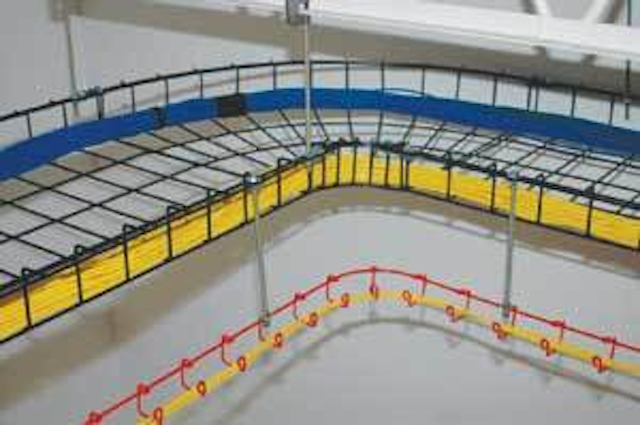 Cable Management Solutions' Mega Snake product line (the tray on top) is frequently used in overhead data-center applications, in large part because of its significant capacity.
Click here to enlarge image
Furthermore, from a practical standpoint, access often matters. "The pathway up above is generally more accessible than that beneath a floor," Chaloupka adds. "Routing cable overhead allows moves, adds, and changes during normal working hours. In many instances, getting access to underfloor systems can only happen after hours, and sometimes at a higher labor rate."
Design considerations
In 2005, Julie Roy, principal of C2 Consulting (www.csquaredconsulting.biz) and contributor to www.bcsreports.com, made a presentation at a BICSI conference about the Telecommunications Industry Association's TIA-942 standard covering data center infrastructure. In her presentation, she discussed considerations that should be made when cabling is placed either overhead or underfloor. Among those considerations are that a raised floor provides more flexible cooling options than does ducted air. Additionally, cabinets and racks should be arranged on raised floors to permit tiles along the front and rear of the racks/cabinets to be lifted.
She also pointed out that cable trays suspended from the ceiling provide more flexibility for supporting racks/cabinets of various heights, and for adding and removing cabinets and racks. As a good-practice recommendation, she also pointed out that cable trays can be installed with several layers; a three-layer system would include copper-based communications cable in the bottom layer, fiber-based communications cable in the middle layer, and power cable in the top layer.
"Going overhead requires more engineering, because you have to avoid things like fluorescent lighting and sprinkler systems," states Tony Lookabill, RCDD, national accounts manager for GS Metals' Flextray line of cable tray.
While thermal management is one consideration, Cable Management Solutions' Jette points out, "Management of the cable is highly critical. It is necessary to coordinate to get pathways into specific places, so coordination of all services is a key ingredient to successful conveyance."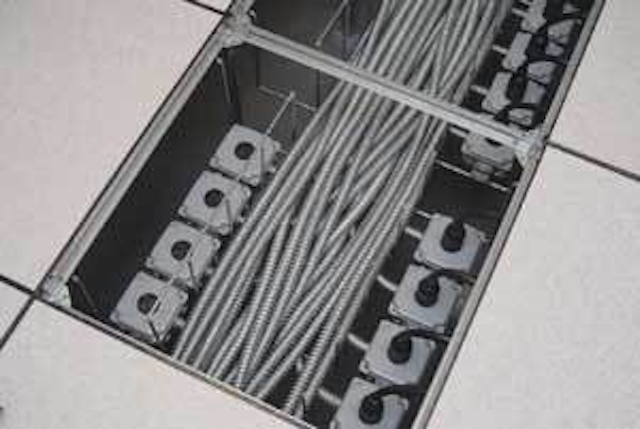 Power cables, like these running underfloor through Cable Management Solutions' Power Snake Canyon, should run in the data center's cold aisle.
Click here to enlarge image
Obstacles to cable conveyance can be anywhere and everywhere above a series of racks or enclosures, and as Jette further notes, thermal management can be an issue there as well: "I have been in data centers where active cooling componentry is above each tray, and in data centers where chillers are directly on top of enclosures." Such arrangements make for challenging designs of cable-conveyance equipment.
Inherited space
Another reality creating challenges in these environments is the types of buildings in which they reside. "Very often, a data-center user, such as a bank, will buy an old warehouse," notes Grid Associates' Green, adding that such spaces provide high ceilings that allow tall raised floors. But, he says, these environments can also present challenges because the structure was built without a data center's requirements in mind. "One client of ours bought a 300,000-square-foot warehouse, and the data center is going into a bolt-on," he explains. "Another data center is in an existing building, and there are all kinds of things to work around." These workarounds can be accomplished-and, in fact, are some of the tasks Green's company is hired to accomplish-but nonetheless they are a fact of life when cable is run overhead.
For some data center managers, visual appeal plays a role in deciding whether to go overhead or underfloor. "Some data centers are showplaces, where the owners might take customers or investors through," says Panduit's Chaloupka. "Many of them do not want anything above the cabinets for aesthetic reasons."
Other reasons can also push users to underfloor cabling. C2's Roy stated in her presentation that most standalone computer systems are designed for cabling from below. Jette adds, "In the current trends we're seeing, many users have one pathway for cable above cabinets and one path beneath the floor." Sometimes, he says, users run only power beneath the floor. Other times, both power and data cabling are beneath a raised floor.
When to go under
When data cabling does run underneath a raised floor, Chaloupka points out, "it is important to keep cables in close proximity to inlets going into the racks," he says, "in order to protect and support cables transitioning up into a cabinet or rack."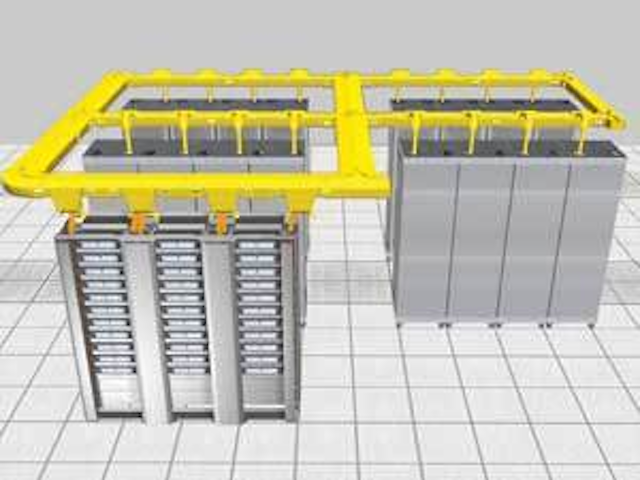 Panduit's Fiber Runner system is appropriate for both fiber-optic and high-end copper cabling systems. Among the system's benefits in data centers are easy access, bend-radius control, cable-management capability, and the lay-in trough system's allowance for technicians to minimize or eliminate the need to bundle cable.
Click here to enlarge image
"When you run cable underfloor, it is important to get the cable as high off the floor and as close to the floor as possible," notes GS Metals' Lookabill, noting that doing so allows for the maximum amount of airflow possible to run under the raised floor. He adds that everything run under a floor, including power cables in the data center's cold aisles, should be in a tray system up off the floor. "If possible, the different cable types can run in different tray systems," Lookabill says.
An absolute-must in these situations is to run underfloor cable-support structures in the hot aisles of hot-aisle/cold-aisle setups. By doing so, any heat generated by cables will not adversely affect the cold air flowing through the cold aisle. Likewise, when access to the cable is necessary, lifting a tile to gain access will not disrupt the flow of cold air in the cold aisle.
As is the case with overhead conveyance, underfloor cable pathways require coordination with other trades. While the ideal situation might be for nothing else other than cold air running beneath a raised floor, in reality, the pathways for other utilities frequently reside there as well.
When data center managers get the opportunity to decide whether to establish cable pathways overhead or underfloor, they must take several factors into consideration, from building structure to thermal-management needs and aesthetics. The issues are many and can conflict with one another. Regardless of the method used, and even if both areas are designated for cable pathways, having to effectively working around other data center services is a virtual guarantee.
PATRICK McLAUGHLIN is chief editor of Cabling Installation & Maintenance.