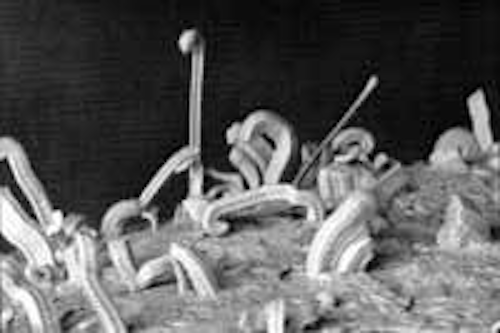 by Betsy Ziobron
Amid new and pending environmental legislation in the United States and abroad, most cabling vendors have overcome challenges to offer 100% RoHS-compliant products.
When CI&M first reported on the RoHS (Restriction of Hazardous Substances) initiative (see "Get Ready for Green Initiatives from All Corners," January 2006, p. 42), many cabling vendors were in the early stages of changing raw materials to meet RoHS requirements, and few were well on their way to 100% compliance.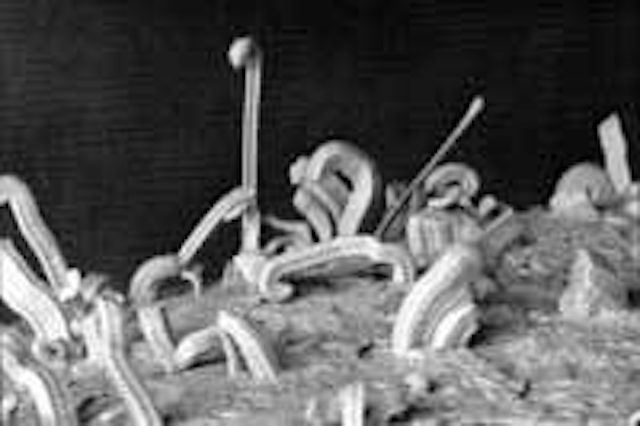 These microscopic tin whiskers, caused when pure tin rather than a tin-lead combination is used in circuitry, can cause short circuits.
Click here to enlarge image
Now, more than a year later, concern for the environment is at the forefront of many industry objectives, and "green" initiatives are emerging in all corners of the globe.
Changes in attitudes
RoHS is the European Union (EU) directive (2002/95/EC) that went into effect on July 1, 2006 and required cabling vendors throughout the industry to restrict levels of lead, cadmium, mercury, hexavalent chromium, and two fire retardants in electrical and electronic products entering the European market.
In late 2005, cabling vendors were being bombarded daily with RoHS concerns from customers while dealing with the logistical nightmare of information management, determining which products to convert, changing manufacturing processes to comply, and retesting and recertifying the new products. Two years ago, the prevailing attitude was that there was little motivation for making RoHS-compliant versions of products that were not big sellers. Today, that attitude has changed.
"While RoHS is not a U.S. initiative, we knew that it was something that our factories abroad would have to abide by," says Todd Harpel, director of marketing for cable manufacturer Berk-Tek (www.berktek.com). "We, therefore, felt it was beneficial for us to also comply here in the States. As a result, we undertook the effort of identifying what materials needed to be changed in all of our manufacturing facilities, and we are now 100% RoHS-compliant on all copper and fiber cables."
Now that dollars have been spent on compliance, most manufacturers believe it makes more sense to make and sell RoHS-compliant products exclusively versus maintaining two separate versions.
"Carrying multiple lines of any specific product increases the risk for selling the wrong product, and it would take a lot of logistics to keep track of compliant and non-compliant versions," says Mike Barnick, senior manager for solutions marketing at SYSTIMAX (www.systimax.com). "Also, when you sell through distribution, there's no way of really knowing where something is going to end up."
Exemptions undeniably have been the most debatable RoHS issue due to the directive's generic and often confusing language, not to mention the appealing possibility of avoiding immediate compliance. Consequently, several proposed exemptions are under review or pending review by the EU Commission. When RoHS first came on the scene, some in the cabling industry believed the term "equipment" did not apply to network cabling, and that cabling was a "fixed installation" and, therefore, exempt. That perception has also shifted among cabling vendors.
New view on exemptions
"In the beginning, some were under the impression that the cabling in the walls did not have to be compliant, but I believe that perhaps the cost to comply did not turn out as high as initially thought," says Barnick. "I also believe there is peer pressure. Once some become compliant, it becomes the thing to do, and vendors had to decide whether they were going to get in the game."
Says Chuck Schumacher, corporate RoHS and WEEE (Waste Electrical and Electronic Equipment) compliance program manager for Panduit (www.panduit.com), "Since the beginning, our position on exemptions has been that they are temporary provisions of the law that allow companies to sell existing stock and provide some time to modify manufacturing processes. Our goal was to be 100% compliant without taking advantage of any exemptions because the exemptions will eventually go away."
According to the RoHS directive, exemptions will be reviewed at least every four years, with the goal of eventually eliminating those exemptions unless there is no proven alternative technology. Some RoHS exemptions have been clearly stated and are likely to remain, such as equipment used for national security applications and the 4% lead by weight found in today's copper alloy.
"There have been studies that show lead-free processes to not be as reliable, and that is why military, nuclear medicine, and other critical applications are exempt from that requirement," says Dave Sauder, director of corporate quality for ADC (www.adc.com). "We interpreted the RoHS directive to require pretty much everything we make to be compliant with no exemptions; except, of course, the copper exemption. We use a lot of copper, and you just can't buy it without 4% lead-it's what makes copper machineable."
Seen and unseen differences
According to Berk-Tek's Harpel, RoHS compliance was an invisible change to the customer because the form and function of the products were not altered. While that is the consensus among vendors, some chose to change their part numbers while others did not.
"We didn't feel the need to change part numbers," says Harpel. "We keep an eye on inventory and estimated that the likelihood of having non-compliant product in distribution inventory at the July 1 deadline was very small." To ensure that non-compliant product was not sold into the European market, Berk-Tek date-coded all products and stamped them with the RoHS designation.
In response to a request from the National Electronic Distributors Association (NEDA; www.neda.org), some vendors did change part numbers. "It was made clear by OEMs and the supply chain that a part number change was essential so that there would be absolutely no confusion as to whether or not a product is compliant," says Bernie Westapher, group vice president of marketing services for Panduit. "Stock is all over the world in various forms of compliance and non-compliance, and it's very difficult for distributors to know what they're selling when part numbers don't change."
While all agree that the change to RoHS is virtually invisible to customers, no one can deny that to comply with RoHS, something had to change in the composition of cables and connecting hardware. "There are basically two things that have to be taken into consideration with RoHS: The polymers and the metals," says Panduit's Schumacher. "With cable, the jacket and insulation materials involve PVC and other polymer materials, and in many cases, there were lead stabilizers that had to be replaced. With connectivity, the biggest challenge was replacing some of the metals used in platings and solder."
According to ADC's Sauder, the abundant use of cadmium plating in connectivity had to be eliminated. "Cadmium has a lot of nice features that make products very easy to work with," he explains. "Not only does it provide corrosion resistance, but when added to the plating of connectors, it provides a slight lubricating property for fasteners." Sauder says that while, to date, there has been no material found to replace the lubricating properties of cadmium, ADC was able to switch its fastening strategy to ensure fasteners had their own lubrication prior to use.
The change in raw materials and substances causes a chain reaction throughout the entire manufacturing process. "The majority of the components in our cable products have always been compliant; however, a few constructions required raw-material manufacturers to formulate to lead-free alternatives," says Jim Crompton, director of product management with the AMP Netconnect division of Tyco Electronics (www.ampnetconnect.com). "It's not like you can just empty the hopper of one material and pour in the other. When you change the raw material, it's a total re-evaluation of the product. For example, changing a cable jacket formula can change the product's burn-performance characteristics, which requires requalifying with UL for NFPA 262 or ANSI/UL 1666 compliance."
According to Crompton, working with suppliers to reformulate to RoHS compliance also gave AMP Netconnect the opportunity to review and enhance performance wherever possible.
Not without challenge
"One of the biggest impacts is change itself," says Westapher of Panduit. "If you change how you manufacture a product for any reason, there are entire systems involved-quality systems, computer systems, bills of material-the list goes on and on. Change has to be managed carefully, and in today's complex and global processes, every aspect has to be reviewed and addressed, which is a significant cost to manufacturers."
In addition to the challenging logistics and cost to become RoHS-compliant, vendors have also faced technical challenges. For example, RoHS requires replacement for the tin-lead coatings used on many lead frames and printed circuit boards, but pure tin is susceptible to the formation of tiny whiskers. (See photos, page 15.)
"Lead suppresses tin-whisker growth, and there have been some high-profile examples where moving to a lead-free solder caused the tin to grow tiny whiskers that can reach lengths long enough to cause an electrical short in tightly spaced circuitry," explains ADC's Sauder.
With the tin-whiskering effect, space between adjacent circuitry, plating process control, and good design practices can be critical. "The risk from whiskers for our product family is very small," says Tyco Electronics' Crompton. "We use the best known whisker management practices to design our products, and we've conducted extensive testing of tin-plating chemistries. For AMP Netconnect, it's more about having a solid solder joint, which depends on making sure you achieve proper wetting and good hole fills with the higher temperatures of the no-lead process."
While not completely whisker-free, matte tin finish has shown significant reduced whisker formation and has become the finish of choice among many vendors.
Aside from tin-lead whiskering, cable and connectivity manufacturers have also had to retest all products for performance and safety requirements per standards, such as Underwriters Laboratories fire-retardancy requirements. Meeting the standards requirements was not overly difficult for vendors, but finding an orange colorant without cadmium was not as easy.
"Any time you change something in the insulation of a conductor, it changes the electrical properties," says Berk-Tek's Harpel. "To find a new orange colorant that allowed us to continue meeting electrical performance on the orange pair was honestly the most difficult challenge we faced. The other colorants were easy to replace." According to Harpel, there is a slight hue change from the original orange color, but it is so subtle that most don't notice it.
Affecting the homeland
Because most cabling vendors have switched their product lines to be RoHS-compliant without maintaining non-compliant versions, other countries, including the U.S., are reaping the benefits. In other words, the U.S. has become compliant only because of the EU's directive.
"We no longer carry non-compliant products or components," says SYSTIMAX's Barnick. "If we can be environmentally friendly after spending the money to reformulate and get to a RoHS-compliant state while still maintaining excellent performance characteristics, then that's where we are, and we're better for it. Why go back? In the long run, we have finite resources; we only have so much water, air, and land. We can't continue to abuse it."
Most agree that RoHS legislation is imminent in the U.S. "As more states enact their own limited form of RoHS, I believe that the impact on state-to-state commerce will cause the issue to be forced up to the federal level," says ADC's Sauder. "In my opinion, the EPA [Environmental Protection Agency] would be smart to get ahead of the curve and adopt something similar to the European and China RoHS for the entire nation."
Panduit's Westapher agrees: "What the world doesn't need is a different RoHS. It's common logic that we need a global standard, otherwise manufacturers would have to go through everything we've been through all over again. Our hope, expectation, and communication are that one standard is imperative."
BETSY ZIOBRON is a freelance writer and regular contributor to Cabling Installation & Maintenance. She can be reached at: bziobron@comcast.net
---

Latest RoHS initiatives

Following in the footsteps of the 2006 RoHS directive are several recent environmental initiatives affecting the electrical and electronics industry. REACH-Registration, Evaluation and Authorization of Chemicals-was published at the end of 2006 and enters into force on June 1. REACH will require manufacturers and importers to gather and report information on the properties of their substances so that consumers can find information on hazardous chemicals used in the products they purchase.
China has taken a different approach to RoHS that goes into effect this month. Unlike the EU, China RoHS requires every electrical and electronic product to be labeled with hazardous substance levels and a "safe use" period, which indicates the number of years that environmental protection is required for the product. The directive also calls for mandatory testing of all electronic products in one of China's certified testing facilities before they can receive government compliance certification.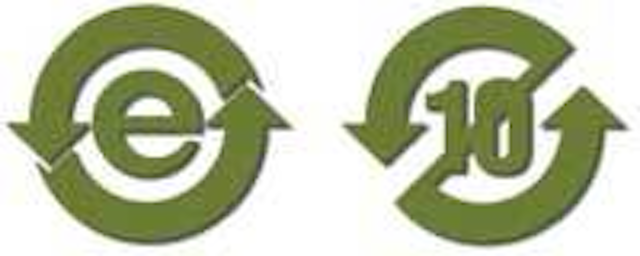 The pollution control mark (left) is required under China RoHS on product packaging when no toxic substances are present, meaning that the product is recyclable. The second mark (right) is used when the product contains toxic substances. The number in the middle represents the number of years environmental protection required for the product.
Click here to enlarge image
For now, any product can be sold into China as long as it is properly labeled; however, a catalog of products that China plans to publish this year will eventually list all products required to meet RoHS hazardous substance levels.
Closer to home, several states like California continue to draft and adopt legislation, and NEMA made a recent environmental pledge with their "call to action" on restricted substances. Under phase one of the plan, all NEMA companies that manufacture products within the scope of the EU's RoHS will be required to meet RoHS compliance in all markets worldwide by July 1, 2010. Phase two calls for NEMA members to restrict hazardous substances for nearly all other NEMA products by July 1, 2014.
"With China RoHS a reality and the many other initiatives on the horizon, our RoHS team is still quite active," says Panduit's Bernie Westapher. "We have a group that maintains vigilance on environmental regulations worldwide so that we can take immediate action to comply when it's relevant to our product lines. At this point, I don't believe any company could say that they're done dealing with these initiatives or know when they will be done."-BZ