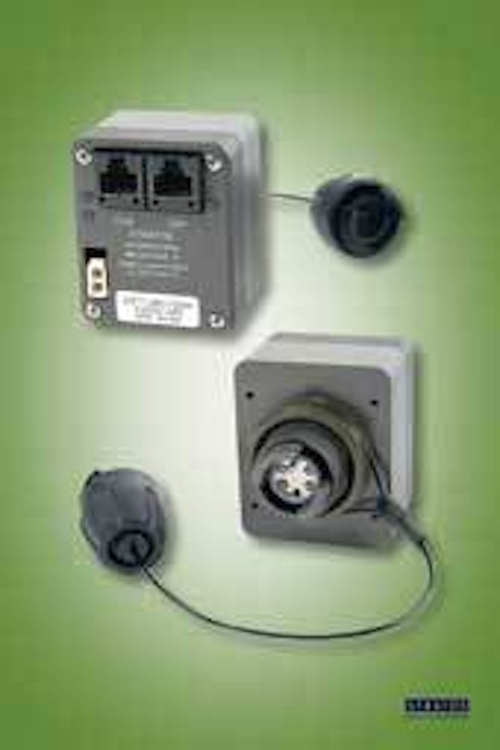 Dual media converter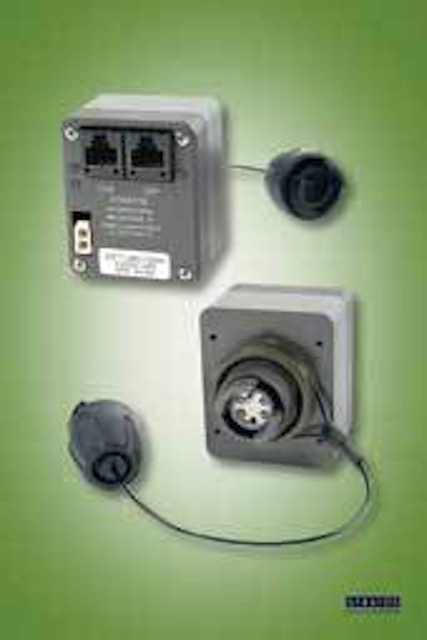 Click here to enlarge image
This dual-channel media device converts T-1 data rates to fiber-optic cable. Integrating into the backshell of an HMA Expanded Beam bulkhead connector, the Dual T1 Media Converter is designed for tactical communication applications, and is now in use by the military. The converter combines RJ-45 interconnected T-1 data with fiber-optic HMA Expanded Beam technology, providing dual 1.544 Mbits/sec data rate media conversion from copper to fiber and back. The compact converter eliminates the need for a separate fiber modem, is designed to provide a lighter weight solution, and is built to save valuable shelf space in military communications vehicles. The converter also provides protection from EMI and signal detectability. The HMA version of Expanded Beam technology includes an optical lens system that provides immunity from water, mud, dust, oil, and other contaminants that can damage the fiber endface.
STRATOS OPTICAL TECHNOLOGIES
www.stratoslightwave.com
Coax for WLAN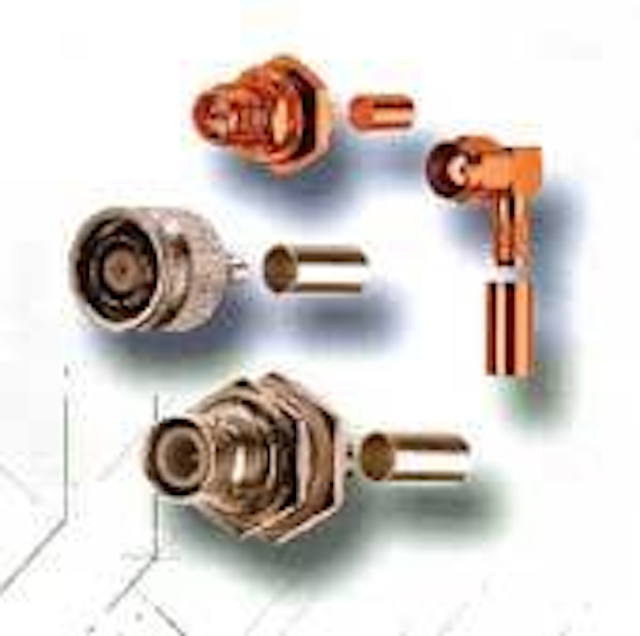 Click here to enlarge image
RF coaxial connectors from the company's N, TNC, and SMA Series are designed to connect antennas, access points, and circuit cards to wireless LANs (WLAN). To prevent incorrect or improper components from being connected, these devices offer reverse polarity protection. The standard-sized cable plug contains a female center contact, while the mating receptacle contains a non-standard male center contact.
TELEGARTNER INC.
www.telegartner.com
Angled Cat 6A, 7 panel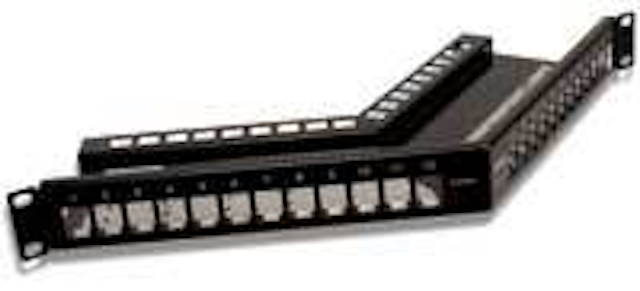 Click here to enlarge image
An angled version of the company's TERA-MAX modular patch panel is designed to support Category 6A 10G 6A F/UTP (screened) and Category 7 (shielded) TERA solutions. According to the company, the panel's 1U, 24-port configuration allows patch cords to be routed directly into vertical cable managers, eliminating additional horizontal cable managers, and is designed to automatically connect patch cord modules to the panel's integrated ground bar.
SIEMON
www.siemon.com
Automatic transfer PDU

Click here to enlarge image
Four of the company's eight new metered power distribution units (PDU) include dual-power inputs with automatic transfer switch (ATS) functionality, with two of the four adding IP-based remote monitoring and control. Supporting 19-inch rack, wall-mount, raceway, workbench, and under-counter installation, these metered PDUs are suited for powering multiple equipment loads in networking, audio/video, security, industrial, and data center applications.
TRIPP LITE
www.tripplite.com
Industrial cabling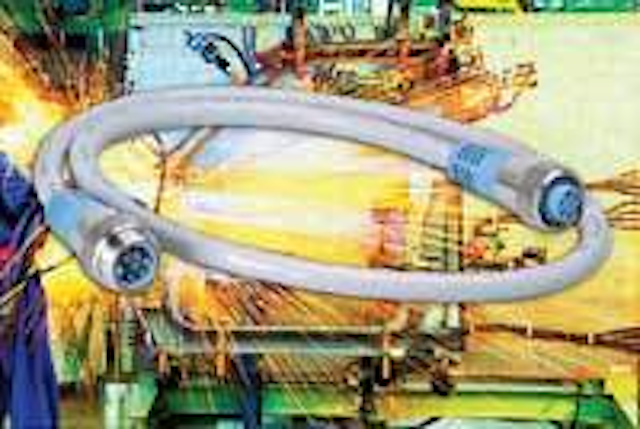 Click here to enlarge image
Built for industrial installations where weld sparks and slag accumulation are common, DeviceNet cables are now available with thermoplastic elastomer (TPE) jackets, able to withstand up to two million cycles of continuous bending, flexing, and twisting. The cables are available with eurofast thin or 7/18-16UN minifast mid or thick variations, and with stainless steel or nickel-plated brass coupling nuts.
TURCK
www.turck.com
Test kit access card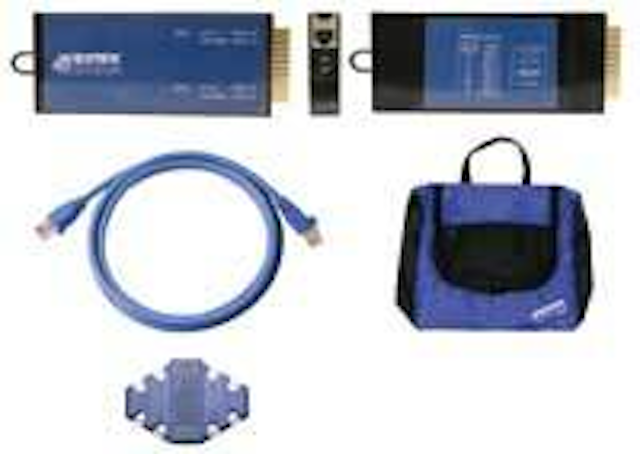 Click here to enlarge image
The Repeater Access Card plugs into T-1, 56 KB, HDSL, and ISDN apparatus cases for easy access to wiring via an RJ-45 port. Plug the Access Card into mini T-1 slots to verify wiring and perform cable loss testing. The kit includes access cords and an eight-position modular tester.
WESTEK ELECTRONICS
www.westek.com
Electro-optical assembly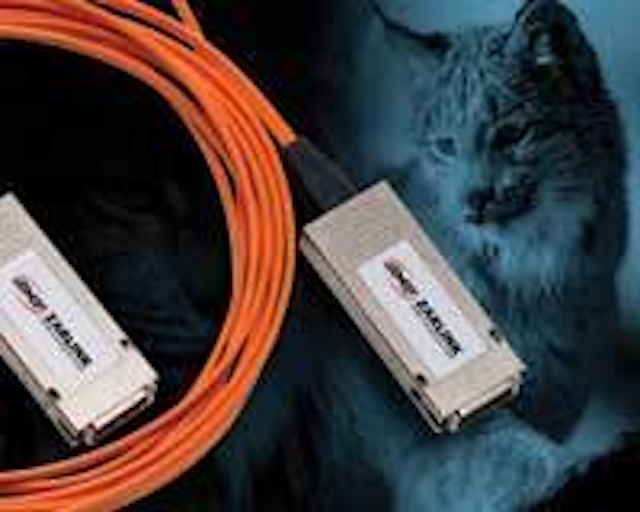 Click here to enlarge image
ZLynx fiber-optic cables with integrated electrical-optical-electrical (EOE) assemblies are designed to drive interconnect reach in the data center 10x further than copper while eliminating weight, interference, and flexibility concerns as the data center expands. ZLynx is capable of 20 Gbits/sec transmission in both directions, and 5 Gbits/sec duplex 4-channel data transmission, for distances up to 100 meters. The optical cable uses 3.3 volts supplied directly from the electrical port connector, with typical power consumption at 1 watt per connector. Currently sampling, with general availability expected this quarter, ZLynx targets InfiniBand DDR at 4 x 5 Gbits/sec per channel and 10-Gbit Ethernet XAUI at 4 x 3.125 Gbits/sec applications.
ZARLINK SEMICONDUCTOR
www.zarlink.com
Cable tie remover
Click here to enlarge image
This hand tool is designed to safely remove cable ties and plastic strapping. Smooth safety guards provide added protection as they slide behind the strap to prevent the sharp blades from contacting bundled items. The tool features an ergonomic cushion grip and an auto-return spring action.
ACT FASTENING SOLUTIONS
www.actfs.com
Steel conduit coupler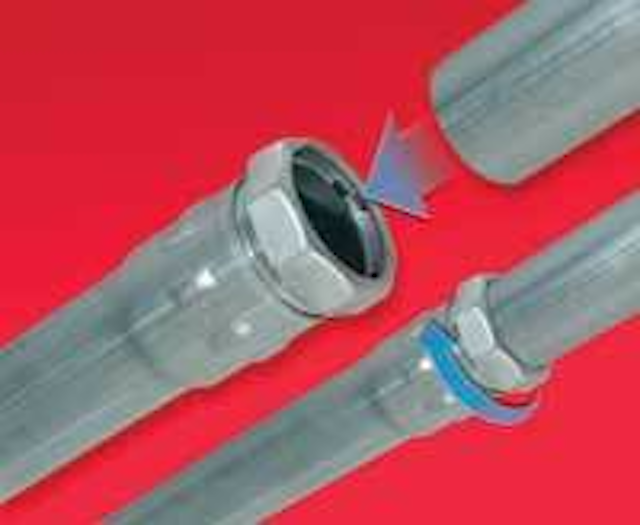 Click here to enlarge image
The Kwik-Fit compression EMT has an integrated steel compression coupling designed to significantly reduce installation time and eliminate the need to purchase/store separate couplings. The all-steel Kwik-Fit requires only one gland nut to be tightened, and a proprietary hot galvanizing process is designed to protect the EMT with a triple-sealed compatible organic layer to inhibit white rust and increase corrosion resistance. The inside is protected with a proprietary coating designed to ease wire and cable pulling.
ALLIED TUBE AND CONDUIT
www.alliedeg.com
Direct-buried cable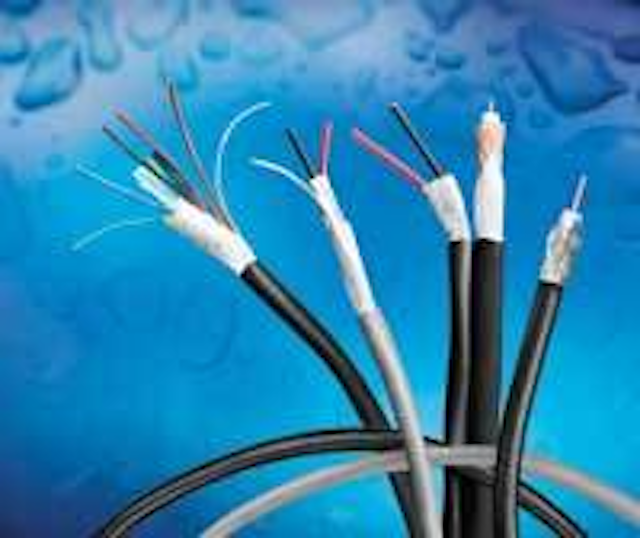 Click here to enlarge image
Designed to be installed inside or out, and above or below ground, Waterdog cables are suitable for interbuilding connection of management services, such as remote surveillance and indoor security monitoring applications. This line of cables includes paired, multi-conductor, an d coaxial versions designed to meet water-resistant standards set by UL 444, UL 13, and the TIA-455-82B Water Filtration Test.
BELDEN
www.belden.com
Thru-panel terminal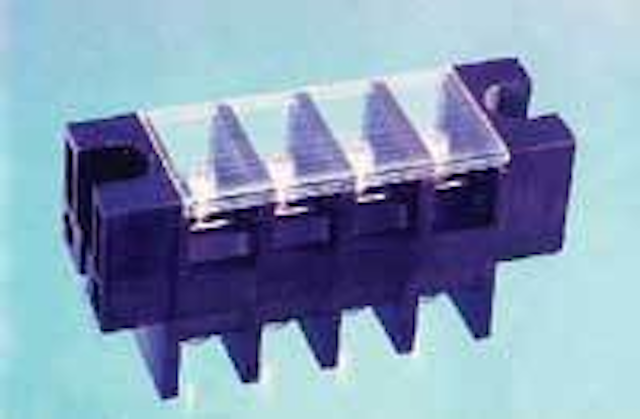 Click here to enlarge image
Providing a current-carrying capacity of 60 amps at 600 volts, the Series OTB-357 terminal block is suitable for motor control, power supply, and power distribution design. It accepts wires from 3 to 10 AWG, andincludes a snap cover for safety. Terminals are nickel-plated brass while housing is a black PBT plastic. Offering 2 to 15 positions with 16-mm spacing, these terminal blocks are UL- and CUL-recognized.
BLOCKMASTER ELECTRONICS
www.blockmaster.com
Snap-in bundlers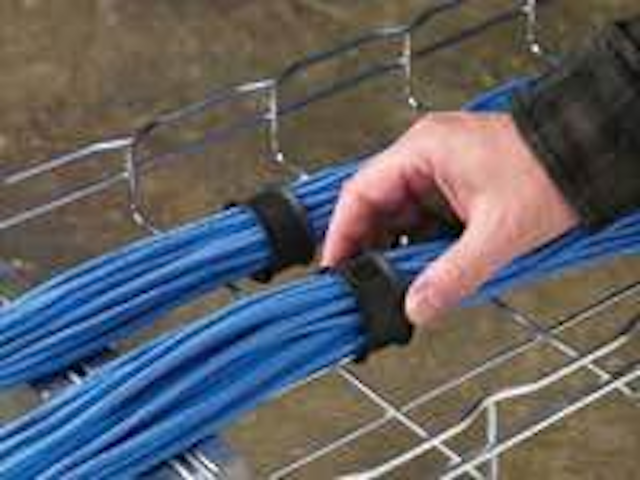 Click here to enlarge image
Cablo Snap secures cable bundles to wire cable tray, eliminating over-tightened cable ties. An extra-wide, flared design helps eliminate pinched data cables that can hinder signal delivery. To install, snap over cables and squeeze to the desired pressure. Built-in "teeth" lock Cablo Snap into place. To add or remove cables, simply squeeze, then squeeze again to lock new cables in place. Available in four sizes to accommodate cable bundles from .50- to 2-inches, Cablo Snap is UL-listed and, according to the company, meets TIA/EIA requirements.
CABLOFIL
www.cablofil.com
Adjustable racks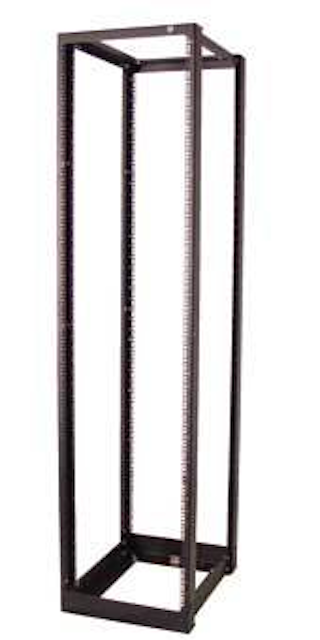 Click here to enlarge image
Available in four heights and four depths, the adjustable ServerRack and Quadra Rack feature integrated grounding and bonding, such as ground terminal block and antioxidant joint compound. Designed for secure structural support to organize and store IT infrastructure equipment, these rack systems can support up to 2,000 pounds in an open 4-post frame. To match equipment-mounting requirements, the front-to-rear mounting channels can be adjusted in .98-inch increments, up to 5.91 inches for each depth range. Accessories include solid and vented shelves, equipment support rails, and cable runway mounting bracket.
CHATSWORTH PRODUCTS
www.chatsworth.com
Low-loss plug-and-play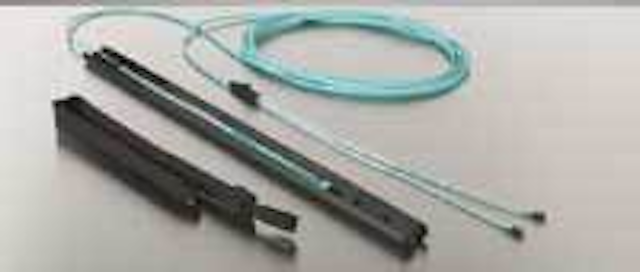 Click here to enlarge image
With a maximum module loss of 0.5 dB and a total system link loss of 1.0 dB, the Plug & Play Universal System is designed to meet 10-Gbit performance demands. These pre-terminated optical-fiber cabling systems are built to streamline the process of deploying an optical network infrastructure, particularly in data center applications. The system consists of modules, trunks and extender trunks, harnesses and jumpers. According to the company, since the Universal System has no special polarity components, it avoids polarity problems caused by incorrect placement of modules and jumpers.
CORNING CABLE SYSTEMS
www.corningcablesystems.com
Wall-mountable housing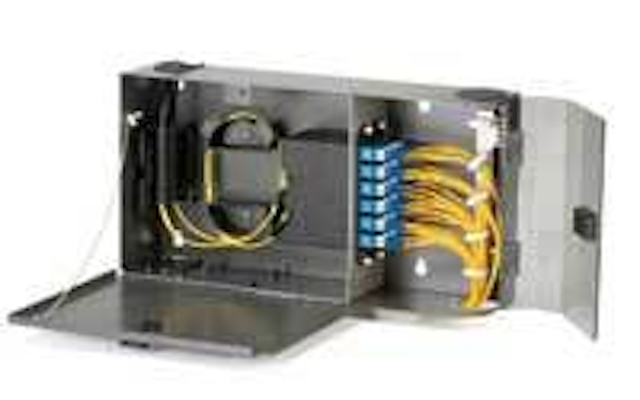 Click here to enlarge image
The Pretium wall-mountable connector housing family provides interconnect or cross-connect capabilities between the outside plant, riser or distribution cables, and the optoelectronics. The housing can be mounted in main cross-connects or telecommunications rooms, are available with two, four, six, or 12 panels, and are suitable for loose-tube and tight-buffered fiber-optic cables. The cabinet contains jumper routing guides and a jumper strain relief point, as well as an optional field-installable lock kit.
CORNING CABLE SYSTEMS
www.corningcablesystems.com
Bend-resistant fiber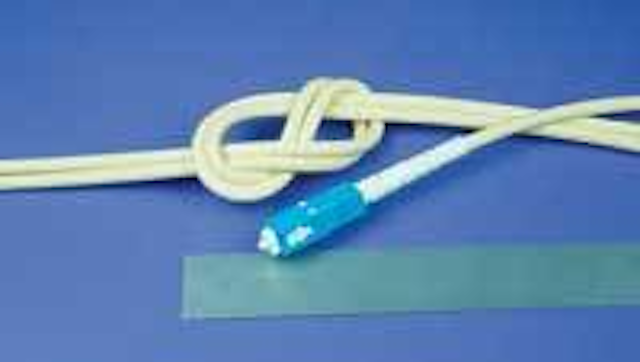 Click here to enlarge image
FutureGuide SR7.5 is a bend-resistant fiber with a minimum bend radius of 7.5 mm. Available in a MageTsuyo SR7.5 patch cord, the flexible fiber is designed to return to its original condition after being twisted or bent. Applications include high-bandwidth communication installations for home or office. With an outer diameter of 4 mm, the flexible fiber patch cord is built to withstand tension of up to 68.5N and lateral pressure of up to 1200N/25 mm.
FUJIKURA EUROPE LTD.
www.fujikura.co.uk
Visual fault locator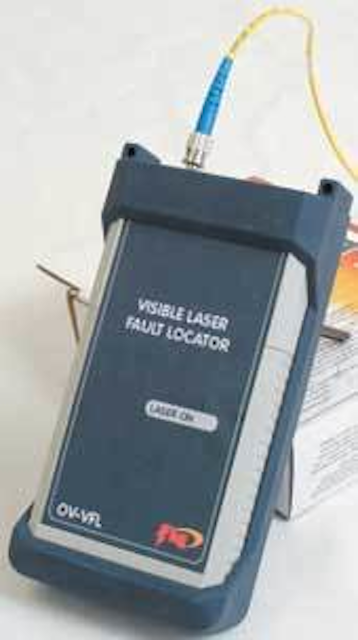 Click here to enlarge image
An MTRJ version of the company's visual fault locator includes a 1-mW fiber-coupled laser that produces 650-nm visible red light for improved detection of breaks or excessive bends in fiber-optic cable. The device is built for singlemode and multimode applications, and includes a holster and AA batteries.
FIBER INSTRUMENT SALES
www.fiberinstrumentsales.com
Test/measurement tools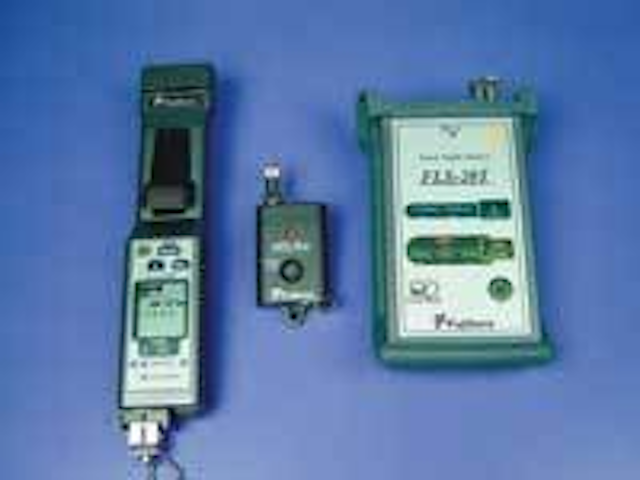 Click here to enlarge image
The FLS-20T is a hand-held, battery-operated dual laser light source with protective rubber boot, and is designed to be used in conjunction with an optical power meter to measure optical power loss over a fiber network. The unit can operate in 1310- and 1550-nm wavelengths, and can incorporate selectable modes of signal from continuous wave light as well as from modulated tones of 270 Hz, 1 KHz, and 2 KHz. In addition, the FVI-01 is a miniature, key ring-size, battery-operated red laser light source that lets you identify faults, bends, breaks and low-quality splices or connections. Also, the FID-20R fiber identifier is a hand-held, battery-operated accessory with an integrated power meter for detecting mode signal and modulated tones from a laser light source.
FUJIKURA EUROPE LTD.
www.fujikura.co.uk
Print-and-apply labels
Click here to enlarge image
The SwiftMark label printer and applications prints labels and then automatically applies them to a cable. Cables ranging from .06 to .75 inches in diameter can be placed in the printer, and then labeled and wrapped in four seconds or less. Label data can be transferred from a PC to SwiftMark via USB, serial or parallel port, or SD memory card. The thermal-transfer printer uses self-laminating adhesive labels. According to the company, SwiftMark can apply labels to within a half-inch of the end of a cable or connector.
HELLERMANNTYTON
www.hellermann.tyton.com
PoE midspan
Click here to enlarge image
This line of upgraded Power over Ethernet (PoE) midspans is designed to provide safe power over standard Ethernet cabling to existing 10/100Base-T network devices and emerging Gigabit devices (6- and 24-port only). Available in 1-, 6-, and 24-port options, these midspans automatically detect 802.3af-capable powered devices, such as VoIP phones, WAPs, and IP video cameras, and clocks, without the need for an external power supply. The 6- and 24-port versions provide advanced power management and secure remote management, including a built-in 128-bit secure SSL Web management tool.
LEVITON VOICE & DATA
www.levitonvoicedata.com
Midspan for WLAN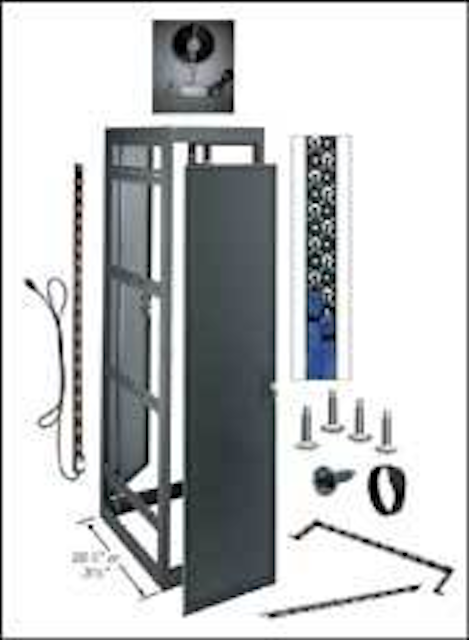 Click here to enlarge image
A single-port gigabit Power over Ethernet (PoE) midspan is designed to eliminate the need for external power supplies at remotely deployed WLAN access points and other low-density networks having 10/100/1000Base-T Ethernet-connected devices. The PowerDsine 3001G offers a proprietary interlocking feature that lets you scale WLAN deployments by linking multiple one-port midspans as new devices are added to the network. According to the company, this feature means you no longer must deal with conventional single-port power injector solutions that do not interlock and that can result in entanglement of wires as new devices are added. The unit is compliant with the IEEE 802.3af PoE standard, and is built to provide remote power to either 802.3af-compliant or pre-standard devices.
MICROSEMI CORP.
www.powerdsine.com
Configured enclosure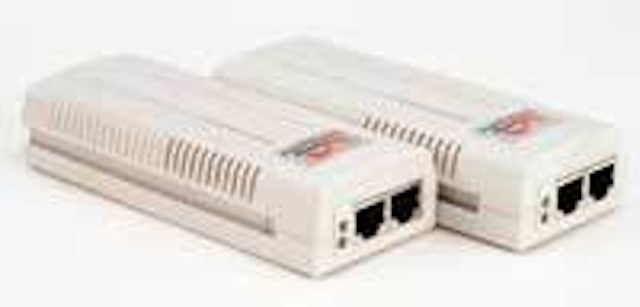 Click here to enlarge image
Designed to save on cost, freight, and labor, Configured AV Enclosures are pre-configured with the company's most commonly requested thermal, cable, and power management solutions. Available as an MRK gangable or ERK stand-alone, the enclosures are built with an integrated fan top and rear door bottom vent, a variety of cable management bars, strips, and straps, and a 20-amp/20-outlet power strip or two 10-amp/10-outlet strips.
MIDDLE ATLANTIC PRODUCTS
www.middleatlantic.com
Automation cabling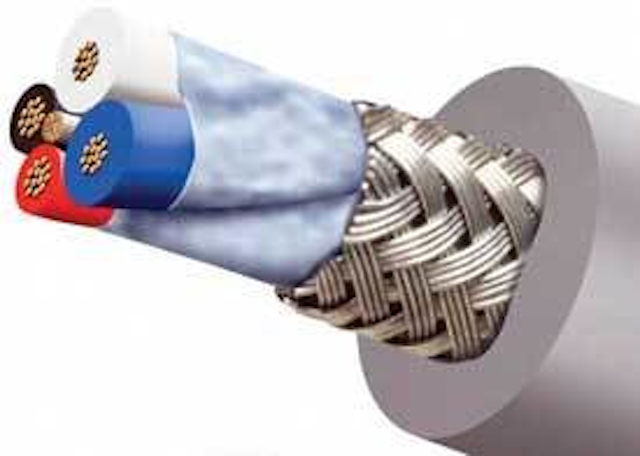 Click here to enlarge image
DataCELL FIELD ODVA DeviceNet cable is designed for industrial applications where networked discrete automation and control is required. Featuring a PVC jacket that is resistant to oil, light, and water, these cables are available in: ODVA-compliant thick (600 volts rated), which exceeds CL2 and CL3 per NEC 725.61; thin (300 volts rated); and special PLTC (power limited tray cable) thin, designed with 22-AWG data pair.
NORTHWIRE
www.northwire.com/odva1
10-GbE system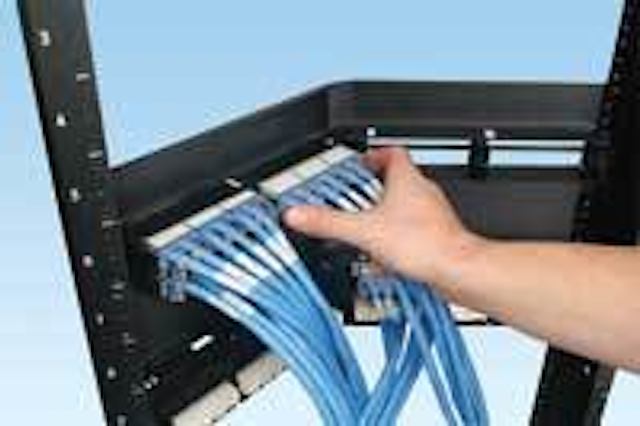 Click here to enlarge image
The QuickNet copper cabling system provides a custom, pre-terminated solution designed for fast installation in many structured cabling situations. Factory-tested cable assemblies in custom lengths and configurations include cassettes, jack modules and/or plug termination with UTP cable for Category 6 applications, or UTP/STP cable for 10GBase-T applications. Cassettes snap in and out of angled and flat modular patch panels. The system is backed by the company's 25-year warranty for guaranteed performance compliance.
PANDUIT
www.panduit.com
Vertical lacer strips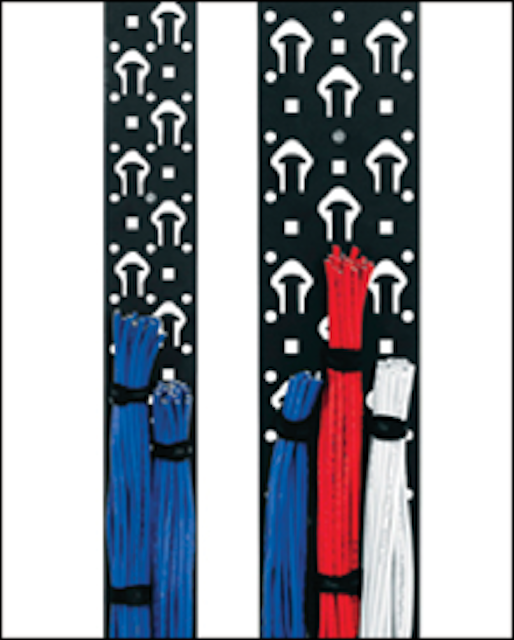 Click here to enlarge image
These vertical lacer strips are designed to eliminate fishing in cable ties, providing a large number of tie points for organizing and arranging cable runs of any size within a fully integrated enclosure system. The strips accept Velcro-style cable ties, and are available in 3.25- and 4-inch widths plus a variety of heights.
MIDDLE ATLANTIC PRODUCTS
www.middleatlantic.com
Thermal transfer printer
The Cougar LS9 hand-held thermal transfer printer, for electrical and telecommunications installation and maintenance, prints on a wide variety of continuous industrial label materials. P1 label cassettes contain an integrated memory device for automatic formatting, recall of last legend used, and number of labels remaining.
PANDUIT
www.panduit.com
Cable-routing seal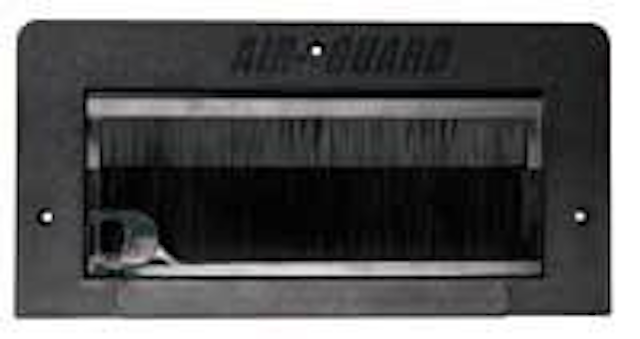 Click here to enlarge image
The Air Guard cable seal is designed to help prevent air loss in plenum-cooled floors when access holes are required for cable routing. A removable back brush is designed to simplify cable installation and relocation, seals cable openings, and prevents underfloor contamination. Floor tiles can be removed without having to disconnect equipment, and large connectors can be run through a smaller opening size. Air Guard, which can be installed in any location on the floor panel, also helps prevent data center equipment from overheating by improving static pressure to cool the equipment. Mounting hardware and a cutout template are provided, while an optional safety cover provides a solid surface for increased durability when the unit is not housing cables.
PDU CABLES
www.pducables.com
Large format monitor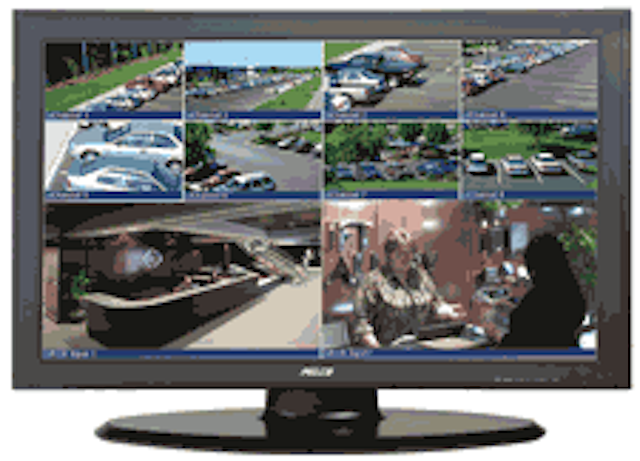 Click here to enlarge image
The 500 and 600 Series large format monitors are designed to maximize space and viewing area for security installations. According to the company, the 500 Series thin-profile LCD features low energy consumption, long life cycle with no burn-in, and high-definition (HD) image quality. Models range from 23 to 42 inches wide. The 600 Series Plasma monitor is designed to provide HD image quality, color reproduction and detail, plus wide viewing angles. It features pixel-shifting technology, which optimizes display life when used to view static images. Screen sizes are available in 42-, 50- and 60-inches.
PELCO
www.pelco.com
FTTx closures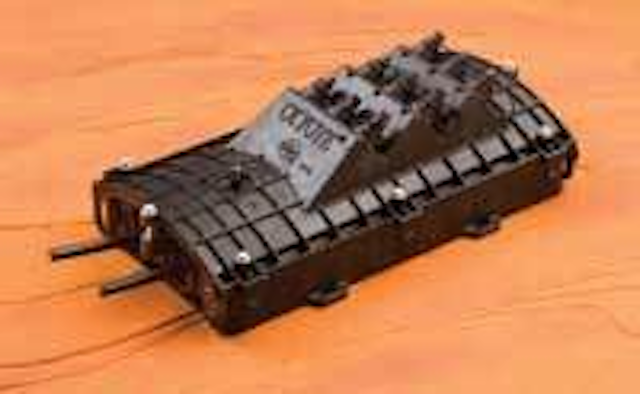 Click here to enlarge image
Coyote terminal closures are designed for splicing into distribution cable and making drop cable connections in FTTx applications. A single-chamber version features a single standard hinged cover incorporating up to nine hardened adapters. Once the pigtails from the adapters are spliced to the cable, drop cable connections can be made without opening the hermetically sealed compartment. The dual-chamber version features dual-hinged covers with separate compartments for distribution cable splicing and for drop-cable installation, with a drop chamber accommodating up to 16 drop cables. The dual version can also be configured with up to 18 hardened adapters.
PREFORMED LINE PRODUCTS
www.preformed.com
Reusable label dispenser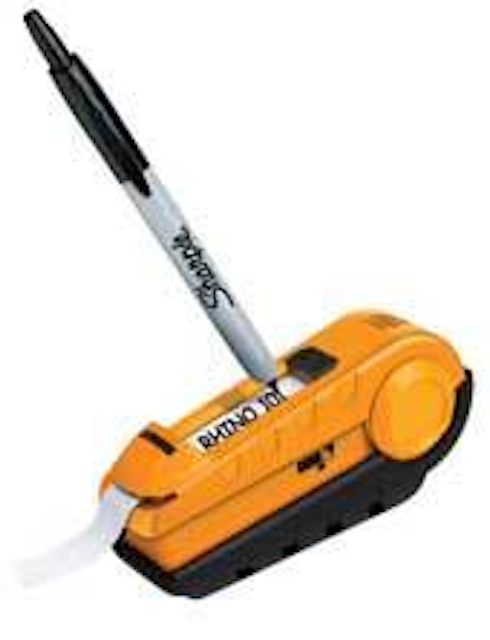 Click here to enlarge image
Combining a retractable Sharpie permanent marker with the company's line of durable labels, the RHINO 101 reusable label dispenser is a hand-held device that combines tape, pen, writing surface and cutter in one package. A drop-in cartridge consists of split-back labels with industrial-strength adhesive backing, while a thumb-advance featureallows for smear-free tape dispensing, and a viewing window lets you align the label before cutting.
RHINO
www.rhinolabeling.com
Angled RJ-45s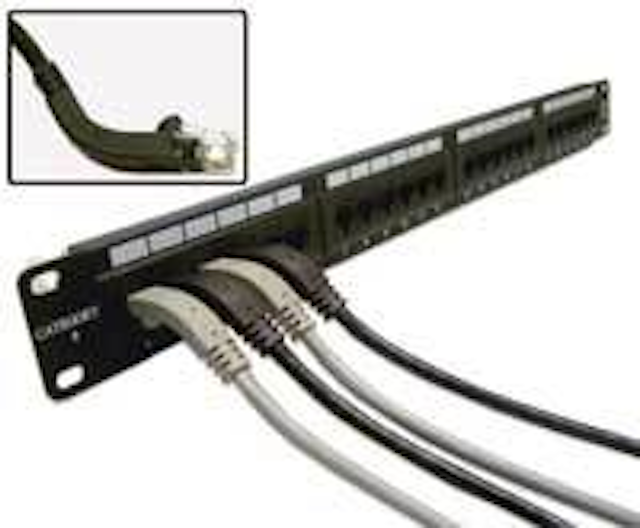 Click here to enlarge image
These 60-degree molded RJ-45 cables are designed to provide an angled strain relief boot for both shielded and non-shielded Category 5e applications. Available in tab-up or tab-down designs, the plugs are designed to maintain bend radius requirements, and are suitable for high-density patch fields. Options include custom cable length, connectivity to other connectors, and termination on the company's or customer-specified cable.
SHAXON INDUSTRIES
www.shaxon.com
Wired/wireless networking
The Unified Gigabit Wireless PoE Switch 24 converges wired and wireless networking, and includes Power over Ethernet (PoE) to support VoIP on a single platform. Built for 5 to 250 users, this device features: Layer 2 line-rate gigabit speeds with zero packet loss across all 24 ports; 802.3af PoE support available on all 24 ports; auto-voice VLAN capability; 802.1X authentication; wireless WPA2 security and AES encryption; rogue wireless access point detection and mitigation; and wireless fast roaming and automatic load balancing across managed access points.
3COM CORP.
www.3com.com
Hybrid cables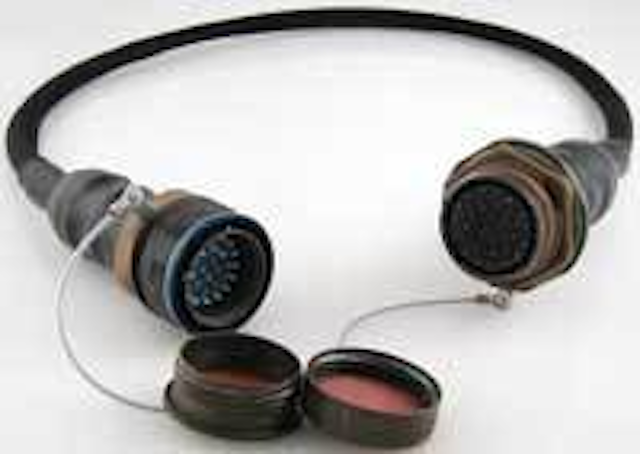 Click here to enlarge image
MIL-rated hybrid cables combine fiber and copper into one cable assembly, allowing for simplified installation of military and broadcast applications at only one point of entry. The cable's copper wire is built to carry power while the fiber can transmit data, without the risk of EMI. The hybrids are offered in D38999 and M29976 designs, as well as other ruggedized/harsh environment connector designs.
TIMBERCON
www.timbercon.com
Self-lamination labeler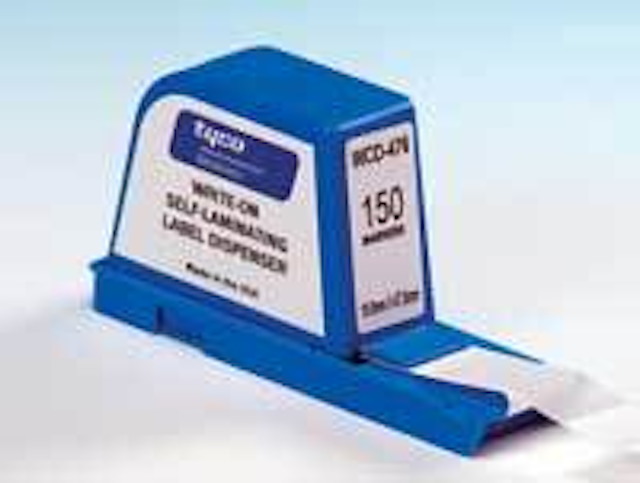 Click here to enlarge image
WCD label dispensers contain write-on, self-laminating labels especially suited for harsh environment installations. These pocket-sized dispensers contain a roll of pre-cut label markers, which have a white, 19-mm wide markable area that is laminated by the clear portion of the label as it is wrapped and secured around a cable. An oil-resistant acrylic adhesive backs the labels. Lengths include 152, 76.2, 47.6, and 31.8 millimeters, with 40, 90, 150 or 300 labels per roll.
TYCO ELECTRONICS
www.tycoelectronics.com