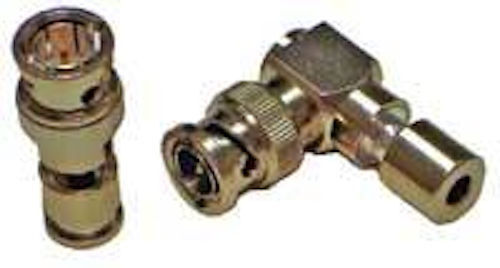 One-piece compression connector has wide range of tolerances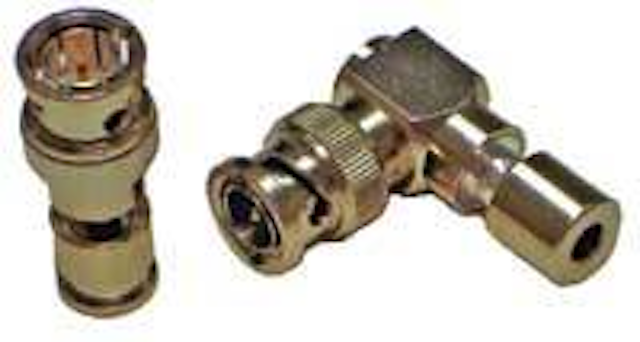 Click here to enlarge image
The EZ line of one-piece coaxial compression connectors for mini-RG-59 cable is compatible with all major domestic and import 23/24 AWG cables, and accommodates a wide range of conductor, dielectric, and cable tolerances. These 75-Ω connectors, available in F, BNC and RCA, straight, and right-angle designs, are especially suited for security, audio/video, and home theater applications. For higher performance applications, such as broadcast and CATV, a line of one-piece connectors are compatible with mini-RG-59, RG-59, and RG-6 precision video cables.
White Sands engineering
www.whitesandsengineering.com
LMR cable connectivity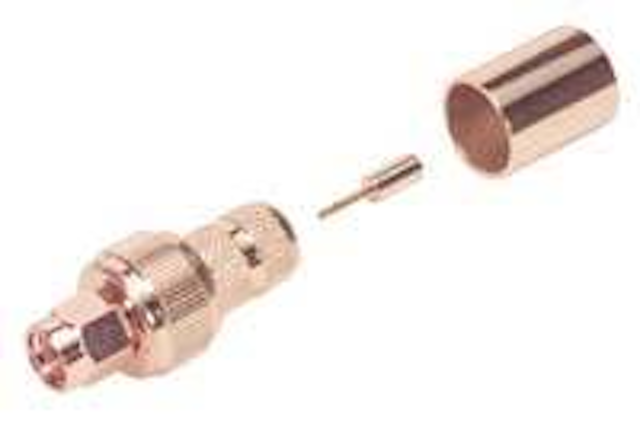 Click here to enlarge image
Subminiature A (SMA) male plugs for LMR200 and LMR400 coaxial cable are among the newest additions to the company's line of connectivity products. Also new are reverse-polarized SMA plugs and SMA female jacks for LMR400 cable, as well as type N plugs and jacks.
L-COM CONNECTIVITY PRODUCTS
www.l-com.com
Low-loss F, BNC, RCA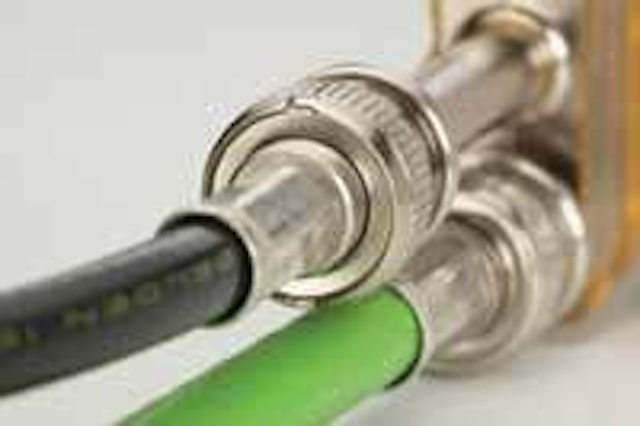 Click here to enlarge image
The company's line of F, BNC, and RCA coaxial connectors is designed for exceptional mechanical and electrical performance. The F connector features a BNC-style, two-piece center pin and body, designed to increase reliability and high-performance signal levels. The 75-Ω design, says the company, delivers low return loss, and excellent insertion loss and RF leakage performance. A gold-plated crimp center pin is designed to create consistent cable center dimensions and reduced installation time.
ADC
www.adc.com
Low-profile ultra-mini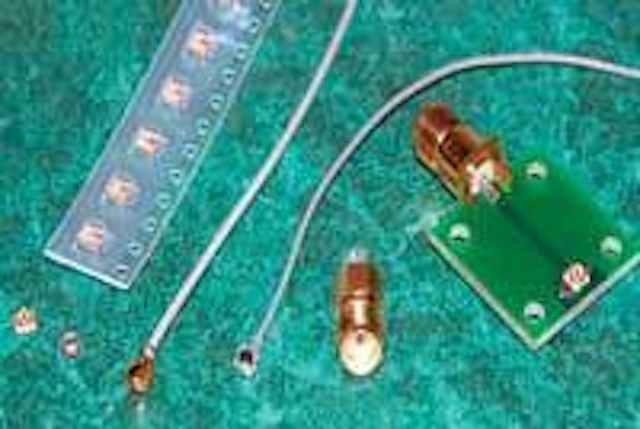 Click here to enlarge image
Ultraminiature Coax Connector and Cable Assembly (UMCC) series is a lower profile version (2-mm off the board) of the company's SSMT series. Designed to meet next-generation wireless applications, these connectors feature snap on/off mating and a 3 x 3-mm footprint, and are built for excellent electrical performance through 6 GHz. Connectors and assemblies are available as double-ended jumpers and inter-series cable assemblies for 0.80-mm and 1.37-mm diameter single-shield, and 1.32-mm diameter double-shielded cable, as well as PCB jack receptacles for board-mount applications.
TYCO ELECTRONICS
www.tycoelectronics.com/products/rfcoax
High-performance adapters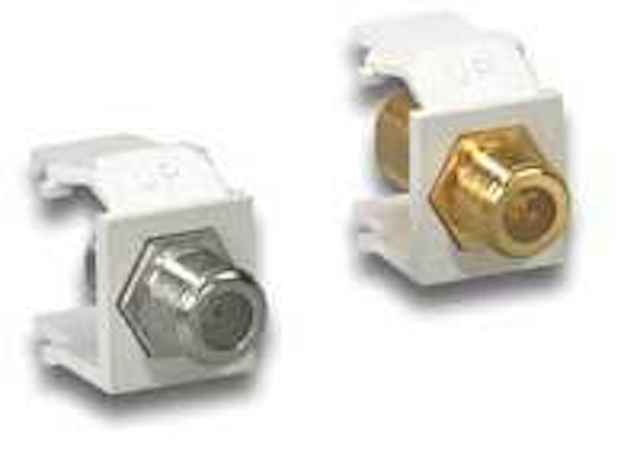 Click here to enlarge image
According to the manufacturer, these F-type coaxial adapters will soon meet SCTE specifications, offering the highest level of video performance when used with RG-6 coax cable. Available in nickel-plated (1-GHz) and gold-plated (3-GHz) versions, these RCA and F-type compression connectors feature a radial crimp to compress uniformly around the connector body for increased audio/video signal integrity. The company's QuickPort styles provide terminations at the wall plate.
LEVITON VOICE & DATA
www.levitonvoiceanddata.com
Adapters for wireless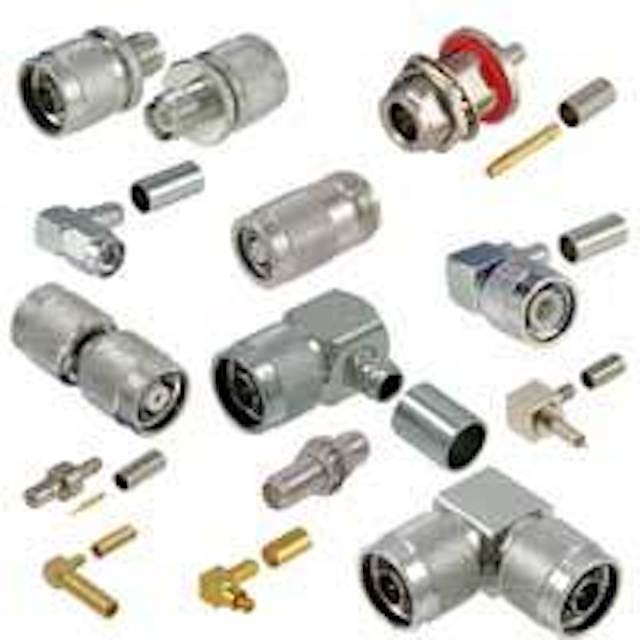 Click here to enlarge image
An extensive line of coaxial RF connectors and adapters is designed especially for wireless applications. N-type, reverse polarity, TNC, MC Card, SMA, and MCS 50-Ω connector types are offered in crimp, straight, right-angle, panel, bulkhead, and clamp styles that are designed to perform from DC to 11-GHz. Sizes include RG-316 (100 Series), RG-58 (195 Series), low-loss RG-8 (400 Series), and large 900 Series.
HYPERLINK TECHNOLOGIES
www.hyperlinktech.com
Fixed-length assemblies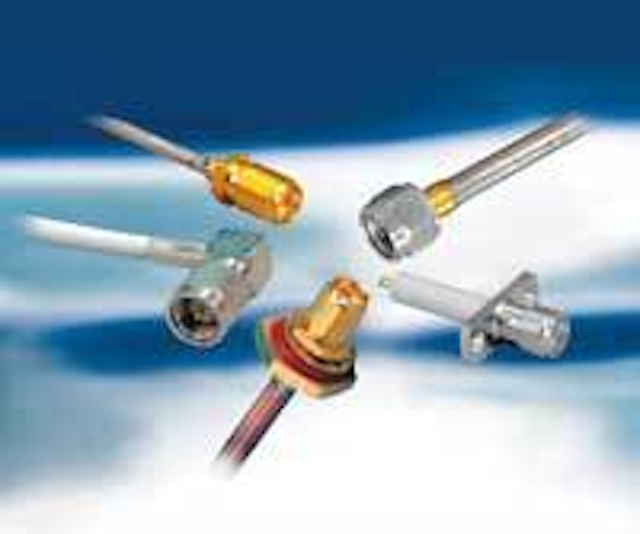 Click here to enlarge image
SMA hand-formable cable assemblies for RF/microwave applications are an alternative to semi-rigid cables. Featuring Johnson connectors on each end, they are constructed of a silver-plated, copper-covered steel conductor with an additional copper-tin composite braid foil. According to the company, the cables provide 100% shielded coverage designed for outstanding voltage standing wave ratio (VSWR) and lower insertion loss up to 18 GHz. In-stock and customized lengths are available.
EMERSON NETWORK POWER
www.emersonnetworkpower.com