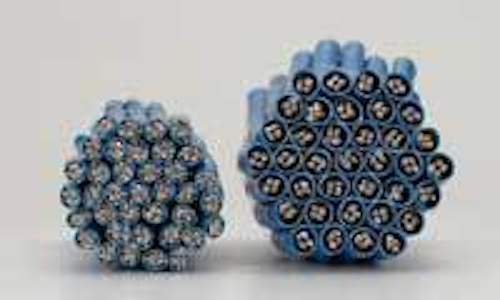 A leaner Cat 6A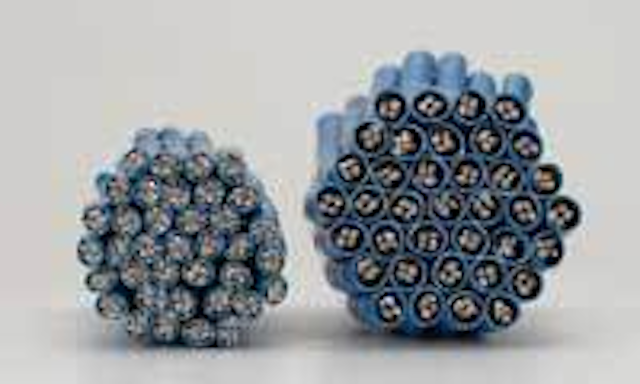 Click here to enlarge image
CopperTen Category 6A UTP cable has an average outside diameter of .275 inches, compared to the industry average of .210 inches, and is designed to enhance airflow, reduce installation costs due to light weight and smaller volume, and improve fill rates in cable trays, conduit, and raceways. The cable is built to run 10-Gigabit Ethernet over 100 meters.
ADC
www.adc.com
Power analyzer
Click here to enlarge image
Designed to measure and carry out diagnostic and power-quality work on single-phase systems or three-phase balanced low-voltage networks, the PowerPad Jr. Model 8230 is a single-phase power quality analyzer. Compact and shock-resistant, the unit helps you obtain instant waveforms of electrical characteristics, and then monitor their variation over a period of time. This multi-tasking measurement system is designed to handle all measurement functions and waveform displays of the various magnitudes. The instrument records volts, amps, watts, VARs, PowerFactor, THD, and other signals.
AEMC INSTRUMENTS
www.aemc.com
Indoor/outdoor cable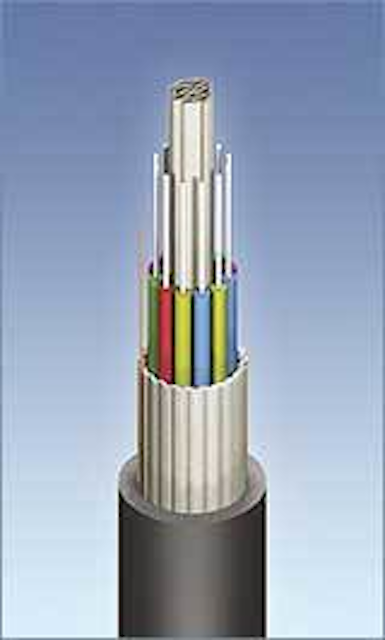 Click here to enlarge image
Indoor/outdoor riser tight-buffered cables have been redesigned to meet or exceed GF-409 and ICEA-S-104-696, provide a more compact and lighter weight cable with 2 to 24 buffered fibers, and offer a higher performance over previous designs. These cables are specified for campus networks between buildings where interbuilding lengths are short enough that the installer can gain savings by terminating tight-buffered cables. For indoor applications, the cable is OFNR-listed, and for outdoor use, the cable features an outer jacket that incorporates a UV stabilizer for protection against exposure to the sun, as well as anti-fungus protection for underground installations.
AFL TELECOMMUNICATIONS
www.afltele.com
OSP enclosure conversion kit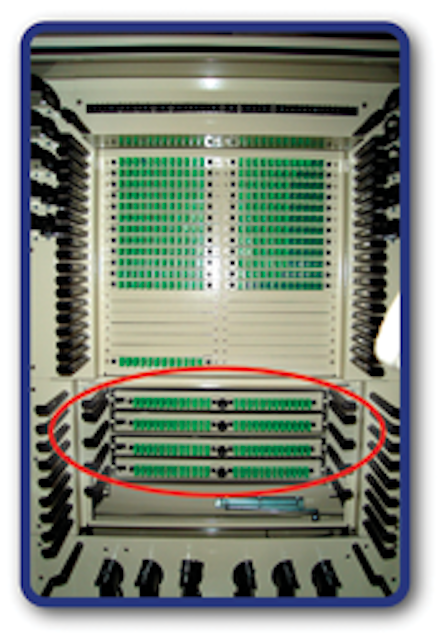 Click here to enlarge image
This Fiber Scalabilty Center (FSC) upgrade kit for the company's outside plant cabinets lets field technicians convert a cabinet originally deployed in a traditional PON architecture into a cross-connect fiber-to-the-premises (FTTP) solution. The kit also lets the user re-deploy the original splitter into a central office configuration without changing the footprint of the cabinet. The FSC is available in 48-port pre-terminated modules, with pre-terminated subassemblies, splice trays and associated hardware for patch-only and patch-and-splice applicatons.
APA CABLES & NETWORKS
www.apaenterprises.com
Home cabling solutions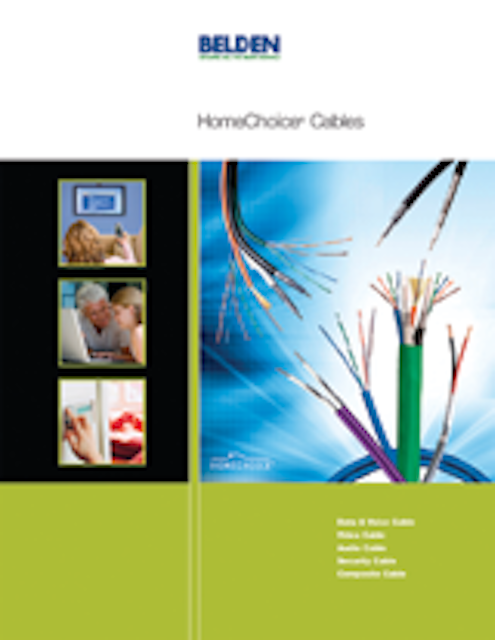 Click here to enlarge image
Cable solutions for data, voice, video, audio and security applications in the home can be found in a new catalog of HomeChoice cables. Featured products range from cables designed for basic voice/data/video installations, to structured cabling solutions for the "intelligent home"-including multimedia and home theater, whole-home security and access control networks, and lighting and environmental control systems.
BELDEN
www.belden.com
Residential distribution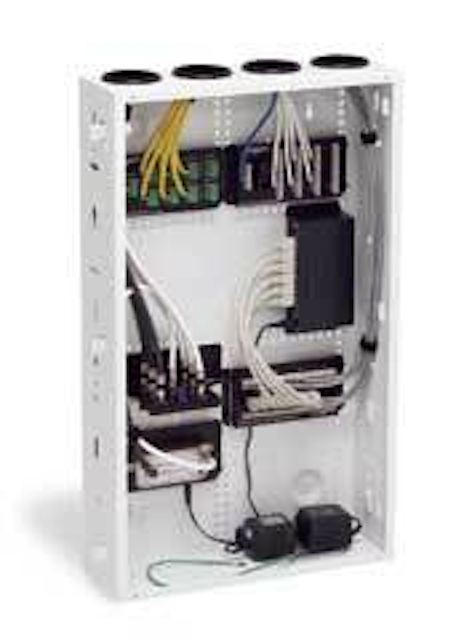 Click here to enlarge image
The Residential Network Solution supports applications for current and emerging communication and video entertainment. Data, voice and video signals converge in the center and are then distributed to individual room outlets. A basic system is pre-designed for voice and data applications, while the enhanced system provides flexibility for removing modules and allows plug-and-play for copper and fiber applications. Other features include an 8-port switch that lets users network up to seven computers, complete automation capabilities, and central control of multiple integrated home communication and video entertainment applications.
COMMSCOPE
www.commscope.com
Secure connector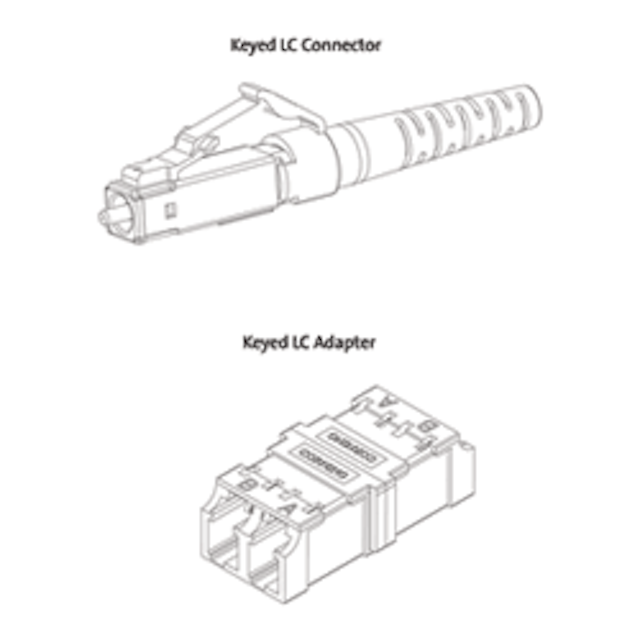 Click here to enlarge image
The secure Keyed LC Solution, a small-form-factor LC connector format, is designed for organizations that need to segregate networks due to privacy or security concerns. Based on the standard LC single-fiber connector, the Keyed LC provides a physical separation for up to four networks, applications, or organizations. Four color-coded key combinations prevent inadvertent or unauthorized access to networks and enhance network identification. On the front and back of the patch panel, keyed connectors and adapters are used to match access rights to the proper network. Key features in the connector and adapter cannot be duplicated with standard LC components. This connector supports up to 288 fibers in a 4U rack-mountable housing.
CORNING CABLE SYSTEMS
www.corningcablesystems.com
Loose-tube plenum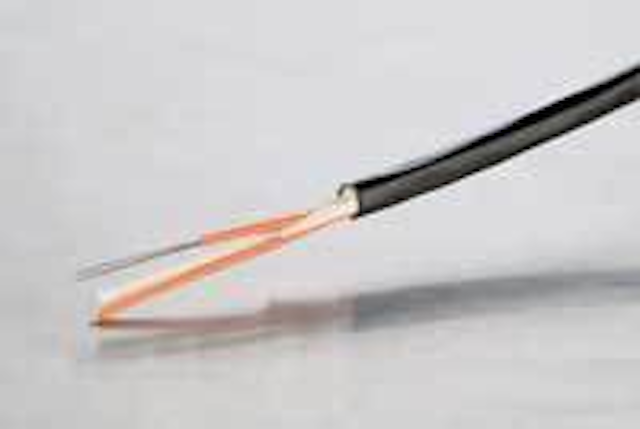 Click here to enlarge image
FREEDM loose-tube, gel-free, plenum-rated cables are designed for indoor/outdoor installation, including aerial, duct, and riser or plenum applications. According to the company, there is no need to transition-splice when entering the building (from dedicated outside plant cable to dedicated flame-retardant OFNP cable), and minimizes routing restrictions once inside the building. The all-dielectric cable construction requires no grounding or bonding, and the gel-free design provides for efficient and craft-friendly cable preparation. Available with 12 to 60 fibers and in 62.5-µm, 50-µm (including laser-optimized), and singlemode versions, FREEDM features a flame-retardant jacket that is UV-resistant and enables direct exposure to sunlight. Interlocking armor is available for specialized applications.
CORNING CABLE SYSTEMS
www.corningcablesystems.com
Analyzing internal security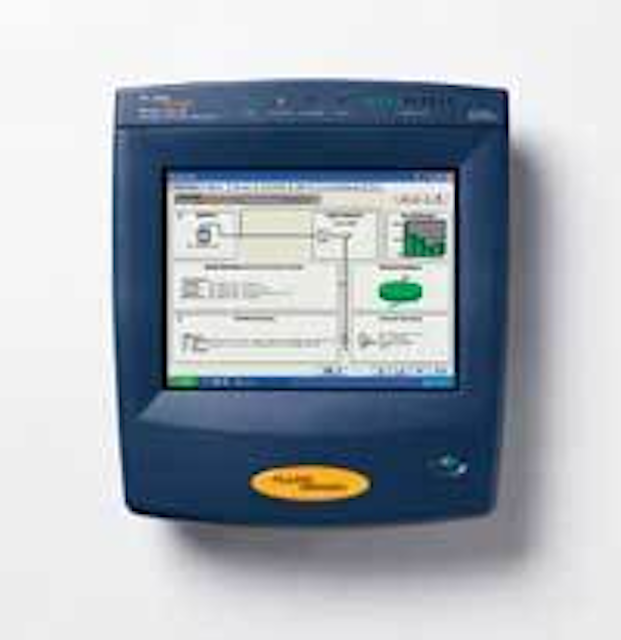 Click here to enlarge image
OptiView Series III Integrated Network Analyzer has been re-engineered to help network managers and engineers implement current IT projects as well as perform rapid root-cause troubleshooting analysis. Designed in part to help increase data security and regulatory compliance, the Series III supports free string match filters and triggers, 802.1x authentication, gigabit line-rate traffic generation and internetwork throughput testing, encapsulation-independent protocol filtering, application-level traffic analysis, and application-layer bounce charts for performance visualization.
FLUKE NETWORKS
www.flukenetworks.com
Control cables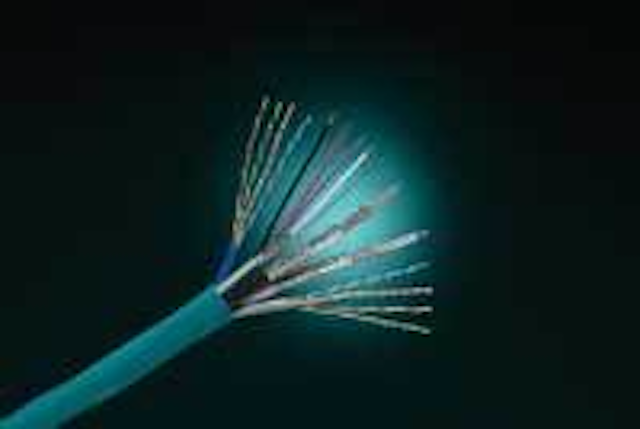 Click here to enlarge image
This new line of control cables is designed to meet the needs of contractors installing home networks using Crestron-branded automation and control components. Bundled within a single jacket, the cables are designed to distribute control signals, Ethernet data, CATV, satellite, broadband, and modulated video in residential networks. They feature one pair of 18 AWG or 24-volt power and one shielded twisted-pair of 22 AWG for control data, plus two or four Category 5e cables. Optional models for more complex installations include 24/4P control wiring for two RG-6 BC quad-shielded coax cables.
HONEYWELL
www.honeywell.com
Extra surge protection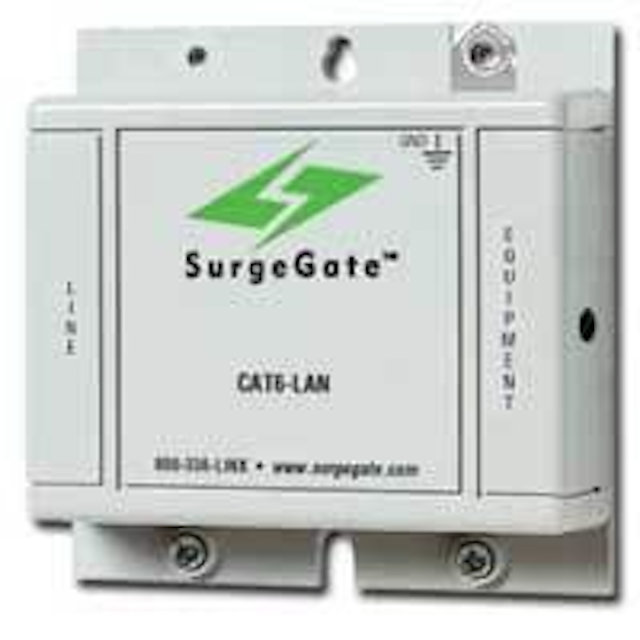 Click here to enlarge image
SurgeGate power protection devices are designed to protect products from surges that would burn out typical suppressors. They shut off the power for extended surges and sags, and reset when the danger is past, saving communications equipment and cutting down on service calls. The SurgeGate line also includes add-on modules to protect communications lines, including telephone, T-1, leased lines, LANs, and coax connections to cable, satellite, and antenna lines. When used in conjunction with an uninterruptible power supply (UPS), SurgeGate can keep systems up and running through storms and blackouts.
ITW LINX
www.itwlinx.com
Outdoor access point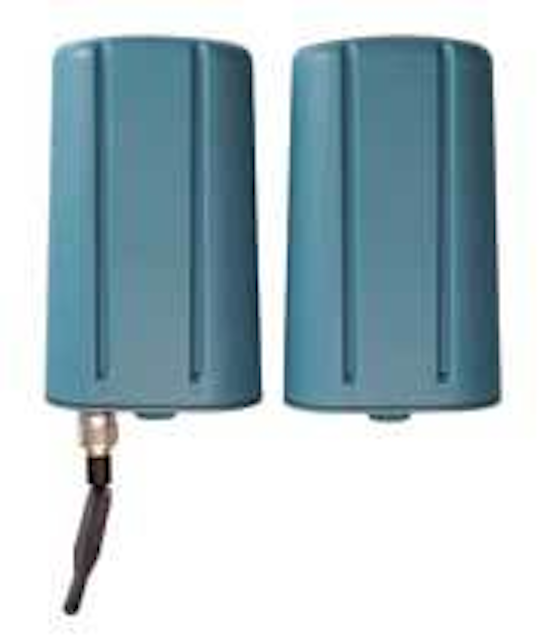 Click here to enlarge image
The JetWave 2410 is a 2.4-GHz IEEE 802.11g/b wireless outdoor access point designed to link two or more separate networks located in different buildings. With data transfer rates of up to 54 Mbits/sec, this access point supports point-to-point and point-to-multipoint bridge, wireless client, or repeater modes. It integrates a 12 dBi flat-panel antenna and 802.3af PoE port for installation in areas where no power outlets are available.
KORENIX TECHNOLOGIES
www.korenix.com
High-density fiber panel

Click here to enlarge image
Featuring 96 LC ports, these 1U high-density fiber patch panels with LC connectors are designed for server farms and storage applications where minimizing rack space is essential. Two models are available: bronze alignment sleeves for multimode applications, and ceramic alignment sleeves for singlemode.
L-COM CONNECTIVITY PRODUCTS
www.l-com.com
72-port patch panel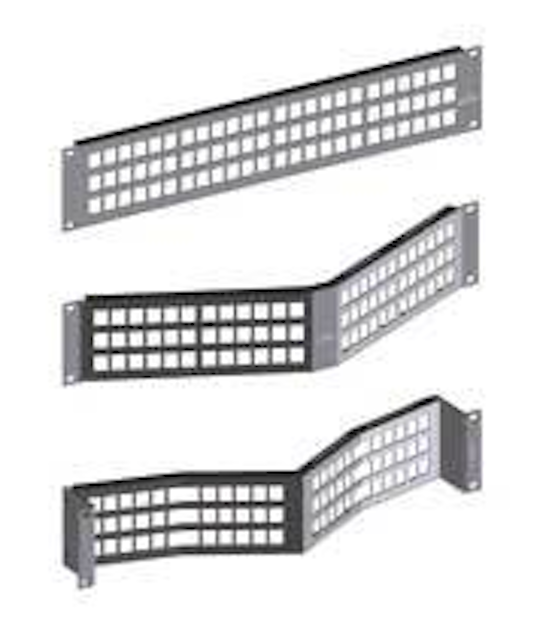 Click here to enlarge image
This 72-port patch panel is designed to increase port density by 50% without increasing rack unit space. Built for zone enclosures, racks, and cabinets, these 72-port panels are available in standard, angled, and recessed configurations. All panel designs are QuickPort-compatible, providing Category 5e/6/6A connectivity options.
LEVITON VOICE & DATA
www.levitonvoicedata.com
No-rack-space panel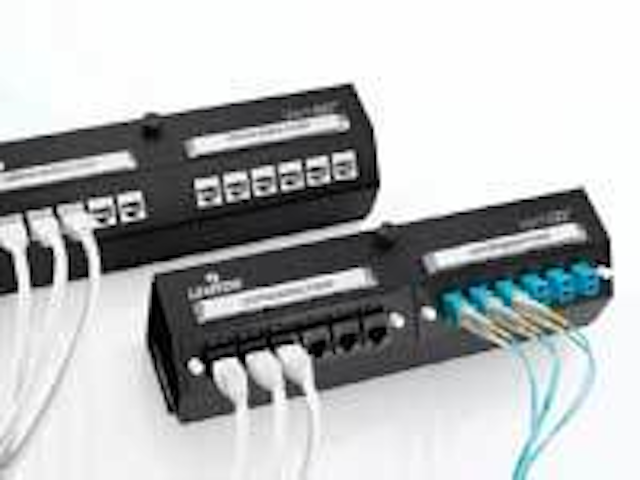 Click here to enlarge image
VertiGO Zero-U patch panels consume no rack space, eliminating interference with cooling racks or other panels, and lessening the complexity of cable routing. VertiGO can be installed in server cabinets, free-standing racks, on a ladder tray, or in raised floor applications. A hinged opening makes the patch panel more adaptable to moves, adds, and changes, and protects terminations when the door is closed. A magnified label holder is designed to improve visibility inside dark spaces.
LEVITON VOICE & DATA
www.levitonvoicedata.com
A/V cable info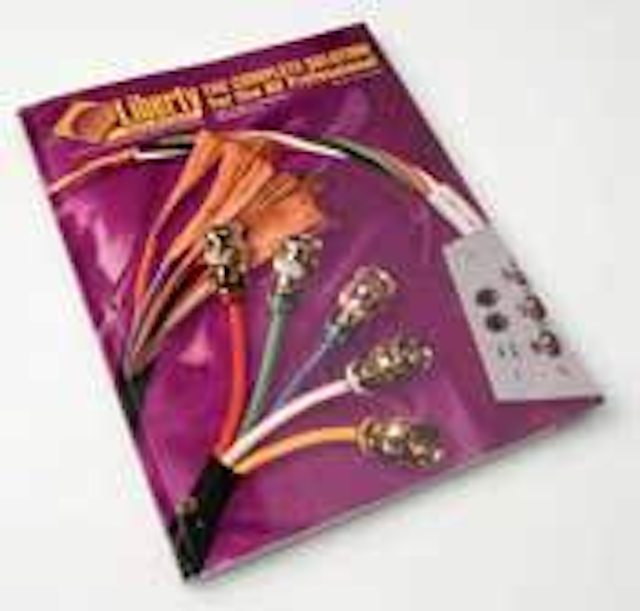 Click here to enlarge image
Designed for commercial and residential A/V professionals, this 240-page catalog provides a broad selection of wires, cables, installation components, tools, and specialized services. Also included is a technical glossary, a cable substitution chart, and international AWG/metric conversion chart. This catalog is also available in CD-ROM format.
LIBERTY WIRE & CABLE
www.libertycable.com
Server system upgrade
Improved clustering, security and management features in software for the company's LX Series of out-of-band console servers are designed to allow an unlimited number and combination of servers in large data center applications to be combined into a single management entity. Management enhancements include user-configurable utilization thresholds and automated power control. The Version. 5.0 software also features improvements in navigation and configuration designed to simplify searching for specific devices, making configuration updates, and for determing console server maintenance.
MRV COMMUNICATIONS
www.mrv.com
A/V over Category 5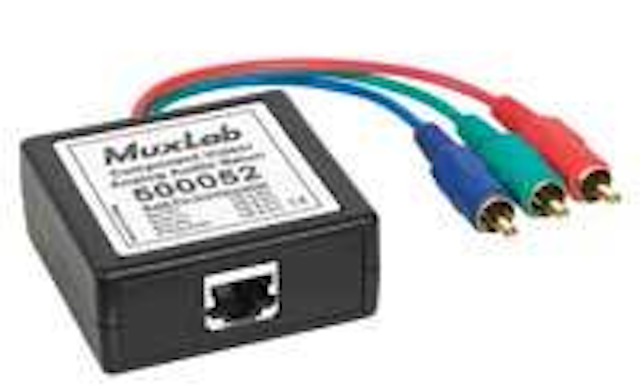 Click here to enlarge image
Developed for audio/video (A/V) integrators and custom home installers, the Component Video/Analog Audio Balun (500052, 500053) lets you connect one full YPbPr/RGB video channel plus one mono hi-fi analog audio channel via Category 5 cable in a point-to-point configuration. The balun supports 480i/p video formats as well as high-definition 720p and 1080i/p, supports an additional analog audio connection for commercial and residential A/V systems, and features a modular RJ-45 connector. It is designed to support up to 500 feet via Category 5 in HDTV mode.
MUXLAB
www.muxlab.com
Fiber microscope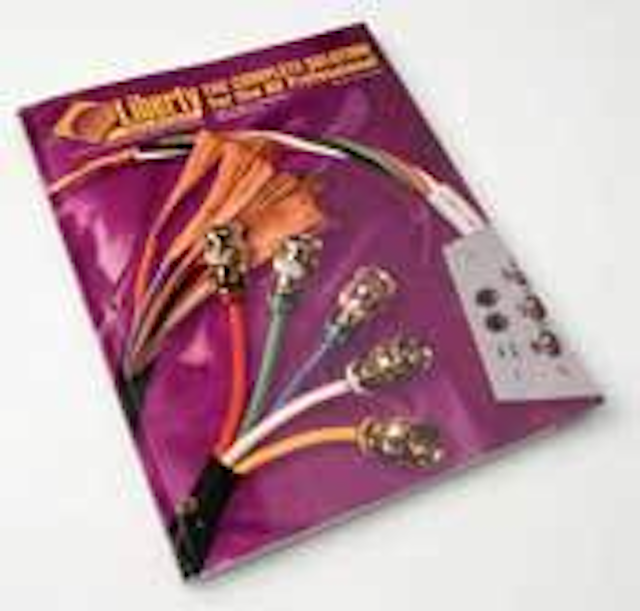 Click here to enlarge image
The ViewConn hand-held video microscope is designed to eliminate guesswork when mating fiberoptic connectors. Featuring an eye-safe LCD monitor, the microscope looks for dirt and debris that can affect signal quality. A cleaning tool can be incorporated into the device to reduce installation time.
LIGHTEL TECHNOLOGIES
www.lighteltech.com
Harsh environment tie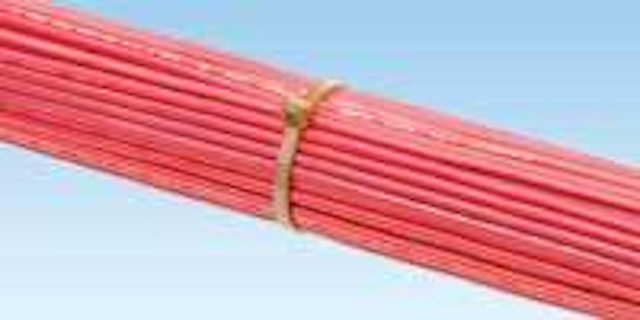 Click here to enlarge image
Pan-Ty cable ties are designed for high- temperature (75º to 500º F) or harsh chemical environments. Made from polyetheretherketone (PEEK), an extremely chemical-resistant material with low-smoke-low-gas, the cable ties are designed to provide excellent loop tensile strength in a lightweight material.
PANDUIT
www.panduit.com
10-GbE shielded cable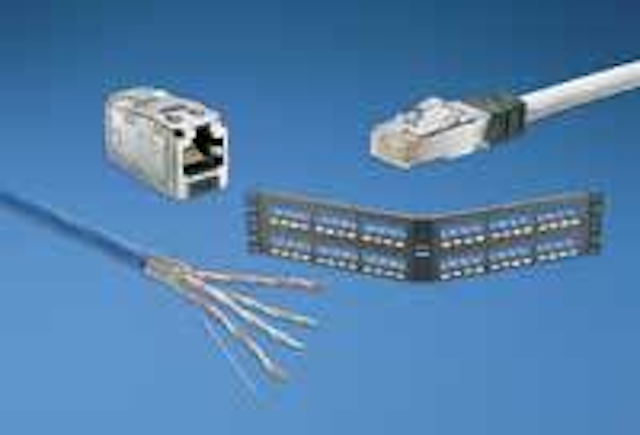 Click here to enlarge image
Designed to provide exceptional alien crosstalk performance beyond 500 MHz, the TX6 10Gig is an end-to-end 10-Gbit Ethernet (10-GbE) solution built to deliver ETL and Delta-tested performance in a four-connector channel up to 100 meters. According to the company, the system also exceeds requirements of TIA/EIA 568-B.2-AD10 and ISO 11801 Class Ea Edition 2.1 draft proposals, and the IEEE 802.3an-2006 ratified standard for 10GBase-T transmission over twisted-pair cabling. TX6 is built for data center server links and high-end workstations where suppression of EMI/RFI, increased transmission performance, and security are critical. Copper cable is available in plenum, riser, and LSZH fire ratings, and system connectivity components are 100% performance tested.
PANDUIT
www.panduit.com
Vandal-resistant camera
Click here to enlarge image
The SVD-4300N, 10x auto-focus zoom, vandal-resistant dome camera features 500 TVL color and 570 TVL black and white. Combined with its 10x optical zoom, a 10x digital zoom provides 100x total zoom. Built of die-cast aluminum with a thick polycarbonate dome, the SVD-4300 withstands a 10-lb. sledgehammer strike. It is IP66-rated and features motion detection and privacy masking accessible via on-screen display. With 3-axis adjustment and dual voltage, this security camera includes the company's proprietary SSNR noise reduction that provides clear pictures in low light plus DVR storage savings.
SAMSUNG 360
www.samsung360.com
Pre-terminated UTP, fiber trunking assemblies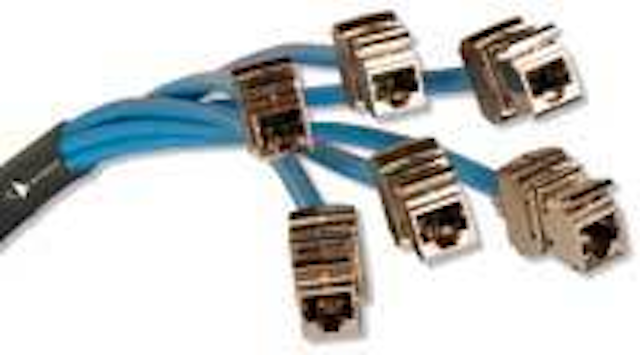 Click here to enlarge image
Ten-Gigabit/sec-capable UTP and fiber-optic trunking cable assemblies are designed to simplify installation of permanent links. UTP pre-terminated trunk assemblies (top photo) are available in custom lengths up to 120 feet, and offer multiple connector, cable category and jacket rating options. According to the company, these factory-terminated and tested assemblies can reduce deployment time by up to 75% compared to traditional field-termination of individual cabling channels. By consolidating multiple cable runs, they are designed to improve cable management and pathway space utilization in raised floor or overhead cable tray. Featuring individual outlets instead of cassettes, and a six-leg, double-ended construction with integrated pulling eye, these copper trunks utilize a closed-mesh sheathing to protect bundles during pulling, and include a proprietary "trident cut" design that routes individual cables into position.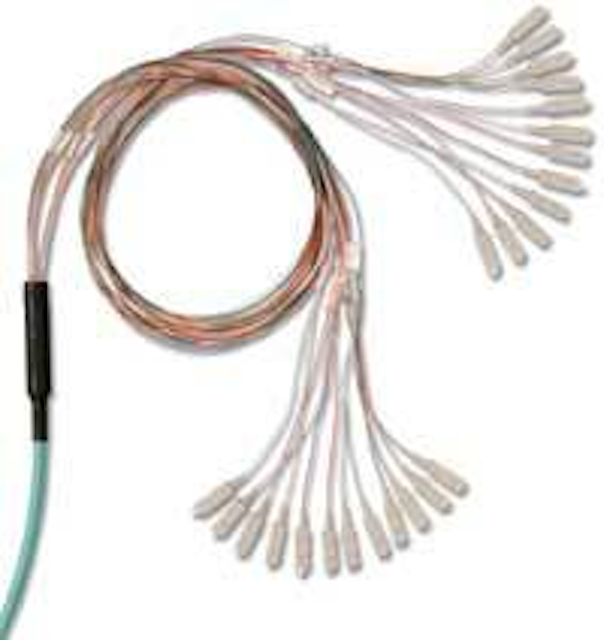 Click here to enlarge image
Offering from 6 to 144 fibers per assembly, fiber-optic pre-terminated trunk assemblies (bottom photo) can be custom-configured for permanent fiber links in high-density environments, such as data centers. Also designed to reduce installation time up to 75% over traditional termination methods, these fiber-optic trunk assemblies feature LC, SC, ST, or MTRJ connectors, are available in singlemode or multimode, and with plenum, riser or LS0H ratings. Optional pulling eyes are available to protect fiber connections during installation.
SIEMON
www.siemon.com
Filtered power UPS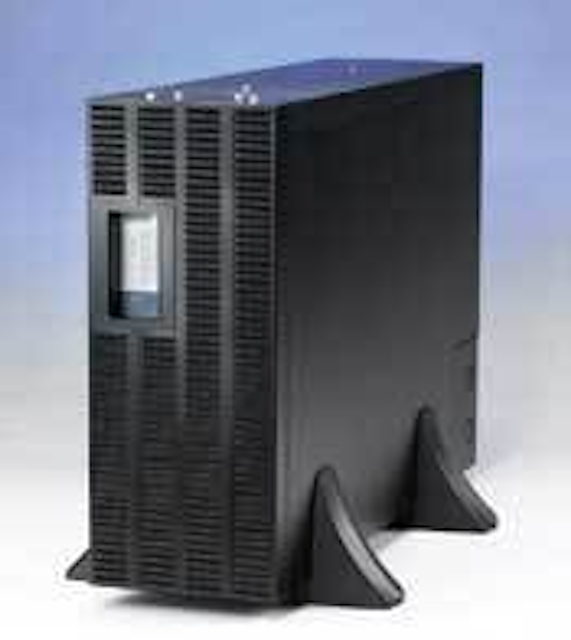 Click here to enlarge image
Designed to protect sensitive equipment against fluctuating power or power loss, the S4K6U uninterruptible power system (UPS) features 10-kVA of power capacity, flexible output voltage, internal batteries, and integrated maintenance bypass switch housed in a 6U enclosure. Its on-line double conversion topology is designed to continuously convert incoming AC power into filtered DC power, then recreating it into low-distortion AC power. The UPS also automatically senses input voltage and configures output voltages to let users power a variety of loads with different voltages and without an extra transformer.
SOLA/HEVI-DUTY
www.egseg.com
Category 6A jacks
Click here to enlarge image
The SS-60300 Series of Category 6A PCB-mounted jacks feature internal compensation to enhance electrical performance without the need for extensive secondary compensation on the main PCB. Designed for 10-Gigabit Ethernet networking and computing applications, the jacks' patent-pending design integrates the capacitive and inductive compensation on a flexible circuit board that attaches directly to the tips of the jacks' contacts, close to where the jack and modular plug connect. According to the company, this close proximity helps cancel NEXT crosstalk introduced to the jack from the plug. In addition, as the flexible circuit board attaches to the jacks' contacts, the jacks are designed to preserve the standard modular connector design, thereby ensuring reliable connections.
STEWART CONNECTOR
www.belfuse.com/StewartConnector
Splice-on connector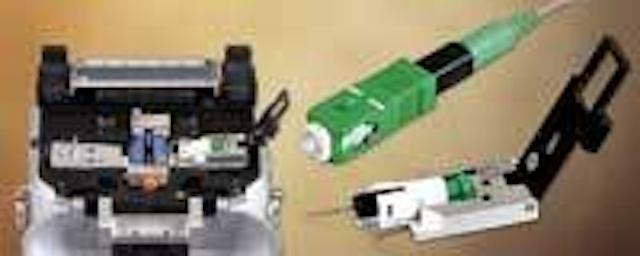 Click here to enlarge image
The Lynx CustomFit Splice-On connector is a fully cross-compatible splice-on connector for customized FTTH/FTTP, outside plant, and field terminations. Compatible with a wide array of splicer and fiber holder brands, the connector eliminates the need to invest in specialty splicing equipment, reducing cost of ownership. According to the company, the connector's termination eliminates the need to predetermine the length of preterminated jumpers required for a given application, letting field technicians customize terminations while ensuring accurate and permanent connectorizations.
SUMITOMO ELECTRIC LIGHTWAVE
www.sumitomoelectric.com
Outdoor access point
The AP-5181 access point is designed for outdoor use and can withstand wind, rain, lightning, extreme temperatures, and power surges. Extending enterprise communication beyond office walls, the AP-5181 is mesh-capable, allowing for creation of self-assembling, self-healing, flexible outdoor wireless networks that can be managed remotely with wireless next-generation (Wi-NG) architecture.
SYMBOL TECHNOLOGIES
www.symbol.com
Secure Ethernet connector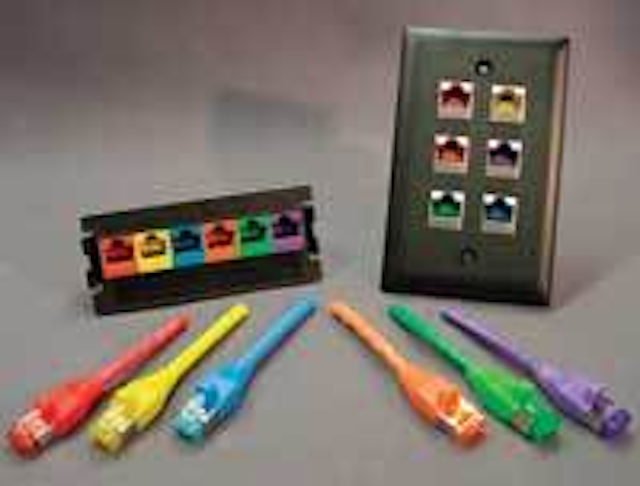 Click here to enlarge image
The RJ45 SECURE jack-and-plug connector system features mutually exclusive keys for restricted access to network connection points. The system, which consists of modular jacks and patch cable assemblies, is designed so that the modular jacks match with the patch cable assemblies via a keying configuration. Mating a cable to a jack is possible only if the keying matches. Built to meet or exceed TIA/EIA and ISO/IEC requirements for Category 6 component performance, this system also complies with all performance requirements for Gigabit Ethernet, 10 and 100Base-TX, Token Ring, 155-Mbits/sec ATM, 100-Mbits/sec TP-PMD, ISDN, analog and digital video, and analog and digital voice (VoIP).
TYCO ELECTRONICS
www.tycoelectronics.com
Fiber-optic assemblies
Customized singlemode and multimode fiber-optic cable assemblies are available in simplex, duplex, and up to 24-pair fan-out construction. Connector options include SC, LC, and ST. Hybrid connection custom lengths are also available. According to the company, the assemblies meet Telcordia GR-326 compliance standards, and undergo in-house testing to ensure quality.
COMMUNICATIONS TEST DESIGN
www.ctdi.com