Firestopping system halts telecommunications arson attempt

Click here to enlarge image
The venerable Roxtec firestopping system, which has been used by architects and engineers desiring long-term protection and flexibility of cable penetrations, was recently put to the test during an arson attempt at a California cell phone equipment shelter. The watertight, gastight system, which is rated up to four hours as a firestop method, negated the arsonist's attempts at fully destroying the telecommunications facility, with the opposite side of the equipment rack remaining in tact (photos show arson attempt outside, and protected equipment inside). Roxtec's next generation cable sealing systems for outdoor shelters and rooftop installations are designed to optimize pathway and spaces, as well as provide vertical cable support in riser applications. A patented multi-diameter technology lets future cable additions be sealed properly without the need for additional material, which the company says can provide the end user with a system that has a lower life cycle cost than standard firestop or cable-sealing products.
ROXTEC, INC.
www.roxtecinc.com
Thru-wall fittings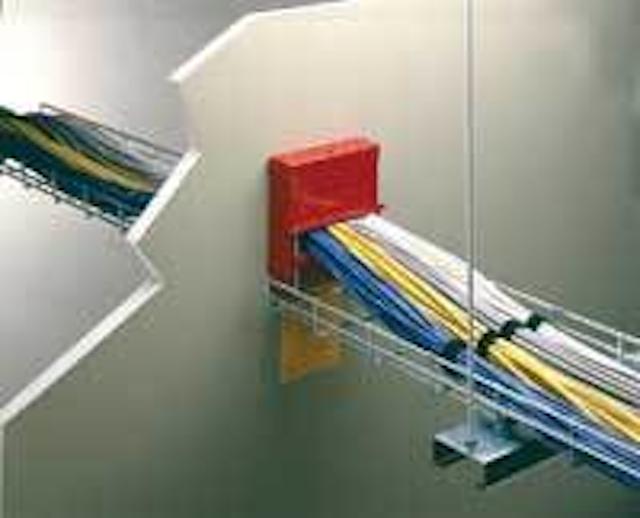 Click here to enlarge image
FlameStopper thru-wall fittings have been redesigned for use in retrofit installations as well as new construction. This system consists of a cover that houses intumescent material, with an opening through which the cables pass. EMT conduit, which can be cut to length, carries the cables through the penetration to a similar cover and block of intumescent material on the opposite side of the wall. Since the proper amount of firestopping material is pre-loaded in the assembly, the company says there is no need to apply caulk or putty. Adding or removing cables will not disturb the material. FlameStopper's retrofit kit includes a split conduit for installations without existing conduit, a large firestopped wall plate for irregular openings, and a heat shield for existing extended conduit lengths. The system is tested to UL 1479 and ASTM E814 for flame, temperature, and smoke, and is also suitable for use in air-handling spaces.
WIREMOLD/LEGRAND
www.wiremold.com
Cast-in systems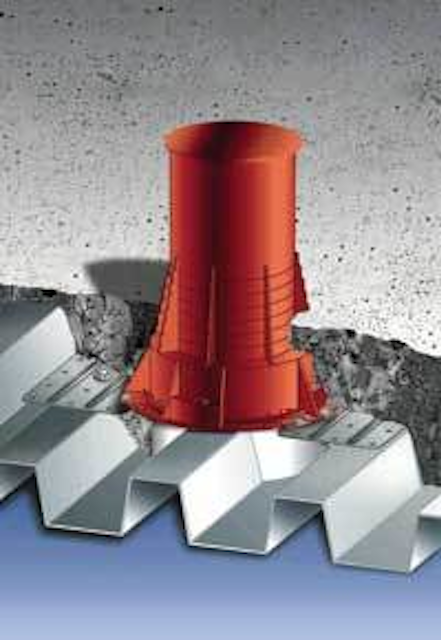 Click here to enlarge image
Three new cast-in firestop systems-tub-box, shower drain, and aerator-can be used through concrete floors or through concrete-over-metal decking. While these systems are designed for plumbing installations, the company says its pass-through devices are also appropriate for electrical conduits and cable bundles, providing protection for dust-free environments as well as added insulation. The CP 680, the original member of the company's cast-in family of firestop products, is an all-in-one solution for firestopping of pipes and electrical wires and cabling through concrete floors and concrete-over-metal docking.
HILTI INC.
www.us.hilti.com