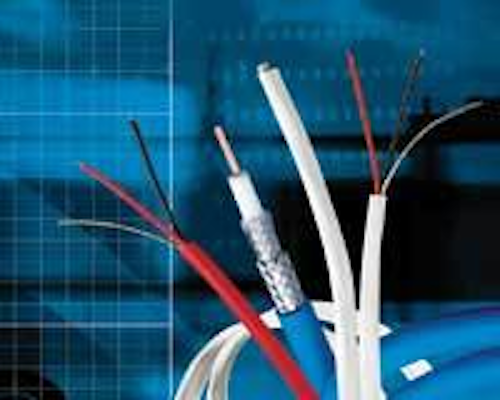 Headend cables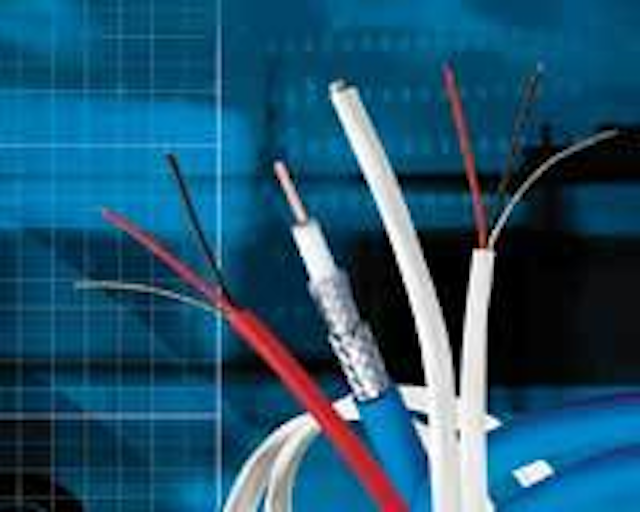 Click here to enlarge image
These headend cables are designed for broadcast and CATV applications, including high-definition television, video-on-demand, and VoIP. RG-6 and RG-11 coaxial cables for satellite are available in a variety of constructions and shield types, and are sweep-tested to 3 GHz; A range of high-end RF cables, including bundled and multi-coax designs, can be used to interconnect a variety of signal processing equipment; Serial digital video cables for broadcast applications are sweep-tested to 4.5 GHz and meet SMPTE 292M and ITU-R-BT.601 for PAL standards; Category 3 to 6 data cables in bonded-pair and non-bonded-pair versions, are especially suited for VoIP equipment; Single- and double-pair digital audio cables are designed to exceed AES/EBU specifications; a line of DS-3 and DS-4 interconnect and cross-connect coaxial cables are designed for central office and voice applications; fiber-optic interconnect cables are designed for patch panel, workstation and horizontal distribution applications.
BELDEN
www.belden.com
Faster connectivity ID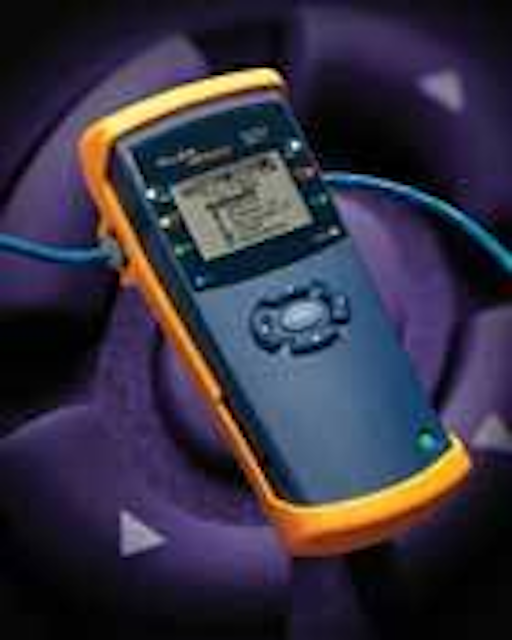 Click here to enlarge image
The NetTool Series II inline network tester with the company's Net Prove diagnostics is designed to identify and isolate network and application connectivity problems more than 4x faster than traditional methods. The device's one-step NetProve test pinpoints problems to help you identify whether the trouble originates with a device (such as server, switch, or router) or an application (such as SMTP or HTTP). You can also verify link readiness during VoIP pre-deployment planning as well as troubleshoot problems on active networks by monitoring real-time VoIP traffic. NetTool can also negotiate with Ethernet-based power-sourcing equipment, acting as a powered device and displaying both voltage and current delivered over the cabling, thus eliminating the need for a separate PoE detector.
FLUKE NETWORKS
www.flukenetworks.com
Rotary cable stripper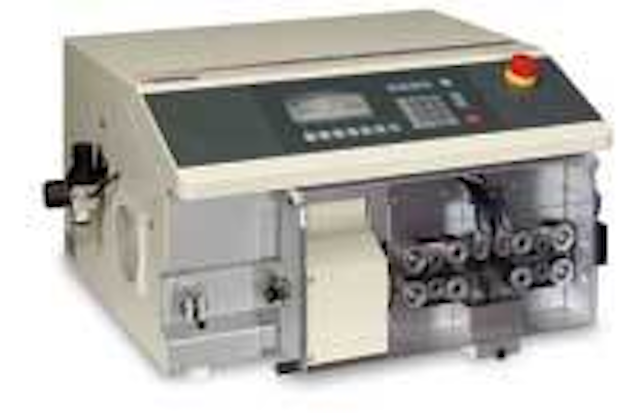 Click here to enlarge image
The PowerStrip 9500 RS automatic wire cut and strip machine features rotary stripping capabilities designed to ensure consistent results on all types of wire and cable, including coaxial. This benchtop unit cuts and strips cables up to 12-mm in diameter, with pull-of lengths up to 40-mm. The 9500 RS can be programmed to make incisions at any position and depth. A patented multiple blade system lets you use up to three pairs of blades for nearly any cutting, stripping, or slitting requirement.
SCHLEUNIGER NORTH AMERICA
www.schleuniger-na.com
Floor box covers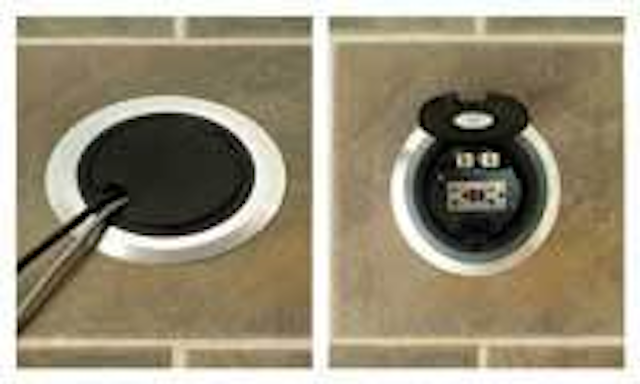 Click here to enlarge image
Steel City 68R recessed floor box covers are designed to conceal plugs and receptacles below floor level in concrete, wood sub-floor, and raised floor installations. Used in conjunction with a Steel City round PVC floor box for concrete applications, or a metal switch box for wood sub-floor or raised floor installations, these floor box covers are designed to accommodate one duplex or GFCI (ground fault circuit interrupter) receptacle, and up to two communications jacks. Covers are available in black, beige, brown, and gray. Black covers feature an optional brass or aluminum flange.
THOMAS & BETTS
www.tnb.com
Media converter with PTZ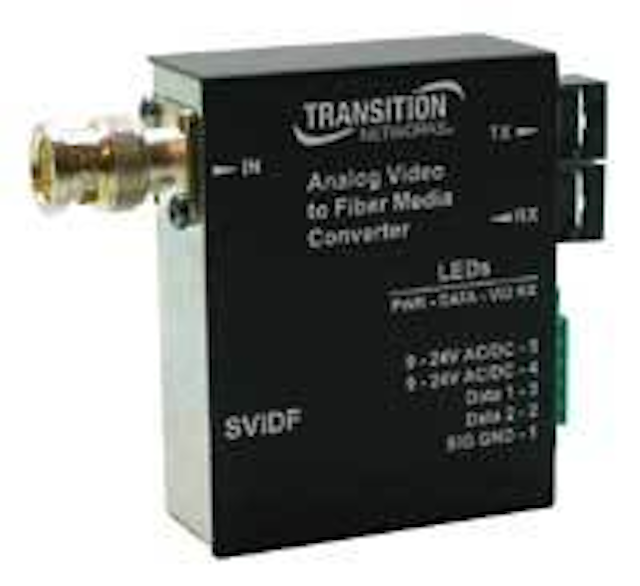 Click here to enlarge image
These analog video copper-to-fiber media converters are designed to transport analog NTSC, PAL or SECAM video signals plus pan/tilt/zoom (PTZ) serial data over multimode or singlemode fiber, allowing integration of copper-based PTZ cameras with optical infrastructure. The converters are intended to be used in pairs, with the TX converter transmitting an analog video signal from the camera's coaxial output over fiber-optic cabling to an optical video RX converter, which then converts the signal back to an analog NTSC, PAL or SECAM video signal on coax. PTZ functionality is transmitted via a serial data signal compatible with RS-232/RS-422/RS-485 from the twisted pair port on the PTZ controller over the same optical link between converters, and then converted back to copper cabling near the camera. Transparent serial data encoding, says the company, ensures compatibility with major CCTV camera manufacturers.
TRANSITION NETWORKS
www.transition.com
Security video manager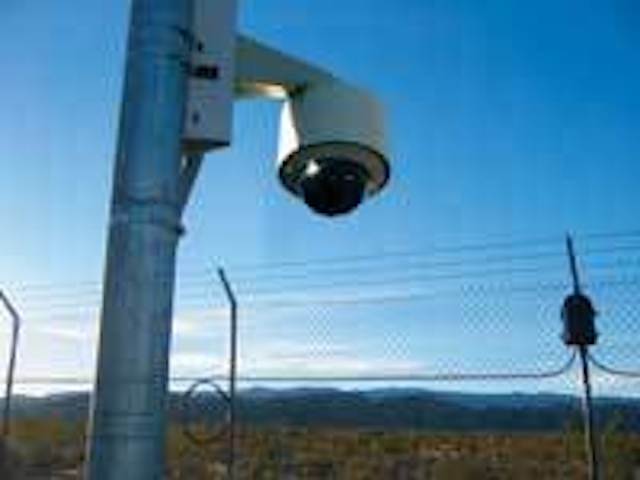 Click here to enlarge image
ViconNet Digital Video Management system has been integrated into Fiber Patrol's intrusion detection systems. Using a fiber-optic cable sensor, the Fiber Patrol system detects and reports the location of physical disturbances occurring anywhere along the length of the sensor. In a typical installation, the fiber-optic sensor cable is attached to a fence or is direct-buried. The combination of Fiber Patrol with a ViconNet system creates an active video surveillance system-one that reacts to an alarm situation rather than serving as a passive observation system. When combined with a ViconNet, the alarm will trigger video surveillance by focusing a camera on the point of disturbance, capturing video of the intruder. Multiple sites can be monitored simultaneously, and since the system employs Internet Protocol (IP), monitoring sites can be located anywhere via an Internet connection.
VICON INDUSTRIES
www.vicon-cctv.com
Two-compartment floor box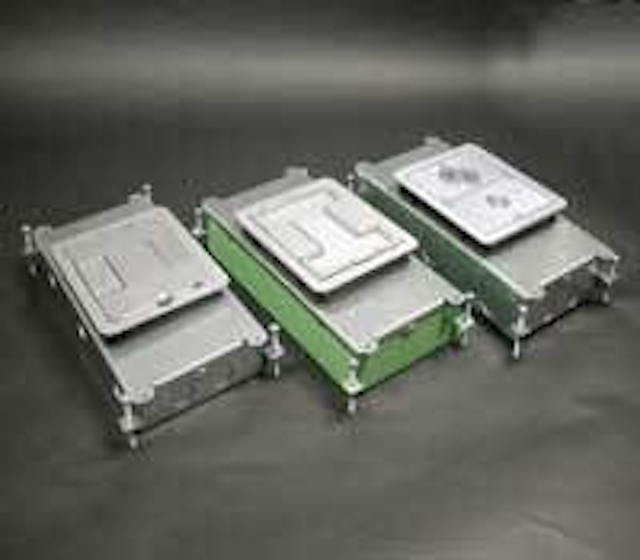 Click here to enlarge image
The two-compartment RFB2 Series floor box can be installed in either concrete or wood floors, providing power and/or communications services in open spaces or directly to a workstation as a furniture-feed box. These floor boxes feature the company's FloorPort activation covers that protect against water, dirt, and debris. All RFB2 Series boxes are adjustable before and after a concrete pouring, and can accommodate a wide range of conduit sizes.
WIREMOLD/LEGRAND
www.wiremold.com
Splicer cleaning kit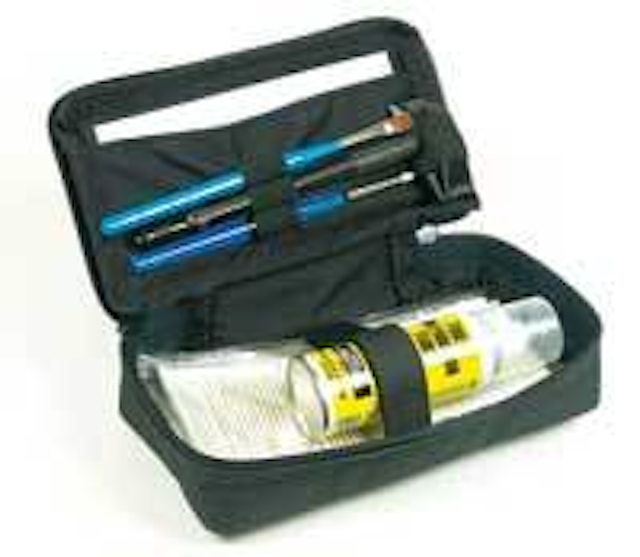 Click here to enlarge image
The Splicer V-Groove Cleaning Kit integrates eight components into an inspection and cleaning solution for any fusion splicer. The kit includes scrubber brush with stiff tapered nylon bristles, sweeper brush with soft nylon bristles, eye loupe with 3x to 12x magnification, LED pen light with momentary or constant-on switching, non-flammable and environmentally safe cleaning fluid, lint-free cotton swabs, instruction sheet with illustrations, and canvas carrying case.
AFL TELECOMMUNICATIONS
www.afltele.com
Cooling unit for server rooms

Click here to enlarge image
The InfraStruXure InRow SC cooling unit is designed to provide predictable air conditioning for telecom closets and server rooms. This 12-inch wide self-contained cooling solution is capable of providing up to 7 kilowatts of cooling capacity, letting you place the unit next to the heat load to deliver predictable, agile heat removal. According to the company, the unit's localized heat removal reduces energy costs by removing heat at the source that would otherwise require greater fan horsepower over longer distances of ductwork. A plug-and-play design allows for installation without the need for running refrigerant lines, providing remote heat exchangers, or contracting mechanical services.
AMERICAN POWER CONVERSION
www.apc.com
Power, cooling solution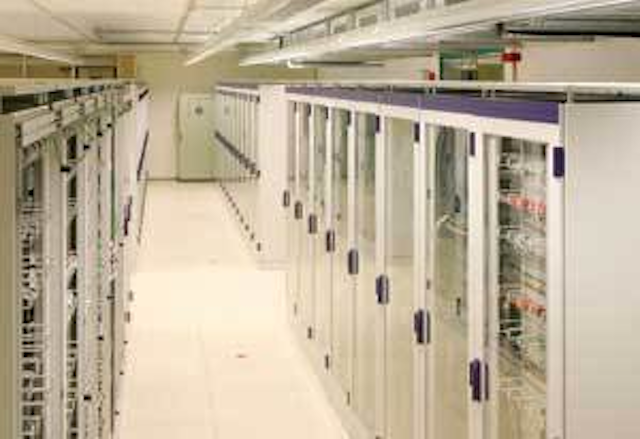 Click here to enlarge image
These ready-to-deploy racks and cabinets combine Liebert's power management and precision cooling technology with Knurr's rack system. The product line consists of three styles of 19-inch racks (server, open frame, and distribution), a family of power strips, and rack accessories. A patented aluminum extruded frame is designed to provide easy installation and precise rack adjustments. It supports slide nuts so you can put accessories anywhere on the frame. An 83% perforated door is designed to improve air flow, while door stiffeners provide additional mounting space.
EMERSON NETWORK POWER
www.gotoemerson.com
Wire twisters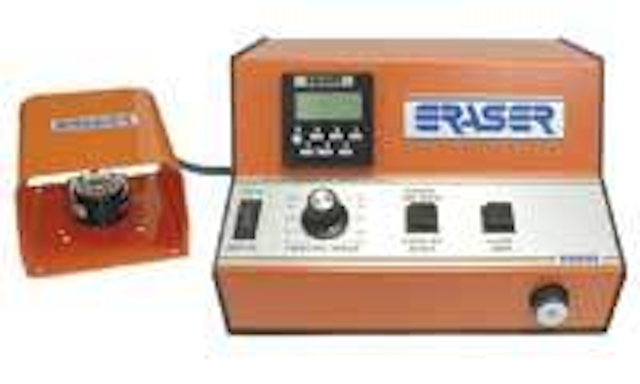 Click here to enlarge image
The WT Series wire twisters can twist wires with our without connectors, and won't damage the conductors. The twisters incorporate a speed control and counter for a consistent number of clockwise or counter-clockwise twists. Units are activated by an electronic foot pedal.
THE ERASER COMPANY
www.eraser.com
Cool from the top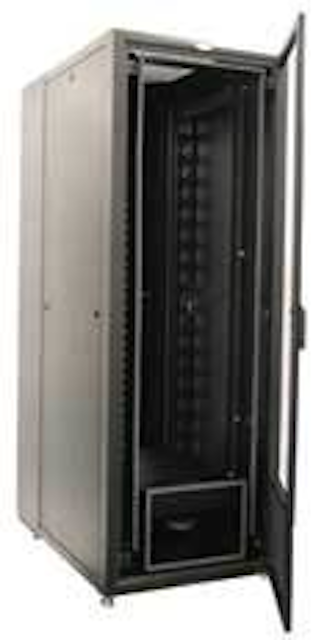 Click here to enlarge image
Designed to minimize hardware failure caused by overheating within a cabinet, the Lake Effect Thermal Enclosure provides a consistent temperature curtain at the front of the enclosure, utilizing the coldest air above the raised floor. Built in partnership with mission-critical equipment maker Karis Technologies Inc., the Lake Effect Thermal Enclosure features patented technology that uses high-performance vaneaxial fans originally designed for the aerospace industry, which generate correct air quality, pressure and temperature from the top of the enclosure to the bottom without modification to the raised floor environment. An even flow of low-temperature air is distributed to the servers' front intake face, and is used to cool the equipment by the computers' internal fans, creating a usable air environment said to satisfy up to 10 kilowatts of computer load while maintaining a consistent 65º in the front plenum chamber.
GREAT LAKES CASE & CABINET CO.
www.greatcabinets.com
UPS with USB

Click here to enlarge image
The R1500 G2 is a 1500 VA rack-mount uninterruptible power system (UPS) for telecom equipment, featuring a line-interactive topology that includes sine wave output and input/output voltage regulation. This 1U UPS is designed to correct input voltage variations as low as -35% of nominal voltage without transferring to the battery, ensuring the battery is preserved and ready for the next power anomaly. The R1500 also has two separate load segments designed to provide flexibility for configuring each segment's scheduled startups and shutdowns. Bundled with the company's Power Manager software ,the UPS also features a serial and USB port for data exchange with the host computer and for remote shutdown. A three-year warranty and a $250,000 load protection guarantee are also included.
HEWLETT PACKARD
www.hp.com/go/infrastructure
Data communications ideas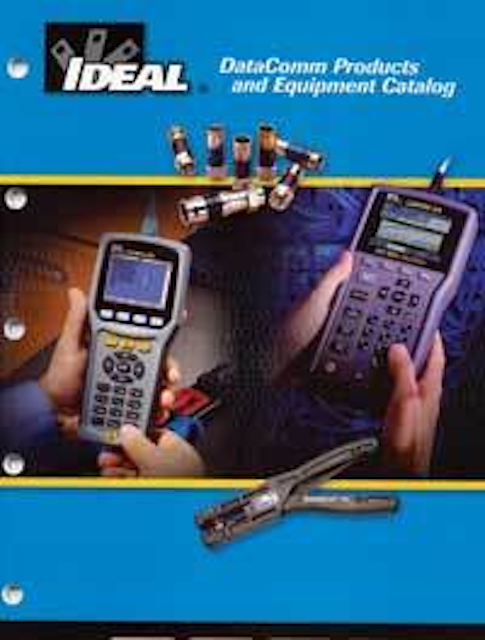 Click here to enlarge image
This 72-page catalog provides information on the company's products designed for installation, assembly, and testing of data, video, and voice networks. Products range from basic crimpers to connectors and certification testers. Many products are identified by paired conductor and coaxial or fiber-optic cabling options. A TIA/EIA-606 wire color guide is also included.
IDEAL INDUSTRIES
www.idealindustries.com
Gigabit Ethernet converter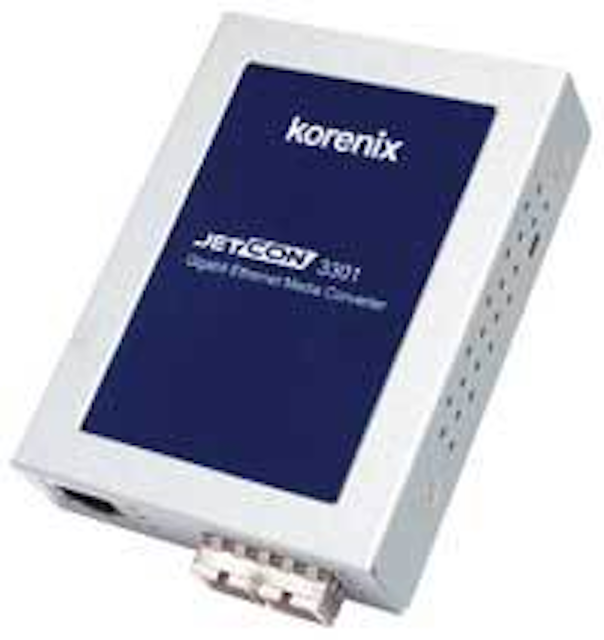 Click here to enlarge image
The JetCon 3301 Gigabit Ethernet media converter series is designed to convert 1000Base-T signals to 1000Base-SX/LX signals, extending a singlemode fiber link up to 20 kilometers. The converters features multimode and singlemode LC and SC connector formats, and can be installed as a stand-alone or mounted on a chassis. JetCon 3301 supports auto-MDI/MDIX and auto-negotiation, full-duplex operation and flow control, and link loss forwarding technology.
KORENIX TECHNOLOGIES
www.korenix.com
Composite cables
Click here to enlarge image
LibertyLinx composite cables can be used to connect HDTV, broadband Internet, home networking, line-level audio, RS-32, and projector control systems without pulling multiple runs. Cables are constructed with an abrasion-resistant outer jacket designed for easy pulling, and feature an identification stripe that stands out in wood and metal framing. Some LibertyLinx cables are also available in PVC or plenum jackets.
LIBERTY WIRE & CABLE
www.libertycable.com
Universal WAP enclosure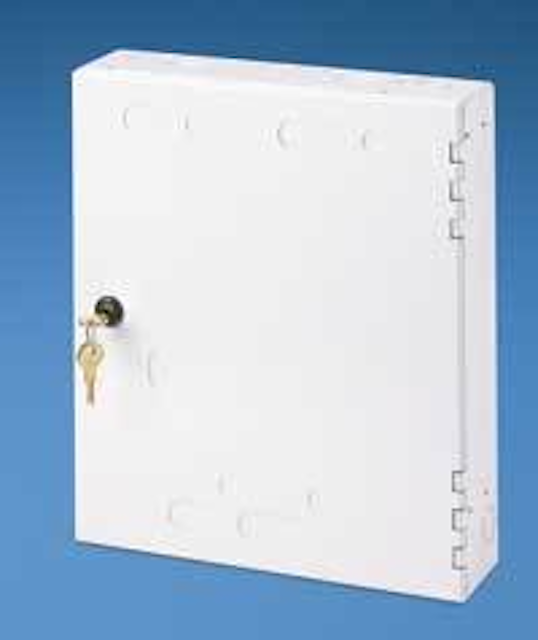 Click here to enlarge image
The PZWIFIEA is a universal wireless access point (WAP) enclosure designed to allow Cisco Aironet 1200 Series access points to be mounted in combination with low-profile Cisco Path Antennas, thereby providing flexibility for various wireless configurations. Enclosures can be wall- or ceiling-mounted, and include keyed locks that provide protection against tampering and theft. Pre-positioned knockouts are designed to accommodate antenna, mounting LED window, and conduit.
PANDUIT
www.panduit.com
Video surveillance software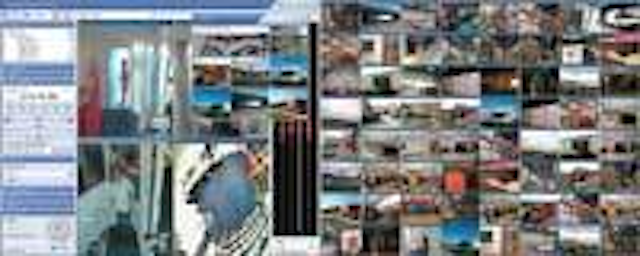 Click here to enlarge image
XProtect Enterprise 6.0 is designed for IP video surveillance installations with multiple servers or multiple sites, and able to manage unlimited numbers of cameras. The software offers a choice of clients for flexible remote access to both live and recorded video. A Remote Client can run from the system server or from a user's local computer, while the Smart Client feature is installed directly on the user's PC. The PDA Client, meanwhile, allows mobile access to the surveillance, and the Matrix module lets the Smart Client display camera views controlled remotely from other computers using the Matrix interface across the TCP/IP network.
MILESTONE SYSTEMS
www.milestonesys.com
3-phase power distributor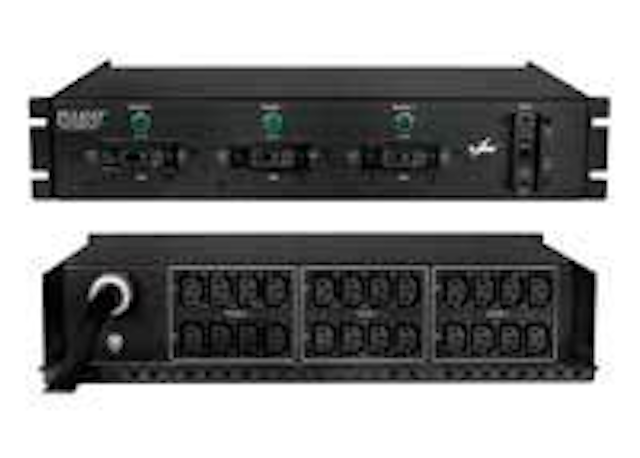 Click here to enlarge image
The PC3365 Series rack-mount power distribution unit features 3-phase 120/208-volt 30-amp via a NEMA L21-30P plug, with power output at 120 volts and distributed through 24 IEC C13 computer-style receptacles, providing 8,640 VA of power. Its high-power, 3-phase input lets you power an entire rack of equipment from a single cord, reducing cabling costs and clutter. Built especially for data centers, this 19-inch all-steel unit is 2U tall, with a front panel featuring indicator lights and circuit breakers. It comes standard with electrical noise power filtering that provides protection from EMI and RFI interference.
PULIZZI ENGINEERING
www.pulizzi.com
Cable infrastructure management software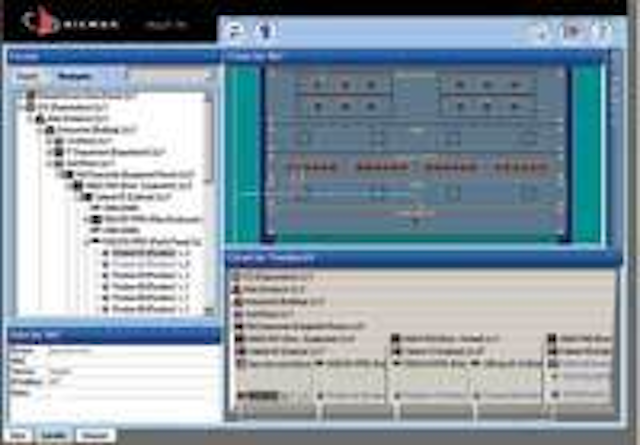 Click here to enlarge image
MapIT IM infrastructure manager software combines with the company's MapIT enabled copper and fiber-optic network cabling systems software to provide enhanced network management capabilities and features. The new software simplifies the setup and administration of the MapIT system, streamlining capabilities in an enhanced user interface. It offers real-time monitoring and recording of mission-critical connections in data centers and wiring closets. MapIT IM also detects unauthorized moves, adds and changes, identifies unauthorized devices, and offers flexibility in controlling IT infrastructure records, network documentation, and auditable event logs.
SIEMON
www.siemon.com
Connector for Cat 7a cabling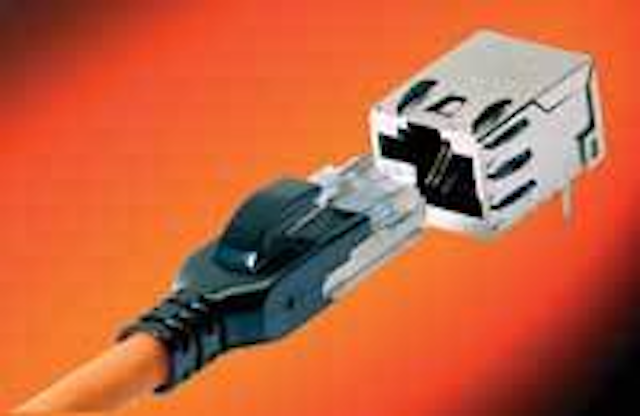 Click here to enlarge image
Built especially for Category 7a premise wiring systems and 10-Gigabit Ethernet, the ARJ45 Category 7a modular plug and jack can be used as a low-cost replacement in closed-loop InfiniBand, Fibre Channel, EyeMAX, Serial Attached SCSI, PCI Express, and microTCA applications. According to the company, the connectors are specifically appropriate for data centers, healthcare imaging, and financial installations. Manufactured of UL94-VO plastics, the connectors feature gold-plated contacts designed to ensure high-cycle life, and are interface-compatible with Nexans' GC45 connector system. Operating temperature range is -40º to 85º C, with durability of 750 matching cycles. Voltage range is 150 volts AC, with a current rating of 1.5 amps at 25º C.
STEWART CONNECTOR/BEL FUSE
www.belfuse.com/stewartconnector
Inside-out patching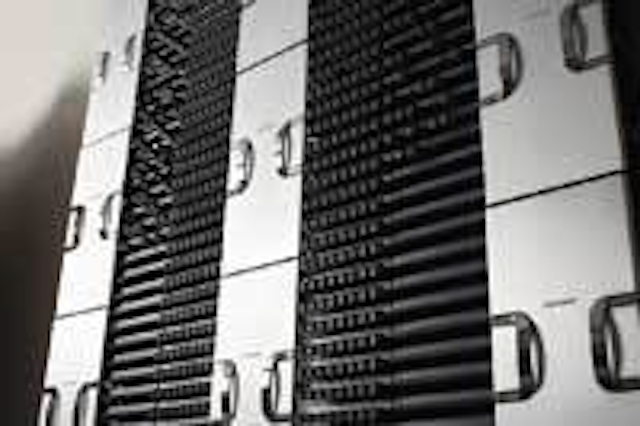 Click here to enlarge image
The VisiPatch 360 System is both an RJ-45 alternative rack-mount patching solution and an optimized wall-mount solution designed for easier cable management. By projecting cords away from the user and into the patching field, VisiPatch 360 makes the patch cord plug-end more accessible, while making it easier to read the labeling information during moves, adds, and changes. The system is built to reduce cord cluster, and patch cord and cable congestion associated with certain RJ-45 systems. It features snap-together components, and supports 10-Gbit/sec and 1-Gbit/sec applications.
SYSTIMAX SOLUTIONS
www.systimax.com
OSP cable tester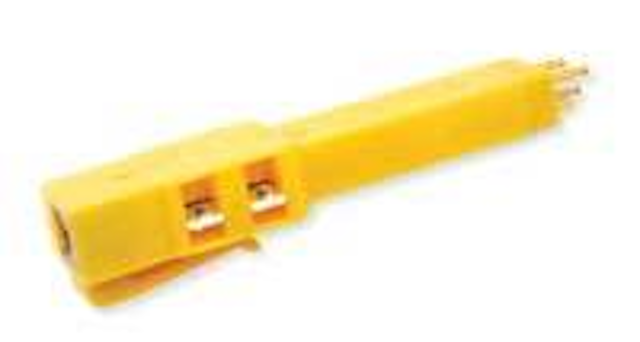 Click here to enlarge image
The OSP Tel-Line tester lets you troubleshoot cable pairs without cutting, stripping, and disconnecting/reconnecting. The tester can also be used to monitor directly to a test set or laptop via its RJ-11 port, or can be used as a modular line tester (Banjo) at the customer premise. OSP Tel-Line plugs into five-pin connector blocks to isolate the central office from the field at SLC remotes, building entrances, and central offices. It comes separately, or in a kit that includes a looping plug designed to restore service to the customer while testing their phone line, a ground-start cord, and a three-foot wall cord/craft access terminal cord. This test tool looks IN or OUT with butt sets or volt meters.
WESTEK ELECTRONICS
www.westek.com
Labeling software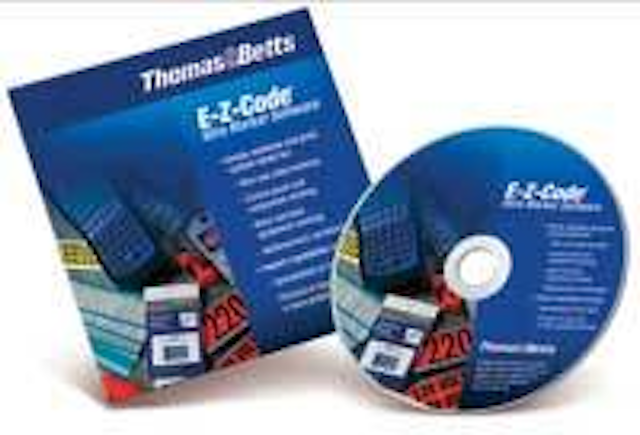 Click here to enlarge image
Especially suited for identifying cable, terminal blocks, control panels and components, and voice an data equipment, E-Z-Code PC label software features three levels of alphanumeric serialization and the ability to import data from Excel spreadsheets, as well as pictures, logos, and drawings. The software includes preloaded templates that let you keystroke or import information for custom labels that can be saved for future use.
THOMAS & BETTS
www.tnb.com