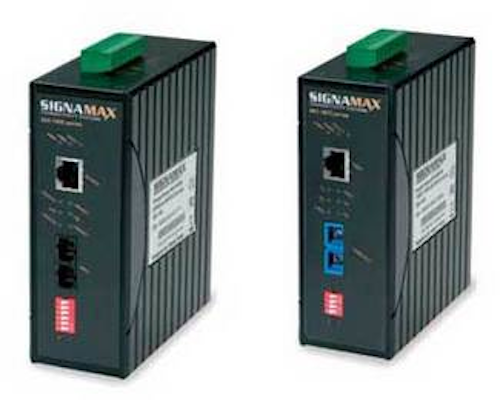 Today's media converters deliver the benefits of fiber and extend the lifecycle of legacy equipment.
by Betsy Ziobron
Media converters are commonly used to covert copper to fiber-optic cabling and vice versa, as well to convert multimode to singlemode fiber. They support a variety of protocols, from Ethernet and Asynchronous Transfer Mode (ATM) to serial data like RS-232. They can even be used for converting a plain old telephone service (POTS) line or closed-circuit television (CCTV) to fiber.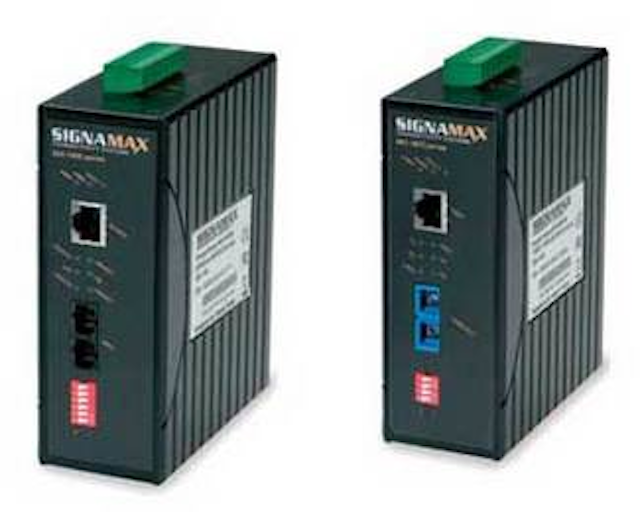 Ideal for outdoor environments, transportation roadside systems, shop floors, and other harsh environments, Signamax Connectivity Systems' industrial media converters have been developed to operate in harsh environments with temperature extremes of -40° to 176°F (-40° to 80°C).
Click here to enlarge image
Media converters come in several different form factors for various applications. Standalone devices support low-density applications where only one or two links need to be converted, while larger chassis-based media converters manage several converted links in a tighter, rack-mountable package. Managed media converters with built-in intelligence are also available for providing status of individual ports and power, as well as advanced management capabilities like bandwidth allocation.
"We also offer PCI [peripheral component interconnect] media converters that can be installed into a workstation, server, or other device to provide a fiber interface," explains Bill Schultz, vice president of marketing for Transition Networks (www.transition.com). "Inside the device, a PCI media converter simply connects to the copper interface on the motherboard with a small copper patch cord."
Schultz adds, "A PCI media converter is often more appealing than installing a fiber NIC [network interface card] because it takes power from the device but doesn't require the installation of drivers and testing of applications needed with a NIC."
For years, media converters have been used to inexpensively convert copper links to fiber as a means of extending distances, avoiding electromagnetic interference, or ensuring a more secure signal. While those applications remain common, media converters can also extend the lifecycle of existing equipment. As a result, today's media converters are used in a broad range of applications that span virtually every market.
Prolonging the legacy
"IT managers have to be more creative with how they spend their budgets, and many are reluctant to rip out effective legacy equipment," says Ron Thompson, director of systems development and training for Signamax Connectivity Systems (www.signamax.com). "Anytime a customer wants to continue using legacy equipment but interface it with the fiber network, media converters are an economic alternative that makes that possible."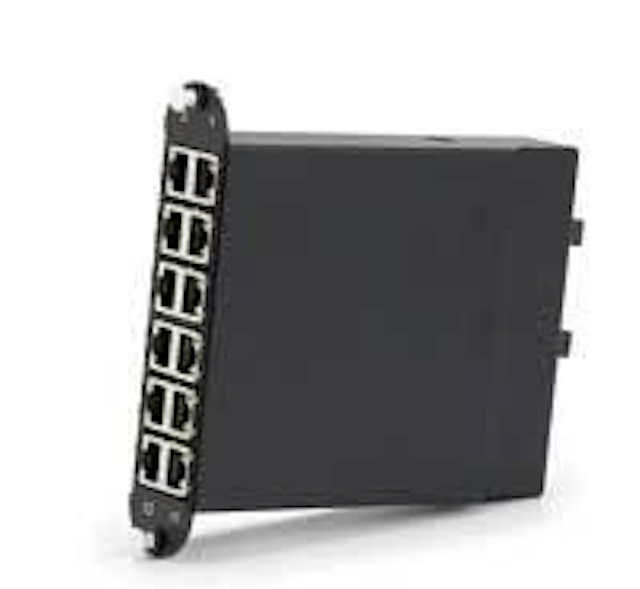 Corning Cable Systems' Plug & Play Universal Systems Media Converter Module for the data center provides 12 RJ-45 ports on the front and two MTP fiber connectors on the back.
Click here to enlarge image
Whether it's for lightning and electromagnetic interference/radio-frequency interference (EMI/RFI) immunity, or extending distances or the lifecycle of equipment, media converters are often the chosen method for converting to fiber. They span all markets, from retail stores, academic institutions, and medical facilities to the financial sector, service providers, and the government.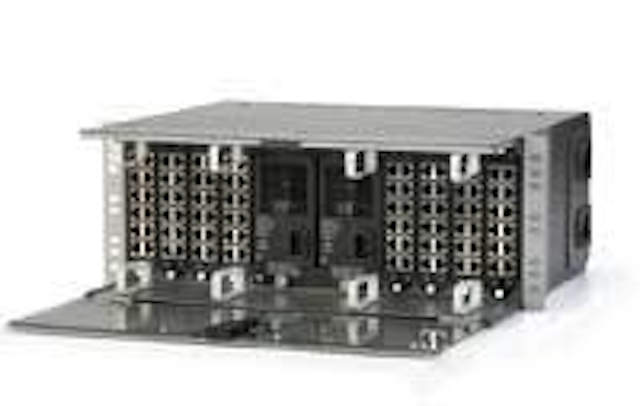 Eight Corning Cable Systems' Plug & Play Universal Systems Media Converter Modules offer a 96-port capacity in a 4U housing.
Click here to enlarge image
"A utility may have only a copper phone line running out to a water tower, but that copper line is susceptible to lightning and can require constant repair," says Schultz. "By deploying media converters at both ends, that link can be switched to fiber. In large warehouses and retail establishments, media converters are used to support longer distances for connecting terminals or wireless access points that support applications like wireless inventory scanners."
Security systems are another common application for media converters. Card readers, surveillance cameras, or other alarm systems often need to be located too far away from the central office to use copper. Whether a device is Internet Protocol (IP)-based or analog, media conversion can connect these remote devices via fiber. Today's converters are also available with Power over Ethernet (PoE) to provide power to remote devices.
"The ability to transport information long distances over fiber is all made possible with media converters," says Thompson. "We have so many types of devices that need to maintain a copper interface, because having a fiber interface would limit their abilities and increase the cost."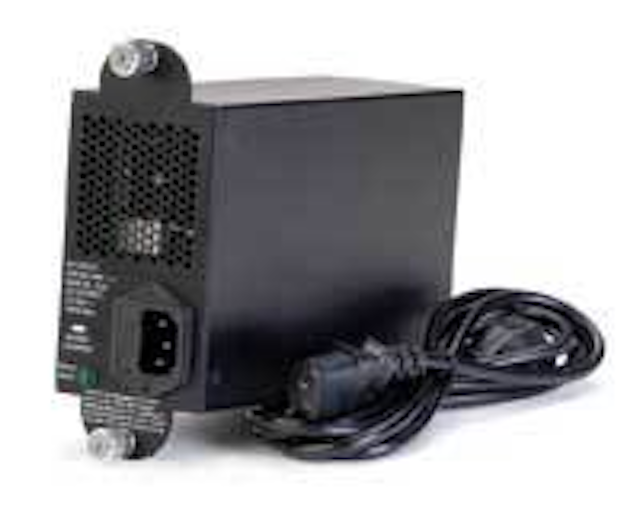 Corning Cable Systems' new Plug & Play Universal Systems Media Converter Module for the data center is used with two power supply modules for redundant power.
Click here to enlarge image
According to Thompson, intelligent traffic control is one area benefiting from media converters. Highway system components, such as traffic lights, cameras,and toll booths, are typically connected back to a central location over fiber using media converters at both ends.
Space can also play a role in the use of media converters. While many campuses use switches to connect buildings via fiber and then provide a copper horizontal infrastructure within the building, sometimes, there is simply not enough space to support that topology. "There are some universities with older buildings that have chosen to bring fiber to student dorm rooms because having a closet within 90 meters of each room is not feasible, and pathways are limited," says Schultz. "To provide a copper interface for student laptops, these universities provide each student with a desktop media converter, or they may hide the converter behind the wall so that the student only sees the copper interface."
Service providers have long used media converters to extend their networks, and the proliferation of fiber-to-the-home and fiber-to-the-premises applications are calling for more media conversion, especially managed media converters.
"When service providers want to sell capacity to businesses, they drop off dark fiber at the premise and then a media converter is used to light up that fiber," explains Thompson. "The converter could be owned and operated by the service provider or the customer. In that scenario, media converters can be used at the demarcation point toswitch from the service provider's singlemode fiber to the customer's multimode, which is less expensive than purchasing singlemode switch modules."
Adds Schultz, "The growing service provider market is driving us to put more intelligence into media converters, because service providers have quality-of-service requirements they have to meet. Service providers also require products designed around industry standards so they are not locked into one proprietary solution."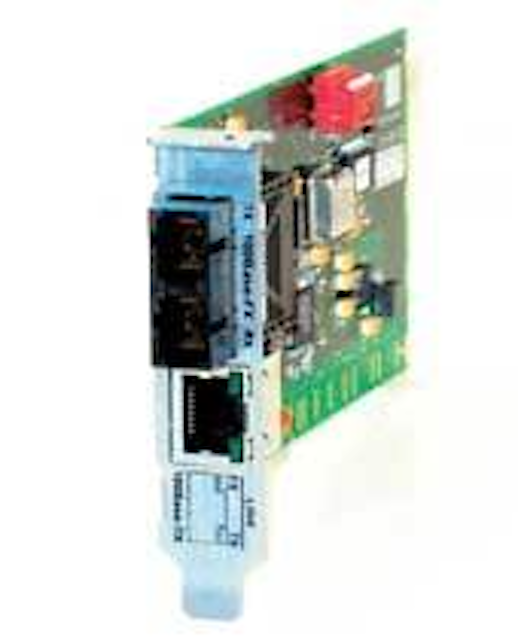 To deliver low-cost fiber connectivity to the desktop, Transition Networks' PCI media converters install directly into the PCI slot on a workstation or server, with no configuration or additional power required.
Click here to enlarge image
Designed for service providers requiring managed conversion at the remote end, Transition Networks' 10/100 copper-to-fiber media converters support IEEE 802.3AH (Ethernet in the first mile) remote management for monitoring, reporting, and active management of the entire link via either OAM (operations, administration and management standard) in-band, or IP-based management. Available in standalone or modular chassis versions, these first-mile converters enable remote loopback for troubleshooting and the ability to provide different bandwidth levels for different customers and cost points.
From the factory floor
What was once a serial and proprietary data environment, the industrial marketplace is now experiencing a shift toward Industrial Ethernet, which enables the convergence of manufacturing and distribution equipment with the corporate LAN for better monitoring and data gathering. As a result, media converters have made their way to the factory floor.
Signamax recently introduced a line of industrial media converters designed to be DIN-rail mounted and stand up to the harsh industrial environment. "In the manufacturing process, computer-controlled devices like milling machines need to be connected to the network," says Thompson. "Often, these environments are very large and noisy, and fiber is the best media for connecting these devices because it's immune to the noise and can support much greater distances. That's where our media converters come in. For example, a manufacturing plant might have one standalone media converter at each device and a chassis-based media converter back in the LAN closet."
In the industrial environment, however, many customers are reluctant to switch out older serial data devices that still function properly. To extend the lifecycle of these devices, Signamax will soon introduce industrial standalone media converters that translate serial data into Ethernet.
"These media converters will also be DIN-rail mounted, and they will provide an IP address that essentially looks like a network interface card to the network," says Thompson. "We will be offering these media converters in both copper and fiber."
To the data center
Another new area benefiting from media conversion is the data center. In March, Corning Cable Systems (www. corningcablesystems.com) and Transition Networks teamed up to add Gigabit Ethernet copper-to-fiber media converters to Corning's portfolio of Plug & Play Universal Systems products for the data center.
"The data center has typically deployed media converters in very low quantities of just one or two ports, but now Corning has added a unique solution that saves space and improves air flow to help organizations optimize their data center connectivity infrastructure," says Schultz.
Corning's new media converter module for the data center is configured with 12 modular RJ-45 ports on the front and two high-density, 12-fiber MTP connector ports on the rear to convert 1000Base-T to 1000Base-SX. The media converter modules can be placed in a 1-rack unit (1U) housing to provide 24 copper ports or in a 4U housing to provide 96 copper ports, which Corning says is the highest density media conversion solution currently available. The connector housing, which is compatible with other Corning Plug & Play components, includes a special area designed for two redundant power supply modules with optional remote management.
"As we move to 10 Gigabit speeds over copper, one of the limitations is the larger size of the copper cable," says Alan Ugolini, manager of data center market development for Corning Cable Systems. "With possibly hundreds or thousands of larger copper cables routing throughout a data center, space becomes an issue. In addition, these larger copper cable bundles can block air flow under the floor and in pathways."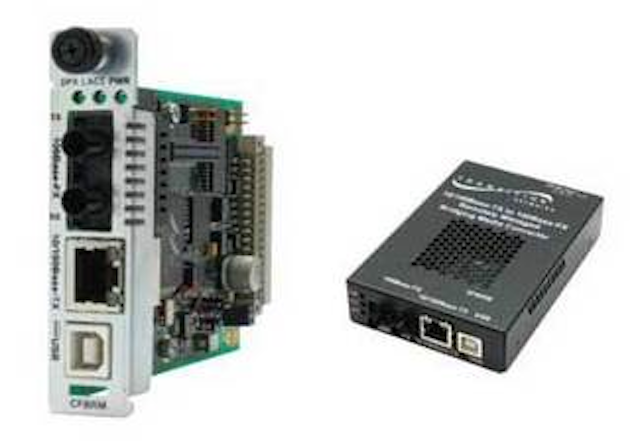 Transition's remotely managed 10/100 media converters for service providers are available in modular chassis or standalone versions, and provide monitoring and reporting of the entire link.
Click here to enlarge image
The Plug & Play media converter module basically resembles a copper patch panel on the front but offers the high-density MTP fiber connections on the back. This enables customers to leverage their existing copper-based electronics but switch to a fiber infrastructure in pathways throughout the data center. Because the modules share the same footprint as Corning's other optical Plug & Play modules, the system can be migrated to an all-optical solution.
"With 10 Gig over copper, port density goes down, cable size goes up, and alien crosstalk and distance become issues," explains Ugolini. "Eventually, fiber is going to cost less, but for now, most Gigabit networks still deploy less-expensive copper switches. Implementing a fiber infrastructure in the data center with the use of media converters lets customers continue to use these lower-cost copper electronics but easily migrate to fiber when they're ready for 10 Gig."
Ugolini continues, "With the fiber cabling already in place, customers can simply unplug the media converter modules and plug in fiber breakout harnesses or an MTP patch panel without having to recable the data center infrastructure."
Says Transition's Schultz, "One of the great aspects of media converters being deployed in virtually every market and so many different applications is that we are not susceptible to downturns in any specific market. If one market goes down, there are many others to fall back on."
BETSY ZIOBRON is a freelance writer and regular contributor to Cabling Installation & Maintenance. She can be reached at: bziobron@comcast.net
---

This just in....
As this issue was going to press, Stratos OpticalTechnologies (www.stratosoptical.com) unveiled a dual RJ-45-enabled converter for harsh environments that provides a single standalone bulkhead conversion for multimode Gigabit Ethernet links.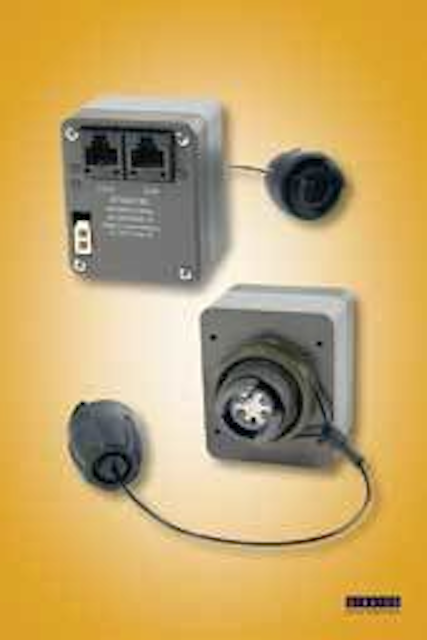 Click here to enlarge image
Replacing fiber modems and cable assemblies, the EBK-xRJ-xxVx GE copper-to-fiber device provides 1.25-Gbits/sec data rate conversion for link distances up to 550 meters. The electrical signal input is an RJ-45 interface and the fiber-optic interface is HMA expanded beam technology, which includes an optical lens system that provides immunity from water, mud, dust, oil, and other contaminants that can damage the fiber end-face.
Stratos says its new active bulkhead with electrical/optical media converter built into the interior of the optical port reduces overall space and weight requirements, and is especially suited for ruggedized networks used in industry, military, and certain aviation applications.