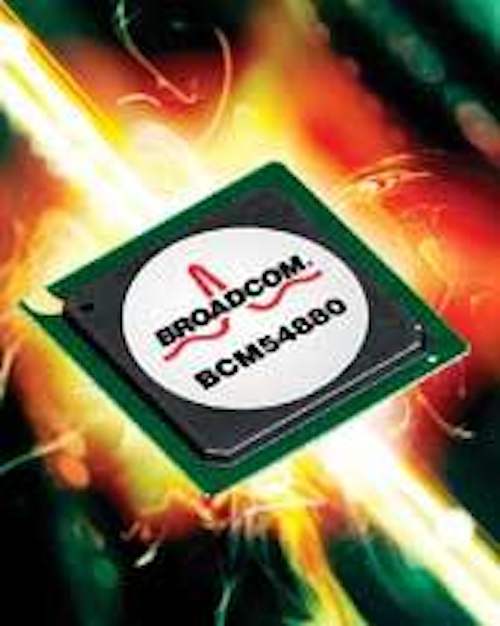 A 65-nm CMOS octal physical layer (PHY) device from Broadcom Corp. (www.broadcom.com) is designed to enable 10/100 Ethernet transmission over extended distances-up to 500 meters-over one, two, or four wire pairs of Category 5 or telephony grade cabling.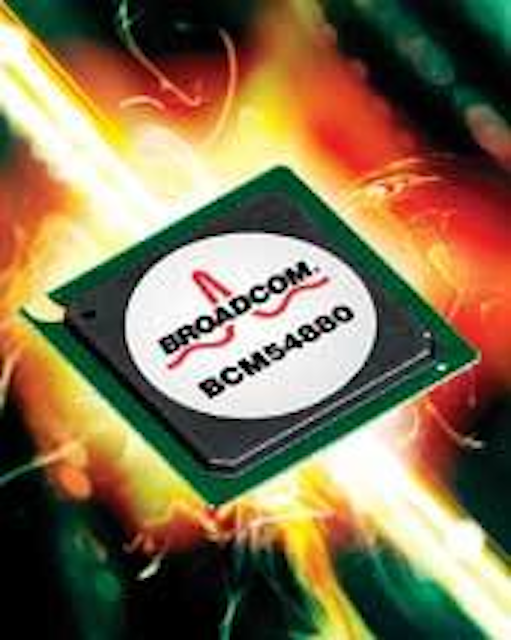 Click here to enlarge image
The technology in Broadcom's BCM54880 octal Gigabit Ethernet PHY supports traditional Ethernet services and other network infrastructures for hotels, universities, convention centers, and airports that require longer than 100-meter reach or operation over a single twisted-pair. The extended reach can also be used for new IP services and applications, such as broadband access, VoIP, wireless access points (WAP), and surveillance cameras.
Unlike competitive extender technologies, says Broadcom, the BroadR-Reach design enables every port to support 10Base-T, 100Base-TX, and 100Base-T, providing interoperability and connectivity over distances up to 100 meters while extending 10 and 100 Mbits/sec operations up to 500 meters.
For example, some devices in new installations, such as WAPs and surveillance cameras, may not be located within the standard 100 meter range of horizontal wiring in structured cabling systems. The BroadR-Reach technology lets designers and IT managers connect devices over distances that would otherwise require fiber-optic cabling and optical transceivers.
The BCM54880 features eight complete 10/100/1000Base-T and BroadR-Reach transceivers integrated on a 65-nm CMOS chip. It includes either SGMII serial media access controller interfaces and eight copper ports-each port supporting one, two, or four twisted-pair line connectors.
The device also features hardware-accelerated cable checker diagnostic software that detects cable length or cable plant impairments.