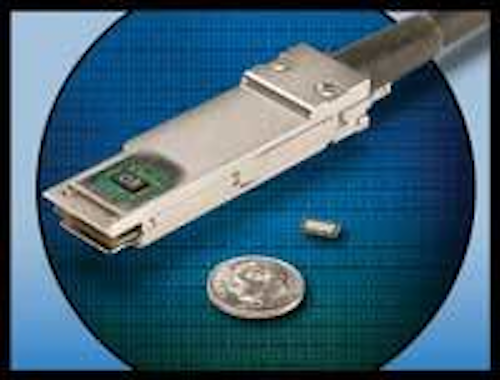 An integrated four-channel equalizer with high layer functionality embedded within an ultra-small quad small-form-factor-pluggable (QSFP) connector is designed to help data center installers stick with copper rather than convert to more costly optical-fiber.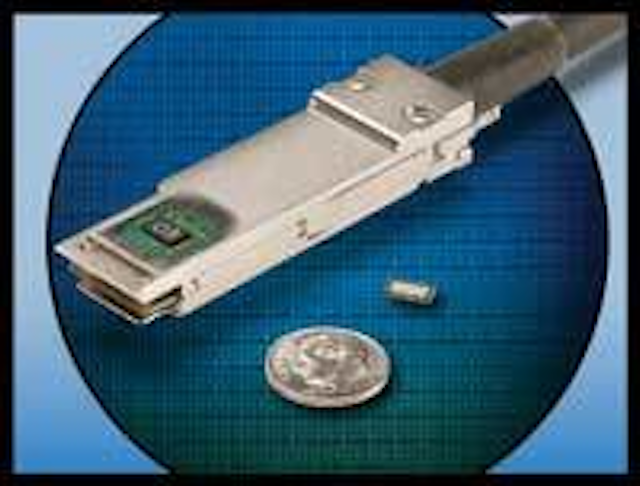 Quellan's QLx4000 series of lane extenders are designed to address distance and cable thickness problems within the data center, and can reduce interconnect power by hundreds of kilowatts.
Click here to enlarge image
Quellan's (www.quellan.com) QLx4000 series of lane extenders combines a high-density QSFP connector with the company's Q:Active chip that enables much longer, thinner, copper cabling, eliminating the need to convert to fiber-optics. Quellan says its "active cable" technology will also reduce interconnect power in the data center by hundreds of kilowatts, and make room for thousands of additional server ports in the existing footprint.
The embeddable devices deliver four channels of processing in a 4 x 7-mm package, and can be integrated into any cable shell, line card or backplane. Power dissipation is 240 mW, while aggregate device bandwidth ranges from 10 to 34 Gbits/sec.
"Lower power consumption and greater density are the most important challenges our [data center] customers are facing," says Quellan CEO Tony Stelliga. "So, we took the industry's smallest connector-QSFP-for a 33% increase in port density and inserted our analog technology to deliver a 300% reach extension over copper, and an 80% power savings over fiber-optics."
Typical data center cable interconnect conduits can exceed 12 feet in diameter and weigh up to three tons, with interconnect power consumption heading toward megawatt levels. The QLx4000 developers note that data centers have traditionally utilized "bulky, conduit-blocking cables and connectors, or power-hungry fiber-optics, eroding data center efficiency."
Says Lloyd Dickman, CTO for InfiniBand products at QLogic (www.qlogic.com), "Extending copper on thinner gauge cable is critical in meeting customer requirements for cable management, distance, and bandwidth. Coupling Quellan's analog technology to QSFP delivers the additional benefit of higher density."
The QLx4300 and 4600 are now sampling, with the 4800 available for sampling third quarter of this year.