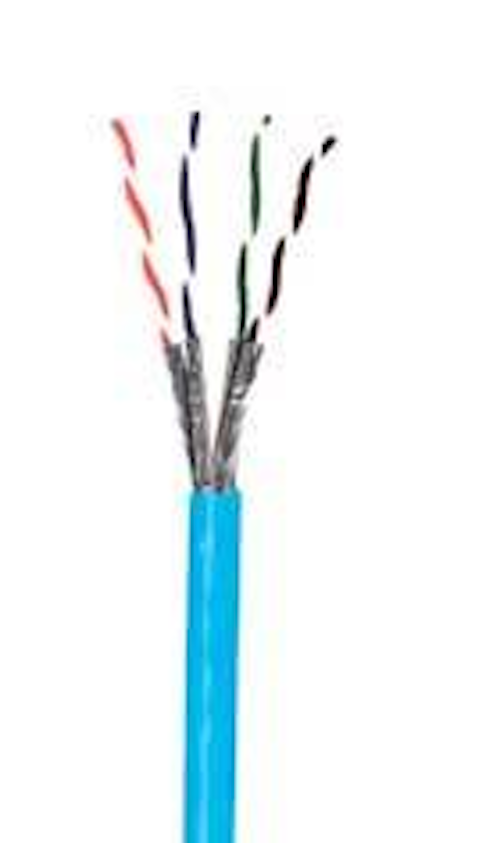 Two options for 10-GbE
The GenSPEED 6500 shielded (below) is a 600 MHz Category 6A cable designed to offer maximum immunity from external noise caused by power sum alien crosstalk in cable bundles. It features 17 dB of PSNEXT margin guaranteed, and positive power sum attenuation to crosstalk ratio (PSACR) beyond 500 MHz. Overall cable diameter is below 0.300 inches.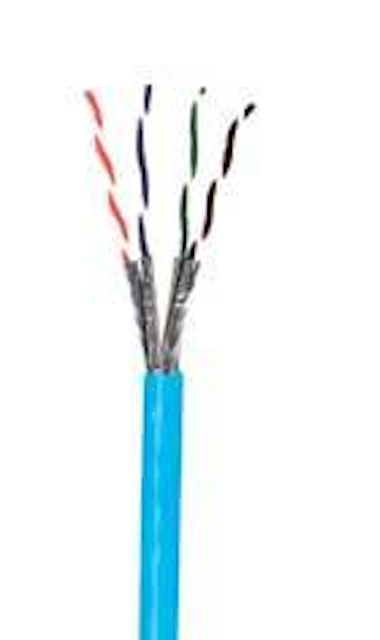 Click here to enlarge image
The GenSPEED 7000 (right) is a Category 7 600 MHz cable that offers 27 dB of guaranteed PSNEXT improvement to the Category 6A specification, plus reduced attenuation and positive PSACR beyond 600 MHz. Both cables are constructed with four individual shielded pairs for maximum RFI/EMI immunity, and a common drain wire for simplified termination and grounding. An additional braid shield has been added to GenSPEED 7000 for greater shield effectiveness. These cables are designed to support multiple applications over a single cable, including digital networking and analog voice and video transmission.
GENERAL CABLE
www.generalcable.com
Secure network cable
Click here to enlarge image
LANmark FTP cables are built to eliminate alien crosstalk, provide immunity to EMI and RFI, and add an additional layer of security and immunity critical for networks. Available in Category 6 or 5e, these cables have received third-part verification that the stated performance capabilities and electrical characteristics are accurate. As part of the NetClear GTS system for 10-Gbit/sec transmission, the LANmark-6 FTP meets the newly ratified IEEE 802.an standard for support of Gigabit Ethernet at 100 meters, and offers a smaller diameter than comparable 10-Gbit UTP cables. Installation is via RJ-45 style FTP connectivity. The cables are available as plenum- or riser-rated, in standard lengths, and in a variety of jacket colors.
BERK-TEK
www.berktek.com
Harsh environment cordsets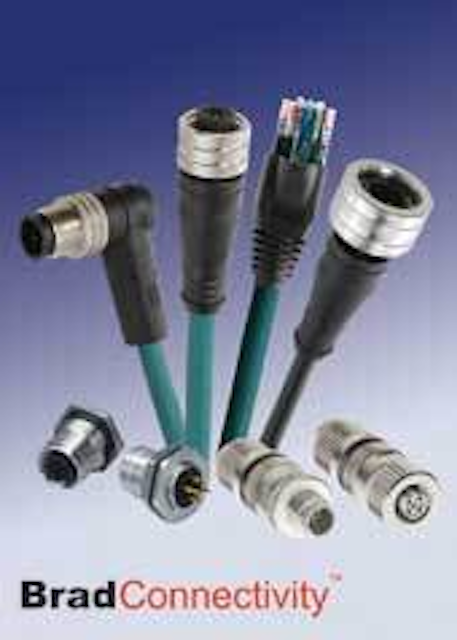 Click here to enlarge image
BradConnectivity M12 Industrial Ethernet cordsets are available with shielded PUR twisted-pair cabling designed for increased flexibility and high resistance to oil-based fluids. Featuring the company's Ultra-Lock connection system, the cordsets' radial seal design provides a secure, consistent seal via a simple push-in maneuver. The company says its Ultra-Lock system eliminates connector-related intermittent signals. All shielded BradConnectivity cordsets are compatible with DeviceNet, PROFIBUS, and other point-to-point wiring systems, come in standard or custom lengths, and are available in single- and double-ended as well as straight and right-angle versions.
WOODHEAD INDUSTRIES/MOLEX
www.woodhead.com/products/ automation
Plenum, riser Cat 6A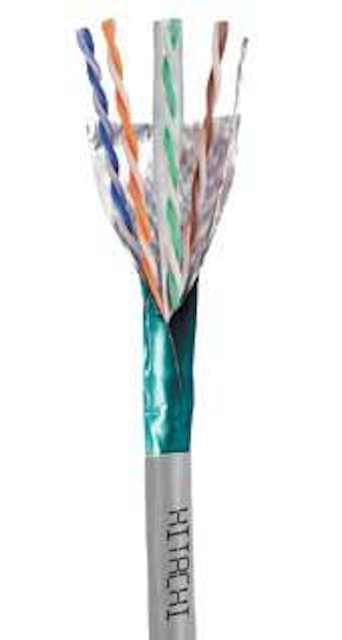 Click here to enlarge image
The company's selection of UL-verified F/UTP cables includes Category 3, 5e, 6, and 6A, with the 6A said to be the only one in the industry to have both plenum- and riser-rated UL verification. Designed to offer optimal performance in cables with small outside diameters, the company's shielded design technology allows more cables per conduit. Cables are compatible with all shielded connectivity and, when used in a certified project, are covered by a lifetime warranty.
HITACHI CABLE MANCHESTER
www.hcm.hitachi.com
Individual foil shields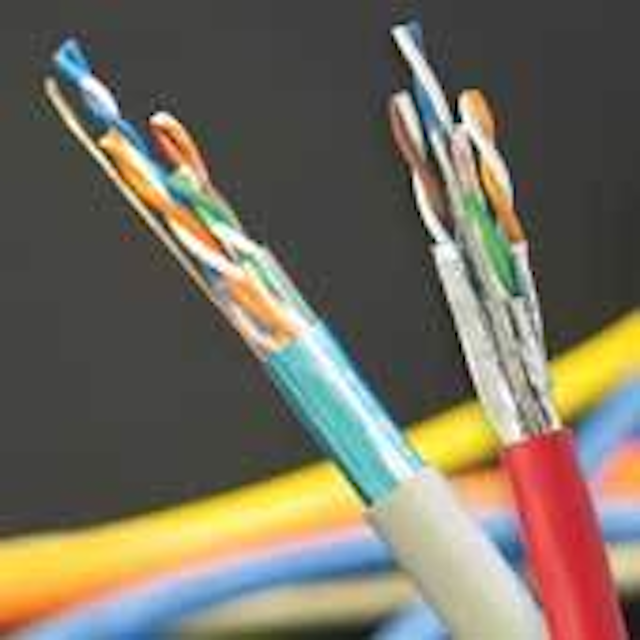 Click here to enlarge image
Category 6A individually foil-shielded twisted pair cables are guaranteed to perform out to 600 MHz and designed to exceed requirements of the draft TIA 568-B.2-10/IEEE 802.3an 10-Gigabit Ethernet applications. Cables are available in plenum and riser versions, and in a variety of colors. The company's Category 5e shielded cables have an overall foil shield over the four-pair core, and are available in plenum and riser versions. These cables are guaranteed to perform out to 350 MHz and meet all applicable TIA-568-B.2 requirements.
SUPERIOR ESSEX
www.superioressex.com
Cables for Industrial Ethernet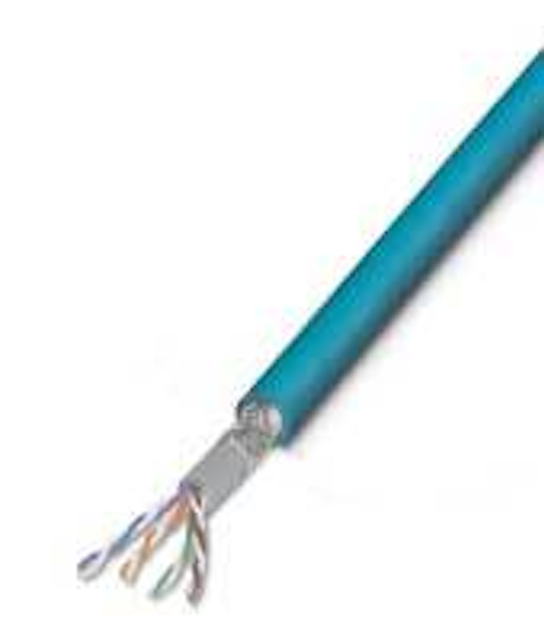 Click here to enlarge image
The VARIOSUB line includes Industrial Ethernet cables for Category 5e (up to 100 Mbits/sec) and Category 6 (up to 1,000 Mbits/sec). This heavy-duty cable with a solid twisted-pair conductor is suitable for permanent installation outside the control cabinet or switch box. For use inside a cabinet, remove the second outer sheath and assemble an RJ-45 connector for connectivity to the modules. A flexible, light-duty version is available for internal cabinet cabling and for use in the field, while a more flexible irradiated version can be used for applications in welding areas or where flexible conduits are in place.
PHOENIX CONTACTwww.phoenixcontact.com
Cat 6A for data centers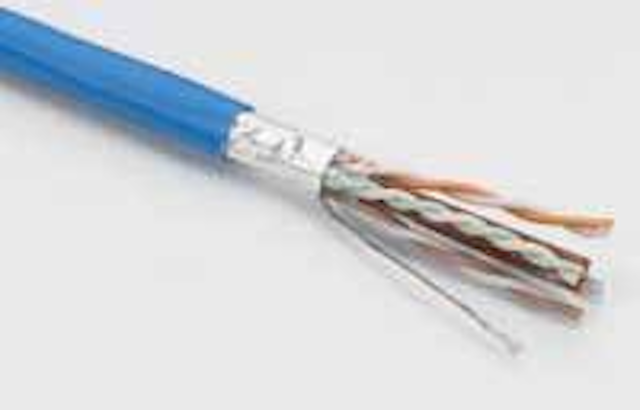 Click here to enlarge image
Augmented Category 6 (Category 6A) F/UTP CopperTen cables can be used in the data center, communications closet, and workstation for 10-Gigabit shielded applications. The cable is designed to minimize alien crosstalk and insertion loss, and supports 10-Gigabit Ethernet over shielded copper to 100 meters. F/UTP CopperTen meets the performance requirements of IEEE 802.3an and TIA 568-B.2-10 draft standards, and features a 20-year warranty.
ADC
www.adc.com
Shielded assembly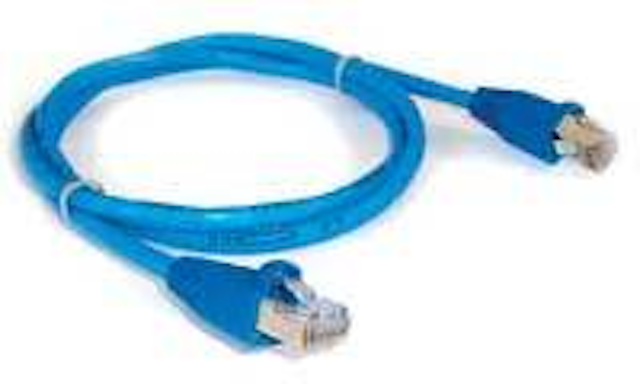 Click here to enlarge image
These twisted-pair shielded cable assemblies can be custom-manufactured to specific category specification, length, and color requirement. Crafted and thoroughly tested under strict quality control procedures, the cable assemblies are manufactured to meet or exceed industry standards, and come with the company's System 2000 lifetime warranty.
GRUBER INDUSTRIES
www.gruber.com
Twist-and-strand technology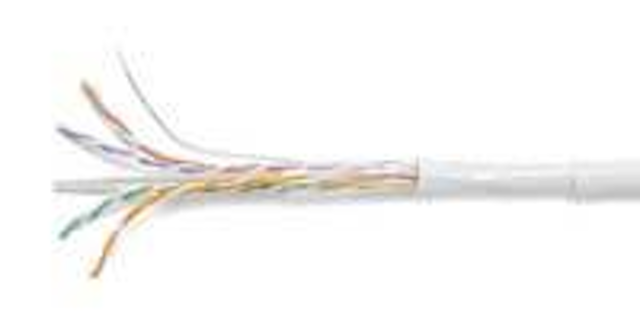 Click here to enlarge image
Uniprise FTP cables are designed to provide excellent crosstalk performance via optimized twist-and-strand schemes. Category 6 cables are manufactured with a patented pair isolator, which the company says provides further separation of the pairs as well as enhanced crosstalk performance. In addition to Category 6 plenum and non-plenum versions, Uniprise is also available in plenum/non-plenum Category 5e. The cable's flexible jacket is designed to strip cleanly and resist kinking, while co-extruded color striped pairs are designed for quick identification.
COMMSCOPE
www.uniprisesolutions.com
10-Gigabit shielded cabling system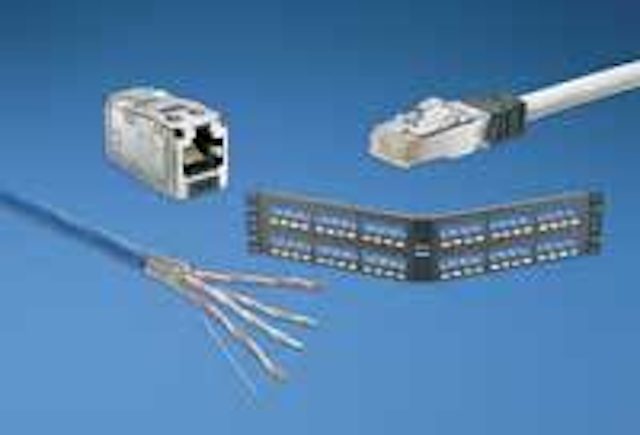 Click here to enlarge image
The TX6 10Gig shielded copper cabling system is an end-to-end 10-Gigabit Ethernet solution designed to provide exceptional alien crosstalk performance beyond 500 MHz. The system delivers ETL- and Delta-tested performance in a 4-connector channel up to 100 meters, and is built for data center server links and high-end workstations where suppression of EMI/RFI, increased transmission performance, and security are critical. Copper cable is available in plenum, riser, and LSZH fire ratings, while each system connectivity component features integral grounding technology designed to provide proper grounding and bonding.
PANDUIT
www.panduit.com