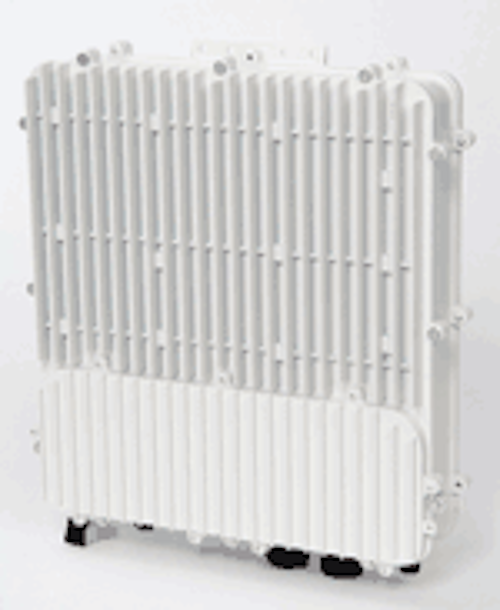 OSP multimedia gateway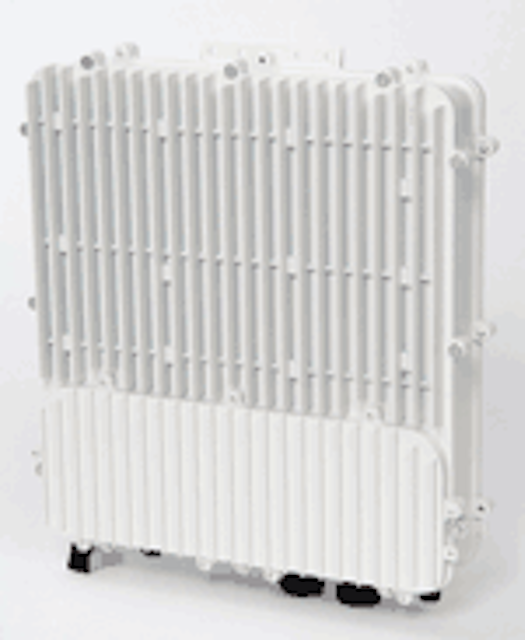 Click here to enlarge image
The Total Access 1124P Outside Plant Broadband Multimedia Gateway is designed to deliver baseband POTS and broadband multimedia to any customer over a single phone line-copper or fiber. Featuring a proprietary DSLAM VoIP technology, the environmentally sealed and hardened gateway can be mounted to a pole, crossbox, and remote terminal locations without the need for additional enclosures. It can also be locally or line-powered, and is equipped with integrated splitters and primary protection.
ADTRAN INC.
www.adtran.com
FTTx no-polish connector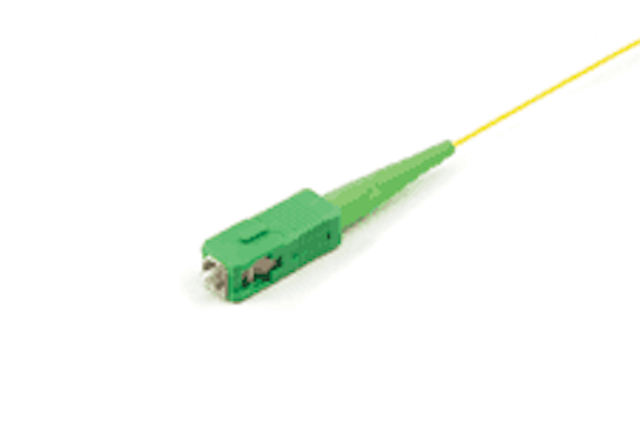 Click here to enlarge image
OptiSnap is a field-installable, no-epoxy/no-polish connector designed to be installed in less than a minute via the company's patented mechanical splice technology. Especially suited for singlemode FTTx applications, maintenance and restoration of building cable, and multi-dwelling-unit (MDU) applications where setup and teardown time is critical, the OptiSnap installation system features a patented on-tool go/no-go feedback signal to confirm installation is performed correctly. When the fiber is inserted and the cam activated, a pass/fail light on the installation tool is illuminated. The factory-polished ceramic ferrule is built for consistent low insertion loss and high-performance return loss. OptiSnap is available in singlemode SC, ST, and LC versions, and features typical insertion loss of 0.2 dB for UPC versions and 0.4 dB for APC versions.
CORNING CABLE SYSTEMS
www.corningcablesystems.com
Recessed combo plate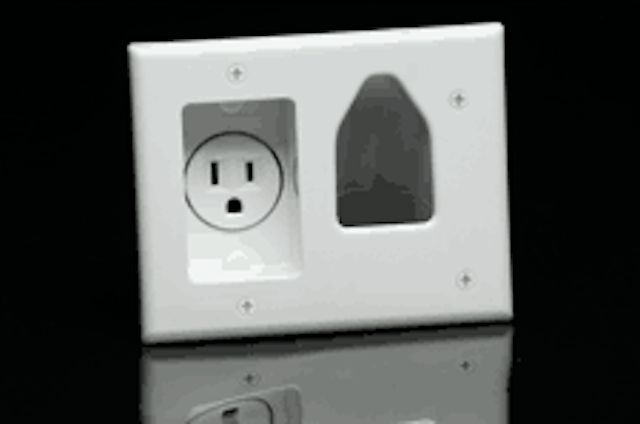 Click here to enlarge image
This combination recessed low-voltage cable and 15-amp/120-volt power plate requires just one opening in a wall for multiple applications, and is designed especially for security and media room installations. The recessed plate was developed as a result of comments from installers of the company's existing line of recessed low-voltage cable plates.
DATA COMM ELECTRONICS
www.datacommelectronics.com
System integrator software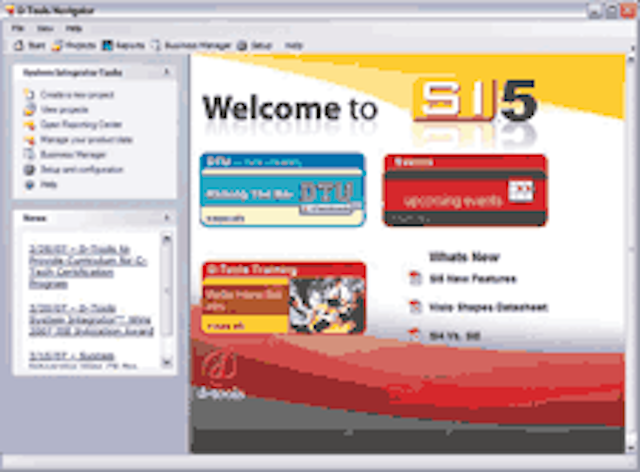 Click here to enlarge image
SI5 system integrator software lets you create detailed projects managed with automated proposals, scheduling, pick lists, purchase orders, drawings, and additional documents designed to streamline the integration of audio and video products. By using a single shared, data-driven project file, you can efficiently communicate project details amongst team members and clients. Free product information can be downloaded from a database of tens of thousands of products and accessories.
D-TOOLS
www.d-tools.com
Twin-blade stripper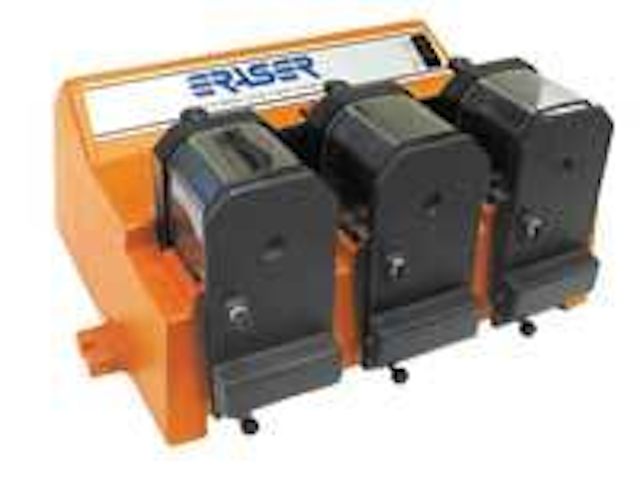 Click here to enlarge image
The Model C300 twin-blade rotary wire strip and twister is designed to strip insulations from solid and stranded wires, including miniature coax, coaxial cables, and shielded wires and cables. The stripping head incorporates a pair of adjustable tungsten carbide blades, which are designed for quick adjustment while remaining on center. By reversing the belt, you can also operate the tool with either clockwise or counterclockwise rotation.
ERASER COMPANY
www.eraser.com
4-radio WAP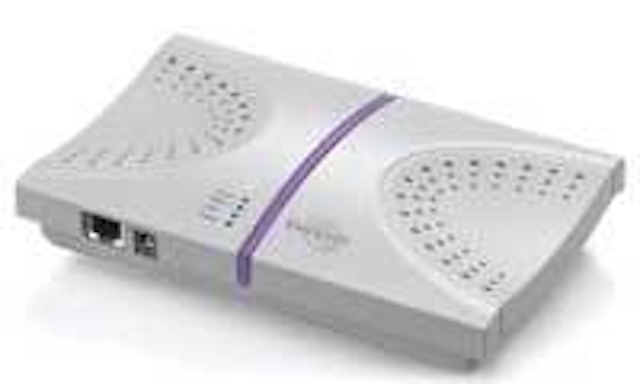 Click here to enlarge image
Billed as the first 4-radio WLAN access point (WAP), the EXRP-40 UltraThin Access Point is designed to operate on any combination of four non-overlapping channels in any band, in any Wi-Fi mode (a/b/g). The 4-radio technology lets you allocate physical channels and bandwidth to specific applications (voice or data), user groups, and device types. Featuring quadrupled local capacity and bandwidth at every location, the EXRP-40 also provides a security option of using three radios for traffic and the fourth as a dedicated rogue WAP and Wireless Intrusion Detection Sensor. The company's patented Interference-Free WLAN technology eliminates co-channel interference, providing zero-latency mobility wire-like client connections, increased capacity, and the ability to design for a guaranteed level of service for all users.
EXTRICOM
www.extricom.com
4-in-1 visual tester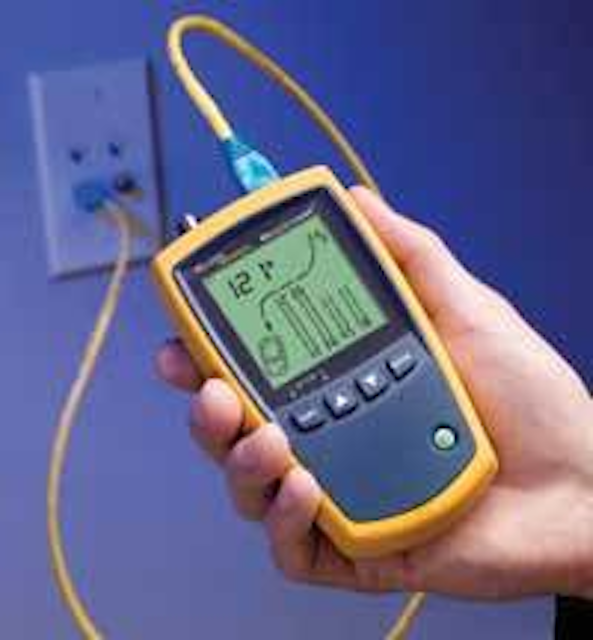 Click here to enlarge image
The MicroScanner2 cable verifier shows test results for cable length, wire map, cable ID, and distance from break or short on a single screen, which the company says will reduce the chance of human error when switching between tests. In addition, the tool recognizes and displays what types of services are available at the outlet being tested, such as 10/100/1000 Ethernet, POTS, or Power over Ethernet, letting you quickly differentiate between cabling and service problems during installation or troubleshooting. You can also verify and ID-tag RJ-11, RJ-45 and coax cables without adapters, while a built-in tone generator (both analog and digital tones) promotes precise identification of specific wire pairs and cables on active networks.
FLUKE NETWORKS
www.flukenetworks.com
Wi-Fi spectrum analyzer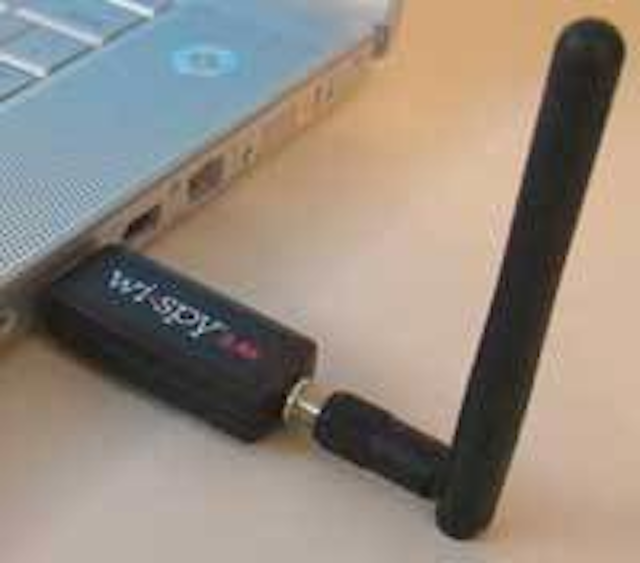 Click here to enlarge image
Wi-Spy 2.4x spectrum analyzer offers three times the frequency resolution and amplitude resolution, and twice the amplitude range of its predecessor in helping to more easily identify wireless signals that could be causing interference with your Wi-Fi networks. Features include an external RP-SMA antenna, 2400 to 2495 MHz frequency range, 328 kHz resolution, -110 to -6.5 dBm amplitude range, 0.5 dBm amplitude resolution, ~165 msec sweep time, and a USB 1.1/2.0-compatible interface.
METAGEEK LLC
www.metageek.net
Cat 5, 6 link for audio/video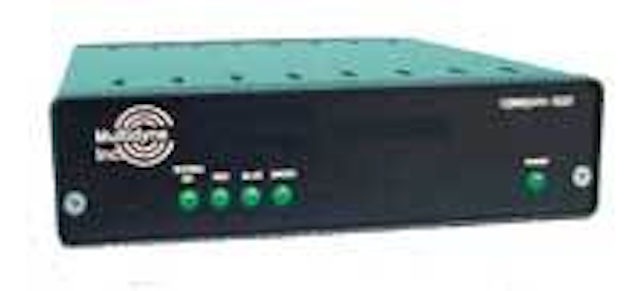 Click here to enlarge image
TP-RGB-1000 transports RGB/UXGA and stereo audio over more than 1,000 feet of Category 5, 5e, and 6, and supports UXGA resolutions of up to 1600 x 1200. The unit includes automatic equalization and anti-skew technology. Supporting computer video graphical input signals (15 to 130 kHz horizontal scan rate and 30 to 150 Hz vertical scan rate) on a female 15-pin HD connector, the device transmits the video on a shielded female RJ-45 connector. It also accepts PC audio on a 3.5-mm stereo mini-jack.
MULTIDYNE
www.multidyne.com
High-capacity poke-thru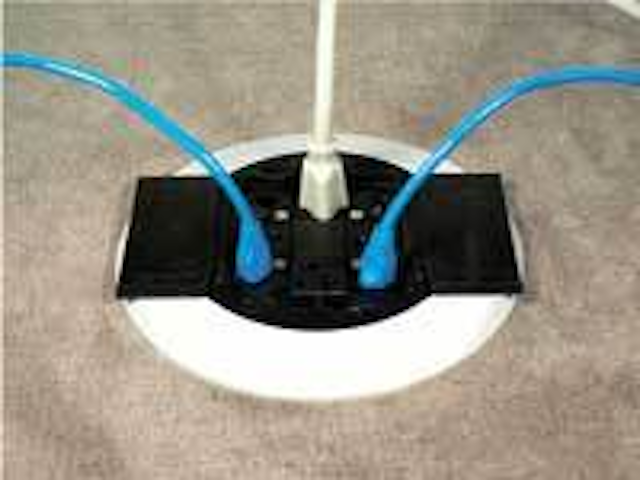 Click here to enlarge image
Designed for power, communication, and audio/video access in open space plans, this family of poke-thrus comes in a variety of finishes to accent flooring, meet or exceed UL scrub water exclusion tests, and meet fire rating requirements for two-hour-rated floors. The units feature a standard 4-inch core diameter for concrete slabs from 2 to 7 inches thick, water-tight twin doors for simplified access to devices, a cover locking system that allows doors to be unlocked independently without special tools, and cast aluminum construction.
MONO-SYSTEMS INC.
www.monosystems.com
Harsh environment Cat 6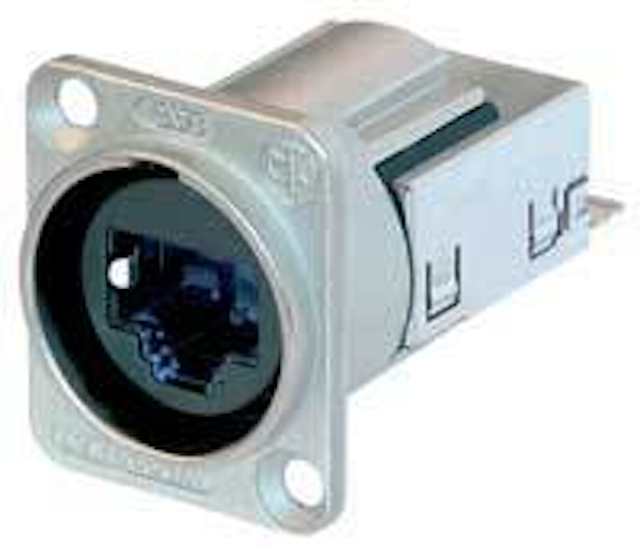 Click here to enlarge image
Designed with a metal housing for RJ-45 cable connectors used in Category 6 installations, the EtherCon CAT6 patch cable solution is equipped with a proprietary chuck-type strain relief with separate push-pull locking mechanism built in to prevent accidental unplugging. Suited for harsh environments, such as live stage production, DMX lighting, outdoor Internet access, and Industrial Ethernet, EtherCon CAT6 is available in custom lengths, with the receptacle accepting a standard RJ-45 cable end in addition to the EtherCon patch cable.
NEUTRIK USA
www.neutrikusa.com
Copper termination tool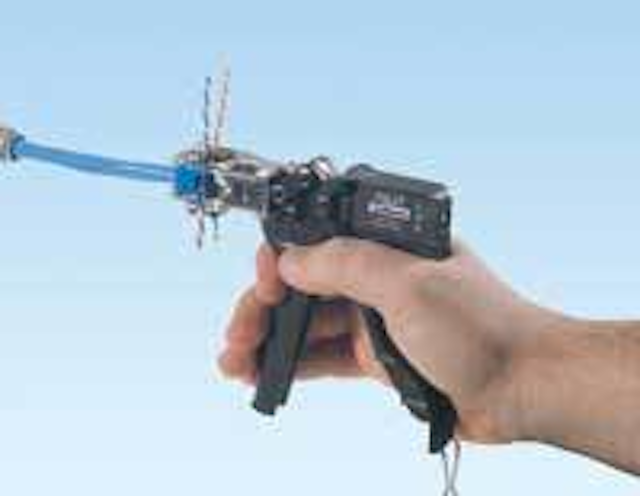 Click here to enlarge image
The TG Termination Tool is designed for single-handed termination of UTP and STP TG-style jack modules, and in less time when compared to traditional on-site methods. Ergonomically designed for improved productivity, the tool seats and flush-cuts four-pair conductors in one motion, and then assembles the wire cap and jack. Cut-off conductors are retained for disposal. (Bulk packages of TG jack modules [24 per package] are available in UTP and STP Category 6A, 6 and 5e.)
PANDUIT
www.panduit.com/tg02
Pre-terminated cabinets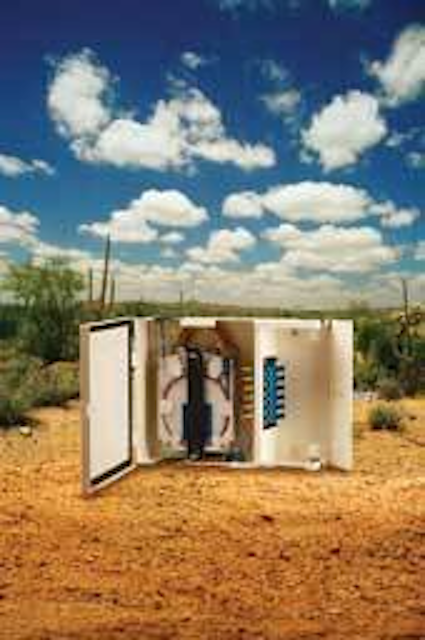 Click here to enlarge image
The Axcess Solutions Series of pre-terminated fiber cabinets is designed to provide secure splice protection and interconnection for customer demarcation and remote site installations. These wall- and rack-mount cabinets are made of 16-gauge steel and protected with a powder-coat finish, and include Coyote splice trays, pigtail bundles, and adapter modules that accommodate up to 200 fibers. Wall-mount versions feature a lockable inner door to secure the splicing compartment, a gasketed inner door to provide enhanced dust protection, mounting hardware, tie-off brackets, grounding posts, and hardware to secure the splice trays. Rack-mount versions come with universal mounting brackets to fit 19- or 23-inch enclosures. A clear front door plus access panels are removable, while smaller rack-mount cabinets include keyhole slots for optional wall mounting and a splice-in-back option to save rack space.
PREFORMED LINE PRODUCTS
www.preformed.com
Compression assembly tool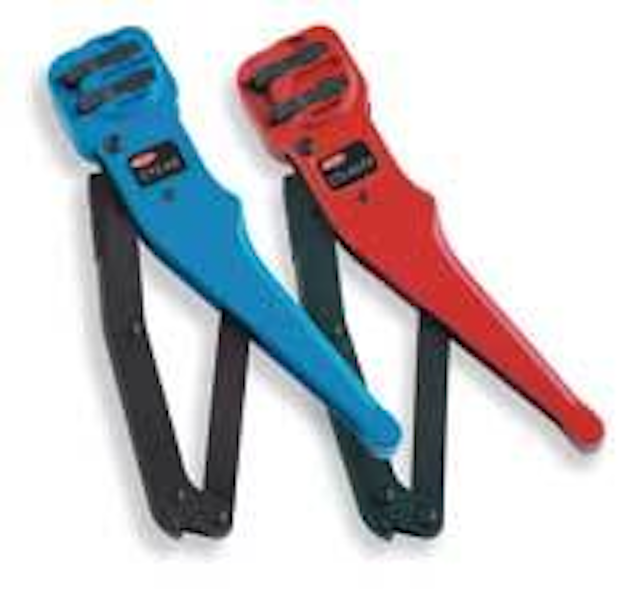 Click here to enlarge image
The CT2-AS and CT2-AS-EX compression assembly tools feature a patented Split Jaw technology that secures the cable assembly a full 360 degrees, ensuring consistent linear cable-to-connector compression. These tools assemble 59, 6, 7, and 11 "F" compression-type connectors, as well as most RCA, IEC, and mini-connectors. The spring-loaded split jaws position cable and connector for simplified insertion/removal, and are designed for use around and in wall boxes where space and cable length may be limited.
RIPLEY TOOLS
www.ripley-tools.com
Harsh environment coupler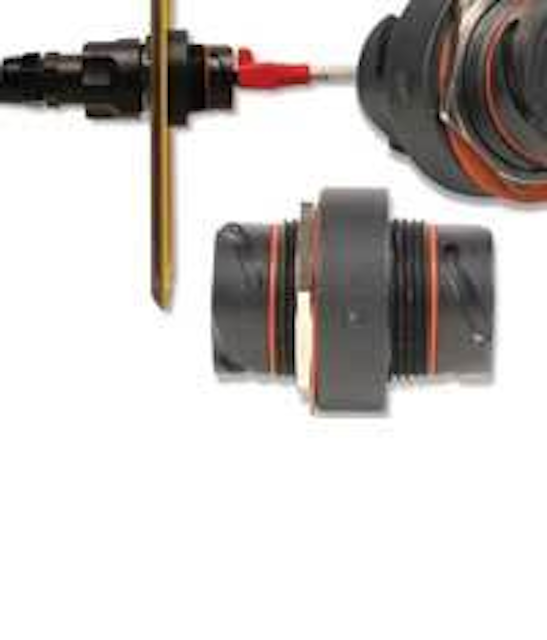 Click here to enlarge image
This RF-45 Industrial Bulkhead Coupler provides back-to-back shielded Category 5e outlets in a single Industrial MAX shell to enable protected plug-to-plug connections. Used with Industrial MAX 5e plugs, the coupler is protected on both sides to provide an IP 66/67-rated seal. Its modular design allows panel feed-through connections without the need to punch down cables. The coupler is suited for use on enclosures with a protected connection on the outside to a device, and standard modular patch cord on the inside to a switch or controller. Its outer housing is made of chemical-resistant thermoplastic, and features a patent-pending bayonet-style mating design.
SIEMON
www.siemon.com
Outdoor LAN link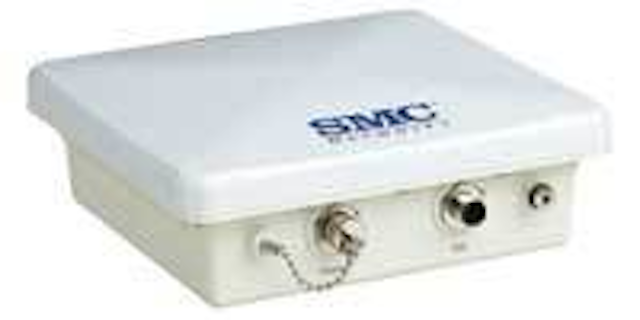 Click here to enlarge image
Designed for wireless building-to-building LAN links, EliteConnect 802.11a/g Outdoor Enterprise Access Point/Bridges can be installed in a variety of indoor or outdoor environments. Incorporating a 2.4-GHz/5-GHz dual radio system, these bridges can link two or more LANs over one band while simultaneously providing wireless client access over the other band. Both frequency bands can also be used for access point mode. Models are available with external antenna options for 2.4/5-GHz radio, and with integrated 5GHz antenna and external options for 2.4/5-GHz. Both can support up to six wireless distribution system links on one radio to connect remote LANs, while the other radio can run in access point mode for wireless client access. Authentication and encryption features include Wi-Fi Protected Access (WPA/WPA2) and RADIUS authentication using 802.1x.
SMC NETWORKS
www.smc.com
Security rack manager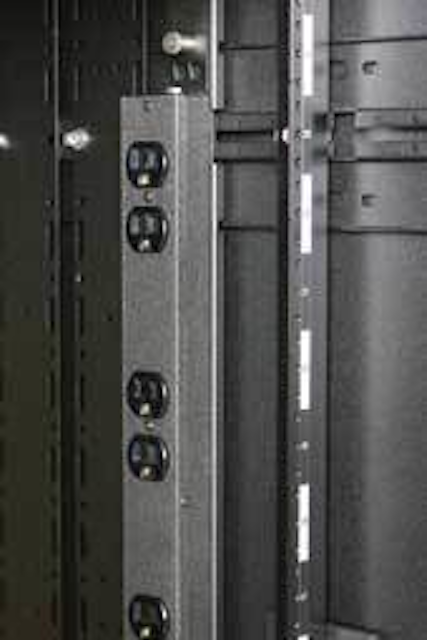 Click here to enlarge image
The PowerMount system, designed for mounting vertical power strips within a security system rack, features full-length mounting brackets that accept all styles and sizes of the company's power products. The system is designed to hold power strips in place in any location within the rack, while a 180º swivel feature lets you rotate the power strip during maintenance or cabling installation. According to the company, the system improves overall airflow and enhances equipment cooling since cabling can be taken out of the air path. In addition, when the rack is full of equipment, users can reduce the chance of accidentally disconnecting power by facing the power strip directly at the equipment.
STANTRON
www.stantronracks.com
Fiber test set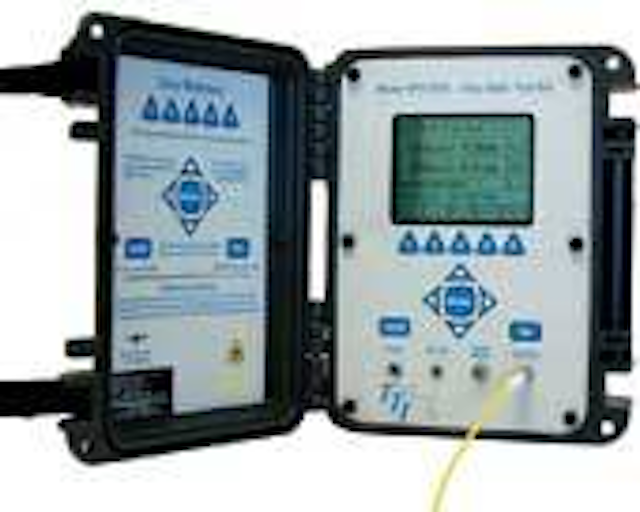 Click here to enlarge image
The six-in-one HPT-5100 advanced fiber-optic loss test set measures loss and ORL (optical return loss) of a fiber link at 1310 and 1550 nm bi-directionally, in real-time and with pass-fail notification. It is also a standard loss test set, a power meter calibrated at six wavelengths, an ORL meter, or a basic light source and fiber identifier when reading modulated sources. The HPT-5100 has a dynamic range of +25 to -60 dBm, stores up to 1,000 dual-wavelength tests, and can communicate via text message.
TERAHERTZ TECHNOLOGIES
www.terahertztechnologies.com
Server room-in-a-box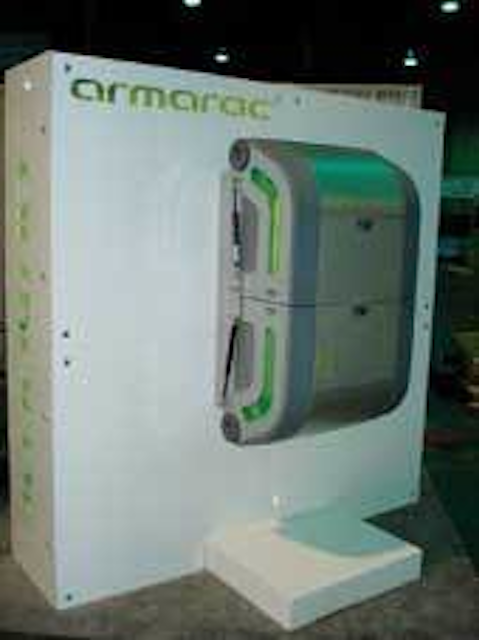 Click here to enlarge image
The Armarac is a zero-footprint rack-mount enclosure that lets you deploy servers and network equipment without a network room. This 19-inch server room-in-a-box features the company's patent-pending Vertiblade hinging mechanism that holds five full-length 1U devices plus an additional half-length device. Any two full-length slots can be combined to accommodate a 2U device. Full-length slots can be converted into two half-length slots with equipment installed back-to-back. An optional KVM can be built into a lockable compartment on the lower half of the clamshell. In addition, a half-height 5.25-inch internal tape drive can be installed in a compartment on the lower half of the clamshell. According to the company, one Armarac can secure the entire computing infrastructure of a branch office, warehouse, distribution center, or factory.
THUREON LTD.
www.thureon.com
Network simulation module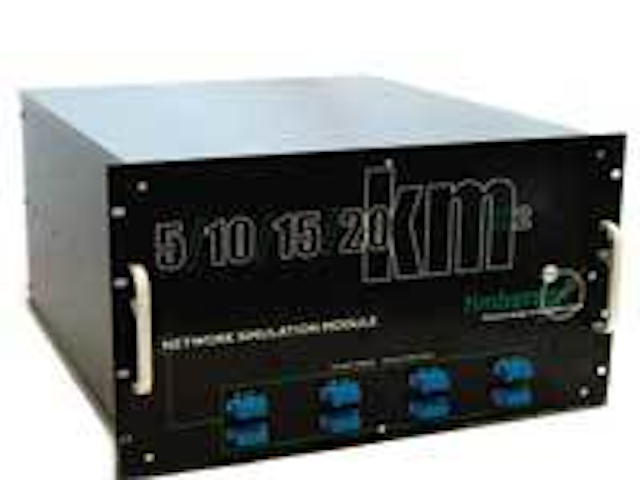 Click here to enlarge image
The company's network simulation product line now incorporates custom attributes and application requirements designed to emulate a specific network structure and profile. Each module can be designed and built to emulate virtually any network scenario. Options include specific events at defined locations (distances), multiple connection types, and multiple channels with varied lengths. Modules are available in any length, with standard enclosures supporting lengths up to 200 kilometers. Multiple channel counts, connector types, and fiber options are also available.
TIMBERCON
www.timbercon.com
802.11n access point
Click here to enlarge image
Based on IEEE 802.11n features, such as 3 x 3 MIMO, frame aggregation, and 40 MHz channels, the Mobility Point 432 (MP-432) wireless access point operates in 2.4 and 5 GHz bands at 300 Mbits/sec per band. It features two Gigabit Ethernet uplink ports, adaptive frame aggregation, fallback algorithms to automatically adjust data rates, block acknowledgments, smoke detector form-factor, short guard intervals, and 802.11a/n and 802.11b/g/n radios.
TRAPEZE NETWORKS
www.trapezenetworks.com
Coax-based antenna
Click here to enlarge image
Compatible with WLAN and other wireless frequencies ranging from 400 to 6,000 MHz, M/A-COM antennas feature a flexible coaxial cable construction that incorporates radiating apertures in the cable's outer diameter. Designed for transmit/receive and simultaneous Tx/Rx applications, these antennas meet requirements for operating temperature, thermal shock, weather resistance, vibration, and other harsh environment factors.
TYCO ELECTRONICS
www.tycoelectronics.com
Security management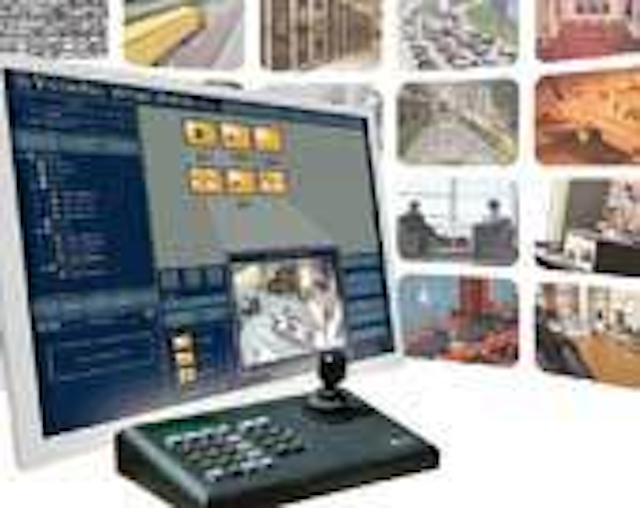 Click here to enlarge image
ViconNet 4.0, an upgraded digital video management software tool designed to allow integration of analog and digital equipment into a network-based system, now features a virtual matrix controller that allows the display of video from any camera using any monitor, simulating a crosspoint matrix system. In addition, a logical camera group feature provides for simplified call-up of cameras independent of their physical network connection, while flexible frame-per-second settings permit viewing at one rate and recording at another to save storage space. Alarm alerts to PC or PDA can be via e-mail or text, and an alarm investigation tool calls up corresponding video directly from the alarm reports.
VICON INDUSTRIES
www.vicon-cctv.com
Multimedia cabling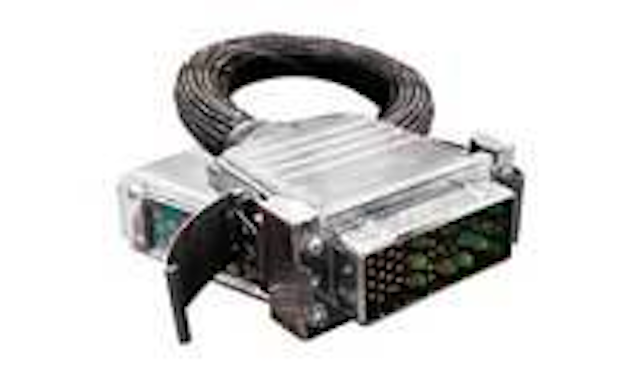 Click here to enlarge image
AV2000 multimedia cabling combines audio, video, and data control signals through a hybrid connector that replaces multiple fragile tails and connectors, and allows each system to match equipment requirements. The access point can be pre-mounted on gang, rack, wall, or floorbox panels and terminated with individual cables for a drop-in solution. The umbilical is a flex-wrapped cable assembly terminated on one end with a line-type AV2000 connector, with the other end configured with a connectorized fanout. The link is a flex-wrapped cable assembly terminated on each end with line-type AV2000 connectors, and designed to connect between two access points or used as an extension to the umbilical. The 16-gauge contacts are brass pin-and- socket with a proprietary gold plating.
WIREWORKS
www.wireworks.com
Data center slot shelf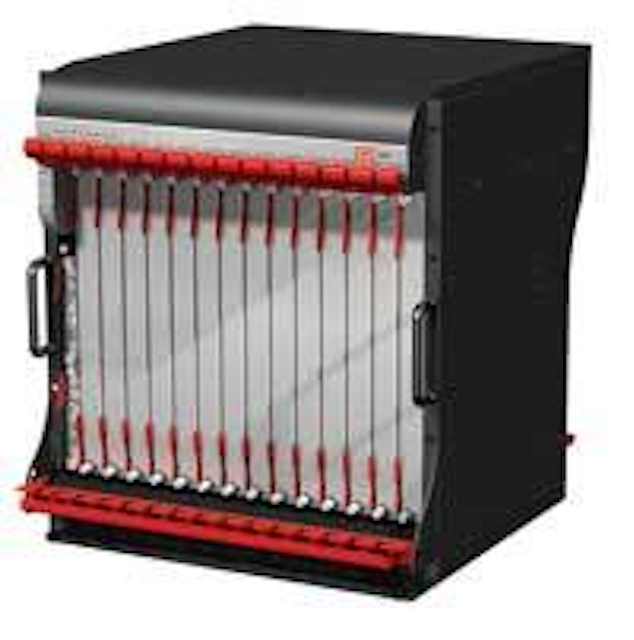 Click here to enlarge image
Perform Series 14-slot AdvancedTCA shelf is designed for the space and cooling demands of data centers and blade server environments. The shelf offers improved computing density by fitting three 14-slot, 12U shelves mounted in a standard 42U rack while maintaining critical cooling performance of 300 watts per slot. Exceeding NEBS (GR63) and PICMG 3.0 cooling requirements, the Perform Series includes 2, 5, 6, and 14-slot chassis featuring a fault-tolerant airflow design resulting from comprehensive thermal studies, and incorporates advanced fan systems and patented air flow technology to assure efficient cooling. The cooling scheme enables air flow according to specific needs, allowing extreme high power dissipation from selected slots.
ASIS
www.asis-pro.com
Ribbon cable for FTTx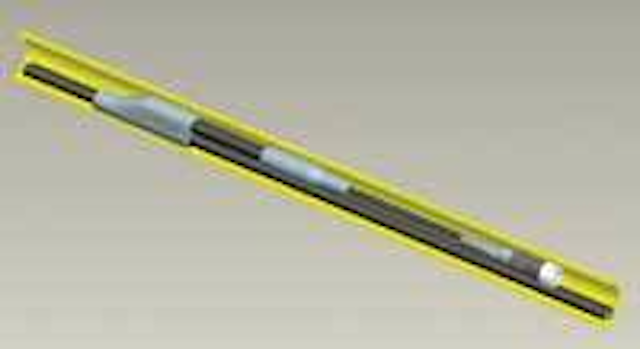 Click here to enlarge image
FlexNAP Terminal Distribution System with gel-free RPX ribbon cable features a rectangular, flat profile and can reduce cable preparation for FTTx networks to less than a minute. The system uses optical fiber cables upon which network access points are pre-installed at customer-specified locations along the length of the cable. Factory-spliced tap points are prepared in a controlled environment and are 100% tested.
CORNING CABLE SYSTEMS
www.corningcablesystems.com
Remote power control

Click here to enlarge image
Designed to protect and maintain networking equipment in areas that cannot be easily accessed, and to streamline power control of servers, routers and other data center devices, the iBootBar enables browser control of eight AC power outlets for reboot, and remote power control of multiple devices. Devices can be independently turned on, off, or cycled for power-on-reset (reboot). A serial port or optional internal modem provides out-of-band access when the network is unavailable. An AutoPing feature continuously monitors multiple IP addresses and takes programmed action when it detects non-responsive systems.
DATAPROBE
www.dataprobe.com
Rotary blade stripper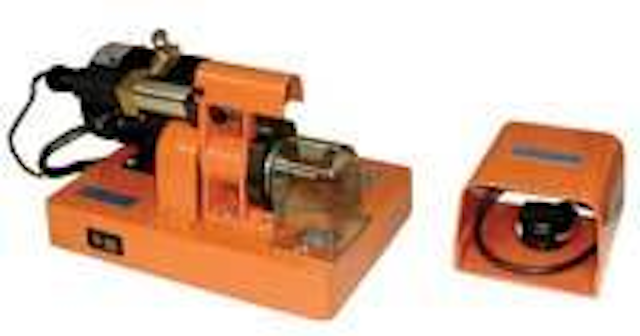 Click here to enlarge image
The K8A rotary blade wire stripper is designed for round, extruded, built-up (solid and stranded), magnet, enamel, film-insulated wires, and coaxial cables. It can remove tough insulations, such as Kapton, silicon rubber, and armored polythermaleze. Blade depth, pressure, and strip length are adjustable. You can perform close-up stripping to work pieces, coil bodies and bobbins, since the blade tips are located directly behind the see-through guard. By removing the strip length stop, you can also perform window stripping on magnet wire.
ERASER COMPANY
www.eraser.com
Compact OTDR module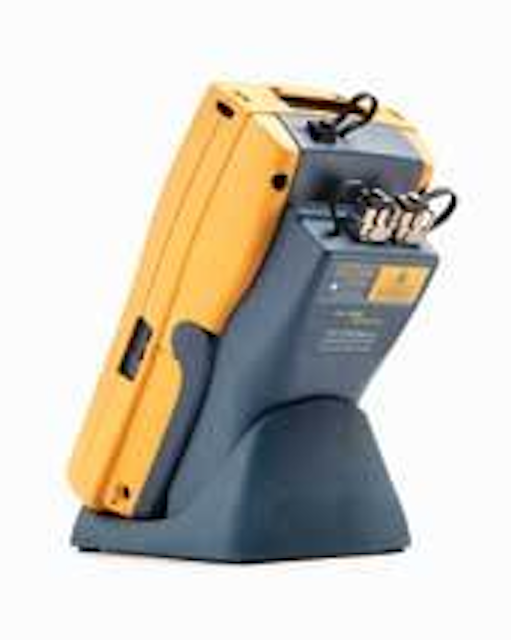 Click here to enlarge image
The DTX Compact OTDR module is now available for the company's DTX CableAnalyzer. This full-featured optical time domain reflectometer shoots and analyzes traces on singlemode and multimode fiber at four wavelengths. Tier 2 fiber certification complements the Cable-Analyzer's ability to perform Tier 1 certification, providing a platform that completely certifies fiber and copper cabling to all standards.
FLUKE NETWORKS
www.flukenetworks.com
96-port fiber panel
Click here to enlarge image
High-density 1U LC fiber patch panels feature 96 LC ports. Designed for simplified connecting and patching in server farms or high-density storage applications, these patch panels with LC connectors come with bronze alignment sleeves for multimode (62.5/125 and 50/125-µm) fiber and ceramic alignment sleeves for singlemode (9/125-µm) fiber.
L-COM CONNECTIVITY PRODUCTS
www.l-com.com
Harsh environment fiber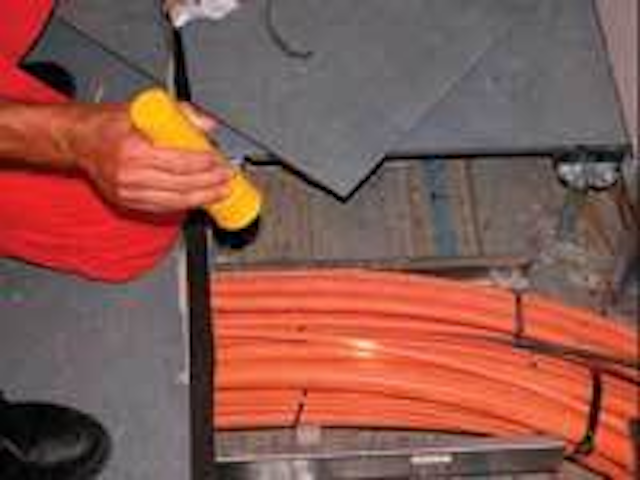 Click here to enlarge image
These tight-buffered cables are designed for harsh environment installations. A pressure-extruded (Core-Locked) or tightly-bound outer jacket binds all the fibers together so that the cable moves as a single, solid, rope-like unit. Selected cable versions are built to exceed minimum industry standard requirements, with flex resistance of thousands of cycles, crush resistance of 2200 N/cm, the ability to withstand 1,000 impacts, and tensile load rating exceeding one ton.
OPTICAL CABLE CORP.
www.occfiber.com