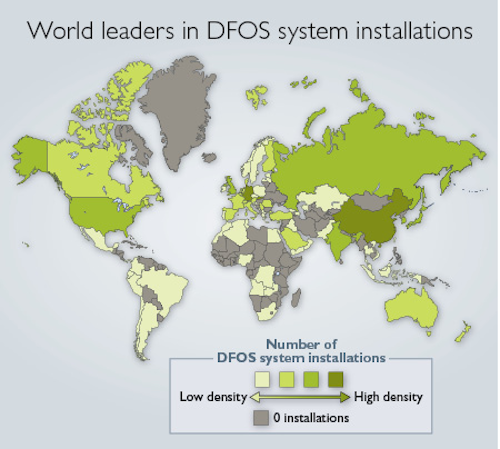 INFRASTRUCTURE INSIGHTS
The Fiber Optic Sensing Association recently released details of data it collected about distributed fiber-optic sensing (DFOS) system installations around the world. The data comprises more than 1300 installations. A primary takeaway is that the United States lags behind China and Germany in the number of DFOS deployments.
"China had more deployments than any other nation, with roughly 11.3 percent of all identified installations, followed closely by Germany at 9.4 percent," FOSA said. "The United States came in third with roughly 6.5 percent, and South Korea was fourth with 4.8 percent of installations."
In gathering their data, FOSA surveyed the following companies: AP Sensing, Asymmetric Technologies, Fotech Solutions, LIOS Technology, Omnisens, OptaSense, OZ Optics. The association stated that in addition to the 1300-plus installations accounted for in their statistics, these companies also referenced 142 installations in undisclosed locations.
The data breaks down what these DFOS systems are protecting, particularly including power transmission systems (22.2 percent), tunnels (20 percent), pipelines (13.5 percent), and perimeters (8.4 percent).
"The more-than-1300 identified installations span more than 20,000 miles in length," FOSA said. The association's director Mark Uncapher commented, "According to our data, the United States is well behind China and Germany in terms of total deployments of fiber-optic sensing. We are committed to raising awareness of this powerful technology, which can help bring U.S. infrastructure and asset security into the 21st century. It is critical that American industry and policy makers understand fiber-optic sensing so we can ensure that the United States keeps pace with other global technology leaders."
The association explained that fiber-optic sensing enables highly precise monitoring of physical assets, including power cables, pipelines, railways, international borders and critical infrastructure. "These capabilities are unlocked through the measurement of deviations of light in a fiber-optic cable occurring as a result of acoustic, temperature or strain signals," FOSA said. Industries including transportation, energy, security, oil-and-gas, and defense already leverage DFOS technology, the association added.
Uncapher added, "With fiber-optic sensing, hundreds of miles of highway can be monitored for accidents and traffic flows. Power-cable faults and pipeline leaks can be detected and located instantly, and footsteps can be heard on a perimeter in the middle of the night. They are all detectable through fiber-optic sensing."
FOSA released an interactive map in conjunction with the release of this survey information. Users of the map can mouse over any country to find the number of DFOS installations in that country. The United States, for example, had 86 installations at the time of the map's release. The map details those 86 installations by industry—15 power systems, 15 pipelines, 12 perimeters, 10 structures, 5 subsea cables, 5 railways, 4 military applications, 2 power facilities, 2 fiber-optic networks, 2 geomonitoring, 2 tunnels (fire detection), 1 smart road, 1 industrial process, 1 telecom network, 9 other.
The association emphasized this release of data and interactive map "builds on the organization's ongoing effort to promote awareness of fiber-optic sensing technology. In the coming weeks and months, FOSA will continue integrating data from additional sources to offer a more-complete picture of global DFOS deployments."
Patrick McLaughlin, Chief Editor