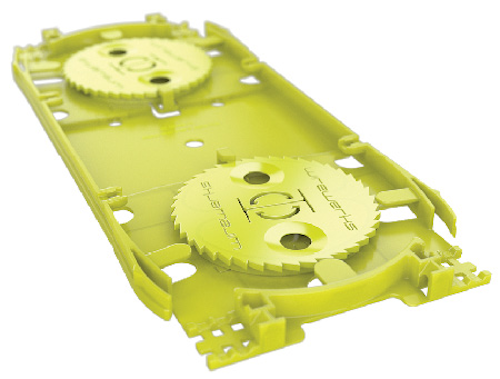 News, products and trends for the communications systems industry
WIRELESS
CommScope authorizes 8 initial partners for In-Building Wireless program launch
CommScope is now offering an In-building Wireless Sales Specialist authorization to current North American structured cabling installer partners in its PartnerPRO Network.
The company's In-building Wireless Sales Specialists are authorized to offer CommScope's digital distributed antenna system (DAS) solutions to customers, provide solution pricing, and design and install the supporting in-building wireless infrastructure.
"As the in-building wireless industry moves to an enterprise-owned model with IT managers and building operators taking the lead on cellular projects, CommScope is equipping its extensive partner network to better support enterprise customers. The new partner authorization is all about enabling our enterprise ecosystem, which includes hundreds of cabling installer companies, to better serve their customers by knowledgeably consulting about wireless solutions," says Koen ter Linde, vice president, Global Partners, CommScope.
CommScope has already authorized eight In-building Wireless Sales Specialists. They are: Sturgeon Electric (Henderson, CO); Network Controls and Electric, Inc. (Greer, SC); Kearney Electric – Communications (Phoenix, AZ); Direct Line Communications (Fremont, CA); Premiere Communications & Consulting, Inc. (Raleigh, NC); McKinstry Co. (Seattle, WA); TeamLINX LLP (Denver, CO); and E2 Optics (Englewood, CO).
To earn the In-building Wireless Sales Specialist authorization, North American installer partners of CommScope's Systimax or Uniprise cabling solutions must complete a training program. After being authorized, In-building Wireless Sales Specialists can identify opportunities, advise customers, and collaborate with CommScope and its in-building wireless installer partners for project scoping, network design, and system commissioning.
"CommScope has developed in-building wireless solutions specifically for the enterprise, and we expect our partner network to serve as a significant sales channel for them," adds CommScope's Koen ter Linde.
CommScope says it developed the new partner program to address the industry trend of in-building wireless systems moving to an enterprise funded model from carrier funded. Analyst firm Mobile Experts estimates that enterprise funding of indoor DAS will grow 310 percent between 2015–2021. "Reliable cellular coverage and capacity are still needed in many commercial buildings, and the need for it will increase with 5G and the growth of IoT," says Kyung Mun, principal analyst, Mobile Experts.
Per a CommScope press release, "Complicating the picture, though, is the fact that designing, installing and commissioning in-building wireless systems requires technical skills that evolved in the telecom industry, which IT staff and building operations professionals may not possess. CommScope believes its expanded PartnerPRO Network, plus enterprise-friendly solutions such as the ION-E DAS and OneCell C-RAN small cell solution, will empower enterprises to effectively implement their own wireless networks. CommScope expects to bring the In-building Wireless Sales Specialist authorization program to partners in other regions, as well."
CommScope also offers resources such as the company's In-Building Wireless Best Practices and Connected and Efficient Buildings eBooks to help enterprises better understand and evolve network infrastructure.
WIRELESS
Updated LoRa wireless transceivers enable turnkey industrial remote monitoring
Device Solutions Inc. announced the availability of the next generation of its Cellio LoRa long-range low-power wireless transceivers, designed for enabling wide area, long range, end-to-end monitoring and control capabilities for industrial applications including agriculture, cold chain, gas distribution, transportation, and others.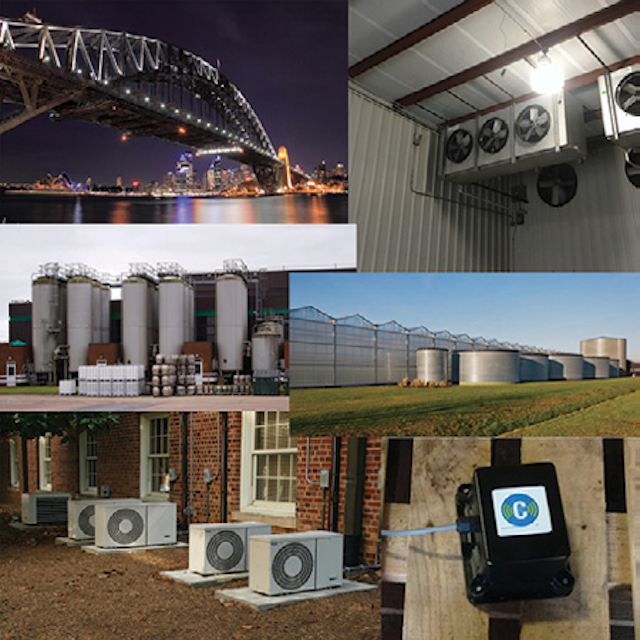 The Cellio transceivers use LoRa wireless technology (Long Range 915 MHz) to connect sensors and controllers wirelessly to the cloud.
The newest generation of the Cellio LoRa Transceivers provide key benefits including: an internal wireless antenna with a greater than 1 mile line-of-sight; 4-5 years of operation on a single 9VDC lithium battery; support for 4-20mA sensors; real time alert/fault detection and notifications; a waterproof and dustproof enclosure (IP68); and 1-wire sensor support.
Per the company, "The Cellio platform is suited for single locations as well extensive enterprise configurations, where there may be upwards of millions of sensors and controls connected to equipment across the continent. Partnered with cellular carriers and back-end cloud platforms, sensor instrumentation companies, and technology core companies, full enterprise-level-solution installations can be quickly and easily scaled and very affordable. Easy to install, the Cellio ecosystem enables companies to gain unprecedented visibility into their operations and assets on a continuous basis. For many companies, this means moving from clipboards, paper and pencil to near real-time information of inventories, process parameters, and alert conditions across the enterprise."
"We have worked with many enterprise solution companies in the past but we have rarely had the privilege to represent a company that truly provides everything needed for a successful enterprise deployment out of the box, while also allowing the full spectrum of customization options," asserts Jim Friedrich, president and CEO, EnVision Enterprise Solutions. "It's hard to wrap your head around how extensible the Cellio platform truly is until you see it for yourself."
"Our newest Cellio LoRa transceiver integrates features and capabilities that our customers have been seeking," concludes Bob Witter, CEO of Device Solutions. "The Cellio ecosystem has expanded to meet the needs of a broadening array of verticals while maintaining a 'loosely coupled' architecture to allow for maximum flexibility. We are quite pleased with the feedback we are receiving from the range of companies using Cellio. We feel like we are in the right place in the market at the right time."
STANDARDS
New UL safety certification program addresses ICT power cables
To benefit end-product and cable manufacturers, brand owners, retailers, and end users, Underwriters Laboratories (UL) has launched a new safety certification program for information and communication technology (ICT) power cables. As defined by UL, these cables "are used to power or charge IT and communication devices such as laptops, tablet computers, smart phones, power banks and more."
UL adds, "While the power capabilities of ICT cables are growing to meet the demand for faster charging and to power higher wattage devices, so are the potential risks of overheating and fire due to the use of poorly constructed cables. This program addresses the potential safety hazards of cable assemblies that provide power or charging for connected equipment in a circuit that does not exceed 60 V dc, 8.0 A and 100 W."
The program addresses the safety concerns of ICT power cables through the control of connector/cable materials and electrical design, and by performing testing in accordance with the recently published standard UL 9990, Outline of Investigation for Information and Communication Technology (ICT) Power Cables.
Cables tested and certified to UL 9990 are covered under UL's surveillance program. UL surveillance includes regular inspections at the cable assembly manufacturing facilities and ongoing testing of the products from both the manufacturing facilities and marketplaces to help determine continued compliance.
"The ICT power cable certification program provides increased transparency for vendors and end users by making it simpler to identify those cables that can carry the appropriate current with reduced likelihood of overheating and the risk of fire. This is particularly beneficial when the data cables have already been evaluated to the pertinent industry performance specifications, as it can address the concerns of key stakeholders related to both safety and transmission performance associated with ICT power cables," commented L.F. Lai, vice president and general manager of UL's Wire and Cable division.
"We are pleased to see that UL developed a safety certification program that addresses the risks of fire and overheating associated with cables carrying higher levels of current for power and charging applications," said Jeff Ravencraft, USB-IF president and COO. "UL's involvement in the safety of advanced communication and power technologies such as those utilizing USB Type-C connections will benefit the industry."
DATA CENTERS
Chatsworth Products launches EuroFrame Gen 2 data center cabinet
Chatsworth Products (CPI) announced the release of its second-generation EF-Series EuroFrame cabinet. Per the company, "The EuroFrame Gen 2 is designed to minimize deployment time and resources by offering a quick and easy-to-install storage solution, while still providing the high performance required by today's modern data centers. EuroFrame Gen 2 manages and protects cabling and equipment in a simple and reliable, yet affordable way. Its progressive design allows for scalability and network upgrades, while supporting airflow and cable management best practices, as per EN 50600 recommendations."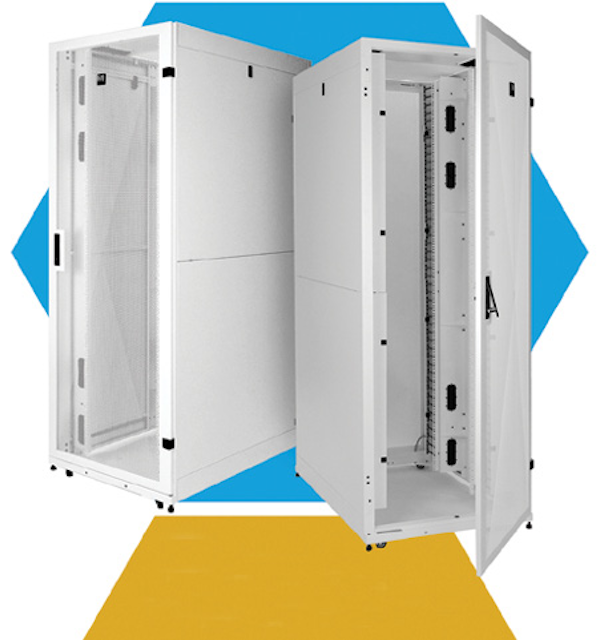 Luca Rozzoni, CPI's sr. product manager for Europe explains, "CPI recognizes that the European data center market is currently undergoing a massive period of change with data center managers being driven to create greater levels of efficiency, while on a restricted budget. By taking the EuroFrame cabinet to the next level, with the EuroFrame Gen 2, we are confident that we will be able to continue meeting and exceeding European data centers' ever-evolving need for speed of deployment, optimum cable management, greater airflow control and more desirable aesthetics."
CPI adds that the "EuroFrame Gen 2 has been constructed to meet today's data center requirements for high-density switching and server applications. The cabinet is available in several standard configurations, including 42 rack-mount units (U), 45U and 47U, 600 mm and 800 mm widths and 829 mm, 1029 mm and 1229 mm depths, as well as options with patented Vertical Exhaust Ducts, offering flexibility to fit most data center designs."
"The EuroFrame Gen 2 Cabinet provides a cost-effective server and network equipment storage solution for data centers," comments Julian Riley, CPI's regional sales director and general manager for Europe. "It offers excellent control of airflow, allowing data centers to reduce energy cost, while still providing adequate cable management, as well as distinctive aesthetics."
The EuroFrame Gen 2 Cabinet is now available, along with its matching airflow, cable and power management accessories.
AUDIOVISUAL
InfoComm changes name to AVIXA, the Audiovisual and Integrated Experience Association
InfoComm International has changed its name to the Audiovisual and Integrated Experience Association—AVIXA. "The change reflects AVIXA's broadening mission to be an industry hub, while also acting as a catalyst for market growth beyond what has been considered traditionally as professional AV," the association said when announcing the change.
AVIXA's trade shows, including the North American show, which will be held June 2-8, 2018 in Las Vegas, will continue to operate under the InfoComm name.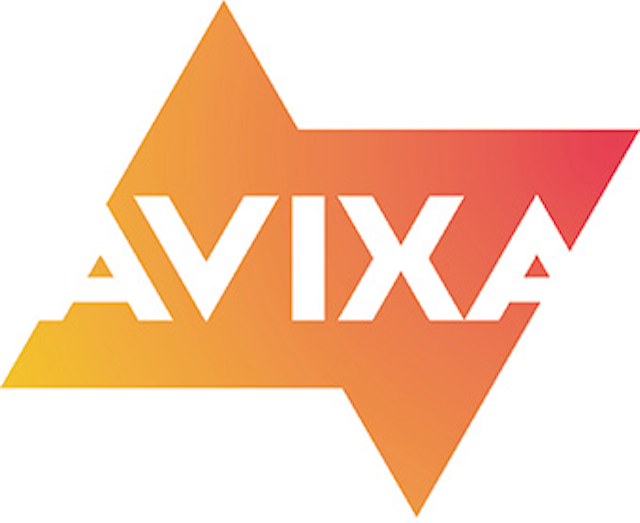 David Labuskes, executive director and chief executive officer of AVIXA, commented, "This is an exciting time for our industry and for the advancement of audiovisual solutions across a wide range of customer experiences. Thanks to the innovative, creative efforts of so many members, partners, and their customers, we have collectively grown far beyond what InfoComm International could do to promote AV around the world. AV experiences have become so ubiquitous, and they've come to include so many more technologies, and touch so many more personal and professional lives, that we felt compelled to embrace a new identity that more accurately reflects this industry's excitement and welcomes a far more diverse community of professionals."
The association further explained that in recent years, its members have evolved to offer much more than audiovisual products and systems. "Their innovation and attention to customer requirements has led to an industry of solution providers that use audiovisual technology to create outcomes," it said. "AVIXA membership has grown to include experiential designers, content creators, IT companies, and users of AV solutions across a growing cross section of markets. AVIXA's 2017 InfoComm show in Orlando last June attracted a greater share of AV customers than in any other year."
The specific name choice—AVIXA—reflects what the association's members do (AV) and what they create for customers (integrated experiences; IX).
Gary Hall, president of AVIXA's board and a federal strategy, planning, and operations leader at Cisco Systems, said, "The AVIXA board of directors has set out an ambitious plan to grow the association, increase awareness of AV experiences, and reinvent our brand in order to propel this industry into the future. With new and different people and technologies coming into this space, we are thrilled that AVIXA will be home to all of them."
AVIXA was founded in 1939 as the National Association of Visual Education Dealers. In 1949, NAVED merged with the Allied Non-Theatrical Film Association to form the National Audio-Visual Association. NAVA changed its name to the International Communications Industries Association in 1983, which became InfoComm International in 2005.
"Organizations evolve," said Labuskes. "AVIXA's core programs remains the same—training, certification, standards, community, market intelligence, trade shows—but the industry has changed in exciting ways, and the opportunity to grow the market for audiovisual experience is so vast, it was important that the AV industry's leading association change with it."
FIBER OPTICS
Wirewerks unveils NextSTEP fiber splice trays for loose tube, tight-buffered and ribbon cable fiber
Network infrastructure specialist Wirewerks announced the launch of its NextSTEP Technology brand fiber splice tray and ribbon fiber splice tray products. Per the company, the new splice trays offer "features including two exclusive industry-firsts—magnetic splice sleeve holders in the fiber splice tray and integrated ribbon cable slack management wheels in the ribbon fiber splice tray."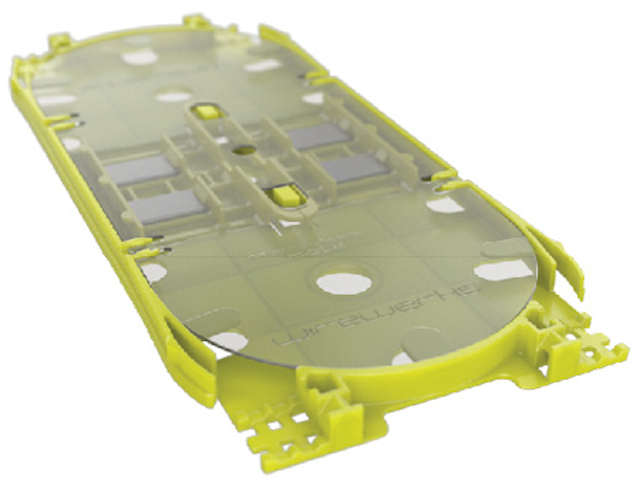 The NextSTEP fiber splice tray manages up to 24 splices per tray using loose tube or tight-buffered fiber, and holds up to 2 bare-fiber splitters. The tray's magnetic splice sleeve holders secure fibers in place magnetically without having to press-fit newly spliced sleeves into rigid plastic/foam holders or clips - eliminating performance impairing microbends in the splice sleeve. Fiber splice trays are available in either 12F or 24F capacities, with the 12F tray easily field-upgraded to 24F capacity. Each fiber splice tray includes 12/24 splice sleeves, cable ties, and a clear plastic cover to protect/contain fibers within the tray.
The NextSTEP ribbon fiber splice tray manages up to two 12F ribbon cables per tray. The ribbon cable mass-splice is mounted "standing up" into either of two ribbon slack wheels integrated into the tray. Each slack wheel manages up to 2 feet of slack on either side of the mass-splice (up to 4 feet per slack wheel) within the tray itself. The "on edge" orientation of the ribbon cables means that the cables spool neatly around the slack wheels and never crossover or twist within the tray. Proper bend radius and strain relief are assured at all times.
Edouard Tabet, Wirewerks' head of engineering, comments, "The magnetic splice sleeve holder means that fusion splices can go directly from oven to splice tray without risking performance impairing micro-bends in the splice sleeve. The ribbon fiber slack wheel manages up to 4 feet of slack per ribbon cable neatly within the splice tray. Both features are exclusive to our NextSTEP system, and both contribute to faster, easier installations and maintenance in customer networks."
Both splice trays are precision manufactured from high-impact yellow thermoplastic. This high-contrast yellow color improves visibility and reduces eyestrain, contends Wirewerks, making installation and maintenance easier and faster, with better results. Integrated tabs, routing features and cable tie attachment points control bend radius and secure cables; and both splice trays allow cable entry at all 4 corners for maximum installation flexibility.
Further, both splice trays are fully compatible with all NextSTEP patch panels and support up to 288F in 1RU; 1,152F in 4RU; and up to 144F in NextSTEP wall mount patch panels. Both splice trays may be inserted or removed from the front or rear of any NextSTEP patch panel, and both trays may be used in any combination with other types of NextSTEP fiber modules.
DESIGN & INSTALL
Epson joins Fluke Networks' new LinkWare Live Affiliates Program
Epson has joined Fluke Networks' new LinkWare Live Affiliates Program. As a result, the Epson LABELWORKS PX LW-PX400 industrial label printer and its free Datacom app now work with Fluke Networks' LinkWare Live cable management and testing platform to make cable and wire installers' jobs easier.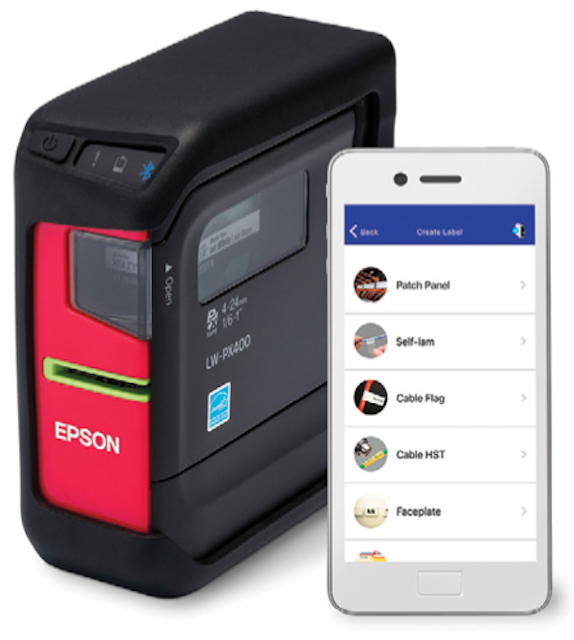 Per the companies, "Together, the LW-PX400 printer, Datacom app and LinkWare Live platform make cable labeling more efficient by allowing installation technicians to print wire/cable ID labels on the job using the data generated in LinkWare Live during the network design stage, eliminating the need to re-enter data during the labeling phase of an installation.
"Epson's Datacom app works with iOS and Android devices and accepts LinkWare Live's cloud-based data for single or batch cable, patch panel and faceplate labels. The LW-PX400 prints on adhesive labels, magnetic labels, glow-in-the-dark labels, heat shrink tube, self-laminated wire wrap, and other supplies from 1/8 inch (4 mm) to 1 inch (24 mm)."
Andrew Kasun, marketing manager for Epson LABELWORKS PX, comments: "The LW-PX400 works wirelessly in the field via Bluetooth and the Epson Datacom app, making cable identification easy and seamless with LinkWare Live. Plus the Datacom app is designed for ultimate versatility with templates for patch panels, self-lamination wire wrap, heat shrink tubes, and TIA-606-B formatting, so network installers have everything needed to label work accurately and efficiently."
"Today's cable installation projects are larger and more complex, and the demands that face network designers and installers are more rigorous than they were a few years ago," notes Eric Conley, vice president and general manager of Fluke Networks.
"When we initially conceived of LinkWare Live in 2014, we set out to create a solution that would eliminate common pitfalls and add productivity in our customers' project work. Affiliates such as Epson with their LABELWORKS PX are now leveraging this solution to improve the capabilities of their tools and the productivity of their customers."
LinkWare Live was introduced as among the first cloud-connected infrastructure platforms with cable certification capabilities, and works with Fluke Networks' Versiv certification testers, including the DSX CableAnalyzer series, OptiFiber Pro and CertiFiber Pro testers.
The LW-PX400 printer, Datacom app and LinkWare Live platform were demonstrated at Epson's and Fluke Networks' booths at the 2017 BICSI Fall Conference and Exhibition (Sept. 24-28) in Las Vegas.
K-Sun Corp. was founded in 1978 in Stillwater, Minn., moved to Somerset, Wis., in 1997 and became an Epson Group Company in 2014.
STANDARDS
BICSI publishes new global standard on intelligent buildings
On August 24, BICSI, the association advancing the information and communications technology (ICT) community, announced the unveiling of its new Intelligent Building Design standard.
"We have added to our suite of masterfully written standards yet again," comments BICSI president Brian Ensign. "This greatly needed and globally relevant standard for design and implementation of intelligent building cabling systems is yet another huge step forward for BICSI and for our membership. We are providing the guidance our industry needs to keep step with evolving trends in ICT."
Per a BICSI press release, "According to a recent report from MarketsandMarkets.com, the global intelligent building market is estimated to grow to approximately USD 24.73 billion by the year 2021, at an annual growth rate of 34 percent, compounded from 2016-2021. BICSI has responded to this growth and need in the marketplace by publishing its next ANSI-approved standard— ANSI/BICSI 007-2017, Information Communication Technology Design and Implementation Practices for Intelligent Buildings and Premises."
ANSI/BICSI 007 provides requirements and recommendation for design and implementation of the structured cabling system and related applications for any size building or premises, regardless if it serves commercial, government, transportation, residential, or any other functions. BICSI 007 also includes information for building automation systems, low-voltage lighting, combined data and power transmission (e.g., PoE, PoH), and a number of other systems that are routinely found inside intelligent building applications.
Additional information about this standard, including preview of Chapters 1-4, can be found at: www.bicsi.org/007.
TESTING
Brother's LabelLink app for integrated cable testing, labeling now free for Android
Brother Mobile Solutions, Inc. (BMS) announced that the Brother LabelLink application is now available for Android platform devices. The app can be downloaded free of charge on Google Play. With this release, the app is now available to support contractors in the datacom/telecom/cable installation industry who use both iOS and Android based devices. Further, the LabelLink app integrates with Fluke Networks' LinkWare Live, a cloud-based solution for managing cable certification projects. BMS says its LabelLink "leverages the latest developments in cabling certification testing technology and advanced mobile printing capabilities to deliver unprecedented speed, efficiency and accuracy to the cable ID and labeling process."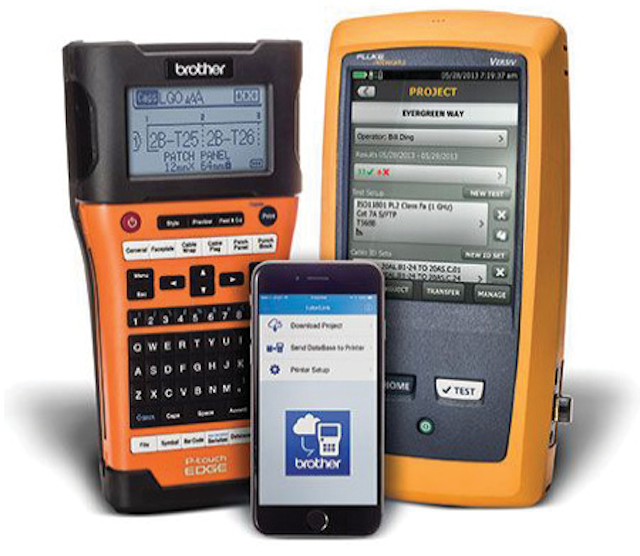 Ravi Panjwani, vice president of marketing and product management for Brother Mobile Solutions, comments: "With LabelLink for Android, electrical construction and engineering contractors can meet multiple project needs for cabling ID and testing faster, more efficiently and accurately by inputting data only once. This new version provides high value for contractors operating on Android-based smart devices, especially businesses engaged in installing standards-based cabling infrastructures."
STANDARDS
TIA and QuEST Forum announce merger
The Telecommunications Industry Association (TIA) and QuEST Forum recently announced that they have reached an agreement to merge the two associations.
Per a press release, "The move is part of a strategic effort to offer support and services that address a full range of needs facing the connectivity industry. QuEST Forum is joining with TIA to form a single technology association that will be uniquely suited to accelerate modern connectivity and address the business, technology and industry transformation needs of its members. This holistic approach, which includes trusted standards, common performance and quality metrics, supportive public policies and market alignment, is essential to delivering the Internet of Things, Smart Cities, and the network transformation needed for virtualization, NFV/SDN, and transition to the cloud."
The TL 9000 standard is the telecom industry's unique extension to ISO 9001. The QuEST Forum community within TIA will continue to develop, implement and enhance the TL 9000 quality management system, along with sustainability standards and performance practices. Headquarters for the combined organization will be TIA's current location in Arlington, Virginia. The combined organization will continue to have an office in Plano, TX where most of the current QuEST Forum staff are based, as well as a QuEST Forum location in Shenzhen, China. The board of directors for both organizations will be combined into a single board.
"This merger expands our ability to deliver member value across the full spectrum of business, technology and policy needs," commented Wesley Johnston, TIA CEO. "TIA is an established leader when it comes to technology and business acceleration, global standards development, and business advocacy. QuEST Forum brings services and tremendous experience in global TL 9000 quality metrics, benchmarking, and sustainability. Together, we will have even more resources and expertise to drive the ICT industry forward and help companies navigate the rapid pace of change."
The new organization constitutes a global community of more than 500 members, engineering committee and partner organizations across the Americas, Europe-Middle East, and Asia-Pacific. The merger is expected to create access to a wider market for the combined portfolio and it positions the organization for long-term growth.
Fraser Pajak, CEO of QuEST Forum, said, "This dynamic combination will not only drive greater member value, it will allow us to meet the needs of a broader range of companies. Service providers, large enterprises, suppliers and integrators will find we have resources and programs to help them improve speed-to-market, sustainability and bottom-line results."
The merger is subject to the ratification of a definitive agreement, and is expected to close in fourth quarter 2017. Once completed, the QuEST Forum community will become an active part of TIA. Pajak will take an executive role within TIA, directly reporting to CEO Johnston.
Susan Johnson, senior vice president, global supply chain, AT&T Services, remarked, "AT&T is a founding member of QuEST Forum and a longtime supporter of TIA. This merger will bring significant business opportunities to companies across our industry. Companies are quickly transforming, and industry organizations must also transform in ways that allow them to effectively address a full range of business, technology, policy and sustainability issues."
The announcement was made at QuEST Forum's Americas Service Providers and Suppliers Summit, held in September in Dallas, TX.