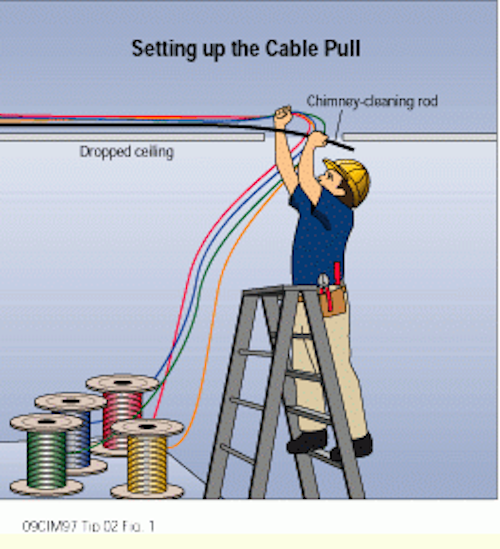 Richard Bruce
JB/Glenwood Communications
Problem
Pushing cable across open spaces, such as in a dropped ceiling, generally requires the use of supplier-provided push rods. Because these rods can be attached to each other, they make it easier to push cable in areas where there are heating/cooling ducts and other obstacles. However, rods specifically marketed for this task can be expensive and are not always adequate for the job.
Solution
For push rods, substitute chimney-cleaning rods. Available in 4-foot lengths and in 1/2- and 5/8-inch diameters, these rods also screw together and can be purchased at local home building centers.
Procedure
1) Establish the cable-pulling area by setting up the cable reels and ladders, lifting the ceiling tile, and establishing the cable route.
2) Screw together enough chimney rods to span the part of the area that the cable will be pushed across. Fasten the cable to the end of the rod using tape and start pushing the rod across the area to be spanned. Screw additional rods onto the rods that are already in place as needed to reach the final destination.
3) Unfasten the cable from the rods and pull the rods out one at a time. Then unscrew the rods and store them in a container to protect the rod ends.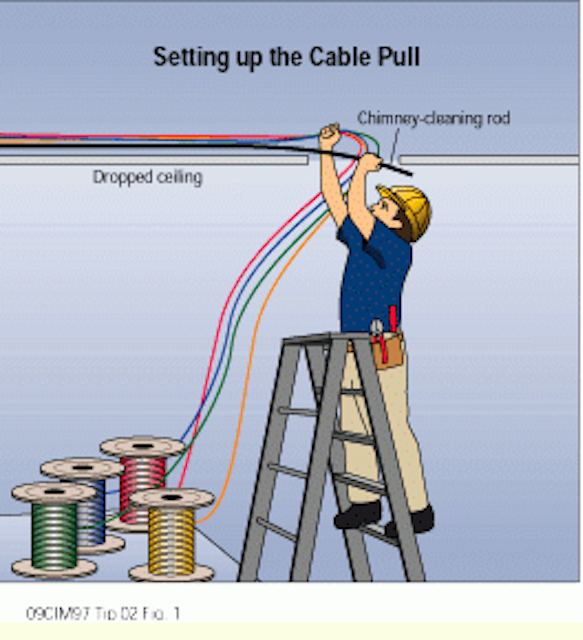 Click here to enlarge image
Chimney-cleaning rods can be used like push rods to get cables routed in an open space, such as a ceiling. Begin by establishing the cable-pulling area, then screw chimney rods together and tape the cable to the rods.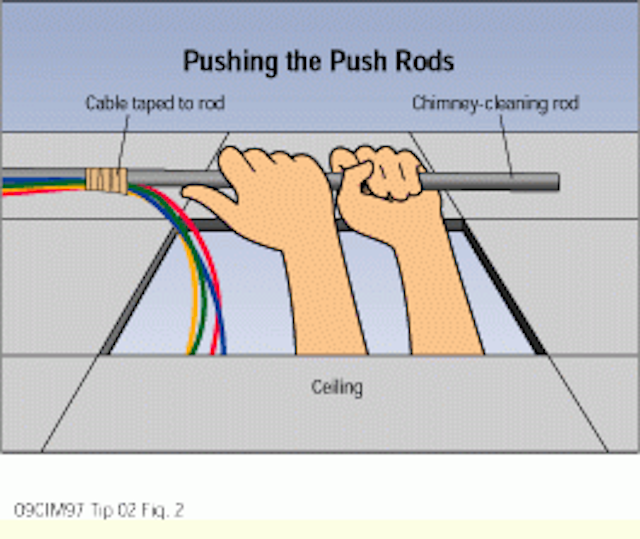 Click here to enlarge image
Once the cable is taped to the screwed-together chimney cleaning rods, the cable can be pushed through the open space.
Richard Bruce is the owner and general manager of JB/Glenwood Communications (Long Prairie, MN).