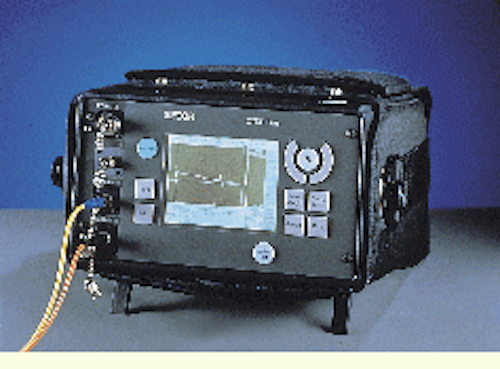 Lynn T. Haber
As more optical fiber is used in expanding communications applications, the cable industry is seeing the emergence of optical time-domain reflectometers (OTDRs) that address a growing set of diverse needs. An otdr measures light reflection over time and helps to find the location of a fault on a fiber. Most of these devices are used to install and maintain fiber in a set of fiber applications, including long-haul, Synchronous Optical Network, fiber-to-the-curb, and fiber-to-the-home.
The mini-OTDR, the most radical change to occur in otdr technology in the last few years, is the mainstream product of otdr manufacturers. Older, larger, and more-expensive otdr technology is still available but it has receded from the forefront of the market, with vendor research and development dollars going toward enhancements of the newer, smaller, and fully functional mini-units.
Today the main manufacturers of otdrs include Anritsu Wiltron Corp. (Richardson, TX); Antel Optronics Inc. (Richardson, TX); exfo Electro-Optical Engineering Inc. (Vanier, QC, Canada); Hewlett-Packard Co. (Colorado Springs, CO); Laser Precision Div./GN Nettest, (Utica, NY); Photon Kinetics Inc.-York Technologies Ltd. (Beaverton, OR); Siecor Corp. (Hickory, NC); and Tektronix Inc. (Beaverton, OR).
The proliferation of fiber, combined with the fact that more people are getting into the business of installing it, is making for an increasingly competitive marketplace for OTDRs, with all major otdr manufacturers offering the smaller versions of the product.
Modularity and ease of use
Manufacturers are also responding to the market`s demands by incorporating features into their products that satisfy the need for testing a wider array of fiber applications. They also want to produce devices that are suitable for use by more casual users. The trend is toward smaller, lightweight, less expensive units that feature modularity and ease of use. In fact, shoppers for OTDRs will see that many manufacturers are incorporating into their products many small features that do not cost a lot. However, they make an OTDR a more attractive tool.
End-users also look for a unit that tests both singlemode and multimode fiber at different operational wavelengths; has the ability to do bidirectional testing; and provides greater dynamic range and shorter dead zones.
Although the mini-OTDR historically implied a subset of features, compared to the full-sized unit, that is no longer true. In fact, today`s otdrs are smaller and have dropped in price because component costs have fallen. Manufacturers have also improved what they do, have a greater understanding of the product and users` needs, and are selling more of these products.
As a primary tool for anyone who installs and maintains fiber, OTDRs have a rugged design for field use, are the size of a telephone book, and are battery-operated. Here`s a look at what some OTDR manufacturers are offering today:
Anritsu Wiltron offers the MW9070B mini-OTDR, which weighs less than 15 pounds. The manufacturer offers seven modules for the unit: two for multimode and five for singlemode applications, including short, medium, and long haul.
According to Hale Farley, product marketing engineer at Anritsu, the company differentiates its product in several areas: noise budget by using application-specific integrated circuit elements; ease of use with one-button operation; and compliance with the Bellcore GR196 document, which specifies universal format or cross-vendor compatibility. Compliance with GR196 allows a user to look at traces taken with different vendors` OTDR equipment, in the same emulation or network software.
Farley notes that MW9070B works well in a wide range of temperatures. "Some OTDRs have difficulty working at zero degrees," he says. The company also ensures that users will get six hours of operation time on a single battery. However, many installers carry a toolbox with a spare battery as well as a number of field-interchangeable connectors. The product can be purchased through the company`s field offices and is priced from $9000 to $18,000, depending upon configuration.
Farley says that manufacturers are adapting otdrs for the test requirements of multimode fiber and are using optical-multimode modules with the appropriate attributes to do so. "We`re seeing many users who are interested in good resolution at short distances--5 to 10 kilometers," he says. For short-distance applications, module attributes focus more on resolution than dynamic range. There are two ways to get high resolution in multimode applications: select a lot of data points or select sample intervals with selected data points.
For long-haul applications where a high dynamic-range is desired, Farley notes that users should look at a manufacturer`s decibel specifications as well as the product`s measurement range, because the noise-floor budget differs from product to product.
The FTB-300 Universal Test System, offered by EXFO, holds up to three modules for field interchangeability. The device combines a PC-based modular-test platform with a number of module offerings. Modules include singlemode OTDR, multimode OTDR, multitest automated attenuation meter, 1 x 12 optical switch, optical-spectrum analyzer, and polarization-mode dispersion. According to Bruce Galbraith, OTDR product manager at EXFO, the company will continue to add modules to the product line to satisfy current and future needs.
Other product features include a rugged design, user-friendly environment based on a noncapacitive touch screen, high-capacity storage for more than 25,000 OTDR traces; and standard interfaces for printer, modem, mouse, external keyboard, and monitor. The product platform costs $5000, and modules cost $5000 to $15,000 each.
Galbraith sees a number of trends in the industry, such as more requirements for bidirectional testing. "People want to take advantage of already-installed fiber and get the best bandwidth possible. As a result, loss budgets are getting tighter," he says.
He also points out that as wavelength-division multiplexing gets more popular in long-haul fiber applications, users are looking for OTDRs with a greater dynamic range to characterize longer lengths of fiber. The FTB-300 lets installers connect an optical telephone and talk to the tester at the other end of the fiber for OTDR loss testing. Some manufacturers, such as EXFO, are enhancing products by integrating power meter and laser source.
Designed to be a true field instrument, the PC-based ftb-300 can run software on the test instrument for additional field performance rather than require a user to do averaging back at the office. Single-button operation and automatic trace features put an OTDR into the hands of all users. The machine "looks" at the fiber and determines the ideal test parameters, does analysis, and reports where there are events and losses.
Less than a year ago, Hewlett-Packard introduced the hpe6000A mini-otdr, which offers full automation with one-button testing, is menu-driven, and weighs less than six pounds. The product has an extra slot so users can swap singlemode or multimode modules. The unit also has a submodule slot for power meters and laser sources.
Karl Merkel, applications engineer for fiber-optic test-equipment at HP`s Boeblingen Instruments Div. in Germany, says that mini-OTDR performance is quickly catching up to that of older, larger mainframe OTDRs. "Manufacturers are investing money in their mini products and are pushing the performance parameters," he says. That means more-active color screens and additional analysis capability. The device is priced from $9000 to $14,000, depending upon configuration.
Photon Kinetics` mini-otdr 7500 offers several module options for singlemode and multimode fiber. Multimode model 782 operates at 850 and 1300 nanometers. Three singlemode modules, including model 752 with the 40-decibel, 1550-nm plug-in, were introduced this past February. This model is geared toward the very long-haul market, according to Valerie Dyhouse, product marketing manager at Photon Kinetics. "With this product we`re looking to offer greater decibels at a reasonable cost," she says.
Another singlemode model offered by the company is for 1625 nm out-of-band testing. Two modules--the 746 for single-wavelength 1625 nm, and the 747 dual-wavelength running at 1550 and 1625 nm--use the same technology. Out-of-band testing is becoming increasingly important to customers as many installed lines are heavily used. "Testing at 1625 nm is more sensitive to microbends and problems in the line and gives users a proactive approach to maintenance," says Dyhouse.
The third singlemode module offered by Photon Kinetics is model 732, which operates at 1550 and 1310 nm for mid-range performance and is geared toward the local loop and local area network markets. "This product is for installers who need a quality OTDR, but are more budget-conscious," she says.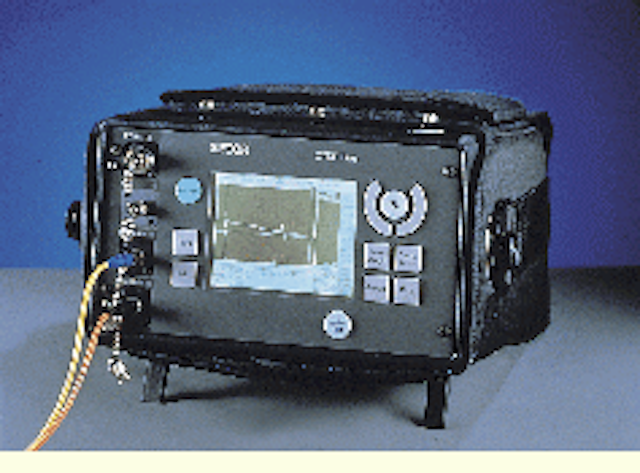 Click here to enlarge image
The OTDR Plus Multitester from Siecor Corp. enables multimode and singlemode otdr testing capabilities. It can serve as a power meter, a visual fault locator, and a singlemode stabilized laser source.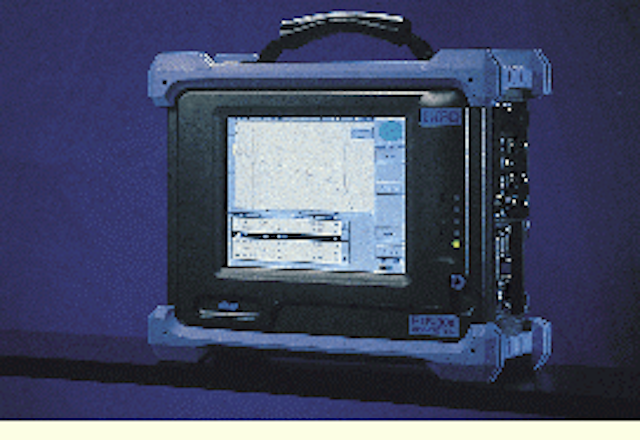 Click here to enlarge image
The ftb-300 uts optical time-domain reflectometer from exfo Electro-Optical Engineering Inc. (Vanier, QC, Canada) houses up to three test modules.
Click here to enlarge image
The tfs3031 TekRanger 2 mini-otdr from Tektronix features improved measurement capability.
Lynn T. Haber is a freelance writer specializing in computer and networking issues.