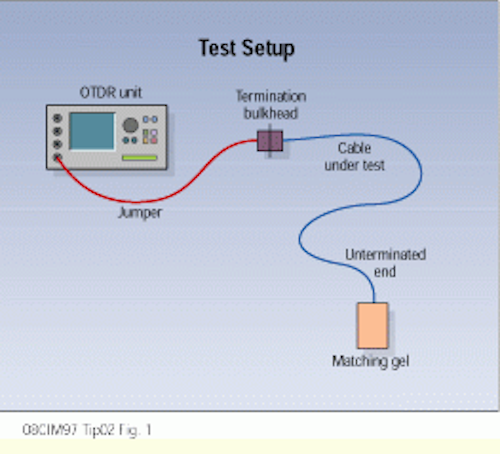 Wayne Gipson,
Gipson Fiber Optic Services Inc.
Problem
After fiber-optic cable is routed into a building and terminated, the other end then awaits connection at a future, and probably critical, time. In the meantime, how do you ensure that there is adequate throughput in the cable without time-consuming end-to-end testing with a power meter and light source? If these instruments are to be used for testing, then at least temporary attachment of connectors to the unterminated end of the cable is needed, which may take considerable time. Also, a visible-light-laser test unit may not be available, and its output is often difficult to see, particularly in a well-lit environment, or when singlemode fiber, with its small core size, is being deployed.
Solution
You can use an optical time-domain reflectometer (otdr) and index-matching gel to determine if there is throughput in the cable. This procedure provides a quick check that the cable has not been damaged during installation. Its rough results also afford a level of comfort to the installer or customer when the fiber is scheduled to be spliced or terminated at a later time.
Procedure
1) At the unfinished end of the cable, strip off the sheath and buffer tubing to expose a couple of feet of bare fiber.
2) Use scissors to cut about an inch off the end of the fiber. This will give the fiber end a rough cleave that will enhance the end-spike reflection on the otdr trace.
3) Turn on the otdr and set it for "real time"--in other words, set it so it is continually gathering data, so you will see changes in the measurements as they occur.
4) Attach the otdr to the fiber to be tested.
5) While one technician is watching the otdr screen, another at the fiber end dips the fiber into index-matching gel. The end spike on the otdr trace will change or disappear when the fiber is immersed in the gel, the otdr indicating that the optical fiber has a clear transmission path to its end.
6) Repeat for each fiber in the cable.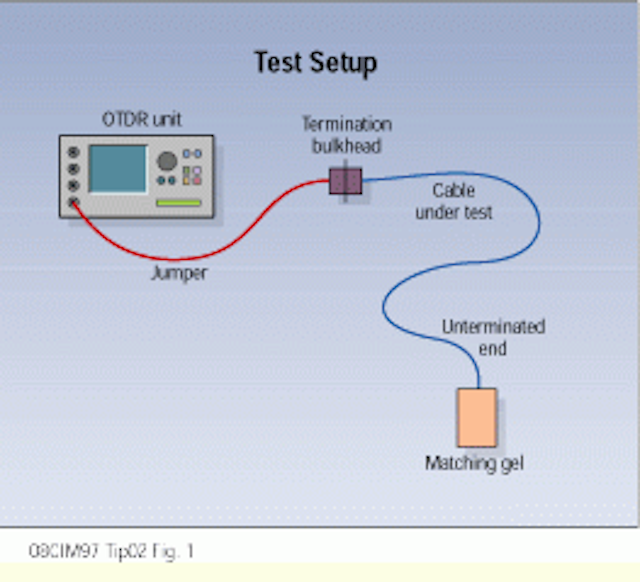 Click here to enlarge image
Dipping the unterminated end of a fiber into index-matching gel can help to roughly determine its throughput.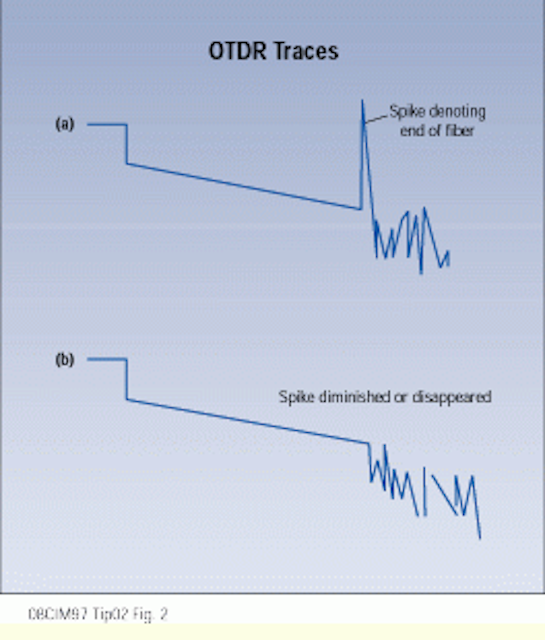 Click here to enlarge image
An otdr trace before the fiber is immersed in index-matching gel (a) shows a clear end-spike. When the end of the fiber is immersed in index-matching gel (b), the spike disappears, indicating a clear transmission path through the fiber.
Wayne Gipson is co-owner of Gipson Fiber Optic Services Inc. (Wichita, KS).