System-testing products raise the issue of certification
Think you know what it means to certify a cabling plant? You may have to think again.
Nov 1st, 2004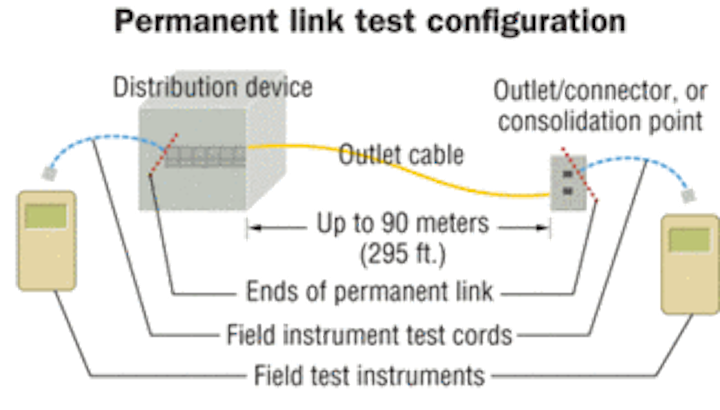 Think you know what it means to certify a cabling plant? You may have to think again.
A cabling-system tester that hit the market in September claims to certify a network and its cabling. Another product uses a version of the word "certify" in its name. Yet neither one measures all of the performance characteristics at all of the frequencies necessary to ensure a system fully complies with the requirements of the TIA's Category 6 or Category 5e specifications.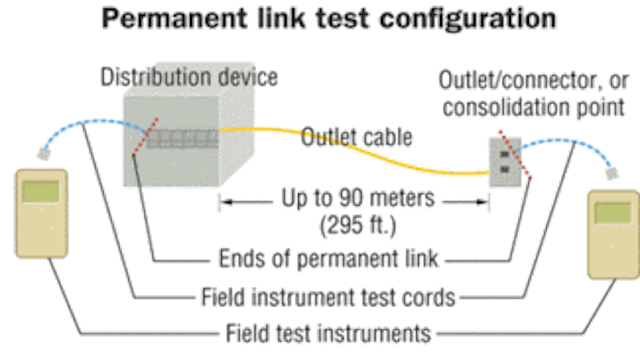 Click here to enlarge image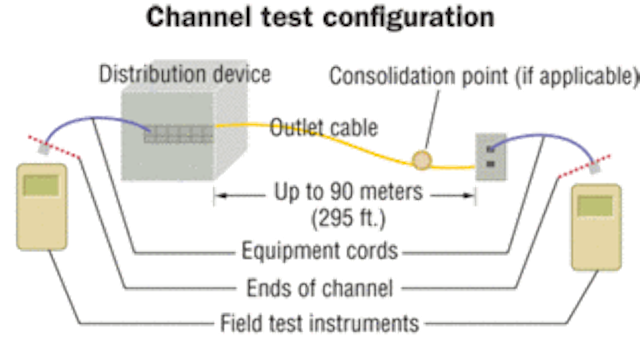 Both the permanent link and the channel configuration require testing, per TIA/EIA-568-B.1 Clause 11. The standard also spells out requirements of the instruments conducting those tests.
Click here to enlarge image
How can these products make such claims, and how valuable are the products to cabling-industry consumers? Those are two entirely different questions, which have two entirely different answers.
Nomenclature not standardized
The words "certify" and "certification," though widely used throughout the industry to mean compliance with cabling-system specifications developed by the Telecommunications Industry Association's (TIA; www.tiaonline.org) TR-42 Engineering Committee, do not appear within the TIA-568 series of cabling standards.
Bob Jensen, chair of the TR-42 Engineering Committee, explains. "The term 'certification' is not used in the TIA standards, but it is well understood in the industry. TIA, and not TR-42, felt that it could put them at risk if say, for instance, a futuristic LAN card did not operate due to cabling. A good example of this was when Gigabit Ethernet stated that it would work with Category 5 cabling when manufacturers of equipment were indeed telling their customers to use Category 5e cabling-even though the IEEE standard stated the use of Category 5."
Jensen notes, "Within the 568-B.1 standard, the clause specifying testing is entitled 'Cabling Transmission Performance and Test Requirements.'" He adds that the required tests within 568-B.1 include wire map; length (physical vs. electrical, and length requirements); insertion loss; pair-to-pair near-end crosstalk (NEXT) loss; power-sum NEXT loss; pair-to-pair equal-level far-end crosstalk (ELFEXT) and FEXT loss; cabling power-sum ELFEXT; cabling return loss; propagation delay; and delay skew.
Tester requirements
To achieve Category 5e compliance, the system must pass each of those tests at frequencies between 1 and 100 MHz, using a test instrument that meets TIA-defined Level IIe accuracy. For Category 6 compliance, a system must pass each test at frequencies between 1 and 250 MHz, with a Level III-accurate test instrument.
The ability of an instrument to run such tests requires significant electronic technology, explains Mark Johnston, director of standards and technology with test-equipment manufacturer Fluke Networks (www.flukenetworks.com). "There are several different approaches you can use to measure the parameters cited in the TIA-568 documents," he says. "Specific constraints on test equipment are specified in the TIA-568-B standard. Numerous instrument-performance criteria, such as noise floor and dynamic accuracy, are specified with detailed requirements cited. All of these criteria must be fully met before you can classify a field tester as 'Level III accuracy.'"
Johnston continues, "Other requirements, such as the minimum interval required between consecutive measurement points, and the need to test from both ends of the link, are also detailed. Finally, testers must fully comply with both the permanent link and channel models, requiring sophisticated time-domain or complex vector-cancellation technology so that the test cord or channel adapter appears 'invisible' to all measurements."
Tools on the market
The difficulty in meeting these requirements explains the complexity and, hence, the cost of today's testers that are commonly called "certification tools"-those that meet the TIA-defined accuracy Levels IIe and III.
That complexity and subsequent price point mark the departure between Level IIe/Level III tools and those alluded to earlier. In September, Test-Um (www.test-um.com) introduced a tester called Validator. The product likely catches much attention because of its claims to certify cabling systems at a suggested retail price of less than $1,200. Chances are, many consumers immediately associate the word "certify" with the rigorous requirements set forth in the 568-B standard. Once the error in that assumption is clear, however, there remains an opportunity to consider the tester on its merits and capabilities.
"Validator does not test at every individual frequency between 1 and 100 MHz, or 1 and 250 MHz," says Ron Vogel, Test-Um's president. Rather, he explains, it tests cabling systems at select key frequencies at which Ethernet traffic is transmitted, and frequencies at which system failures are common.
The name Validator comes from the tool's ability to ensure, or validate, a cabling circuit's readiness to carry Ethernet traffic. The tool includes time-domain reflectometry capabilities that allow measurements of length as well as distance to opens and shorts. Other test capabilities include skew, NEXT, channel response, return loss, signal-to-noise ratio, attenuation, amplitude, and bit error rate. According to Test-Um, Validator "measures signal quality in actual link environments that could account for cable inadequacies, such as physical installation problems, kinks, loops, physical terminations, dry shorts, or miswires."
The product includes a software package called Plan-Um, which the company says "ties together all the different cable criteria that are found in complex voice/data/video installations and presents concise information in printed reports, while storing data for future use." The software lets the tester user lay out the customer's requirements, then define cable types and runs, test the runs, and print results. Test-Um provides a digital demonstration of Validator on its Web site.
Another testing package, called Real World Certifier, is available from Byte Brothers (www.bytebrothers.com). It includes a main unit as well as a probe device, and bills itself as being able to tell you the transmission speed your cabling system is equipped to carry, in addition to its ability to test for opens, shorts, and other wiring properties.
The manufacturer does not claim that the product performs at Level IIe or Level III accuracy, nor does it claim that the tester performs all the procedures spelled out in the Cabling Transmission Performance and Test Requirements section of 568-B.1. But the use of the word "certifier" in the product name may prove to be a marketing success for Byte Brothers, if consumers take a closer look at the product as a result.
Practical implications
Fluke Networks' Johnston says that these testing tools are "useful for network-support technicians working with existing installed cabling in a troubleshooting environment," but he stresses that they are not a substitute for the full-scale Level IIe and Level III testers.
Furthermore, cabling-system manufacturers-be they single-vendor end-to-end systems or cable/connectivity partnership systems-mandate full testing to the letter of TIA standards in order to grant warranties on their systems. "If a warranty claim was ever made, Berk-Tek would want to see the test results from the initial installation," says Todd Harpel, marketing director with Berk-Tek (www.berktek.com).
Test-Um's Vogel understands the reality that the TIA's 568 family of standards is regarded as the bedrock of performance, and that some will balk at Validator's capabilities because they deviate from the letter of the specifications. He emphasizes, however, that the ability to assure Ethernet speeds up to 1 Gigabit is a practical asset. He also points out that there is a segment of the market that currently is entirely unserved-installed cabling systems that have had no testing at all. His company's products do have a place in the cabling world, he asserts.
Richard Anderson, RCDD, of Data Cabling Service (www.datacabling.com) and a veteran of commercial and residential cabling contracting, concurs that some parts of the market are unserved. "A lot of small commercial jobs don't get tested because they are not done to spec," he says. "On larger commercial jobs, very few are not tested." He says that the price of test equipment frequently is a factor. "A tool that costs more than $1,000 is on the upper end of what somebody carrying out small-commercial or residential projects is going to pay."
Residential opportunities
It is possible, however, that the residential cabling market will greet these products warmly. Test-Um introduced Validator at the annual conference and exhibition of CEDIA (www.cedia.org), a trade association serving the home-theater and residential-systems marketplace.
The TIA standard that addresses cabling infrastructure in residential environments, TIA/EIA-570-B, spells out detailed testing requirements in ways the 568 standards do not. Specifically, the 570-B standard includes and defines the terms "verification," "qualification," and "performance characterization." The standard says that all installed systems must undergo a visual examination, verification (according to the definition therein), and either qualification or characterization (also defined therein).
Of particular note within the 570-B standard is the statement that "qualification tests the cabling to determine that certain network technologies (e.g., 1000Base-T, 100Base-T, FireWire) will perform on the cabling system. Cable qualification shall be performed using network equipment installed on the cabling, or by use of a qualification test instrument."
Also from the same standard, referring to copper cabling: "Performance characterization tests the cabling to all performance criteria of a category of cable specified by ANSI/TIA/EIA-568-B.2. Performance characterization shall use either a permanent link or a channel measurement in accordance with ANSI/TIA/EIA-568-B.1 clause 11."
"Performance characterization," then, is the term that TIA's TR-42 Committee uses for the suite of tests listed in the TIA/EIA-568-B.2 specifications; however, the term appears not in 568-B.2, but rather in 570-B.
It is a virtual certainty that much of the industry will continue to use the term "certification." In that regard, Fluke Networks' Johnston states that contractors should certify only with tools that meet four criteria:
• Fully comply with all tester requirements listed in TIA/EIA-568-B;
• Achieve at least Level III accuracy;
• Support both permanent link and channel measurements in a manner consistent with standard requirements;
• Be publicly approved by major cabling and connectivity suppliers as suitable for "certifying" cabling and providing documentation necessary for warranty approval programs.
Meanwhile, the unserved market that Test-Um's Vogel and Data Cabling Service's Anderson describe, as well as residential-system contractors who have standard-specified testing procedures to follow, constitute a potential market for test equipment with all levels of capability.
PATRICK McLAUGHLIN is chief editor of Cabling Installation & Maintenance.