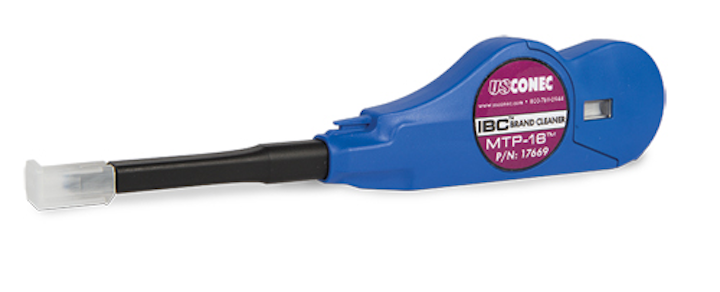 Fiber Cleaning and Inspection Tools
US Conec's IBC brand MTP-16 cleaner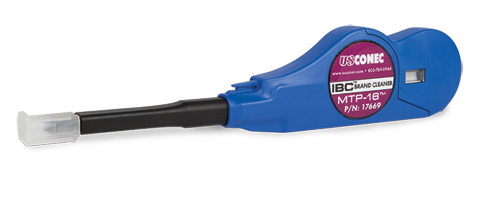 As bandwidth demand continues to grow, 16- and 32-fiber MTP connectors are becoming the popular connector choice in many hyperscale datacenter designs. Cleanliness of these connectors is required for quick and easy installation and lifetime reliability. US Conec's MTP-16 cleaner is the latest addition to the company's line of IBC brand cleaners designed to meet this growing need. The IBC brand MTP-16 cleaner handles both female and male TIA 604-18 (FOCIS 18) compliant connectors with one simple push actuation of the tool. The proven and reliable "push to actuate" motion, pioneered by IBC brand cleaners, is combined with a wider cloth, ensuring clean fiber endfaces on all 16 or 32 optical lanes. Accessible connectors are cleaned using the tool's dust cap adapter, while pre-installed connectors can be easily cleaned in the adapter using the precision nozzle.
US Conec,usconec.com
Fluke Networks' FI-500 FiberInspector Micro inspection tool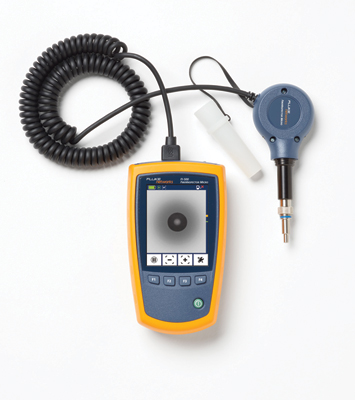 Technicians can inspect all types of installed fiber with the Fluke Networks FI-500 FiberInspector Micro. This tool projects a crisp image of microscopic debris and endface damage. The tool's patented camera includes the proprietary PortBright feature to illuminate and easily connect in dark places. Package includes handheld color display, auto-focus inspection scope, 4 tips (LC and SC) bulkheads and patch cords (1.25 and 2.50mm).
Fluke Networks, flukenetworks.com
America Ilsintech's CK-01 fusion splicer cleaning kit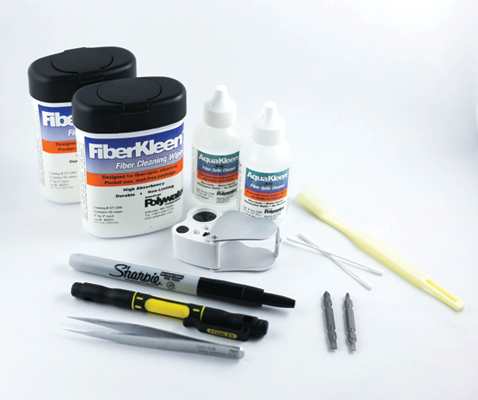 Engineered to help field technicians clean fiber splicers quickly, reliably and inexpensively, America Ilsintech's new fusion splicer cleaning kit provides all the tools needed to ensure the company's Swift fusion splicer continues to work accurately and efficiently. The CK-01 kit contains cleaners, wipes and swabs, as well as an eye loupe with pen light, a sweeper brush with soft nylon bristles, tweezers and room for extra supplies. Each kit ensures thorough cleaning of the fusion splicer, preventing dust or debris buildup when technicians are performing connections. America Ilsintech's Swift fusion-splicer line includes six models; each of the models provides all five splicing functions: stripping, cleaving, cleaning, splicing, and sleeving.
America Ilsintech,
americailsintech.com
EXFO's ConnectorMax MPO Link Test Solution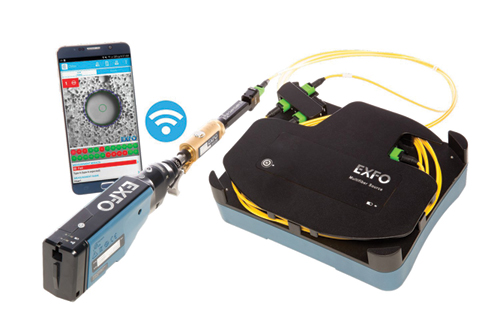 The ConnectorMax MPO Link Test Solution from EXFO is billed as the only automated solution that combines testing of polarity, continuity and connector cleanliness — the critical tests needed to validate MPO/MTP links — into an all-in-one solution delivering a clear pass/fail diagnosis of MPO 12 and MPO 24 links in a single report. Compatible with singlemode, multimode, APC and UPC fibers, and male and female connectors, the ConnectorMax solution pairs a light source at one end of the cable with a fiber inspection probe for analysis at the other end — a first in the industry, contends the company. For customers who already own EXFO's FIP-435B wireless fiber inspection probe, now that same MPO connector inspection tool enables them to check polarity and continuity in just about the same time as inspection alone.
EXFO, exfo.com
AFL's FCC3 Debris Destroyer fiber cleaning pen

AFL's FCC3 Debris Destroyer fiber cleaning pen is saturated with 99 percent pure, medical grade isopropyl alcohol (IPA) designed for cleaning fiber-optic connectors, adapter sleeves, optical distribution frame bulkheads and bare fibers in preparation for fusion splicing. In combination with wipes, tips and sticks, the pen works to remove connector endface contaminants such as dirt, dust, oil and other debris, and eliminates electrostatic charge. It is recommended for use with the company's One-Click family of pen cleaners, as well as AFL's FiberWipes, CCT connector cleaning tips, CLETOP adapter cleaning sticks, CLETOP cassette cleaners, and OPTIPOP cassette cleaners.
AFL, aflglobal.com
Neutrik fiber-optic cleaning accessories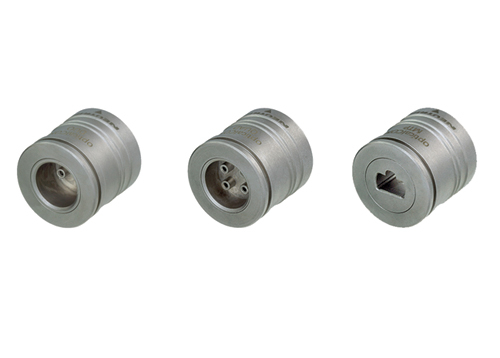 Neutrik now offers cleaning and inspection accessory tools for its opticalCON Advanced cable connectors. Operation is easy and intuitive; as the user simply pushes one of these cleaning tools onto the front face of the opticalCON Advanced cable connector, it latches into place and holds the shutter open. The tools include holes that are perfectly sized for inserting third-party cleaning tools and inspection probes. The product eliminates the need to remove the cable connector front housing to access the fiber ferrules, which simplifies and speeds up cleaning and inspection. The tools also make the process safer, reducing the risk of inadvertent damage to the fiber. Neutrik's opticalCON Advanced cable connector cleaning accessories are identified as part numbers: FOCD-STD (DUO); FOCD-STQ (QUAD); and FOCD-STM (MTP - both 12 and 24). The opticalCON Advanced product line inlcudes DUO, MTP, QUAD, and SPLIT models.
Neutrik, neutrikusa.com
FTTA and FTTH cleaning kits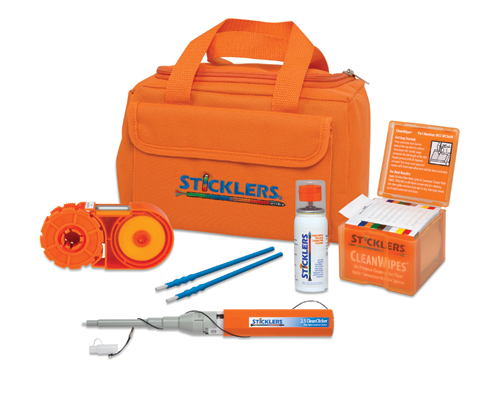 Sticklers fiber-optic cleaning products by MicroCare offers Fiber-to-the-Antenna (FTTA) and Fiber-to-the-Home (FTTH) cleaning kits. "The FTTA kit contains enough materials to clean more than 1,500 1.25-mm ODC and LC connectors, while the FTTH kit is able to clean more than 1,800 SC, FC, ST and E2000 connectors," the company says. "Each kit gives installers one-stop access to a full line of affordable, high-quality fiber cleaning products engineered to clean multiple connector types and sizes, as well as bare fiber. The unique kits contain all the necessary equipment to ensure fiber-optic connectors and splices are kept spotlessly clean. Importantly, they include non-flammable, non-toxic and globally GHS-compliant cleaning fluid packaged in a hermetically sealed container. This allows them to be easily shipped anywhere in the world."
Sticklers, www.sticklers.com