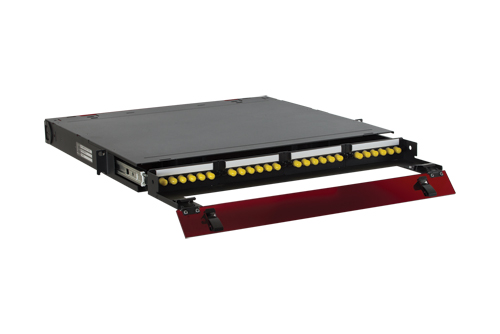 CONNECTIVITY
Bittree's fiber-optic feed-through patch panel enclosure simplifies IT convergence
Addressing the convergence of IT with the video and audio operations associated with its core markets, media infrastructure provider Bittree announced the launch of its DSFB124NL series of next-generation patch panel enclosures. The feed-through, slide-out enclosure is billed as ideal for customers managing interconnections and crossconnections within telecom rooms and data centers, as well as in TV and radio facilities, recording studios, sports and live event venues, and various commercial AV architectures.
The first product in the series, the DSFB124NL-ST, is now shipping and accommodates high-density, simplex ST-to-ST connections. A second version, the DSFB124NL-LC will follow to accommodate duplex LC-to-LC connections. Both products will accommodate singlemode and multimode fiber applications, while its compact 1RU form factor enables high-density 24-position patching—an important benefit in facilities with limited rack space, notes the company.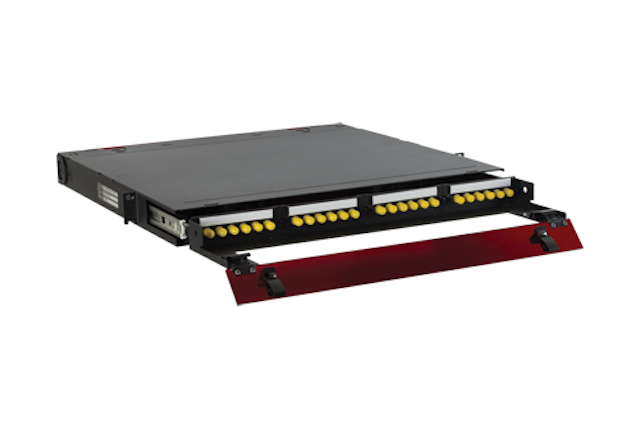 Unlike previous-generation Bittree enclosures, the new DSFB124NL series includes steel gliding rails for easier access to connections, instead of the friction-based trays of the past. The gliding trays offer the benefit of smooth movement and steady-locking positions, simplifying access between ports as technicians move, add or make changes to the fiber-optic network. The enclosure comes with grommets, cable strain reliefs and bend radius guides, along with knock-out positions available on all four sides, whereby technicians can easily accommodate any demanding installation.
The products are built using a cold-rolled steel construction with a durable black powder-coat finish, ensuring a highly durable and reliable product design. The unit's fold-down, clear-red acrylic front and rear doors additionally enable visual inspection of the patch interface to monitor connections and performance.
"This new series is a very timely solution, given its value for customers working through an IT convergence project," comments Bryan Carpenter, senior sales consultant, Bittree. "In a broadcast facility or venue working with singlemode fiber over video lines, everything can run to one Bittree panel for distribution. In a data center or data-centric application where singlemode is preferable for longer distances, this is a perfect server-to-machine solution to interconnect backbone cabling to active equipment, or crossconnect to a main or horizontal distribution system. In any scenario, the DSFB124NL enclosure is built with connection to a core switch and/or routing system in mind and makes life even easier for the technicians that install and manage the entire ecosystem."
STANDARDS
Single-pair connector designs from CommScope, Harting chosen as standard interfaces
In a round of voting that concluded in August, the standards-development committee ISO/IEC JTC 1/SC 25 Interconnection of Information Technology Equipment, selected two single-pair connector designs as standard interfaces. Committee members chose one design, from CommScope, for use in MICE1 environments and the other design, from Harting, for MICE2/MICE3 environments.
MICE is an acronym for mechanical, ingress, climatic, and electromagnetic. The higher the number, the more severe the environment. In practical application, an example of a MICE1 (M1I1C1E1) environment is commercial office space.
When the Telecommunications Industry Association (TIA) TR-42.7 Telecommunications Copper Cabling Systems Subcommittee met the week of October 1, it also selected the CommScope and Harting designs as its recommended interfaces.
In materials presented to ISO/IEC JTC 1/SC 25, CommScope described its LC-style connector as one that "allows many versions and a rich innovation platform." The company further stated that the connector's "low part count and complexity will enable easy economic transition from 1-pair connectors currently in use (screw terminals) and lead to widespread adoption and growth." Plus, according to CommScope, "Field installation with simple tools will enable installation in ceiling spaces and other difficult areas … contact wiping surfaces and resting surface concept similar to RJ45 will ensure reliable and robust performance."
In its presentation to ISO/IEC JTC 1/SC 25, Harting explained its connector "is designed especially for MICE3 applications." It is rated up to IP65/67, the company said, adding that the connector features "one MDI [medium dependent interface] design for PCB sockets, plug versions with IDC or crimp termination, and sockets for cabling platform for a wide variety of products [including] MDI sockets, plugs, sockets, bulkheads, adapters, cords."
The connector uses already-existing M8 and M12 housings, which Harting says enable simple implementation in devices and other products. The connector provides transmission performance up to 600 MHz in a fully shielded design, and supports Power over Data Lines as well as remote powering for 1-kilometer applications, according to IEEE 802.3cg.
That standard—IEEE 802.3cg—is currently in draft and will define 10-Mbit/sec single-pair Ethernet. Based on the ISO/IEC voting and selection of these two connector interfaces, the IEEE modified text within the latest 802.3cg draft. It now includes the following statement: "Connectors meeting the requirements of IEC 63171-1 (CD) may be used as the mechanical interface to the balanced cabling for M1I1C1E1 environments. The plug connector is used on the balanced cabling and the MDI connector on the PHY."
Because the standard is still in draft, it is subject to change.
DATA CENTERS
Vapor IO secures funding for major U.S. rollout of edge data centers
Vapor IO, a developer of fully-integrated hardware and software solutions for edge computing, recently announced a Series C funding round led by private equity firm Berkshire Partners, with participation from current investor Crown Castle. The new investment will be used to officially launch the company's Kinetic Edge colocation and interconnection services, while rapidly expanding its footprint of edge data centers. The company says its Kinetic Edge platform "offers a new category of colocation built around infrastructure-side edge computing at the intersection of the wireless and wireline networks. By deploying micro data centers at the base of cell towers and in nearby wireless aggregation hubs, Vapor IO expects to be the largest provider of edge data center colocation services integrated directly into the wireless infrastructure," adds the company.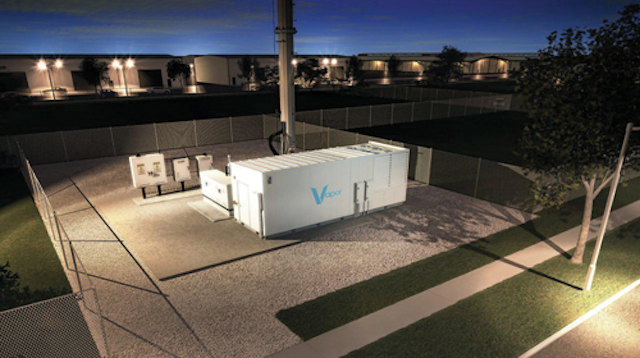 "As the concept of edge computing has gone from niche technology to mainstream trend, we have methodically laid the foundation for infrastructure-side edge computing," says Cole Crawford, founder and CEO of Vapor IO. "Vapor IO is building the largest footprint of interconnected edge data centers and we are rolling out at an accelerated pace. We're thrilled to welcome Berkshire Partners as a lead investor and to have the continued support of Crown Castle. This will help establish Vapor IO's leadership in the market and offer unprecedented value and performance to our customers."
Vapor IO says its Kinetic Edge platform enables carriers, cloud providers, CDNs [content delivery networks], web scale companies and other enterprises to place IT equipment for compute, storage, and networking applications in Kinetic Edge locations that are located "one hop" from existing 4G LTE and emerging 5G wireless networks. Vapor IO adds that its Kinetic Edge architecture "will create city-sized logical data centers using high-speed fiber and both open and proprietary software. By combining multiple micro data centers, the Kinetic Edge [platform] can offer infrastructure that positions compute and storage extremely close to users while also spanning a geographic region. With Kinetic Edge, Vapor IO is first-to-market with a comprehensive package of edge colocation, interconnection and networking services."
BICSI
BICSI elections fill open board seats
On January 22, 2019, six individuals will be sworn in as members of BICSI's Board of Directors, each serving a two-year term. In elections held throughout the month of September, the association's members selected five of those six individuals, and a runoff election will determine the sixth.
Following are the five incoming board members identified by position, name, employer/organization affiliation, and location.
Secretary: Carol Everett Oliver, RCDD, ESS (incumbent); The Siemon Company; Cape Coral, FL
Global Region Director: Honorico "Rick" Ciordia, RCDD, DCDC, RTPM, PE (incumbent); ETTG; Bayamon, Puerto Rico
U.S. South-Central Region Director: Mark Reynolds, RCDD (incumbent); University of New Mexico; Albuquerque, NM
U.S. Southeast Region Director: Lee Renfroe, RCDD, ESS, Technician; GoFroe; Fitzgerald, GA
U.S. Western Region Director: Pat McMurray, RCDD, DCDC, NTS, OSP (incumbent); T&R Communications; Sacramento, CA
Canadian Region member voting resulted in a tie, which prompted a runoff election. The runoff results were unavailable at presstime. The individual who emerges from that runoff will be inducted, along with the five individuals named above, in January.
Incoming U.S. Southeast Region Director Lee Renfroe is a former winner of the BICSI Cabling Skills Challenge, having taken that crown in 2012 and 2013. He is the first Cabling Skills Challenge champion to be elected to BICSI's Board of Directors.
WIRELESS
Sierra Wireless compact LTE router serves Internet of Things, enterprise applications
Sierra Wireless, a provider of integrated device-to-cloud solutions for the Internet of Things (IoT), recently announced its AirLink LX40, billed as the industry's most compact cellular router for the IoT. The company says the AirLink LX40, with LTE and LTE-M/NB-IoT variants, provides secure, managed connectivity out of the box for business-critical IoT and enterprise applications. "The LX40 supports data processing at the edge and is ideal for connecting cameras, smart lockers and point-of-sale terminals, as well as industrial remote data logging and sensing equipment in indoor or protected-outdoor locations," says Sierra Wireless.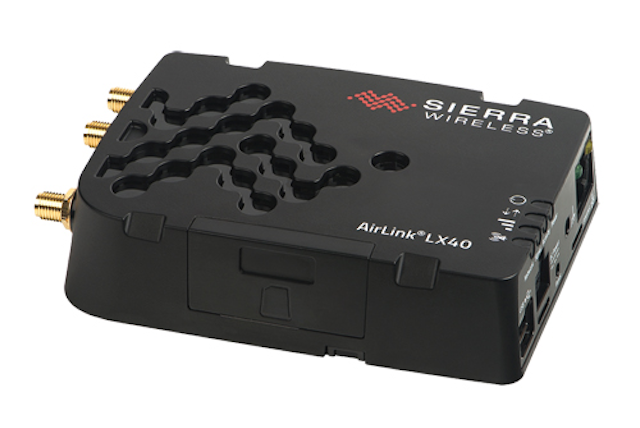 Providing LTE and optional WiFi connectivity, combined with networking, routing and security functions, the AirLink LX40 is part of Sierra Wireless's new AirLink Essential Series of routers and gateways. The unit is available in two variants: the LTE-M/NB-IoT (up to 300-kbit/sec downlink) for enhanced coverage and the LTE Cat-4 (up to 150-Mbit/sec downlink) for higher throughput. The LX40 features a single Gigabit Ethernet port to provide primary LTE connectivity, with support for Power over Ethernet, which further simplifies installation. The available I/O port and built-in embedded application framework allow for simple machine connectivity and edge processing. The LTE Cat-4 variant is available with an optional WiFi feature, enabling it to serve as a hotspot or to access building WiFi infrastructure.
"Enterprises are gathering business intelligence by deploying IoT solutions over a diverse range of locations and assets, from security cameras in a warehouse to manufacturing equipment on a factory floor," says Jason Krause, senior vice president and general manager, enterprise solutions, Sierra Wireless. "AirLink LX40 represents the evolution of our router portfolio, starting with the LX60, to bring the same secure connectivity experience as our rugged performance portfolio, but in an even more compact form factor that is optimized for enterprise IoT applications."
Per the company, "AirLink LX40 also enables IoT edge programmability, supporting the field-proven ALEOS Application Framework for embedded applications, as well as tightly integrated cloud services and APIs. These features, combined with LTE-M/NB-IoT connectivity and a rich set of I/O options for data acquisition and sensor aggregation, enable critical data to be processed at the edge to drive application insight and create event-driven situational awareness, while optimizing data transmission. LTE-M/NB-IoT support also provides 5x to 10x enhanced coverage in remote locations or buildings, while reducing monthly data plan costs by up to 10x."
AV SYSTEMS
Pro-level AV-over-IP platform
Extron recently introduced the NAV Series AV-over-IP platform, which the company characterizes as a "no-compromise," professional-level technology set. The NAV Series distributes and switches ultra-low-latency video, audio, and USB 2.0 signals over Ethernet networks. When introducing the platform in September, Extron explained that using its patented PURE3 codec, NAV delivers "visually lossless video over IP at resolutions up to 4K at 60 Hz with 4:4:4 chroma sampling."

"A true-color [4:4:4] video signal includes all of the red, green, and blue color information of each pixel," according to ClearOne.
Extron continued, "PURE3's Intelligent Selective Streaming leverages low motion content to achieve extremely low bitrates while maintaining visually lossless performance. Most codecs make compromises in either image quality, bandwidth requirements, or latency … The NAV Series is the only streaming solution that offers both 1-Gbit/sec and 10-Gbit/sec encoders and decoders with compatibility across both systems. NAV can also deploy as a high-performance IP-based video and audio matrix, combining the flexibility of an IP-based system with the integration-friendly video and audio switching features found in conventional Extron matrix switchers."
Casey Hall, Extron's vice president of worldwide sales and marketing, commented, "Our new NAV platform was purpose-built for the professional AV integrator, offering uncompromised quality and flexibility that works in virtually any environment. NAV empowers AV integrators to create mixed 1-Gbit/sec and 10-Gbit/sec pro AV-over-IP applications that address a broader range of environments, delivering high-quality content with virtually no latency."
The NAV Series includes the NAVigator System Manager, which provides an interface for centralized management, configuration, and control of Extron's NAV systems. "NAVigator facilitates easy setup and configuration, and offers extensive features for monitoring, diagnostics, and troubleshooting," Extron said. "NAV encoders and decoders support analog audio, embedded digital HDMI audio, and AES67 audio-over-IP, facilitating integration with DMP 128 Plus audio DSPs or other IP-enabled audio components."
Several flavors of AV-over-IP technology exist, including HDBase-T-IP and SDVoE (Software-Defined Video over Ethernet). Many believe that SDVoE will see significant adoption; as it is adopted, it consumes market share currently enjoyed by technologies like matrix switches and KVM switches.
TESTING
NetScout sells handheld-tester portfolio to private equity firm
NetScout Systems Inc. divested its handheld network test business on September 14. The company announced that StoneCalibre acquired the portfolio of solutions that includes the LinkRunner Network Auto-Tester, LinkSprinter Network Tester, OneTouch AT Network Assistant, AirCheck G2 Wireless Tester, and AirMagnet Mobile solutions. The LinkRunner G2 is a 2018 Cabling Innovators Awards Gold-level honoree (see page 10 for details).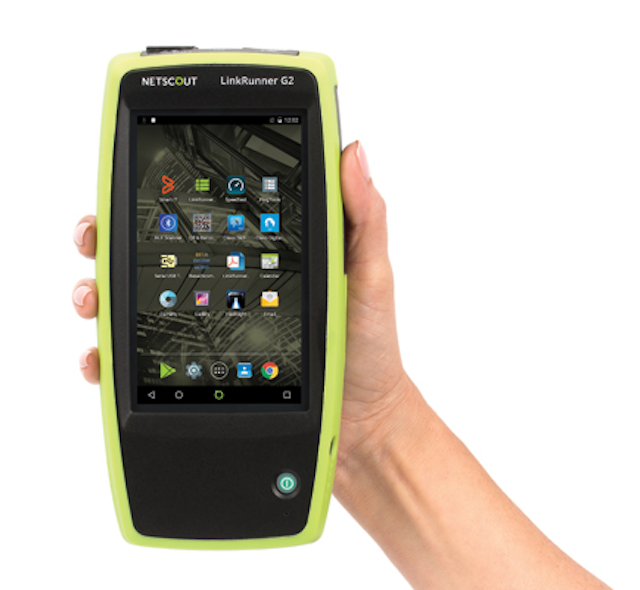 NetScout said it "will work toward a smooth transition for customers, partners, contractors and suppliers by collaborating with StoneCalibre to provide a variety of services across a range of functional areas over the next several months as StoneCalibre completes its carve-out of HNT [handheld network test] as a standalone company in its portfolio."
StoneCalibre, headquartered in Los Angeles, CA, specializes in acquiring lower-middle-market companies, according to its website. The firm added it "is focused on making investments in both special situations and quality long-term capital investment opportunities."
It holds a portfolio of companies across several industries. Among the communications-related companies owned by StoneCalibre are software-based unified communications systems provider Applied Voice and Speech Technologies; in-vehicle mobile hardware and software system provider Data911; and telecommunications infrastructure management solution provider NetPlus.