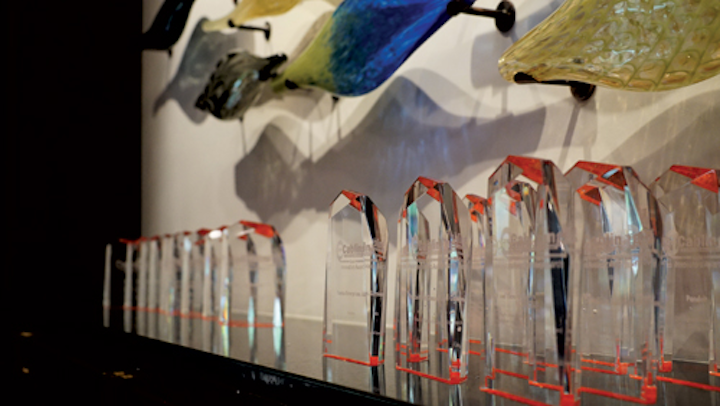 Awards ceremony celebrated the people who solve problems, improve situations and advance cabling technology into the future. in its fourth year, the cabling innovators awards program celebrated 61 entries that exhibited some level of innovation, from marked improvement over previous methods, to those that broke new ground for industry pr
ofessionals.
For the fourth consecutive year, Cabling Installation & Maintenance held a ceremony during which it celebrated innovations in the cabling industry. The ceremony was held Tuesday, September 11 in San Antonio, Texas, at a hospitality facility nearby the Henry B. Gonzalez Convention Center, where the BICSI Fall Conference and Exhibition were taking place.
As emcee of the event, I had the opportunity to address the assembled honorees. I'll share here what I stated at the event. When the Cabling Innovators Awards was established in 2015, we purposely chose to include the word "Innovators," as opposed to "Innovation," in the program's name. Innovation is a process. Innovators are people—individuals, teams, groups, committees even. One objective of the Cabling Innovators Awards program is to recognize and honor the people who innovate, in any number of ways. The 2018 Cabling Innovators Awards ceremony was a gathering of inventors, executives, entrepreneurs, project managers, business-development professionals, and a number of others with different skills and experiences—all of whom are innovators in that they use technology and ingenuity to solve challenges for themselves or their customers.
The Cabling Innovators Awards program recognizes innovation, certainly, but its intent always has been to emphasize the people and teams who bring that innovation to fruition, and put it to practical use. In that spirit, Cabling Installation & Maintenance was pleased to host the awards ceremony honoring recipients in this year's program. Photos from that gathering can be seen on the pages of this article.
Based on evaluations by our judging panel, three levels of awards were assigned: Silver, Gold, and Platinum. Silver awards were earned by entries that demonstrated marked improvement over previous methods, approaches, or product and system use. Gold awards went to entries demonstrating excellent innovation with clear benefits, making substantial improvement over previous methods, approaches, or use. And platinum-level honorees showed a level of innovation that the judging panel characterizes asgroundbreaking.
For the first time in 2018, awards were organized into 10 categories: active infrastructure devices, applications and case studies, cable protection and management, cabling media, connection and crossconnection devices, distribution and routing equipment, specialized equipment and materials, splicing and termination equipment, test equipment, and value-added programs.
Following are descriptions of the 2018 Cabling Innovators Awards honorees. Each description includes the category with which it is associated. First you'll see our Silver honorees, then Gold, then Platinum. Honorees are listed alphabetically according to the organization that submitted the entry.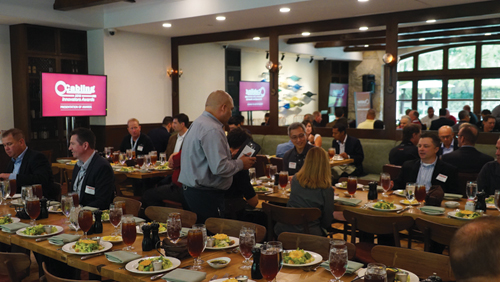 Honorees recognized at the Silver level demonstrated that their innovation has resulted in marked improvement over previous methods, approaches, or product and system use.
SPLICING AND
TERMINATION
FOCIS Duel Fiber Optic Connector Inspe
ction System
The FOCIS Duel Fiber Optic Connector Inspection System is a handheld, wireless, auto-focusing video microscope probe with two inspection ports. It is known that approximately 80 percent of all fiber-optic network failures are related to contaminated connector endfaces. FOCIS Duel is intended for use by all fiber-optic network maintenance personnel to observe and document connector endface contamination. It is an extension of the FOCIS Flex inspection probe, and shares the mobile smart device app software (both iOS and Android) and aeRos cloud-based workflow management platform software with FOCIS Flex.
AFL; www.aflglobal.com
TE
ST EQUIPMENT
MFIS Multi Fiber Identific
ation System
MFIS is an innovative product family that helps users verify network construction quickly, accurately and efficiently. It detects excess loss due to network construction mishap, improves construction and maintenance crew efficiency, and eliminates guesswork on fiber routing—on multiple fiberssimultaneously.
AFL; www.aflglobal.com
TE
ST EQUIPMENT
Networ
k Master Pro
The Network Master Pro MT1000A multi-function field tester has a leading-edge modular design that makes it easy and cost-effective to test network performance. The latest option of the MT1000A is eCPRI/RoE and high-accuracy delay measurement functions, which are critical technologies for measuring throughput and latency and performing high-accuracy time synchronization tests at installation and maintenance of 5G mobile networks carrying eCPRI/RoE traffic.
Anritsu; www.anritsu.com
CABLE PROTECTION AND
MANAGEMENT
Brother PT-E800W Industrial Lab
eling System
The Brother PT-E800W Industrial Labeling System is a wireless, transportable, on-demand print-and-laminate labeling solution, and a significant advancement in on-demand labeling technology. The PT-E800 makes it easy to design and print professional laminated thermal transfer labels with logos, symbols, QR codes, barcodes and other tracking data. Designed to fulfill a diverse range of labeling needs, the PT-E800W is ideal for labeling applications requiring premier print quality, adhesion and extreme durability, Brother Mobile Solutions adds.
Brother Mobile Solutions, www.brothermobilesolutions.com
CABLE PROTECTION AND
MANAGEMENT
eConnect Electronic Ac
cess Control
The eConnect Electronic Access Control (EAC) is an economical networked locking solution that works with the company's new-generation eConnect PDUs to support the three key elements of remote management at the cabinet level: power management, environmental monitoring and physical access control. This integrated PDU-based cabinet ecosystem uses a single network connection and one interface to monitor all three elements, simplifying rack management.
Chatsworth Products Inc., www.chatsworth.com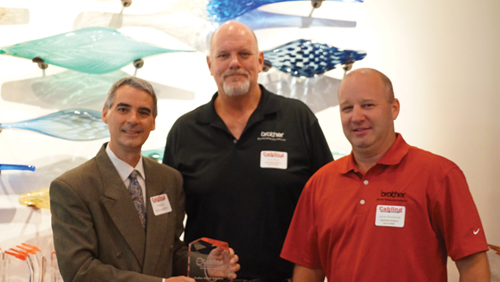 VALUE AD
DED PROGRAMS
CommScope Infrastruc
ture Academy
With its Infrastructure Academy training, CommScope offers flexible online instruction to suit whenever and wherever people and their teams work best. This flexibility saves time and budget, and increases productivity. Technicians, installers, engineers and integrators alike are provided a comprehensive selection of courses that provide in-depth training on today's advanced wireless, broadband and enterprise solutions.
CommScope, www.commscope.com
DISTRIBUTION A
ND ROUTING
NG4
The NG4 Optical Distribution Frame is all about speed and agility. It supports multimode and singlemode cabling infrastructure with LC, SC and MPO connectors. The open module design supports splitters, C/SWDM and connectivity migration. A wide range of modules supports data center high-speed migration requirements of 10- to 40- to 400-Gbit circuits. The ODF can enhance efficiency in central offices, data centers, and C-RAN hubs.
CommScope, www.commscope.com
CABLE PROTECTION AND
MANAGEMENT
Defense-Lin
k Assemblies
Comtran recently honed the development process of an assembly line suitable for use in military applications approved by Navy Sea Systems Command (NAVSEA). The project's specified cable assemblies use Comtran Cable's Defense-Link MIL-DTL-24643- and ANSI/TIA-568-C.2-compliant network communications cables with approved RJ45 connectors from Metz Connect, providing a plug-and-play alternative to traditional onboard installation methods. Key benefits to these assemblies include reductions in installation time, scrap, testing, andtroubleshooting.
Comtran Cable, www.comtrancorp.com
ACTIVE INFRASTRUCT
URE DEVICES
G.hn Powerline with
PoE Solution
The G.hn Powerline with PoE Solution eliminates the need to run time-sensitive Ethernet cable, which decreases the amount of time it takes to install a camera. This allows for more installs per day. It also eliminates the need for a certified electrician to install a high-voltage line near the location of a device, thus lowering install costs. Additionally, this unit provides the best-performing real-world performance at the same price as legacy HomePlug AV solutions currently available in the consumer market. The product improves video throughput via better video algorithms, minimizes interruptions via better latency management, and delivers less traffic interference via a better understanding of neighboring networks.
Comtrend, www.comtrend.com
CABLE PROTECTION AN
D MANAGEMENT
Quick-Latch
The Quick-Latch product can save technicians up to 40 percent in installation time connecting sections of wire basket together. Though the typical Cope wire basket design comes with a pre-attached splice plate, multiple field cuts or manufacturing fittings can leave perfectly usable pieces of wire basket without any splice bar. Using Quick-Latch is a way to use these pieces and reduce cost, labor, and time when splicing these parts together.
Cope Cable Tray, www.copecabletray.com
SPLICING AND
TERMINATION
915FS
The 915FS Active Clad Fusion Splicer allows the technician to reliably fuse fiber-optic cables with low splice losses in the most-demanding environments. Outperforming v-groove splicer technology with its three-axis alignment, the 915FS is the smallest and lightest active-clad fusion splicer in traditional format with IP52 ingress protection rating, resistant to dust and water. It is designed to meet virtually any FTTx installation both indoors and out, and can be used for installations including backhaul, cellular and LAN.
Greenlee Communications, www.greenleecommunications.com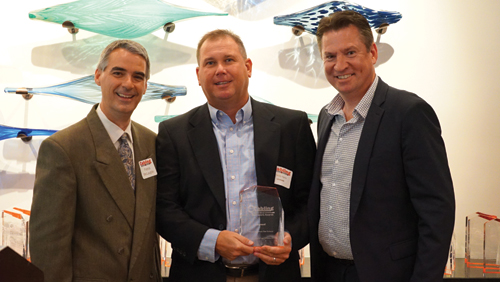 CA
BLING MEDIA
AirSc
out Live Pro
Using Air Time Analysis and Spectrum Analysis, AirScout Live Pro produces a live prediction of channel congestion, interference and utilization, providing a real-time view of how a WiFi network is being used and by what, down to the client. The simple, easy-to-use interface means there is no need for training; users can quickly and easily get to the root of the problem without in-depth WiFi knowledge and experience. This capability allows technician to quickly troubleshoot and analyze network interference and utilization trends over time.
Greenlee Communications, www.greenleecommunications.com
CONNECTION AND CROSSCONNEC
TION DEVICES
Infinium High-Density Fib
er Enclosure
The Infinium High-Density Fiber Enclosure was developed based on extensive research and interviews of industry end-users, who helped shape the key features found within the enclosure. It is easy to work with, allowing for one-person installation, with a tool-less feature set, and versatile cable management options to help protect fiber at every point.
Legrand, www.legrand.us
CONNECTION AND CROSSCONNECT
ION DEVICES
Opt-X SDX Mini Wall-Mou
nt Enclosure
The Opt-X SDS Mini Wall-Mount Fiber Optic Enclosure redefines patching fields for edge computing to meet the demands of the IoT and the advent of fog computing and micro data center environments. It opens new networking possibilities in applications ranging from telecom rooms and cloud data centers, to edge and fog computing. Its feature set enables a diverse range of networking styles andmethodologies.
Leviton Network Solutions, www.leviton.com
ACTIVE INFRASTRUC
TURE DEVICES
PDS-208G Digital Ceilin
g PoE Switch
The PDS-208G PoE Switch is well-suited to applications within the LED lighting and enterprise markets. The 240W fanless switch supports full power mode by providing 30W for 8 ports simultaneously, and any individual port can operate at up to 72W. The device is also able to perform software updates while keeping PoE ports active. The high-speed PDS-208G offers Layer 2 management capabilities, and the device's 8, 10/100/1000-Mbit/sec ports with PoE capabilities are based on the manufacturer's energy-efficient four-pair PoE technology, enabling 50 percent power-loss savings when compared to similarinstallations.
Microsemi, www.microsemi.com
SPECIALIZED EQUIPMENT AN
D MATERIALS
Industrial Network Uninterruptible
Power Supply
The Industrial Network UPS provides uninterrupted power for critical applications including managed network switches, micro PLCs, and HMIs deployed on the factory floor. Like its previous model, this enhanced UPS uses ultracapacitor technology instead of batteries, eliminating the number-one cause of conventional UPS failures. This lowers the risk of downtime by as much as 40 percent to keep key equipment in facilities operating at full capacity. The no-battery design also makes the device maintenance-free, providing two times greater ROI and 50 to 70 percent lower cost of ownership than an ordinary UPS.
Panduit, www.panduit.com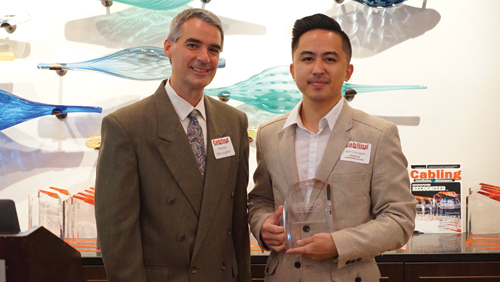 DISTRIBUTION A
ND ROUTING
SmartZone G5 Intelligent Power Distr
ibution Unit
The SmartZone G5 Intelligent Power Distribution Unit (iPDU) monitors the power and environment at the cabinet level, by continuously scanning for electrical circuit overloads, and physical environmental conditions that place critical IT equipment at risk. The controller module—the heart of the intelligence—has been made to be hot-swappable, so that it can be replaced without having to power down. Also, the configuration of the iPDU has been embedded into the chassis, thereby eliminating the need to reconfigure the iPDU after the controller has been replaced.
Panduit, www.panduit.com
TEST
EQUIPMENT
ToneMaster an
d ToneSeeker
ToneMaster high-power tone generator enables signal detection over 20 miles away and makes tracing through walls and enclosures easier with multiple tones and power levels suited for network, signal wire, coaxial, and telephone cable applications. Used in conjunction with any analog tone generator, the ToneSeeker identifies wire and cable without having to make direct metallic contact with the conductor. Compatible with any analog tone generator, the ToneSeeker emits a clear and loud tone as a cable is traced.
Platinum Tools, www.platinumtools.com
DISTRIBUTION
AND ROUTING
HPH J-Hooks
High Performance Hybrid (HPH) J-Hooks are built with steel, 2-inches wide, and designed with a reusable Snap-Lock latch for securing cable. They are UL-listed and plenum-rated, and feature an easy-slide, slick, burr-free surface without pressure points.
Platinum Tools, www.platinumtools.com
CABLE PROTECTION AN
D MANAGEMENT
TS IT Modul
ar Enclosure
Frequently, air-tightness and a defined air pressure must be maintained to prevent warm air and cool air from mixing. Rittal kept this in mind when designing the TS IT server enclosure. It supports air circulation in diverse configurations—in conjunction with the corresponding cable installation components. With the TS IT enclosure, the rear mounting angles can be infinitely positioned, so every possible 19-inch spacing is feasible. All positions are marked and numbered sequentially; there is no need to count the suitable distances.
Rittal North America, www.rittal.com
DISTRIBUTION
AND ROUTING
Waterfall Cable Ma
nagement Bar
This front cable assembly management and administration trough (bar) is designed to provide installers and users with several features and benefits, including zero-U footprint, the ability to be used with any 19-inch rack-mountable equipment, ability to retrofit without unmounting equipment, and the ability to be used to handle distribution cables where there are no other means for cable support.
Signamax, signamax.com
CONNECTION AND CROSSCONNECT
ION DEVICES
Customizable Optical Fi
ber Cassette
The major goal of the new optical fiber cassette design is to provide installers and end-users with a convenient one-product solution, giving them flexibility in quickly changing configurations of optical fiber connections and cable-entry direction. The cassette incorporates switchable rear cable entry, interchangeable front adapter plates, and interchangeable rear cable entry adapter plates. These adapter plates enable changing the type and number of required cable entry adapters, including MPO/MTP, MG12-style glands, and rubber grommets.
Signamax, signamax.com
CONNECTION AND CROSSCONNEC
TION DEVICES
Multimedia Dist
ribution Box
The Multimedia Distribution Box can be used in a variety of applications including small-office/home-office and fiber-to-the-x, where compact standalone distribution devices capable of providing practically any type of connection is needed. The Multimedia Distribution Box can be used as a hub for passive cabling interconnection or crossconnection, active equipment connection to cabling, as a media-conversion hub, or as a transition point in FTTx networks.
Signamax, signamax.com
SPLICING AND
TERMINATION
LynxC
onnectorizer
Described as "FTTx in one machine," Sumitomo's Lynx Connectorizer technology set offers simple operation. The centerpiece technology is the T-400S Active Clad Alignment Fusion Splicer, which features a high-resolution display, fiber endface evaluation, and post-joining loss estimation. The handheld fusion splicer removes the technician's judgment call that other forms of termination require. It does so through the use of advanced optical technology, high precision motors, and embedded software to completely automate the installation of an optical connector.
Sumitomo Electric Lightwave, www.sumitomoelectric.com
CONNECTION AND CROSSCONNEC
TION DEVICES
NextSTEP Minus1U
Patch Panel
The NextSTEP Minus1U Patch Panel consolidates fiber cable management and active equipment in the same 1U of rack space. The Minus1U Patch Panel divides 1U of rack space into a NextSTEP chassis on one side along with a reserved space on the other side to receive active network equipment including hubs, routers and switches. It is available in a switch-specific model and in a universal tray model. Wirewerks emphasizes that using the panel is like getting a free unit of rack space.
Wirewerks, www.wirewerks.com
Those honored with Gold level awards demonstrated innovation that is considered excellent, and whose benefits are clear, making a substantial improvement over previous methods employed, approaches taken, or products and systems used.
TE
ST EQUIPMENT
TestPro100
The TestPro 100 is a versatile platform that was purpose-built to help contractors, IT organizations and IoT device installers deploy and manage the modern-day digital infrastructure. It supports multi-gigabit link qualification of 1, 2.5, 5, and 10-Gig, PoE++ validation testing in support of 802.3bt, and Category 6A certification in less time and at half the cost of other products, AEM states. AEM's objective in the design of TestPro 100 was to provide a cost-effective solution that is simple to use, versatile in its design to allow a wide range of functionality within a single platform, and to offer those looking for an edge in digital-infrastructure deployment and support with a purpose-built solution.
AEM, www.aem-test.com
APPLICATIONS AND
CASE STUDIES
Golf Channel
The Golf Channel's new 1,980-square-foot Studio AP comprises two sets—a host-desk set with 10, 90-inch LED monitors and 10, 52-inch LED monitors, as well as an interview set with 9, 90-inch LED monitors. UHD 4K video footage of golf courses displays across these 29 screens, creating a viewer experience that looks like broadcasts occur from inside a local clubhouse. Belden provides cabling products, including 4K UHD Media Cable and REVConnect connectivity hardware, to support Golf Channel's HDBase-T network inside this new studio.
Belden, www.belden.com
DISTRIBUTION
AND ROUTING
FiberExpress Low-Pressure Mold and Pulling Ey
e for Trunks
Pulling preterminated trunks can lead to damage if not done correctly, with connectors being knocked off during the installation process. Cables or trunks also can be damaged due to improper pulling, jacket stress, tension, or tight bend radius. When this type of damage occurs—often unknowingly to the installer—cable performance suffers. Belden wanted to create a solution that would allow installers to easily route cable and install preterminated trunks without having to worry about damage along the way. To do this, the company narrowed in on improving the pulling eye. This new fiber pulling eye can be removed easily in less than 20 seconds because nothing has to be uncrossed or untied; the connection tab simply needs to be cut.
Belden, www.belden.com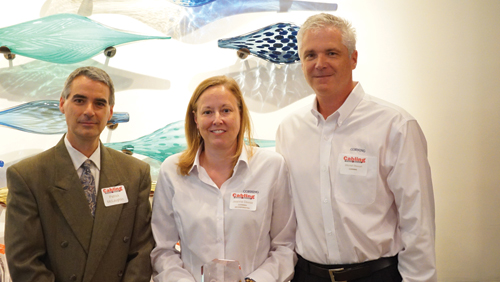 VALUE-AD
DED PROGRAMS
Belden PartnerAlliance HDBas
e-T Warranty
To help bridge the gap between AV and IT, Belden created the PartnerAlliance HDBase-T Warranty. Common in the IT space but a brand new concept in the AV world, this warranty program is designed to help integrators establish a higher level of credibility as they work with IT professionals. It allows qualified Belden PartnerAlliance AV integrators to provide their clients with assurance that their installed cabling systems will be free of defects for 25 years, and include a lifetime application assurance program, which covers system performance and labor.
Belden, www.belden.com
ACTIVE INFRASTRUC
TURE DEVICES
Multi
-Path System
In 2017 CABLExpress released and deployed its Multi-Path Solution, a fiber-optic structured cabling method that eliminates all polarity, gender and migration challenges in enterprise-class data centers and networks. The goal of the Multi-Path system's design is to simplify the cabling migration process and reduce the need for multiple transition components. CABLExpress says it has delivered a simple, effective path and polarity system that can effectively handle multiple paths (duplex or parallel signals), with no disruption or added cost.
CABLEXpress, www.cablexpress.com
CA
BLING MEDIA
TiniFiber Micro
Armor Fiber
Micro Armor Fiber's stainless steel coil design combined with Kevlar adds tensile strength, uparalleled durability, and crush resistance for indoor and outdoor use. Micro Armor Fiber takes up less than one-fifth the space of aluminum interlocked armor (AIA) cables behind the walls, in conduits and throughout a building's infrastructure. Micro Armor Fiber has been deployed in several industry sectors and organizations, including healthcare and hospitals, airports, stadiums, data centers, and industrial plants. It has helped these organizations navigate through infrastructure complexities in challenging environments with significant data demand, high-bandwidth requirements, and security concerns.
TiniFiber, www.tinifiber.com
APPLICATIONS AND
CASE STUDIES
Anthem's Data CenterTr
ansformation
Healthcare company Anthem Inc.'s primary and largest data center was experiencing growing pains typical of many legacy facilities: ensuring newer, higher-density equipment had enough space, power, and cooling, without increasing operating costs. The 58,000-square-foot, 1,000-cabinet data center in Richmond, VA turned to Chatsworth Products, Inc., which developed computational fluid dynamics (CFD) models that illustrated the benefits of implementing containment solutions. Using these data-driven results, Anthem employed two primary improvements: 1) airflow containment at the cabinet and aisle level, including accessories such as floor grommets, and 2) replacing existing computer room air handlers with newer, more-efficient models. These improvements, along with other measures, enabled dramatic energy savings for Anthem.
Chatsworth Products, Inc., www.chatsworth.com
DISTRIBUTION
AND ROUTING
Clik-
Nut Cage Nut
The Clik-Nut Hardware Kit addresses the fundamental challenges of installing and removing traditional cage nuts. Instead of creating a better insertion tool, Chatsworth Products eliminated it. The result is a safe and simple design that provides the same high-reliability attachment the industry has relied upon for decades. The patent-pending, squeeze-and-release design eliminates the need for tools, resulting in easier and faster installation. Results from an in-house test showed Clik-Nut installation and removal of cage nuts were at least 70 percent faster than traditional installation methods.
Chatsworth Products, Inc., www.chatsworth.com
DISTRIBUTION
AND ROUTING
YO
URx Flex Box
The Flex Box with built-in 16-port splitter and 16 Deploy Reels can be placed in a multi-dwelling unit's central utility room. The Flex Box's reversible door makes a big difference when the box needs to be mounted in a tight area. Additionally, the aggregator plate holds the FieldShield Microduct firmly in place, with breakaway tabs on unused ports ensuring that the product stays dry and clean inside for years to come.
Clearfield, www.seeclearfield.com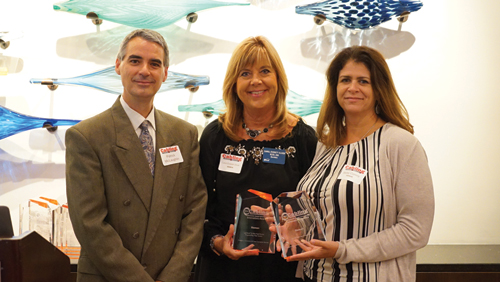 SPLICING AND
TERMINATION
UniCam High-Performan
ce Toolkit 2
Corning's UniCam High-Performance Toolkit 2 addresses network owners' dual challenges of selecting products that offer proven reliability while also minimizing installation time. Based on UniCam no-epoxy, no-polish connector technology and its 100-percent yield guarantee, the High-Performance Toolkit 2 was designed specifically to address the increasing importance of installation time. The kit cuts the number of steps required for connector installation from 18 to 10, reducing termination time by as much as 25 percent. Installation of an LC, SC, or ST-compatible connector can be accomplished in 45 seconds with the UniCam High-Performance Toolkit 2, a significant improvement when compared to other methods and options. The new installation tool includes an onboard LCD screen, on which icons and animations guide the user through the installation process.
Corning, www.corning.com
C
ABLING MEDIA
RocketRibbon Extreme-D
ensity Cable
The next-generation ribbon cable provides an industry-leading 3,456 fiber capacity—twice the fiber count in approximately the same footprint of existing central tube and stranded ribbon tube cable designs. By leveraging Corning's optical fiber cable design expertise, RocketRibbon cable allows operators to quickly install more capacity in the same duct space to accommodate increasing bandwidth demand. The gel-free cables are quick and easy to install, with easy-to-access fiber subunits. With up to 30-percent faster mass fusion splicing possible, customers can save time, with no unique tools or specialized training required.
Corning, www.corning.com
TE
ST EQUIPMENT
Integrated Link Los
s Calculator
Fluke Networks has partnered with CommScope to integrate CommScope's Systimax link loss calculator (LLC) with Fluke Networks' CertiFiber Pro Optical Loss Test Set and LinkWare Live cloud certification service, part of the Versiv Cabling Certification System product family. The integrated technologies mean that for the first time, installers can quickly and easily calculate loss limits to accurately predict total link loss performance for the certification of ultra-low-loss singlemode and multimode fiber in high-speed networks and data center projects that greatly exceed industry standards.
Fluke Networks, www.flukenetworks.com
TE
ST EQUIPMENT
Pro 3000
F Tone Probe
The Pro 3000F Filtered Probe is the latest iteration of the classic Pro 3000 tone and probe family. The advanced filter removes signal interference at 50 or 60 MHz frequency and harmonics. This filtering allows technicians to easily find the cable or wire they are tracing even when noisy external AC sources, such as power cables and lighting, are present. The Pro 3000F is the first filtered probe priced below $100 U.S. MSRP.
Fluke Networks, www.flukenetworks.com
SPECIALIZED EQUIPMENT A
ND MATERIALS
MS-6 Mid
span Slitter
The MS-6 and the MS-26 Midspan Fiber Optic Cable Slitter provide flexibility and durability, with cost savings compared to other available slitters. The MS-6 has 6 slots, accommodating cables ranging in size from 1.2 to 3.3 mm. The user opens the tool, selects the appropriate slot, loads the cable, closes and pulls in the direction of the arrow on top of the tool. The user then opens the tool and removes the cable or buffer tube. Because the blades are factory-preset and fixed in place, no adjustments to blade depth is required.
Jonard Tools, www.jonard.com
TE
ST EQUIPMENT
L
inkRunner G2
Using the LinkRunner G2 with its wired Ethernet capabilities and hardened Android OS, the technician gets their job done from start to finish—not only for network testing, but for all aspects of their workflow. Technicians can receive a trouble ticket, review documentation, test the network, automatically document the results, and use other vendor-specific applications to triage and configure connected devices. The patented TruePower PoE test supports 51W UPOE under load at the powered device. With this capability, LinkRunner G2 provides a simple-to-understand pass/fail indication, and the loaded level of PoE as well as the requested versus received power.
NetScout, enterprise.netscout.com
SPECIALIZED EQUIPMENT A
ND MATERIALS
BuckSaver, GateSystem, Wireless Buc
kSaver Suite
Designed for companies with outside inventory, the Bucksaver cable is a soft flexible cable rated for outside use that comes in 15-foot or custom-length sections that quickly connect together to form a security "chain" that ties into the security system alarm panel of a facility, allowing the equipment to be secured in place. The Gate System is a slightly modified version of this product that attaches gates, tractor-trailer doors, and fences to the same system. The cables can be daisy chained up to 3,000 feet; the wireless version of the system can cover up to 32, 15-foot loops per wireless transceiver.
Paige Datacom Solutions, www.paigedatacom.com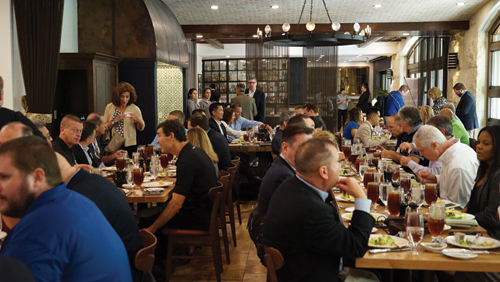 APPLICATIONS AND
CASE STUDIES
n
oosa Yoghurt
Malisko Engineering orchestrated the upgrade of noosa Yoghurt's industrial and enterprise networks, which co-exist within a single plant. The Malisko design team communicated best practices aligning with TIA standards, and helped noosa adopt technologies including DIN-rail-mount patch boxes and single-port patching inside control panels. To mitigate risk and achieve resiliency in critical process areas, Malisko incorporated both redundant and Resilient Ethernet Protocol (REP) ring topologies in several areas. The design also called for redundant backbone pathways from one end of the plant to the other—ensuring continuous availability between the server room and the network core located in the middle of the plant.
Malisko Engineering, www.malisko.com
Panduit, www.panduit.com
C
ABLING MEDIA
OM5 Signature Core Fiber-Optic Ca
bling System
Based on dispersion compensation, Panduit's Signature Core multimode fibers deliver extended reach over OM4 and OM5 beyond industry standards, and deliver higher system performance and signal integrity as well as design flexibility. The OM5 Signature Core Fiber-Optic Cabling System delivers signal integrity far beyond requirements for 10/25/40/50/100/200-Gbit/sec Ethernet, and 8/16-Gbit/sec Fibre Channel, providing channel reliability and design flexibility. This allows the implementation of more-complex data center architectures, containing more connectors, cassettes, and/or 20-percent longer reaches, which simplifies moves, adds, and changes.
Panduit, www.panduit.com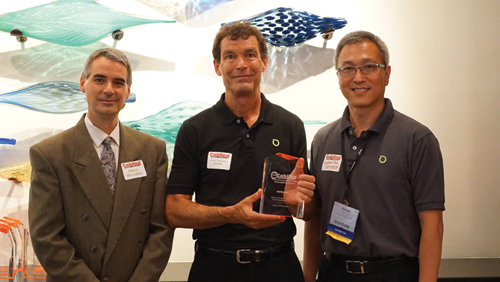 APPLICATIONS AND
CASE STUDIES
Andrews Institute for Orthopaedics and Spo
rts Medicine
Children's Health Andrews Institute for Orthopaedics and Sports Medicine in Plano, TX provides a full spectrum of healthcare facilities, from daily wellness and primary care to specialty visits and critical care. A newly constructed building added services for young athletes, under the direction of internationally renowned surgeon Dr. James Andrews. The facility relies heavily on technology to enhance the care it delivers, with growing dependence on electronic medical records and digital imaging, as well as applications like RFID and Power over Ethernet. It uses a PanGen cabling infrastructure with copper and fiber technologies, including Category 6A. "We have 10G Category 6A going to everything the infrastructure supports: voice, security, RFID, AV, imaging, patient monitoring, HVAC, pretty much everything," commented Tracy Morrison, RCDD, RTPM, Children's Health's senior IT infrastructure designer.
General Cable, www.generalcable.com
Panduit, www.panduit.com
C
ABLING MEDIA
Next-generation Category 6A
Copper Cable
Panduit and General Cable have introduced the next generation of Category 6A cable, featuring a 0.25-inch diameter, with guaranteed performance that meets or exceeds all TIA standards. Jointly designed, engineered, manufactured and tested by Panduit and General Cable, the new cable is available in a version with a continuous barrier tape, and another version with a barrier tape divided into varying-length segments.
General Cable, www.generalcable.com
Panduit, www.panduit.com
CONNECTION ANDCRO
SSCONNECTION
LightStack 8 Ultra High-Density Plug-and-Play
Fiber System
8-fiber plug-and-play solutions like Siemon's LightStack 8 Ultra High-Density Plug-and-Play System, known as Base-8, are considered the most efficient option for today's fiber deployments in switch-to-switch data center applications. Using either modules that break out 8-fiber MPO/MTPs to duplex LCs, or pass-through 8-fiber MPO/MTP adapters, Base-8 plug-and-play systems enable 100-percent fiber utilization for both current and future duplex and 8-fiber applications without the need for conversion cords or conversion modules. Not only does LightStack 8 offer efficient support for current and future fiber applications, but it also offers density of 144 LC fibers or 864 MTP fibers in 1U, or 576 LC fibers and 3,456 MTP fibers in 4U. With a sliding bottom rear divider, swing-open cable management clips, integrated strain relief and an easy-open magnetic door that eliminates potential pinch points, LightStack 8 also offers excellent port access, cable management and fiber protection in sleek, modern 1U or 4U enclosures.
Siemon, www.siemon.com
CONNECTION ANDCRO
SSCONNECTION
Z-Plug Field Ter
minated Plug
The Z-Plug Category 6A Field Terminated Plug exceeds all Category 6A performance requirements and offers quick, reliable high-performance plug terminations in the field that enable direct custom-length connections directly into IP-enabled devices. Z-Plug terminates to both shielded and UTP, solid and stranded cable in conductor sizes from 22 to 26 AWG, allowing easy deployment for a wide range of projects and applications—all with a single part number and simplified bills of materials.
Siemon, www.siemon.com
SPECIALIZED EQUIPMENT A
ND MATERIALS
Bundlizer
The patented Bundlizer eliminates the pain and cost of conventional bundling methods by bundling cables while they are being pulled. "A 120-foot run typically takes 45 minutes to bundle," Tantus Enterprises explains. "After doing just two or three bundles, the technician's shoulders, arms, legs, and especially wrists and hands begin to ache. Extrapolate this to dressing 50 or 60 bundles of cables, and it's easy to see why installers avoid this process wherever possible. The pain, and physical toll, are mitigated when using the Bundlizer."
Tantus Enterprises, www.bundlizer.com
CONNECTION ANDCRO
SSCONNECTION
ROME Robotic Fiber Swi
tch Solution
Wave2Wave's ROME 10RU automated fiber switch solution offers an innovative implementation for managing cabling. Restful APIs and integrated management applications enable the network engineer to remotely identify cable connections, run diagnostics and quickly build-out topologies. Network connections are made using a built-in MTP and/or LC patch panel. The solution's automation brings cost efficiency, higher utilization, higher availability, reduced time to service, reduced human errors, and increased levels of security.
Wave2Wave Solutions, www.wave-2-wave.com
CONNECTION ANDCRO
SSCONNECTION
NextSTEP
Flex Module
Wirewerks engineers worked closely with network providers, consultants, cabling contractors and end-users to define, develop and test the NextSTEP Flex Module, part of the NextSTEP Technology System and Wirewerks' powerful response to the industry's demand for the next wave of innovation in MPO plug-and-play networks. The NextSTEP Flex Module is a ready-to-use 12/24-fiber MPO-MPO factory-terminated and -tested cable assembly with up to 30 meters of trunk cable stored in an onboard reel, extendable to 500 meters through use of an external reel. It is compatible with all NextSTEP Rack Mount Patch Panels and Wall Mount Enclosures.
Wirewerks, www.wirewerks.com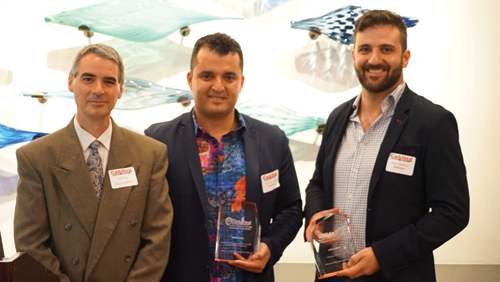 APPLICATIONS AND
CASE STUDIES
Cogeco PoP
Application
The PoP-in-a-Box solution from Wirewerks helps multiple system operators (MSOs) add more points-of-presence (PoPs) to their networks. Cogeco Connexion standardized on Wirewerks' NextSTEP technology fiber-management system for a significant network-expansion project. That project is adding 40 PoPs throughout Ontario, Canada, significantly expanding its service area and subscriber base while driving optical fiber capacity, performance, and reliability deeper into the network. The MSO has implemented a standardized solution that can be replicated and installed at each PoP site—the NextSTEP PoP-in-a-Box.
Wirewerks, www.wirewerks.com
Platinum-level honorees demonstrated superb innovation, characterized by a groundbreaking approach to meeting a need, or a groundbreaking level of performance, efficiency, or ease-of-use.
VALUE-AD
DED PROGRAMS
Applicati
on Assurance
CommScope's Systimax System Warranty provides protection for the performance of the entire network infrastructure system, including compatibility with applications the system is designed to support. This program is not simply about product specification, but rather, it's about the entire system, including the application it is designed to support. As speeds in data centers increase, the advantage of higher-quality systems becomes apparently. Moving to 40G or 100G requires a re-evaluation of the physical layer's capability to meet these needs. The industry standards aren't enough to ensure future compatibility; that gap is filled by the CommScope Systimax application assurance warranty. Users can proceed confidently, knowing the installed system will support the next application.
CommScope, www.commscope.com
VALUE-ADD
ED PROGRAMS
V
eriStructure
VeriStructure is the information and communications technology (ICT) industry's first infrastructure verification as a service program. Through a three-phase approach, VeriStructure is able to accurately survey and document an infrastructure, then turn that documentation into an actionable database of records, which is updated as work is performed, for the remainder of the infrastructure's lifespan. This approach, consisting of an assessment, a survey, and finally, ongoing maintenance, splits the overall process into manageable pieces, with the resultant data of each phase building upon its predecessor, to culminate in the development of a total infrastructure database. VeriStructure is a project management program run by real people, seasoned professionals who get to know the user's infrastructure and continuously work to maintain a dedicated, accurate database.
Concert Technologies, Inc., www.veristructure.io
DISTRIBUTION
AND ROUTING
J-Hook Cable Supp
ort Extender
The J-Hook Cable Support Extender, which works with Mono Systems' The J-Hook System, offers a "tray-like" profile and further minimizes point load to help safeguard network performance. The longer, plenum-rated platform reduces cable strain, which often is a problem, especially long-term, when gravity impacts hanging cable pathways. The extender easily snaps into Mono Systems' current J-hook offering. The flat bottom allows cables to spread out rather than bunch, avoiding the potential for heat buildup related to Power over Ethernet. The extender bridges the gap between J-hooks and a cable tray.
Mono Systems, www.monosystems.com
C
ABLING MEDIA
Premises Rollable Ribbon Fiber-
Optic Cables
Specifically developed to offer the highest density possible relative to cable size, the AccuFlex Rollable Ribbon Cable and AccuRiser Rollable Ribbon Cable offer the benefits of both flat fiber ribbons and loose fibers in one cable. The resulting cables require less space, allowing installers to double the density of existing pathways when compared to standard indoor cable designs. This capability is fueled by incorporating a new fiber ribbon technology from OFS into these cables—rollable ribbons, each of which consists of 12 optical fibers partially bonded together at selected points.
OFS, www.ofsoptics.com
APPLICATIONS AND
CASE STUDIES
Coal Generation
Power Plant
A massive coal generation power plant at a major utility company spans across 20 acres, and with that acreage come immense demands on logistics and network connectivity. To modernize the utility's operations, Panduit Professional Services assessed the customer's physical network and engaged Grantek Systems Integration to partner on the opportunity. Grantek performed a logical assessment and provided logical network design, access layer mapping, and project management services. Grantek also provided training services to on-site staff and guided the team on best practices for laying out the control integration, and managing and scaling the network. The network features a singlemode fiber backbone.
Grantek Systems Integration, www.grantek.com
Panduit, www.panduit.com
APPLICATIONS AND
CASE STUDIES
The Waldinger
Corporation
The Waldinger Corporation's Iowa headquarters is renowned for its architectural elements, including pendant lights. Those lights, however, were difficult to maintain, expensive to operate, and needed replacement. That improvement project retrofit the existing fixtures to an intelligent LED solution, powered by PoE. Innovative Lighting's solution met Waldinger's goals of keeping the existing aesthetic, while reducing both energy consumption and operating expenses. The project included GENISYS PoE components that Waldinger was able to install in their existing fixtures, converting the lights to a PoE-powered LED solution that delivers longer life and reduced expenses, along with improved control and data collection.
The Waldinger Corporation, www.waldinger.com
Innovative Lighting, www.innovativelighting.com
Genisys PoE Lighting Systems, www.genisyslighting.com
Panduit, www.panduit.com
General Cable, www.generalcable.com
C
ABLING MEDIA
Fiber-Optic Connectors with
Lotus Effect
Rosenberger OSI successfully developed fiber-optic cables with fiber end surfaces that prevent contamination characterized by hydrophobic and oleophobic features and made possible by applying a coating under low-pressure plasma conditions. This generates an anti-static effect that generally prevents the adhesion of particles on the surface—which is known as Lotus effect. This provides a radically new approach to solving one of the neuralgic problems of the contamination of fiber-optic couplers with the development of a specific process for coating glass/ceramic surfaces, which can be smoothly implemented in the production process. The surface of the new fiber-optic connector is characterized by dirt-, humidity- and fat-repellant features. Thanks to this innovation, the fiber-optic network's availability and reliability are significantly increased, and connector-surface cleaning becomes unnecessary. Therefore, installation time and associated costs are reduced.
Rosenberger OSI, www.osi.rosenberger.com
TE
ST EQUIPMENT
FiberChe
k Sidewinder
This "all-in-one" handheld inspection and analysis solution for multifiber connectors delivers a completely automated means to inspect and analyze every fiber of an MPO or other multifiber connector, with reliability and speed. It enables fast, fully autonomous and automated MPO inspection workflow. This dramatically reduces the time to inspect and certify fiber endfaces for faster network buildouts without sacrificing accuracy or ease of use—reducing job times by as much as 92 percent. The FiberChek Sidewinder automates the multifiber inspection process, ensuring accurate and fast test performance in less than 12 seconds.
VIAVI Solutions, www.viavisolutions.com
APPLICATIONS AND
CASE STUDIES
WiFi and PON
Installation
Vision Technologies designed, installed, and commissioned a unified WiFi and passive optical network (PON) system for The Wharf, a mile-long, 24-acre, $2.2-billion mixed-use development along the Potomac River in Washington, D.C. The system provides state-of-the-art, pervasive 802.11ac wireless services to the outdoor, garage, and 6,000-person indoor-venue areas. The entire implementation, testing and commissioning was accomplished on a 30-day schedule. After completing the system buildout, Vision performed testing and commissioning, and continues to extend the network, allowing high-speed WiFi access for additional Wharf areas including 11 five-star hotels.
Vision Technologies, www.visiontechnologies.com
APPLICATIONS AND C
ASE STUDIES
Creating More "Lo" in "
Colo" Suites
Rogers Communications used Wirewerks' NextSTEP Technology fiber management system to reclaim unusable space in a colo suite. The "meet-me room" at 151 Front is where competing service providers' networks physically interconnect. It is the meeting site of high-speed optical fiber cabling from each service provider's colo suite. As with virtually any downtown commercial space, rents are high and space is limited. Rogers takes advantage of every square inch within their suite to maximize capacity and ROI, using Wirewerks' NextSTEP Wall Mount Patch Panels, Ribbon Fiber Splice Tray Modules, and custom-built 144-fiber cable assemblies.
Wirewerks, www.wirewerks.com