Benefits to using the IEC 61300-3-35 standard for fiber-endface measurement and
inspection.
By Brian Teague, Sticklers and Tyler Vander Ploeg, VIAVI Solutions
In this feature, which continues the series examining the importance of inspection and cleaning processes, we will discuss IEC 61300-3-35—what it is and why you should implement it.
We have previously established that contamination, scratches and defects on a fiber-optic connector can be detrimental to a network's performance. If dirty and damaged optical connectors are not dealt with in the correct way, signal will be affected. For this reason, the International Electrotechnical Commission (IEC) created standard 61300-3-35.
IEC 61300-3-35 is an international standard that focuses on fiber-optic interconnection devices and passive components. It is a set of requirements for fiber-optic connector endface quality. It includes precise cleanliness grading criteria to measure pass or fail certification for the inspection of a fiber endface before connection. The standard is a common reference tool to help answer the question, "How clean is clean enough?"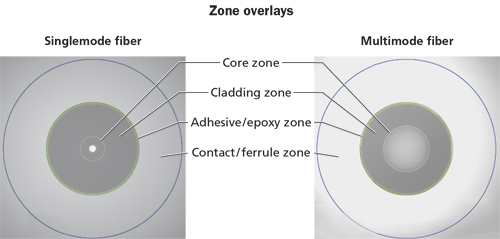 IEC 61300-3-35 uses certification criteria based on this series of concentric circles, shown here for both singlemode and multimode fibers. The four circles or zones, from inner to outer, are A) core zone, B) cladding zone, C) adhesive/epoxy zone, and D) contact/ferrule zone.y
IEC 61300-3-35 explained
IEC 61300-3-35 uses certification criteria based on a series of concentric circles with the center being the core of the fiber. The standard uses four domains, ranging from A at the core zone through to D, the contact/ferrule zone on the outer edge. Each area denotes the acceptance of contaminant whether they are permanent defects like scratches and pits or removable "dirt" such as dust or fingerprint contamination. There is a set requirement for connector endface quality in each zone, which focuses on a specific size and number of defects. For example, the core of the fiber, where the signal travels through, has the most stringent quality requirements because any contamination in this zone can cause back reflection, insertion loss, and equipment damage.
Measurement and inspection using the IEC 61300-3-35 standard is mission critical to a fiber's performance. Just one-micron length of contaminant can be the difference between having an endface that meets or fails the recommended specification. Even the most experienced operator cannot visually determine if a scratch is 5µm or 6µm in length. For this reason, it is important to use a digital inspection microscope with automated analysis that support recognized standards like IEC 61300-3-35. This eliminates human error and subjectivity in determining if a defect will negatively impact network performance.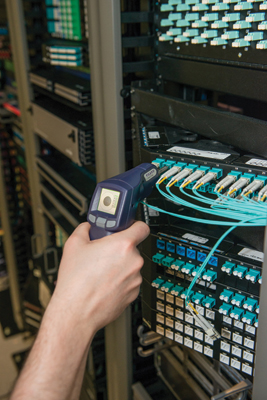 A tool with automatic pass/fail analysis eliminates subjective guesswork. This capability provides users of any skill level to evaluate endface quality with an objective, reliable and repeatable process.
Inspect Before You Connect
It is extremely important to inspect each endface after cleaning and before mating to ensure any contamination is removed. If it is not removed, it will cause cross-contamination of the two-ferrule endfaces disrupting the optical signal path. If "debris" remains in the contact zone and is not cleaned, it can result in scratches and pits on both connector endfaces.
This is the reason IEC 61300-3-35 instructs installers to always inspect the connector endface, clean the endface if necessary to remove contamination, and re-inspect the ferrule. Sticklers' and VIAVI Solutions' mantra of "Inspect Before You Connect" (IBYC) should be a fundamental process in any fiberconnectivity.
Using inspection tools with automated analysis
When inspecting for IEC 61300-3-35 it is important to use tools that have automated pass/fail analysis to eliminate subjective guesswork. Having this capability enables users of any skill level to evaluate endface quality with a process that is objective, reliable and repeatable. These results are a valuable documentation, certifying and recording cleanliness and quality of the fiber, and therefore helping to improve product and network performance and yields.
IEC 61300-3-35 should be a standard operating procedure that is adopted by all. Improperly cleaned fiber endfaces impose operational and financial burdens on fiber networks.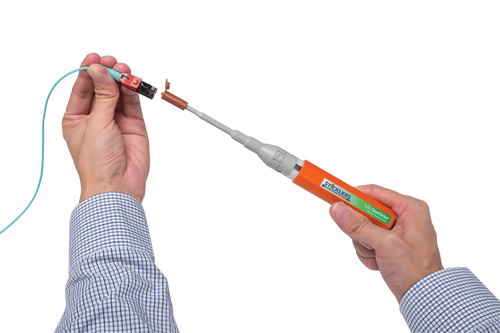 It is extremely important to clean endfaces to ensure contamination is removed before connecting.
By not proactively investing in quality cleaning procedures, the IBYC process, and recognition of the IEC 61300-3-35 standard, network problems and even failure will almost certainly follow.
In the next feature in our series, we will investigate how high-speed networks are significantly affected by not implementing the IBYC process.u
Brian Teague is product manager for MicroCare's Sticklers Fiber Optic Cleaners. He has 20 years' industry experience with fiber-optic connectors and cable assemblies, and provides technical support for the Sticklers line, which includes developing training programs on fiber-optic inspection and cleaning.
Tyler Vander Ploeg, RCDD, is the fiber solutions marketing manager at VIAVI Solutions, a global provider of network test, monitoring and assurance solutions to communications service providers, enterprises and their ecosystems. His 17 years of experience in the fiber-optic industry include managing and developing new fiber-optic connectivity and test products, developing targeted marketing programs, authoring white papers and conducting educational training in fiber connectivity and test. The articles in this series are derived from videos that can be viewed at viavisolutions.com/inspect.