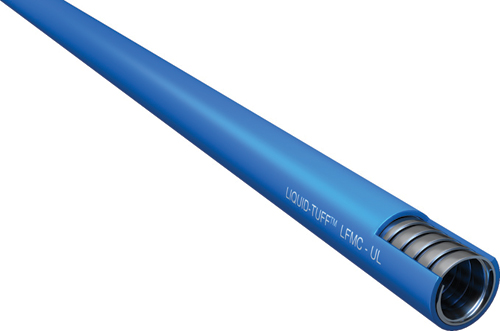 Rugged, flexible metal conduit bears blue PVC jacket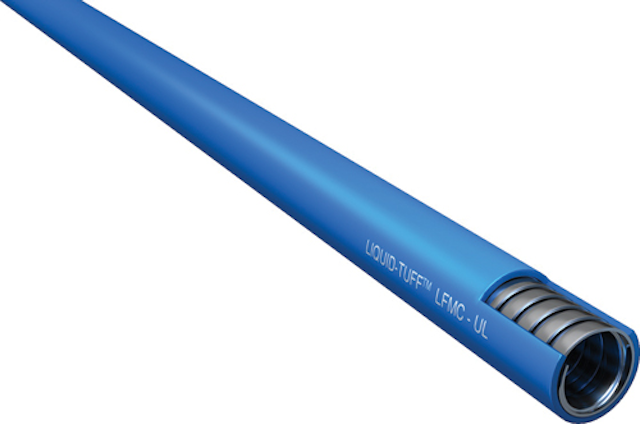 Designed with a sunlight-resistant and flame-retardant blue thermoplastic PVC jacket, the UL Computer Blue Type LFMC Liquidtight Flexible Metal Conduit limits smoke and corrosive gas emissions that can harm individuals and damage equipment. Permanent circuit-ground protection is provided through a continuous bonding strip built into the conduit's hot-dipped, zinc-galvanized, low-carbon steelcore in sizes 3/8-inch through 1-1⁄4-inch per the NEC. The product complies with the following standards: UL 360, File Reference E26540; CSA LL51593, CSA C22.2 Number 56; and NEC 250.118(6), 350.60, 390.15, 501.10(B)(2), 502.10(A)(2), 503.10(A)(2), and 645.5(E)(1)(B(11). The conduit is temperature-rated for dry environments ranging from +80 degrees C to –30 degrees C; wet environments up to 60 degrees C; and oil-resistant up to 70 degrees C.
AFC Cable Systems, AFCWeb.com
MaxCell Edge conduit reduces cable-pulling tension
MaxCell recently introduced its latest product innovation, the MaxCell Edge conduit. MaxCell Edge, billed as "the 5G version" of MaxCell's standard conduit product, features a new patented fabric design that the company says can reduce cable pulling tension by up to 20 percent. The company says that with its new bright orange color, the Edge product is more visible and, like its previous versions, solves cabling issues for smaller ducts and in overlay applications in occupied conduit. The MaxCell Edge Standard and Detectable products are available in multiple sizes and configurations for use in 1-inch to 4-inch conduit and available in 1-, 2-, 3-cell configurations. Plenum and riser versions are also available.
MaxCell, maxcell.us/edge.aspx
Dura-Line upgrades Figure-8 aerial conduit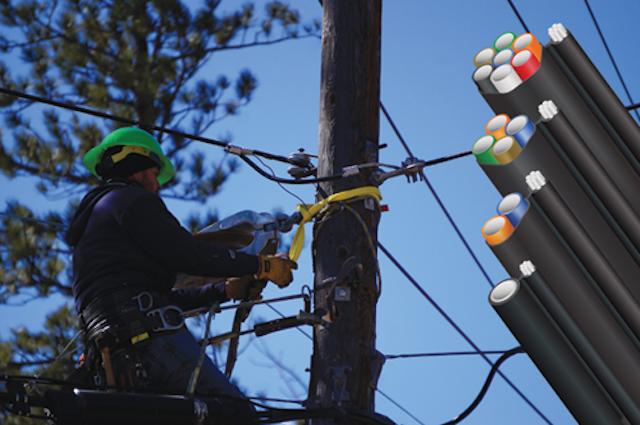 Dura-Line notes that its Figure-8 Standard aerial self-support duct recenlty was upgraded. The FuturePath Figure-8 aerial self-support duct "allows for a flexible, expandable network with dedicated, easily identifiable pathways for system upgrades, redundancy, and future capacity." Dura-Line asserts, "Not only is it a safer option for linemen because it cleans up the pole, it keeps fiber networks secure and easy to access. As an ongoing revenue source, some customers have chosen to lease out the extra pathways." Dura-Line adds, "the strand does all the work in FuturePath Figure-8 aerial self-support [which] has been product tested to support up to 6,500 lbs. of linear tension. Dura-Line has accounted for rain, wind, and ice loading as well as a certain amount of sag between poles." Further, the FuturePath Figure-8 duct protects against water migration and freezing. Dura-Line supports the FuturePath Figure-8 with rigorous testing, customer training, and installation support.
Dura-Line, duraline.com
Clearfield's cable-in-conduit assemblies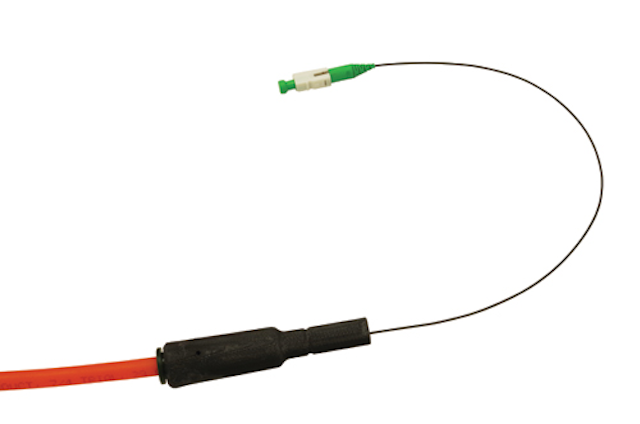 The FieldShield D-ROP cable-in-conduit assemblies from Clearfield combine conduit and drop into one product that can be placed aerially or underground. While occupying the same footprint as a flat drop cable, these assemblies provide the added benefit of a restorable pathway. As with all FieldShield ducted solutions, fiber cuts are located, the microduct quickly repaired and the fiber drop pulled and terminated with a splice-on connector—all minimizing cost and time to restore the service outage. The D-ROP product is easily connected to customer equipment, or with a pre-installed FlexConnector, plugged directly into the Clearfield YOURx-Terminal or YOURx-TAP, providing a completely protected pathway from the access point directly to the premise, business or antenna, with the option for restoration in the event of a fiber cut. The FieldShield D-ROP duct slack can be peeled or removed leaving only the fiber assembly to be neatly stored.
Clearfield, Inc., clfd.net
Milliken's 3-Cell Vis Divide HDPE rigid conduit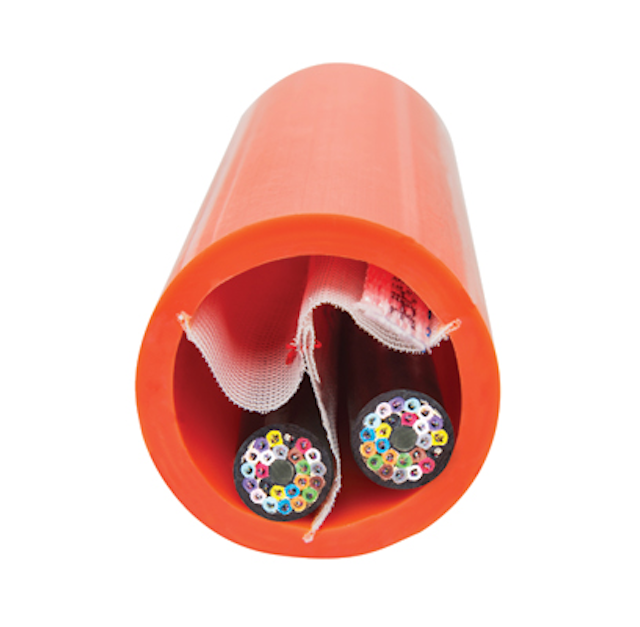 Milliken Cable Management says the extra pathways in its 3-Cell Vis Divide product eliminate the need to install new conduits, improving construction productivity and reducing handling, storage and transportation costs. The Vis Divide segmented HDPE rigid conduit provides dedicated pathways for the placement of more than one cable using a fabric divider molded directly into the conduit. This innovative product helps improve efficiency by using all the available space within the conduit, while avoiding the risk of cable-over-cable damage. Installation requires no special equipment or training; the Vis Divide is installed using the same method as a standard HDPE conduit.
Milliken Cable Management, visisthefuture.com
Cable-in-conduit project wins award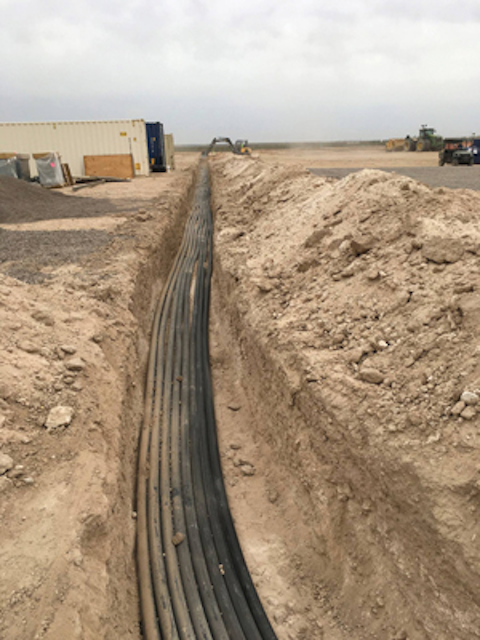 An installation project in which 1.5 miles of power cable was installed in dry Texas soil won the Plastic Pipe Institute's 2017 project of the year award. The installation comprised more than 8700 feet of cable-in-conduit (CIC) from Southwire Company. The CIC provided power to new housing units for oilfield workers in the town of Mentone, TX—population 19—just north of the Mexico border. In the project, the ground was trenched and multiple runs of high-density polyethylene (HDPE) CIC were laid next to each other. When announcing the award, the Plastics Pipe Institute commented, "Temperatures during the project could be more than 100 degrees. Having the cable already in the conduit literally saved lives because the crew didn't have to spend hours threading the cable through the conduit."
Southwire, cic.southwire.com