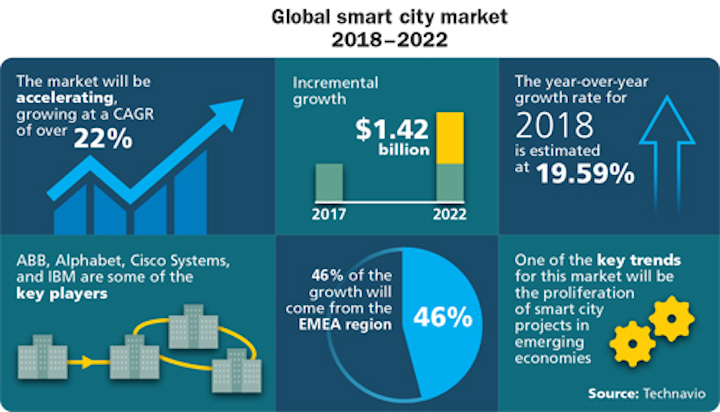 According to a new market research report by Technavio, the global smart city market is expected to accelerate at a compound annual growth rate (CAGR) of more than 22 percent during the forecast period. The report, titled "Global Smart City Market 2018-2022," provides an in-depth analysis of the market in terms of revenue and emerging market trends, and includes up-to-date analysis and forecasts for various market segments and all geographical regions.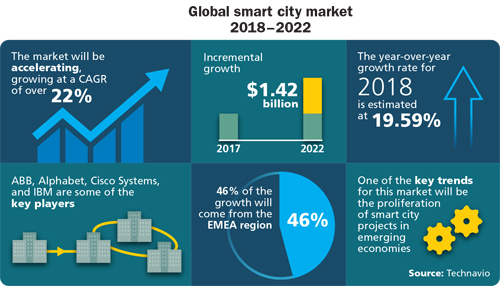 Enhanced global broadband connectivity is one of the key factors triggering the growth of this market, notes Technavio. The market researcher categorizes the global smart city market into application segments for: smart governance and education; smart energy; smart healthcare; smart security; and others. The analyst says that in 2017, the smart governance and education segment accounted for 25 percent of the global smart city market, and is projected to inch up to 27 percent by 2022.
The report adds that proliferation of smart city projects in emerging economies is the key emerging trend in this market space. Per Technavio, "Developed economies in the Americas and Europe have been working on developing smart cities for a decade and have already implemented many projects. Emerging economies like India are still in the planning phase and are launching many pilot projects. For instance, the government of India has announced pilot smart city projects to be implemented in 100 cities across the country."
The researcher describes how the rapid rate of urbanization in countries like India is also a major factor responsible for the rollout of smart-city projects, as smart city infrastructure helps end-users respond more quickly to the challenges being faced by urban settlements. Hence, the number of smart cities in emerging economies is expected to grow rapidly during the forecast period.
Technavio asserts that another key trend in the global smart city market is the falling price of connected devices. Per the analyst, "Reduction in the cost of IoT sensors and associated systems and the declining cost of broadband services are factors that are encouraging the development of smart cities across the world. Wireless sensor nodes consist of low power radio and power management mechanisms to gather, store, and process the information throughout different nodes in a network. These sensors can be deployed in hostile and hazardous environments and are scalable, as they avoid the setup of dense wired systems. Hence, they save costs for companies as well. Therefore, these sensors are ripe for adoption in IoT systems, as they can be monitored, controlled, and deployed without hassles."
As summed up by Technavio, "Apart from reduced prices of connected devices, factors such as increasing presence of strategic alliances and enhanced global broadband connectivity are expected to boost the growth of the global market over the next five years."