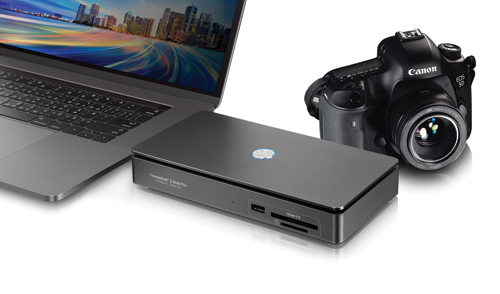 News, products and trends for the communications systems industry
£

10G TO THE DESK
Aquantia, Akitio collaborate to deliver 10-GbE docking station to laptop market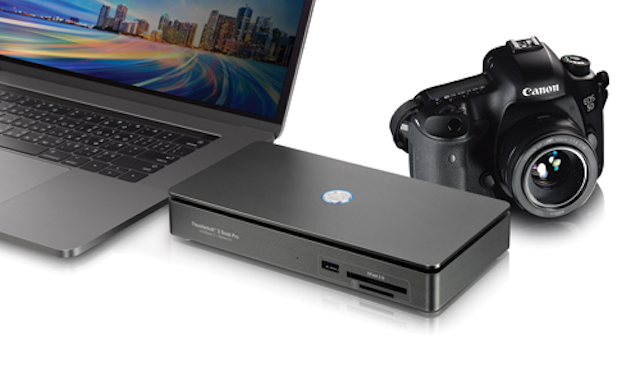 Aquantia Corp., a developer and supplier of high-speed silicon chips for multi-gigabit Ethernet connectivity, announced that Akitio has selected the Aquantia AQtion AQC107 Ethernet controller for its Thunder3 Dock Pro laptop docking station with 10 Gigabit Ethernet (10GbE) capability.
A single cable connected to the Akitio Thunder3 Dock Pro not only provides a 10-GbE port, but also a variety of other connections including an SD 4.0 card reader, a CFAST 2.0 card reader, an eSATA port, a DisplayPort, an additional Thunderbolt 3 port and three USB 3.1 ports. Both macOS and Windows notebook users can achieve up to 10-GbE networking speeds via the docking station.
The Thunder3 Dock Pro provides an RJ45 Ethernet port backed by Aquantia's AQtion AQC-107 Ethernet controller that supports 2.5-, 5- and 10-GbE networks. It is also backwards compatible to support legacy 10/100/1000Base-T networks. Per a statement by the companies, "Business users, content creators, gamers or any user looking to streamline their workspace will benefit from the simple, fast setup of the Thunder3 Dock Pro. They can enjoy the slimmest and lightest laptop design and own 10 Gigabit Ethernet bragging rights."
CITIZENS BROADBAND RADIO SERVICE
CommScope, Google team to drive CBRS forward
CommScope and Google announced that the companies are working together to jointly develop, deploy and operate an environmental sensing capability (ESC) network, advancing Citizens Broadband Radio Service (CBRS) technology to market. The joint ESC leverages the technical capabilities of each company with a consolidated footprint—resulting in more places to deploy CBRS and higher availability spectrum for operators of CBRS-based networks.
"This critical network infrastructure agreement represents a major commitment to CBRS by two major SAS providers and will help to ensure that the opportunities presented by CBRS will soon be realized," said Ben Cardwell, senior vice president, CommScope Mobility Solutions. "Together, we can bring about a combined ESC network faster and more efficiently, leveraging the combined capabilities of two major companies."
The CBRS band is 150 MHz of 3.5-GHz spectrum, which will be shared by the current incumbents, including federal government radar systems, and new commercial users. CBRS will provide new dynamically-allocated shared spectrum for various use cases such as private networks, fixed wireless access, wireless rural broadband, indoor wireless coverage, the Internet of Things, and additional cellular capacity. The FCC has authorized shared use of the band, which enables the support of commercial wireless services while protecting incumbent use.
CBRS spectrum is managed by spectrum access systems (SASs), which require an ESC network to sense radar operation. The ESC will alert the SASs of naval radar operations, so the connected SASs can reconfigure spectrum allocations for nearby CBRS devices to operate without interfering with naval activity.
According to a press statement, CommScope and Google will each provide independent SAS services and jointly operate the ESC network. The ESC network is engineered for high availability with the built-in redundancy and fault detection necessary to provide this key enabling capability. As part of this collaboration, both companies share responsibility for overall network design.
Google has developed the ESC sensor and cloud decision engine and will operate the cloud that communicates with each SAS.
CommScope will deploy and manage the operation of the physical network. CommScope and Google are working with the FCC and other governmental agencies to obtain certification of the ESC.
"The ESC represents more than a check-the-box capability. To effectively manage spectrum, a SAS relies on accurate ESC notifications—that eliminate false positive readings—from a high-availability sensing network," said Milo Medin, vice president of wireless services at Google. "We are excited to work with CommScope toward the success of CBRS."
DATA CENTER
Hardware for large-scale data center video streaming applications fits in tight rack space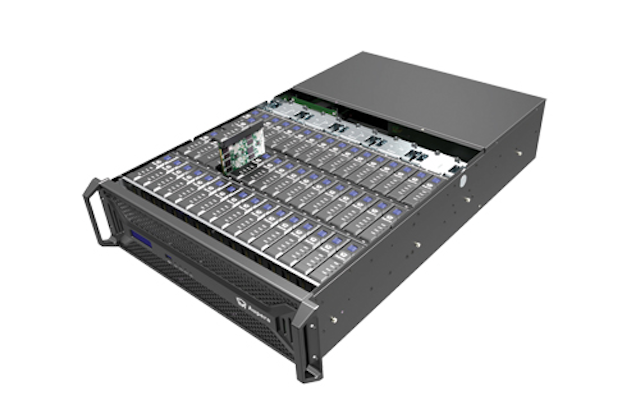 Aupera Technologies, Inc. a technology innovator dedicated to providing video processing solutions for data centers, announced the general availability of its Aup2600 series system, based on the latest Xilinx Zynq UltraScale+ MPSoC, designed for tackling the challenges faced by video streaming applications at scale requiring real-time video transcoding and video content analytics.
The Aupera Aup260x distributed video processing system is billed as "a disruptive technology for data centers, as it negates the need for traditional x86 processors." A fully loaded system, the new box contains 48 Zynq UltraScale+ MPSoC units, and handles 380 concurrent video streams, delivering 3.3x more performance at 1/10th the energy cost than current competitive solutions, while using 1/10th the rack space compared to traditional x86 solutions, according to the manufacturer.
Aupera says it is also closely collaborating with Xilinx to develop various machine learning algorithms, enabling real-time AI-based video analytics and search functionality. These new capabilities will be hardware-accelerated on the Aup260x without the need to replace or upgrade any hardware.
"Our high-density FPGA-based video processing system is now qualified for large scale deployment. It is providing a truly disruptive online video processing solution that will help our customers achieve 33x performance per watt, at a fraction of TCO, while delivering high quality video service to end users.
"We believe we are changing the landscape of video processing in data centers," comments Roy Liao, chief executive officer of Aupera Technologies.
"We are extremely excited to see such innovation coming from our partner Aupera, who are using our technology and delivering a game-changing platform for large-scale video streaming applications. This is also helping us deliver on our 'data-center-first' strategy," adds Said Ramine, vice president of software product planning at Xilinx. "We will continue to closely collaborate with Aupera throughout the deployment, to extend the capabilities of this platform, using our adaptable hardware and AI technology."
SMART CITIES
Skyworks powers wireless connected lighting for Philips' CityTouch smart cities platform
Skyworks Solutions, Inc., a producer of high-performance analog semiconductor chips for "connecting people, places and things," as per the company, announced that its advanced wireless engines are enabling Philips' CityTouch end-to-end street lighting management platforms.
Specifically, Skyworks says its "IoT connectivity solutions provide superior efficiency, extended range and complete network coverage to facilitate seamless communication between Philips' smart street lamps and cellular base stations.
These innovative devices allow city operators to reduce power consumption and support public safety through adaptive scheduling and remote services. Installations of CityTouch have commenced worldwide, fostering a more livable and sustainable environment," adds a company statement.
"Skyworks is playing an integral role in the transformation of cities into dynamic, automated ecosystems," said Carlos Bori, vice president of sales and marketing for Skyworks. He added, "Local governments are increasingly utilizing Internet of Things (IoT) and artificial intelligence (AI) innovations to overcome fiscal, environmental, security and energy challenges.
"Skyworks' robust portfolio of IoT architectures are empowering numerous applications for intelligent city operations spanning smart metering, surveillance systems and responsive traffic signals."
According to ABI Research, Internet of Things technology revenues across 12 key smart city verticals are expected to grow from $25 billion in 2017 to $62 billion by 2026. This growth is being driven by a number of factors including the modernization of city infrastructure systems, increasing demand for intelligent, energy-saving street lighting and a growing awareness among consumers and governments worldwide, ABI points out.
INTERNET OF THINGS
NTT: Secure networks key to 'IoT revolution'
While the Internet of Things (IoT) has the potential to drive the next wave of online innovation, it needs to be grounded on secure networks that prevent cyber-criminals from hacking into the myriad of IoT-enabled devices that they are increasingly connecting. That assertion is just one of the top-line industry assessments provided recently by NTT Communications Corp. (NTT Com), a company that owns and operates one of the world's largest IP backbones and is the data and global IP service arm of Fortune 500 telecom leader NTT.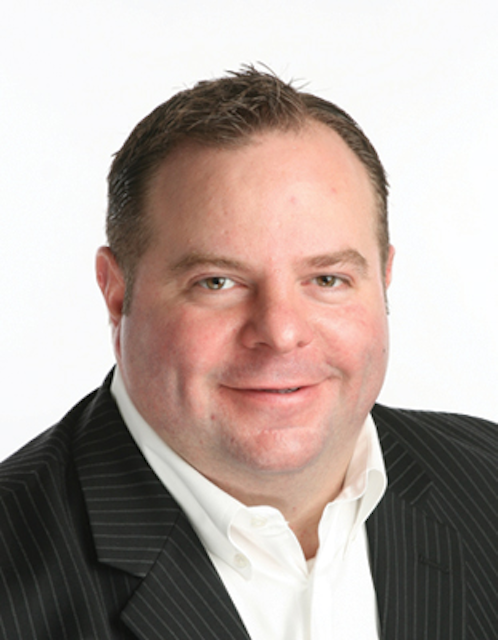 "The Internet of Things revolution has tremendous potential to enhance and improve daily life by enabling our devices to connect and communicate with our other devices," said Michael Wheeler, executive vice president of NTT Communications Global IP Network at NTT America. "The key to facilitating the IoT is creating a network foundation that enables these applications and services to function in a safe and secure manner."
According to results of the "NTT Security 2018 Global Threat Intelligence Report," a survey of about 1,350 companies showed that nearly 60 percent of respondents see IoT as a potential security threat to their organizations. Research and advisory company Gartner recently found that nearly 20 percent of organizations observed at least one IoT-based attack in the last three years. Gartner also predicts that by 2020, IoT will play a part in more than 25 percent of cyberattacks.
"IoT continues to gain momentum and, in response to that, businesses need to proactively protect against IoT-related cyberattacks," added Wheeler. "Because of the growing universe of connected devices, software and carriers in the IoT ecosystem, there's also a need for increased industry collaboration to ensure a seamless and secure IoT experience for everyone."
Insights from recent memcached-driven DDoS attacks and incidents involving Mirai-infected IoT botnets show that industry cooperation plays a key role in keeping networks and users safe. "I think carriers feel the responsibility to collaborate and communicate as much as possible and do so in the context of our roles within the broader Internet," Wheeler added.
"When it comes to network security, there's no one-size-fits-all solution," said Wheeler. "It really comes down to assessing each business area that needs protection and, along the way, implementing iterative enhancements that provide the comprehensive security solutions that are required. To achieve this, global network operators are increasingly working with each customer's internal IT teams, third-party vendors and industry groups to ensure that solutions are as customized as possible for each client."
THE C-SUITE
Infomart Data Centers appoints ex- Cologix exec as new CEO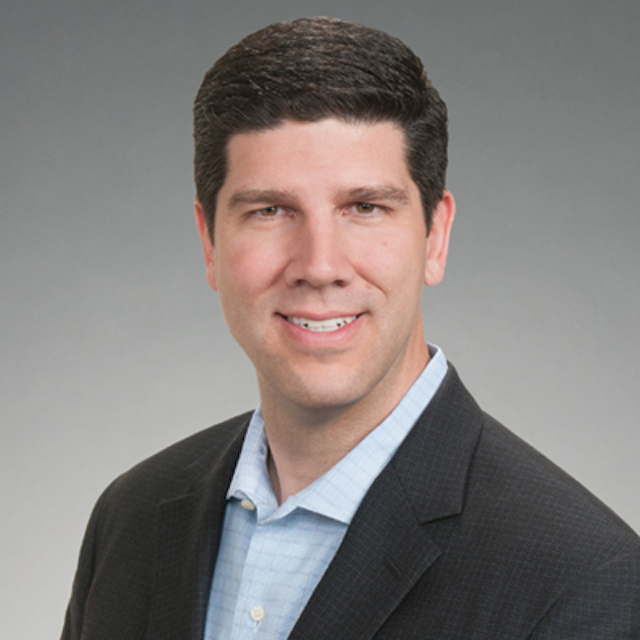 Infomart Data Centers, a provider of wholesale data center platforms focused on the unique requirements of hyperscale and enterprise customers, recently announced the appointment of Brian Cox as the company's chief executive officer and member of the board of directors.
Cox succeeds Phil Koen, who became Infomart's interim CEO in June and will remain actively involved in the company as a member of the board of directors. Cox is the most recent of several key executive hires at Infomart, "and will head a leadership structure designed to drive accelerated organic and inorganic growth and a strategic brand relaunch to occur in early 2019," as stated by the company.
Cox brings more than two decades of industry and operational experience to Infomart. He was most recently chief operating officer of Cologix, a global data center and interconnection solutions provider. At Cologix, Cox was responsible for market positioning, strategy, marketing, and commercial management, growing the business from a startup with one data center into an international platform with 25 locations across the U.S. and Canada. He previously held the role of chief financial officer at Cologix.
"The chance to join and grow a company with a strategy focused on customer-led, next generation hyperscale and enterprise data center solutions is a once-in-a-lifetime opportunity," said Cox. "We are perfectly positioned to build on our existing platform and expand into other markets."
WORKFORCE OF THE FUTURE
STEM careers mentor Raj Batra elected to Siemens Foundation Board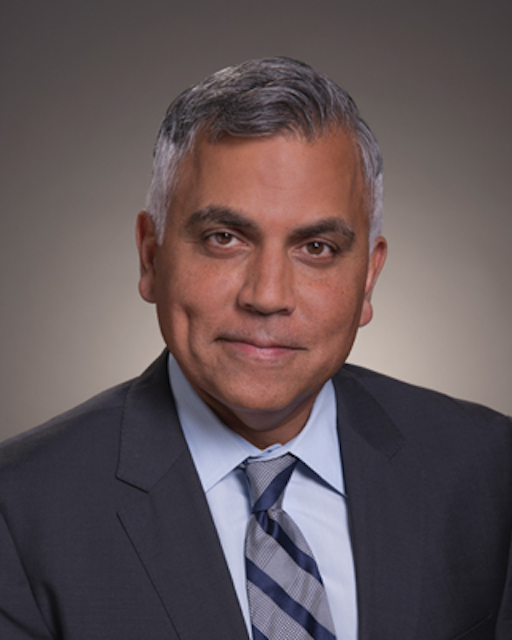 Raj Batra, president of Siemens Digital Factory, U.S., has been elected to the Siemens Foundation Board of Directors. Batra's passion toward narrowing the opportunity gap for the next generation of workers in STEM (Science, Technology, Engineering and Math) careers aligns strongly with the Siemens Foundation mission to ignite and sustain today's STEM workforce and tomorrow's scientists and engineers.
"I am honored to serve as a board member of this vital Foundation," said Batra. "Manufacturing is going through a revitalization and it is critical for us to encourage youth to pursue STEM careers and to work with community colleges and universities to develop programs for the next generation of engineers, scientists, and technicians."
Siemens notes that digitalization and the Internet of Things is rapidly changing the industrial landscape, including the workforce. Jobs in STEM fields are projected to grow at almost double the rate of non-STEM occupations. The challenge for employers is finding the right talent to fill those positions. According to the U.S. Department of Education, only 16 percent of American high school seniors are proficient in math and even interested in STEM. The Siemens Foundation helps close the gap between available STEM jobs and the number of applicants with the right skills to fill them primarily by developing programs to interest students in middle-skill STEM careers.
"We are thrilled to have Raj join the board of the Siemens Foundation," said David Etzwiler, the foundation's chief executive officer. "Raj is passionate about encouraging youth to pursue STEM and inspiring them to consider manufacturing."
professional development
CNet Training graduates first class of Masters Degree in Data Center Leadership and Management
CNet Training recently celebrated the first graduation ceremony for the Masters Degree in Data Center Leadership and Management program. "After an intense three years of study, learners from the class of 2015 graduated at a ceremony in the famous university city of Cambridge, UK, including one of CNet's technical instructors, Pat Drew," CNet said. "In addition to being the global leader in technical education for the data center sector, CNet is an Associate College of Anglia Ruskin University in Cambridge, UK, and is therefore approved to design and deliver the content of this prestigious Masters Degree program."
CNet added that the graduates joined the program "from some of the world's most respected organizations, including Unilever, Capital One, IBM, Irish Life, and Wirewerks. Each committed to a three-year distance-learning program to unite their existing knowledge and skills with new learning centered around leadership and business management within a data center environment."
The graduates are (pictured left to right) Jennifer Quayle, David Hughes, Sean Moloney, Mladen Loncar, Stuart Leddie, Raymond Del Rio, Pat Drew, and Nicolas Saab.
The Masters Degree in Data Center Leadership and Management program was created because of the need to expand existing skills and knowledge of technical managers into business leadership, CNet added, saying the academic program arms these scholars "with contemporary knowledge and capability to manage business imperatives and therefore have a bigger impact on the business itself to contribute to growth, innovation and insight." The CNet team, along with industry experts from around the world, write the program's content, the organization added.
Dr. Terri Simpkin, CNet's higher and further education principal and leader of this Masters Degree program, commented, "I am delighted that learners from the world's first Masters Degree in Data Center Leadership and Management have passed and graduated. What an amazing achievement for both CNet team and the graduates."
Andrew Stevens, CNet Training's chief executive officer and managing director, added, "This is another global first for the CNet team and the global data center sector. Huge congratulations to all the graduates and our own technical instructor Pat Drew. The popularity of the Masters Degree program remains high."
LOW POWER WAN
LPWAN, internet of things deployer Sigfox USA names new VP of sales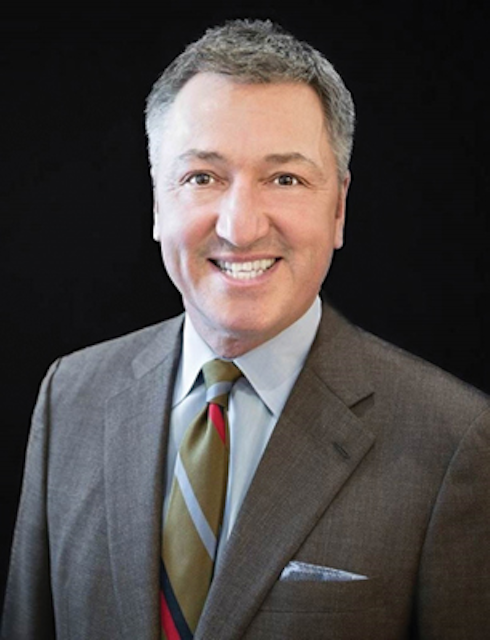 Sigfox U.S.A., the North America network operator for the global low power wide area network (LPWAN) connectivity provider Sigfox, announced that telecommunications industry veteran Murray Kawchuk has joined the company as vice president of sales. Based out of Sigfox USA's Dallas office, Kawchuk will lead the charge in accelerating customer acquisition and revenue growth in the U.S. market.
Sigfox USA states that the company "has experienced significant traction since the beginning of 2018. The company increased activated objects by 400 percent from the previous year, with a threefold increase in both the number of use cases in production and the number of active proof of concepts."
Kawchuk will oversee Sigfox USA's Northeast, Southeast, Midwest and West sales regions where there is Sigfox network coverage. He will also lead the company's sales, engineering and IoT portfolio teams.
Kawchuk is a recent cybersecurity entrepreneur focusing on B2B wireless and enterprise sectors. He has helped grow several tech startups and has led commercial and strategic drives at Axesstel and Nokia.
category 8
Siemon introduces Category 8.2 cabling system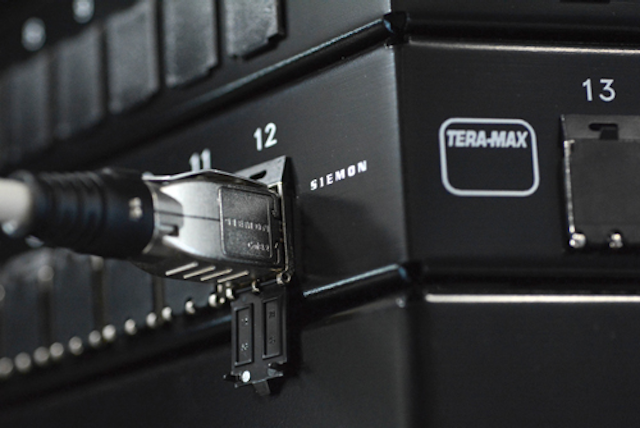 Siemon recently launched its end-to-end TERA Category 8.2 copper cabling system, which delivers transmission performance up to 2 GHz to support emerging high-speed 25- and 40-Gbit/sec (25/40GBase-T) applications in data center switch-to-server applications.
The TERA Category 8.2 system includes cable, patch cords, connectors, and preterminated cable assemblies. When launching the system, the company explained it "is founded on Siemon's TERA connector that was originally chosen as the ISO/IEC 11801 interface for Category 7A/Class FA and that also now meets Category 8.2 compliance. Combining the TERA connector with Category 8.2 S/FTP 2000-MHz cable and patch cords delivers a complete end-to-end system that exceeds ISO/IEC Category 8.2/Class II specifications for 2-connector, 30-meter Class II channels in the data center."
Mike Boisseau, Siemon's business unit leader for copper systems, commented, "Siemon's fully shielded TERA connector has long been the highest-performing copper connector available, so it was no surprise that it achieved Category 8.2 compliance with plenty of margin, and we are now excited to introduce our complete end-to-end TERA Category 8.2 system."
The company further explained that TERA-to-RJ45 patch cords "are ideal for 2-connector switch-to-server connections in middle-of-row and end-of-row configurations, while available Category 8-compatible RJ45-to-RJ45 patch cords enable direct attach switch-to-server connections in top-of-rack configurations. The TERA outlet and plug are backward-compatible with Category 7A/Class FA cabling systems."