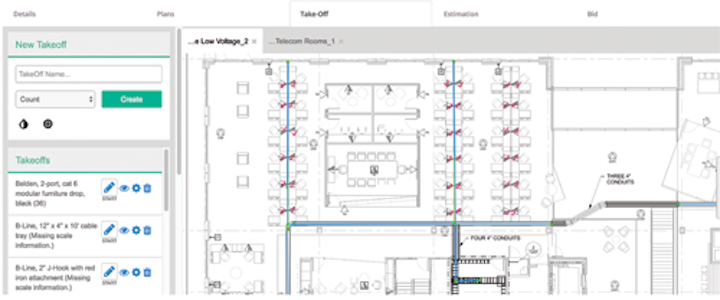 Startup, consolidation dot the landscape of estimating softwar
e offerings.
Remember when, once or twice a month, you'd receive in the mail a CD-ROM from America Online, offering you a free trial to join the growing number of people using the internet? Pop that CD into your tower computer, listen to the crack/beep/scratch sounds crossing your phone line, and sooner or later you were downloading a page, pixel-by-pixel, onto your desktop monitor.
In the days when CD-ROMs were our pathway onto the internet, such discs also were the tools of the low-voltage/data-communications project estimator. Both spheres—online access and estimating tools—have changed dramatically, with that change resulting in speedier and more-efficient operations. And for both, the change continues.
In 2017, consolidation among vendors and the appearance of a new name gave project estimators more options and the opportunity to leverage existing knowledge and tools. In January JDM Technology Group acquired estimating-software provider Vision InfoSoft. JDM describes itself as "a global software business … for the architecture, engineering, and construction industries." Like many providers of estimating software for low-voltage projects, Vision Infosoft also offers estimating tools for electrical as well as other construction trades.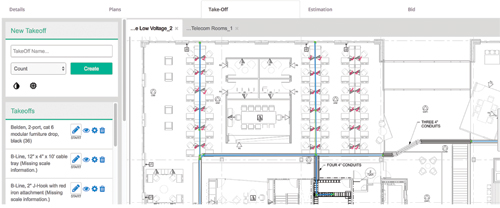 Esticom is a software-as-a-service estimation and takeoff offering. Among its features is on-screen takeoff, which allows estimators to upload digital plans, analyze project scope and start producing takeoffs quickly.
In March 2017, JDM acquired ConEst, which provides estimating, takeoff, and project- and service-management software. ConEst's vice president of sales and customer service Jan Thayer said, "JDM's strong presence in the construction industry will bolster our company's ability to continue developing innovative software that enables successful estimating and project management for our customers."
Then in October 2017, JDM acquired IndustrySmarts and its NetPricer capability, which serves the electrical contracting industry. The company described NetPricer as "the first to enable contractors to instantly receive individualized pricing from theirdistributors."
JDM stated at the time, "Major manufacturers and distributors use ElectricSmarts to promote their products to hundreds of thousands of electrical professionals, while contractors using all major electrical estimating software packages use NetPak featuring NetPricer to instantly price out their project material lists with their localdistributors."
JDM has continued to acquire companies across the construction trades that specialize in estimating software andcapabilities.
In addition to this series of acquisitions by JDM Technology Group, 2017 also saw the introduction of cloud-based estimating and takeoff software capabilities from Esticom. When the software-as-a-service package was introduced, Esticom explained that it includes modules for takeoff, estimating and job management, including a database of materials and labor costs, which includes national and local averages on pricing and installation. Esticom further explained, "The database also provides expertly designed takeoff types with prebuilt formulas that eliminate manual calculations, enabling contractors to bid more projects in less time with greater accuracy."
Chris Lee, co-founder of Esticom, commented, "Incumbent electrical and low-voltage estimating software solutions are a decade behind in technology. We have combined our construction industry and technical knowledge to design Esticom and fill this gap. With Esticom, contractors in the electrical and low-voltage space now have a comprehensive takeoff and estimating tool to produce accurate estimates, win more work and ensure success for all projectstakeholders."
In a blog post titled "Advantages of cloud-based takeoff software," Esticom points out: "If you're suddenly going from a company of 20 to a company of 100 because of a couple large jobs, that can create some serious issues—if you're using traditional software. You'll need to purchase new computing devices, get the software installed and customized and make sure it's secured properly. If you're using cloud-based takeoff software, many of your new hires already have a device of some type, the software requires virtually no work to install, and security is at least partially left up to the software company."
Long-standing providers of estimating and takeoff software continue to serve their customers through evolution and innovation as well. For example, McCormick Systems now offers Version 12.1 of its estimating package for electrical and low-voltage cabling contractors. In an instructional video, the company explains some of what's new in 12.1. "We can now design and takeoff at the same time with our own custom-made symbols," the company says, adding, "You can now rotate and size symbols on-screen."
Version 12.1 also incorporates a tool called "Hot List," which contains any item taken off, "giving you the ultimate speed and control while you're estimating," the company promises.
Since the time we all first heard, "You've got mail," America Online experienced mergers, de-mergers and other mergers, and somehow is now a part of Verizon. Meanwhile,the technologies that enable project estimation and takeoff have taken a less circuitous path to delivering improved service and functionality.u