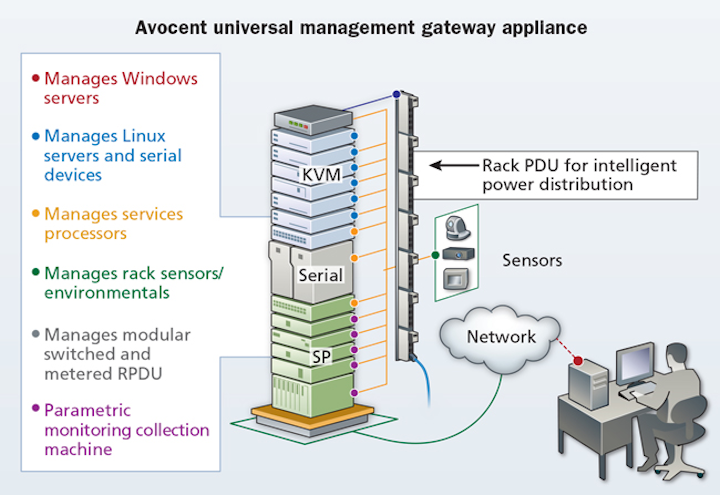 The Internet of Things is one of several challenges facing network administrators, but it's also one of the solutions to those
challenges.
By Patrick Quirk, Vertiv
You've probably seen some of the projections regarding the growth in the Internet of Things (IoT) in the coming years. Cisco projects there will be 23 billion devices connected to Internet Protocol (IP) networks by 2021. Gartner says 20.8 billion by 2020, while IDC puts the 2020 number at 28.1 billion.
While there's some discrepancy in the numbers, there's little debate that IoT is growing fast. Whether it is enabling smart homes, smart factories, or smart cities, this growth is being driven by IoT's potential to improve efficiency, productivity andavailability.
But IoT applications also can generate huge volumes of data that must be transmitted, processed and stored, creating data management challenges information technology (IT) professionals must prepare to address. One of the ways they can address them is by applying IoT technology to improve the management of data centers and edge sites.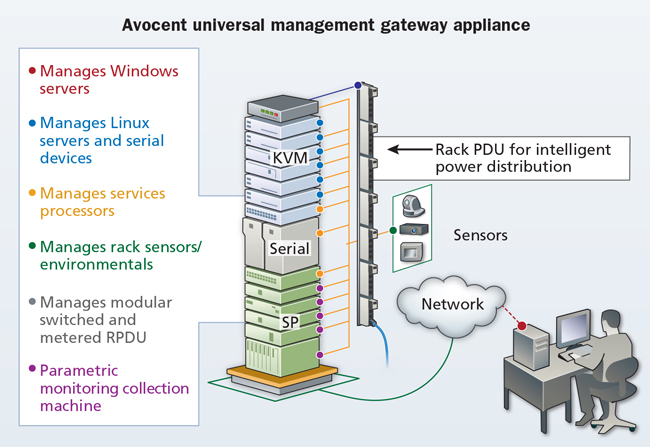 Vertiv offers the Avocent universal management gateway appliance. As illustrated here, Avocent enables real-time integrated monitoring, access and control across IT and facilities systems in the data center.
IoT in the data center
According to the Cisco Visual Networking Index global IP traffic will grow from 1.2 zettabytes in 2016 to 3.3 zettabytes by 2021. While that represents a tripling of data in just five years, not all of that data will originate or end up in a traditional data center. A large percentage of IoT data, for example, will be generated, processed and stored at the network edge. Only a fraction will need to be transmitted to a central data center for archiving and deep learning.
In addition, enterprises are increasingly shifting IoT data off premises. A recent survey by 451 Research of 700 IT decision makers for the report "Data at the Edge: The Impact of Cloud and IoT on Data Center Location and Demand," found that while almost three-quarters of enterprises surveyed currently store IoT data on-premises, that is expected to drop to just 27 percent in a year.
In fact, the positive impact of IoT may outweigh the negative. In some ways, the data center is an ideal environment for IoT with its dense clusters of interdependent and often interconnected devices and systems. Data center hardware—whether servers, power units or thermal management systems—continuously generate valuable data on equipment status, power consumption, temperatures and other parameters that can be used to improve operations at both the system and facility level.
Yet, the data center is also an extremely complex and diverse environment that has left much of that operating data stranded within devices due to the variety of protocols in use and the lack of a system-level control layer.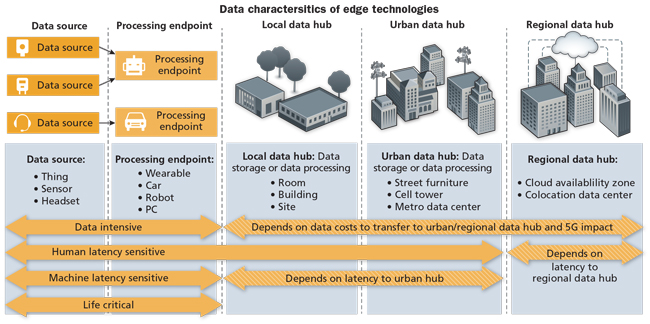 The data characteristics of edge technologies place each technology in one of four archetypes: data-intensive, human-latency sensitive, machine-latency sensitive, or life critical. Local data hubs play a critical role in managing bandwidth and cost, and matching latency to application requirements.
Using an IoT strategy provides a framework for capturing and using this data to enhance reliability and efficiency as well as enable automation. For example, system-level controls, such as those available for thermal management, enable machine-to-machine communication and coordination across units to optimize performance across the facility. They also support continuous monitoring to enhanceavailability.
Management gateways designed specifically for the data center are now available to enable true, real-time, integrated monitoring, access and control across IT and facilities systems. These flexible gateways aggregate and normalize the incoming data and provide a local control point necessary for the latency requirements of some of the edge archetypes. The gateways consolidate data from multiple devices using different protocols to support centralized data center management.
Intelligent system controllers and management gateways use real-time device data, visualized through a centralized management system, to optimize interdependent systems based on changing conditions and data center capacity. These systems can be managed dynamically as part of a private or hybrid cloud without increasing risk.
IoT on the edge
The growth in IoT data outside the data center will have a significant impact on network infrastructure. The 451 Research report mentioned previously found that while only about one-third of participants has broadly deployed IoT, 56 percent said that at least a quarter of their data center and cloud capacity was already supporting IoT.
Sixty-four percent of participants indicated they were either in the planning or limited deployment stages. As those limited deployments and plans become broad deployments, IT infrastructures beyond the traditional data center will be challenged to deal with the huge volumes of data being generated.
To help prepare for that challenge we at Vertiv, with support from an independent, third-party research organization, conducted an audit of current and emerging use cases for edge technology. The initial list of more than 100 use cases was narrowed down to the 24 most impactful and a detailed analysis of each of these was conducted to identify common characteristics and differences that would be useful to an IT decision maker. In addition to IoT applications, these use cases included promising new technologies such as autonomous vehicles, augmented and virtual reality, and digital healthcare.
What emerged was the realization that there is a unifying factor the 24 use cases could be organized around—their data characteristics. Edge applications, by their nature, have a data-centric set of workload requirements, which when filtered through requirements for availability, security and the nature of the application, proved to be central to understanding and categorizing edgeapplications.
This has led to the recognition of four edge archetypes that can guide decisions regarding edge infrastructure, particularly at the local level. These four archetypes are described here.
Data intensive—encompasses uses cases where the amount of data is so large that layers of storage and computing are required between the endpoint and the cloud to reduce bandwidth costs or latency.
Human-latency sensitive—includes applications where latency negatively impacts the experience of humans using a technology or service.
Machine-to-machine latency sensitive—similar to the human-latency sensitive archetype except the tolerance for latency in machines is even less than it is for humans because of the speed at which machines process data.
Life critical—applications that impact human health or safety and so have very low latency and very high availability requirements.
These archetypes highlight the critical role local data hubs will play in managing bandwidth and cost, and matching latency to application requirements. In doing so, they enable the development of specific reference designs for these local data hubs that will help accelerate deployment and ensure standardization of this critical link between edge devices and the cloud.
IoT and service enablement
Managing service for the current generation of distributed IT in retail stores, bank branches, remote offices and other locations is challenging due to the lack of visibility into these remote locations. As edge sites proliferate, current service processes must be reengineered to provide faster, more-efficient service response.
Here again, IoT technology presents a solution. Management gateways at the edge site consolidate data and communicate it to a private cloud so that it is accessible to service personnel. The cloud centralizes data from across multiple sites to enable centralized asset identification and monitoring as well as to trigger notifications and updates that can be pushed out to remote personnel.
Centralized service data also creates the opportunity for advanced analytics. Analyzing real-time data in relation to a historical knowledge base of the same equipment in a similar application creates the ability to identify patterns or trends that indicate future problems.
The final piece of this solution is a mobile platform that provides role-based access so that each member of the internal and external team gets only the information they need for their job. This eliminates the primary drawback with many management platforms that generate so much data that it becomes overwhelming for individuals who only need certain data at certain times.
Through this approach, field service technicians receive the information they need to act quickly and proactively, coordinating their activities with on-site personnel before they arrive and providing visibility into their activities to other stakeholders. The result is faster, more-efficient service and less downtime.
The IoT will create huge volumes of data that will need to be transmitted, processed, analyzed and archived, often in close proximity to remote devices. But it also offers a useful framework for improving data center management and is enabling a new service paradigm for distributed IT sites. IoT is not only one of the challenges IT faces, it is one of the solutions to those challenges.u
Patrick Quirk currently serves as vice president and general manager of global management systems for Vertiv. Previously he held leadership roles in several venture-funded startups, multinational telecommunications and semiconductor technology companies.