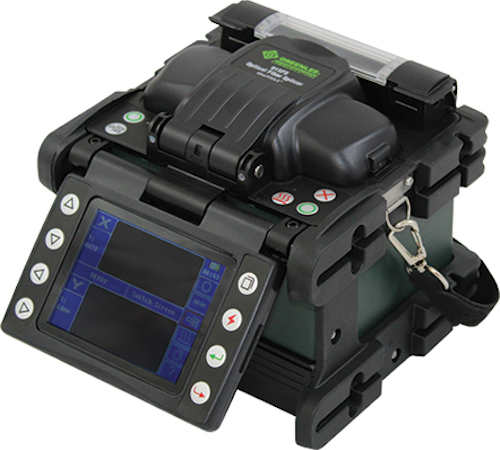 Greenlee's 915FS optical fusion splicer
The Greenlee Communications 915FS optical fusion splicer uses active cladding alignment technology, which allows the technician to reliably fuse fiber-optic cables with low splice losses.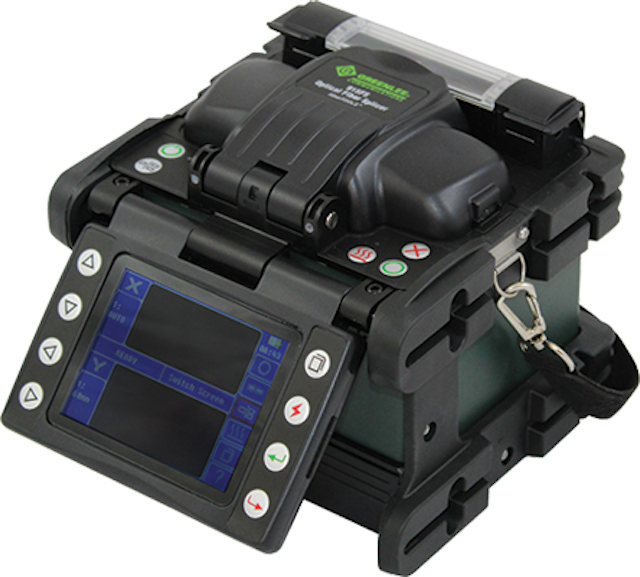 Active cladding technology splicers provide a more cost-effective splicing alternative to core alignment models, but still provide low splice loss, which is ideally suited for fiber-to-the-home installations. The tool's intuitive user interface "keeps the learning curve short and enables the technician to be productive in a very short time," asserts the company. FTTx and P2P installations using all standard fibers are supported, with prequalified splicing profiles that can be modified and subsequently stored for more demanding fiber applications.
Greenlee, greenlee.textron.com
TiniFiber's TF-FS02 optic fusion splicer
TiniFiber recently launched its TF-FS02 optic fusion splicer. Utilizing the latest core alignment technology, the TF-FS02's auto focus and six motors ensure a perfect splice every time, says the company. A quad core CPU delivers one of the fastest fiber splices on the market, while a high-resolution 5-inch screen provides up to 300x focus magnification to observe fiber with absolute clarity.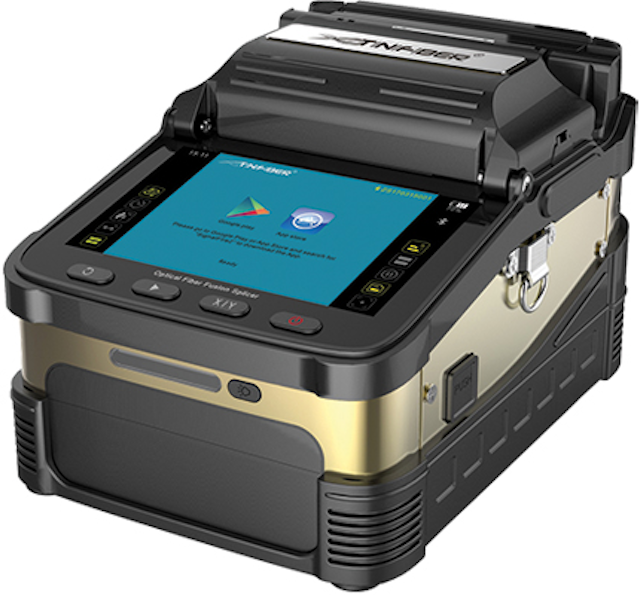 The TF-FS02 splicer is compatible with all industry fiber, pigtails and connectors for universal usage. The tool's compact, rugged design ensures ease of operation for 3.5 hours of continuous use, or about 200 heated splices from a single charge of its 7800 mAh lithium battery. Five-second core alignment and 16-second splice times increase efficiency by 50 percent compared to ordinary splicers, contends TiniFiber. Bluetooth support allows for automatic saving of test reports, while an integrated LED light enables work in dark conditions.
TiniFiber, tinifiber.com
OFS Fitel S179 core alignment fusion splicer
Designed and built with users in mind, OFS says its Fitel S179 fusion splicer "delivers rapid splicing and heating with consistent results, splice after splice." The unit's 4.3-inch-wide LCD screen with touch controls is intuitive for users. The tool's wide splicing chamber is easy to load; a detachable V-groove makes the splicer easy to clean and maintain.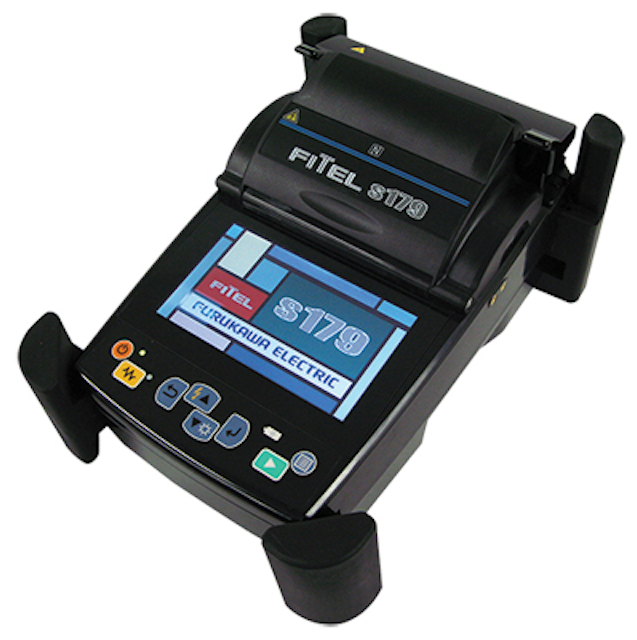 The unit's low-profile design has been made lighter and its ruggedized body provides resistance to shock, water and dust exposure. A powerful, high-propulsion motor (8N) helps ensure stable splicing of even the most rigid indoor and drop cables. Internal battery charging, expanded USB connectivity options, NFC capability, and smartphone readiness combine to make the Fitel S179 one of the market's most powerful, versatile and user-friendly fusion splicing machines. Applications include OEM, OSP, FTTx, LAN, backbone, enterprise, long-haul and data centers.
OFS, ofsoptics.com
AFL's Fujikura 41S fusion splicer
With the introduction of the Fujikura model 41S fusion splicer, AFL and Fujikura assert that the companies "once again set a new standard for fusion splicer technology." The companies' recently released CT50 series cleaver allows for fast and automated cleaver blade rotation when cleave performance declines.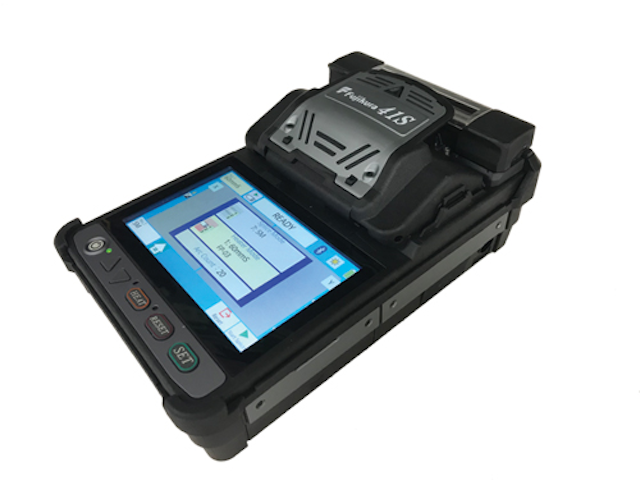 The active cladding alignment utilized in the 41S provides high quality fusion splices in dusty environments—areas where fixed V-groove type splicers typically struggle. According to AFL, in an industry first, the 41S also provides an unprecedented loss estimation accuracy through evaluation of core alignment during the fusion process. This innovative feature provides a much higher level of accuracy than the conventional method of estimating based on cladding alignment only, adds the company. In addition to Bluetooth connectivity, the 41S also incorporates a touchscreen display to aid in faster and easier menu navigation.
AFL, aflglobal.com
Sumitomo's T-400S active clad handheld fusion splicer
Sumitomo Electric Lightwave's new T-400S active clad handheld fusion splicer features a high-resolution display, fiber endface evaluation, and post-joining loss estimation functions, for providing assurance of successful fiber terminations.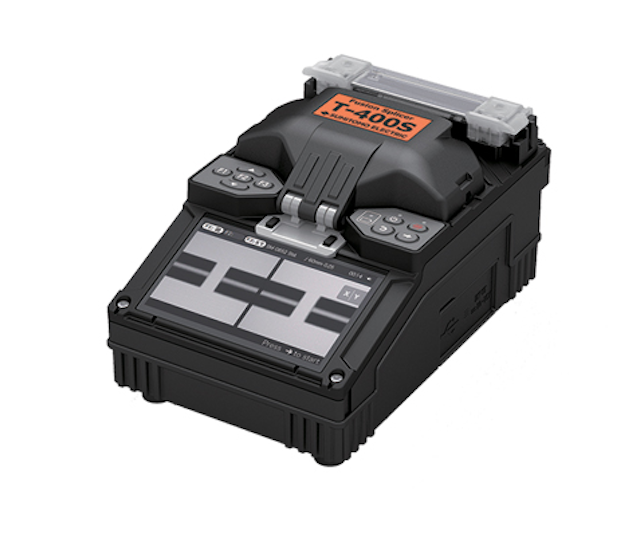 Per the company, "This handheld fusion splicer removes the technician's judgment call required on all other forms of termination by using advanced optical technology, high precision motors and the latest embedded software to completely automate the installation of an optical connector—all at a cost similar to low-tech, tool-centric connector systems."
Sumitomo Electric Lightwave Corp., sumitomoelectric.com
FiberFox's rugged, durable splicers
FiberFox's IP52-rated fusion splicers, each of which comes with a three-year warranty, also are backed by the company's service and training offerings. FiberFox says its Mini6s (pictured) core-alignment splicer, its Mini4s active-clad alignment splicer, and its Mini12r fixed v-groove ribbon splicer "are the smallest and lightest in the industry, with touchscreen technology.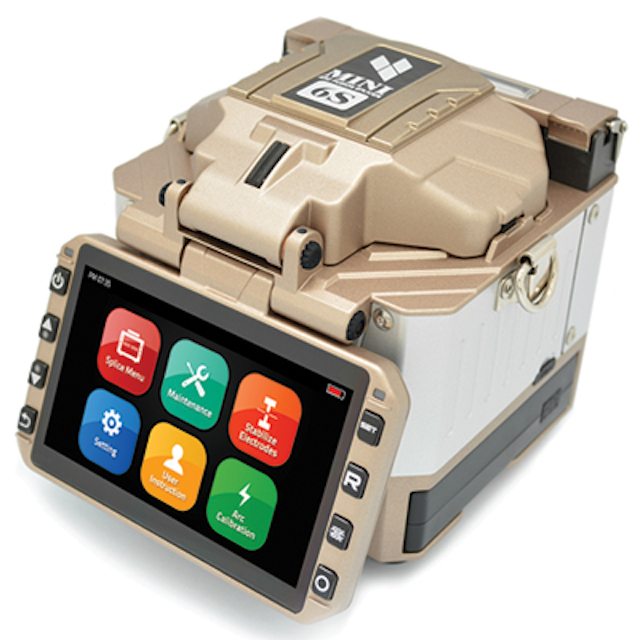 They offer the fastest splice and heat times, with superior splicing performance," the company continues, adding the splicers are "universally compatible with all leading brands of splice-on connectors."
Each splice kit from FiberFox includes two batteries, a thermal stripper, precision cleaver, fiber holders, cooling tray, universal splice-on connector sleds, and free firmware updates as they become available.
New Jersey-based FiberFox offers a complete support center and representative firms.
FiberFox, fiberfoxamerica.com
Belden's FX fusion splicer and splice-on connectors
Belden says its FiberExpress (FX) fusion splicer delivers affordable, high-quality performance by ensuring consistent and reliable terminations in indoor and outdoor environments. According to the company, while providing perfect cladding alignment, the FX fusion splicer eliminates splice errors due to dust and other contaminants.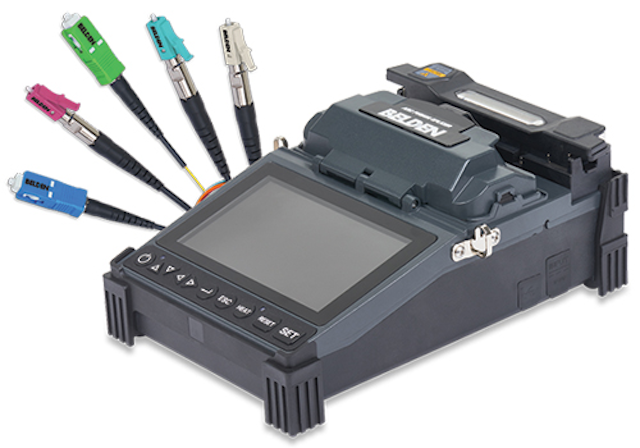 Weighing 2.5 lbs, the unit has a large, user-friendly display and supports splice-on connectors and pigtail splicing. When paired with the company's FX fusion splice-on connectors, users get the benefit of fusion splicing, combined with the simplicity of field-installable connectors, to expand options for field termination while improving installation performance and reliability.
Belden, belden.com
Multicom's German-engineered fusion splicer
This fusion splicer from Multicom employs high-speed image processing and special-positioning technology that allows optical fibers to be spliced in 7 seconds, and heat shrink splice sleeves in only 9 seconds, according to the company.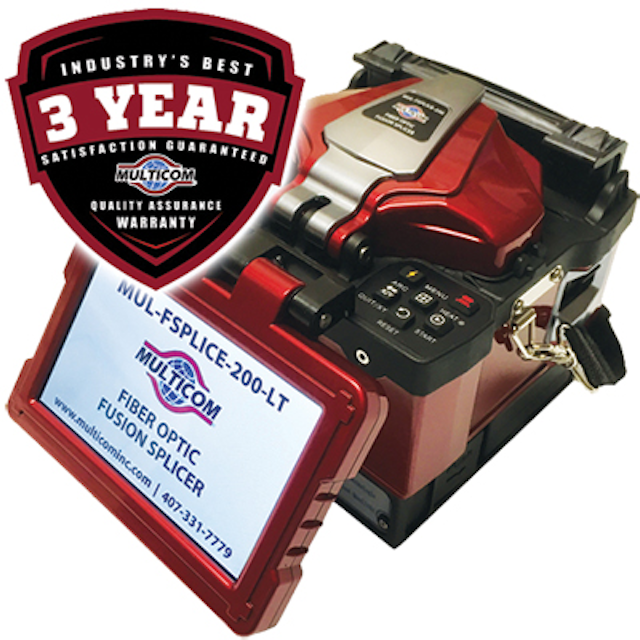 German engineering ensures the unit's high level of quality, boasting features such as a state-of-the-art core-to-core fiber Profile Alignment System (PAS), auto-calibration, and a high-resolution optical system. With its plug-in, rechargeable lithium battery and lightweight design, this unit can easily be taken into outdoor environments. Along with being dust/dirt-, drop/impact-, and water-resistant, this highly reliable ruggedized fusion splicer also comes with a 3-year warranty.
Multicom, multicominc.com